Trueman and Prolegomena to "How would Protestants know when to return?"
Oct 31st, 2010 | By
Bryan Cross
| Category:
Blog Posts
"So we stand here and with open mouth stare heavenward and invent still other keys. Yet Christ says very clearly in Matthew 16:19 that He will give the keys to Peter. He does not say He has two kinds of keys, but He gives to Peter the keys He Himself has, and no others. It is as if He were saying: why are you staring heavenward in search of the keys? Do you not understand I gave them to Peter? They are indeed the keys of Heaven, but they are not found in Heaven. I left them on earth. Don't look for them in Heaven or anywhere else except in Peter's mouth where I have placed them. Peter's mouth is My mouth, and his tongue is My key case. His office is My office, his binding and loosing are My binding and loosing." – Martin Luther 1
Last year on Reformation Day we posted a sermon by Stanley Hauerwas on that very subject. A short time later I was sitting in a living room, talking with a life-long Protestant about the Catholic Church. This gentleman was doing most of the talking, and I was mostly listening, trying to understand him and his point of view more accurately. At one point he said, "You know, I have a lot of respect for the Catholic Church, and for Catholics. They are good people, and they do a lot of good for our community. But the one thing that I find offensive about the Catholic Church is the arrogance of its claim to be the Church that Christ founded."
The arrogance question aside, this gentleman was more informed about the Catholic Church's claims about herself than are most people. In my experience most Protestants are unaware of the Catholic Church's claim to be the Church that Christ founded, the very Church referred to in Matthew 16 where Jesus changed Simon's name to 'Peter,' said to him, "Upon this rock I will build my Church," and gave to him the keys of the Kingdom. From my experience, most Protestants suppose that the Catholic Church thinks of herself as just another Christian denomination. Upon learning that the Catholic Church claims to be the one, holy, catholic and apostolic Church that Christ founded, they are utterly surprised and in some cases offended.2 For example, when Responsa ad quaestiones was released in the summer of 2007, some Protestants were surprised by its contents, and others were offended by it.3
One reason for their taking offense is that many do not know that the Catholic Church has always believed and professed that she is the one, holy, catholic and apostolic Church that Christ founded, and that any church or denomination or individual who is not in full communion with her is to some degree separated from the Church that Christ founded. For them, this teaching seemingly implies that non-Catholics are 'second-class citizens,' when from their own point of view they are no less united to Christ's Church than are Catholics. So their taking offense is understandable.
But typically those who find the Church's claim offensive do so not because they have researched the history of the Catholic Church and concluded that it began at some point later than the events recorded in Acts 2, but because they have a qualitatively different conception of what the Church is. Theologically they oppose the very notion that some communion or institution is the one that Christ founded, referring to such a notion as 'sectarian' or 'sectarianism.' From their point of view, all those who love Jesus are equally members of the Church that Christ founded. They do not believe that Christ through His Apostles gave charge of His Church to an hierarchy of bishops in a perpetual line of succession having an essential unity that is essentially visible. In their view, the Church Christ founded is fundamentally an invisible union of all those who love Jesus, no matter what their denomination or tradition. From that point of view, the claim by one institution to be the Church that Christ founded can be offensive.4
Some Protestants who know of the Catholic Church's claim to be the Church that Christ founded are not offended by this claim. They are not offended by it, because they remember Protestantism's historical origin in the Catholic Church. They remember that in the minds of the first Protestants, the intention was not to separate from the Catholic Church, but to reform the Catholic Church. For these first Protestants, their resulting separation from the Catholic Church was a kind of 'necessary evil,' not intended to create one or many schisms from the Church, but to bring needed moral and doctrinal reform to the very same Church that Christ had founded. In the minds of those first Protestants, this separation was to persist only until the Catholic Church was sufficiently reformed, so that they could return to full communion with her. The present-day Protestants who remember this obviously do not believe that the Catholic Church is infallible; that is why they believe that they can justifiably be separated from her. But they do believe that the Catholic Church from which they are visibly separated is (or has the best claim to being the visible continuation of) the Church that Christ founded, and they look to be reunited to her as soon as she is sufficiently reformed.5
Carl Trueman is a Protestant of this sort. Carl is the Departmental Chair of Church History at Westminster Theological Seminary, a Protestant seminary in Philadelphia. Over the last few years Carl's writing pertaining to the Catholic Church has been simultaneously charitable and critical, often presenting both what he appreciates and admires about the Catholic Church as well as his reasons for disagreeing with other Catholic doctrines and practices. But without fail his writing about the Catholic Church reflects the memory of Protestantism's origin in the Catholic Church. He writes about the Catholic Church as someone who knows that in a certain sense, the Catholic Church is his Church; she belongs to him, and he belongs to her, even though he believes he must now remain separated from her. In that respect, he writes of the Catholic Church as one writes about a parent from whom one is estranged, waiting to be joyfully reconciled.
In November of 2005 he wrote a review of the book co-authored by Mark Noll and Carolyn Nystrom and titled "Is the Reformation Over? An Evangelical Assessment of Contemporary Roman Catholicism" (Baker, 2005). The concluding paragraph of Carl's review demonstrates this memory of Protestantism's origin in the Catholic Church, and why Protestants should daily consider the return to full communion with her. He writes:
When I finished reading the book [i.e. Is the Reformation Over], I have to confess that I agreed with the authors, in that it does indeed seem that the Reformation is over for large tracts of evangelicalism; yet the authors themselves do not draw the obvious conclusion from their own arguments. Every year I tell my Reformation history class that Roman Catholicism is, at least in the West, the default position. Rome has a better claim to historical continuity and institutional unity than any Protestant denomination, let alone the strange hybrid that is evangelicalism; in the light of these facts, therefore, we need good, solid reasons for not being Catholic; not being a Catholic should, in others words, be a positive act of will and commitment, something we need to get out of bed determined to do each and every day. It would seem, however, that if Noll and Nystrom are correct, many who call themselves evangelical really lack any good reason for such an act of will; and the obvious conclusion, therefore, should be that they do the decent thing and rejoin the Roman Catholic Church. I cannot go down that path myself, primarily because of my view of justification by faith and because of my ecclesiology; but those who reject the former and lack the latter have no real basis upon which to perpetuate what is, in effect, an act of schism on their part. For such, the Reformation is over; for me, the fat lady has yet to sing; in fact, I am not sure at this time that she has even left her dressing room. (my emphasis)
Carl carries with him a memory that many if not most Protestants have forgotten, the old ancestral memory of having once been Catholic, before the events of the sixteenth century. He carries within himself this memory of Protestants' true home and family, understanding that Protestants as such are in essence Catholics-in-exile whose Catholic ancestors in the sixteenth century made the painful decision to live in exile from the Catholic Church until she had sufficiently reformed, never intending to be or form a permanently separate body or group of bodies. This is what Protestant fathers used to teach to their children. But memories are feeble and naturally fade and grow dull with the passing of the centuries. Eventually Protestant fathers no longer taught this to their children, and these children grew up not even knowing that they were in exile. They came to think that schism from the Church was normal, because they no longer retained even the concept of schism from the Church.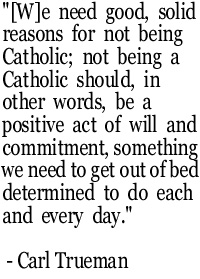 They came to believe that the Church Christ founded was not a visible institution, was not even visible at all, even though some still used the term 'visible Church.'6 For many, if not most, the Church is an entirely spiritual entity to which one is fully united by a merely spiritual act of faith, such as a sinner's prayer. These descendants of the earlier Protestants have completely forgotten that they were separated from anything. And without this memory, there no longer stirs within them any longing for the conclusion of the Catholic Church's reformation so that they can be reunited to her. Instead, understandably, their discovery of the Catholic Church's claim to be the one, holy, catholic and apostolic Church Christ founded arouses in them some degree of resentment and offense.
For them, the question "How would Protestants know when to return?" makes no sense, because they have forgotten that they were waiting to return to anything. They have forgotten from whence they came, as Protestants. Carl would have them remember. He would have every Protestant get out of bed each morning asking himself whether there remain any good reasons for not returning to full communion with the Catholic Church. Carl understands that those who have no such good reasons, but who remain Protestant, are perpetuating an "act of schism."7 By his prescription, every Protestant should place the following question in a prominent place by his bed, and read it aloud every morning first thing when he gets out of bed, and teach his children to do the same:
Why have I not yet returned to full communion with the Catholic Church?
Not only would this daily practice help Protestants see the Catholic Church as their true home, and Catholics as their separated brothers and sisters, it would also encourage Protestants to pray for Catholics and the  Catholic Church from a perspective of love and affection and longing, as one would pray for an estranged sibling, spouse or parent. Before we can begin talking about whether the Reformation is over, and how Protestants would know when it is time to come back to the Catholic Church, Protestants (and Catholics) must first recover our collective memory of our former union in one and the same Church, and the fact of our having become separated in the sixteenth century. The "when should we return" question can make no sense to Protestants until they see themselves daily as Catholics-in-exile from the their own Catholic Church, waiting eagerly to return home and be reunited to the family from which they have been separated now for almost five hundred years.
Today, as many Protestants celebrate "Reformation Day," and we Catholics reflect upon the events that separated millions of Christians from us, we would do well to remember that reforming and separation must never be ends in themselves, least of all to the point of becoming so comfortable with schism that we forget that it exists, or that we are in it. Today we ought to reflect on the schism that continues to divide Protestants and Catholics, and earnestly pray that God by His grace may reconcile us, in one family, at one table, so that the world may see our unity in love and know that this love is from Christ, and that Christ is from the Father.
Ostende nōbīs, Domine, misericordiam tuam. Amen.