Who is a "Real" Christian?
Feb 23rd, 2016 | By
David Anders
| Category:
Blog Posts
I grew up an evangelical Protestant and became Catholic only in 2003. In the Church of my youth, we had a troubling practice. We distinguished "real Christians" from Christians in name only. People who had gone to Church all of their life would come to our meetings and declare, "I've just now become a real Christian!"  What they meant was that they had finally experienced conversion. In our minds, conversion was all that mattered. Everything else was just human tradition or ritual. The seemingly unconverted were not "real" Christians.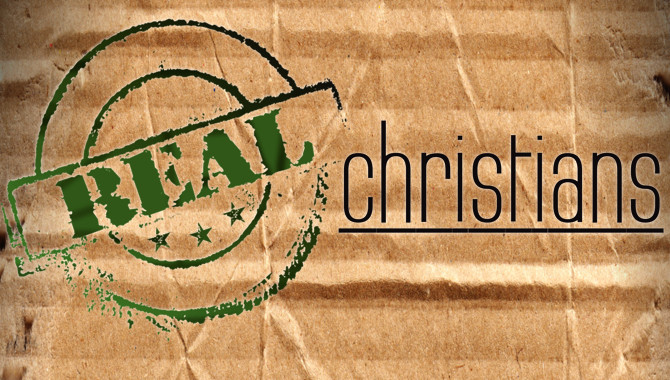 This way of speaking is not biblical, and it is certainly not Catholic.  Scripture teaches that "everyone who is baptized has clothed himself with Christ." (Galatians 3:27) According to St. Paul, we "have been buried with him by baptism into death so that, just as Christ was raised from the dead . . . we too might walk in newness of life." (Romans 6:4) It is baptism, not the psychological experience of conversion that marks you as a Christian. Conversion is important, but it's a life-long process. It's not the beginning of Christian life, and it's certainly not the end of it.
Catholic doctrine is clear on this point. All the baptized have the right to be called Christians. There are no "real Christians," and "fake Christians." There may be good and bad Christians, wise and foolish Christians, converted and not yet converted, but they are all Christians. This goes for Catholics and non-Catholics alike. The Second Vatican Council was quite insistent on this point: "All who have been justified by faith in Baptism are members of Christ's body, and have a right to be called Christian, and so are correctly accepted as brothers by the children of the Catholic Church." (Unitatis Redintegratio)
So, where did my evangelical friends get this idea that conversion was all that mattered? Why did they think other baptized believers were not really Christians? The germ of this idea comes from the Protestant theologian John Calvin (1509-1564).
Calvin was no evangelical. He didn't overemphasize conversion, and he accepted the Catholic and biblical doctrine that God adopts us by baptism.  But Calvin introduced a seed of doubt into Christian life. He taught that baptism only "works" in the predestined.  For everyone else, Calvin held, it's a more-or-less empty ritual. Thus, Calvin imagined two classes of Christians: the "real, predestined Christians" and the Christians-in-name-only.  The challenge for future Calvinists became, "How do you know which camp you are in?"
Seventeenth-century Puritans nearly drove themselves mad trying to answer this question. Predictably, they started fighting over who was really elect. Their churches and their society split into factions. (For an overview of this conflict, see Janice Knight's book Orthodoxies in Massachusetts.)   Their experiment failed, of course, but it birthed the modern evangelical tradition.  Conversion became the one touchstone many Protestants could agree on. Everything else – the Church's authority, liturgy and sacraments, the moral life, spirituality – faded in its significance.
Catholics approach these questions very differently.  To begin with, we know that valid baptism always works. It's never just an empty ritual. Scripture does not divide the baptized the way Calvin does. But that doesn't mean all the baptized are going to heaven. Baptism communicates real grace, but we are called to cooperate with that grace.  As St. Paul says, "Since, then, you have been raised with Christ, set your hearts on things above, where Christ is, seated at the right hand of God." (Colossians 3:1)
Catholics don't insist on figuring out who is elect and who isn't. In this life, we don't know who is headed for heaven or hell. Seemingly holy people may lose the faith before the end or die impenitent. Scandalous sinners, tied to the Church by the thinnest thread or not at all, may wind up as heroic saints.  Before they die, they may still fan into flame the grace of baptism.  What we do know with certainty are the means of grace. We can be joined to Christ in baptism. We can abide in him by "eating his flesh and drinking his blood." (John 6:53) Our sins can be forgiven through the power of absolution. (John 20:21).
Dividing the world into "real Christians" and "fake Christians" is not the Catholic way. The Church can distinguish good and bad behavior, and she can define true and false doctrine, she may correct dangerous ideology, but we leave the final judgment of souls up to Christ.  Occasionally, the Church may have to invoke her disciplinary power against the scandalously sinful.  But even then, the baptized do not lose the name of Christian.