5 Years a Catholic
Feb 6th, 2015 | By
Jeremy Tate
| Category:
Blog Posts
In one of my last semesters at Reformed Theological Seminary I took a virtual class on pastoral ministry in order to pick up some remaining elective credits. The course encouraged students to be in dialogue with each other through an online blog/portal where we could discuss and debate theological and pastoral issues. At this point I had already been received into full communion with the Catholic Church, but the other participants in the virtual class did not know this.  
At one point the conversation turned towards how to counsel a couple that disagreed on having children. At this point I must have let my guard down and someone suggested I might as well become a Roman Catholic. I responded by acknowledging that I had indeed converted to Catholicism the previous winter.
At that point any other theological divisions between other students in the class became trivial as they unified to help a lost Catholic who had apparently hacked his way into a supposedly safe online space for Reformed seminarians. The personal assaults quickly began and the professor had to step in to blow the whistle. I appreciated him doing so and he was gracious in asking me to continue participating in the dialogue. He said it would be good for the students to see how hollow the Catholic arguments really are. Soon I began exchanging emails with the professor privately where we debated some questions on our own.
As the professor came to know my background, he made a bold assertion; he told me to mark his words; "You will leave the Catholic Church within five years." I can't be sure of his intentions in making this statement, perhaps it was a scare tactic towards a new convert, but he seemed confident time would prove him right.
Tomorrow, I will celebrate five years in the Catholic Church. I was confirmed at St. Andrew by the Bay parish in Annapolis, Maryland on February 7th, 2010 by Fr. Martin Burnham. Mass was nearly empty the day I came into the Church as Maryland recovered from one of the worst blizzards in the recorded history of the state. The McNamara family, who had done premarital counseling for my wife and me, hiked two miles through several feet of snow with their five kids to be there for my confirmation.
Experientially, Catholicism has felt like a descent from the clouds onto solid ground.  Although there is a great deal I still love about the Reformed faith, my practice of the Christian faith as a Reformed believer, and I only relay my personal experience, had become largely a theological and mental exercise. My practice of virtue suffered as my understanding of the doctrine of total depravity made the pursuit of holiness seem futile. My experience of God was relegated to theological ideas or truths and my subjective experience of them.
Catholicism, in contrast, has been an enlivening exploration of the incarnation of the Son of God. If the invisible God truly assumed physical matter and took on a body of flesh and bones, our faith should also extend into the tangible world. Every aspect of Catholicism is infused with the bold reality of the incarnation. I now rejoice to see God at work through baptisms at mass, to hear His gracious voice in the words of absolution, and to taste the fruit of the cross when I receive the Eucharist.
I have also come to love Mary. When I came into the Church I accepted the Church's teachings on Mary simply because I had come to believe in the authority of the magisterium, but having a relationship with Mary still seemed really weird to me. Slowly, however, I have come to love and trust Mary as a mother. The incredible love of God manifests itself most profoundly in the passion of Christ, but it's no less true that He has also given us a kind and gentle mother to nudge us along as we approach the throne of the King.
Finally, I have found a career home in a faithful Catholic environment where I can do ministry as I had planned since college. I am presently a College Guidance Counselor at Mount de Sales Academy in Catonsville, Maryland, an all-girls Catholic school founded in 1852. Mount de Sales is run by the Dominican Sisters of Saint Cecilia, one of the fastest growing orders of nuns in the United States today. I have learned from the Dominican Sisters the joy that is ours in Christ. There are six Dominican Sisters at Mount de Sales and without a doubt they are the most joyful and Christ-centered believers I have ever encountered. They have given their lives to the formation of young woman, that their hearts and minds may be won for Christ. It is an honor and a blessing beyond words to work alongside of them.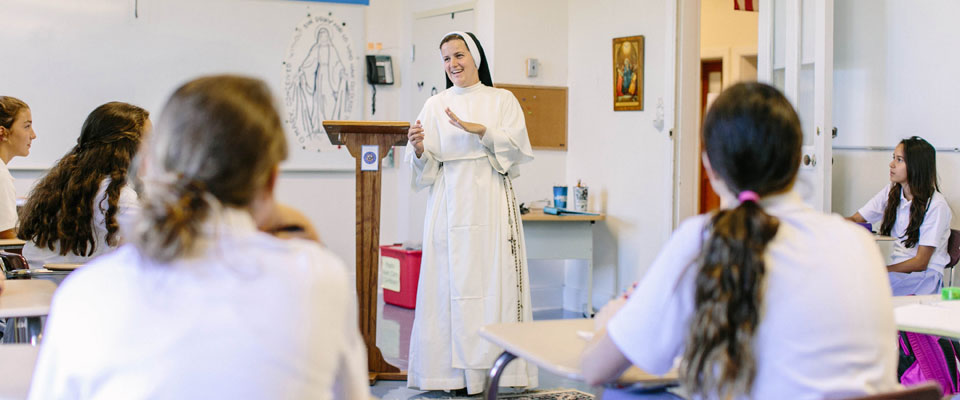 Sister Angela Marie instructing students at Mount de Sales Academy
I pray that by the grace of God I will still be in the safety of the Catholic Church in another five years. Here I am formed, here I come to more fully embrace the love of the God who became man. Here I am literally fed by the One who gave His life for me. And here I am seeing my own children come to know the love of their Savior.