Confusion…until…
May 13th, 2014 | By
Fred Noltie
| Category:
Blog Posts
Whoever tells you that theology does not play a role in Bible translation is selling you something. It is probably a "very accurate" translation, or maybe a "very literal" one. There are lots of problems with being too literal when translating, though there is at least one potential benefit: there may be less injection of theological bias into the translation (note that I do not say no injection of bias). The problems arguably make literalistic translations more dangerous in some ways for the average layman. Why? Because the layman is almost certainly not a Greek or Hebrew or Aramaic or Latin scholar, and is hence unqualified to make decisions about interpreting literal translations. There are plenty of cans of worms that can be opened when an unskilled individual—no matter how bright he may be—starts making guesses about what literal translation ABC really means. Does it mean DEF, or maybe JKLMN? How does one decide? Generally, the layman decides by interpreting it (if he can) in accord with whatever theological tradition of which he is already part. If he finds himself unable to do that, he will turn to his pastor or some other person he reckons to be a reliable source and find out what that person says. If the answer makes sense, he may adopt that person's opinion as his own, but please note: that does not make him right, and it does not make his trusted authority correct, and it certainly does not make his theological tradition correct either. So all this theological baggage gets tossed into the mix and is rarely noticed (and even more rarely discussed).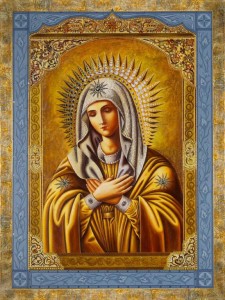 Mary, Perpetually Virgin
The difficulty with all this baggage is that if the theological tradition which serves as the starting point for interpreting the literal translation is just wrong, then the odds of a bad interpretation (by which I mean one that is negatively influenced by the incorrect theological tradition)—the odds of a bad interpretation following from all that just jump sky high.
In short, the literal translation is no friend of the layman who does not know the source languages. It encourages him to make interpretive leaps which may be unwarranted and for which he lacks any serious competence. If he is able to find a way to "fit" the passage into his theological paradigm, he may very probably start acquiring an inflated confidence in both his own abilities and the validity of his theological paradigm.
The problem is not made better by tools like Strong's Concordance, which allows the layman to find all occurrences of a given word and then look up the Greek, Hebrew, or Aramaic word(s) that are translated using the same English word (for example). He sees a strange collection of what in English are entirely unrelated possible translations for some words (because the source language has different semantic domains than the target), and can't figure out what is going on. "Are the translators just crazy? Can I just use one of the other translations given for the word in this case? Because if I did, then the passage would mean LLPMRD, which fits nicely with what I believe as a [insert denomination or theological tradition here]. This current word just confuses things."
A real-world example of the kinds of problems that can arise from literal translations (especially those underwritten by theological traditions which happen to be incorrect) is found in Matthew 1:25. The New American Standard Bible (NASB), celebrated as perhaps the most literal translation available today, renders the verse this way:
…but kept her a virgin until she gave birth to a Son; and he called His name Jesus.
It includes a footnote for the first verb/object that says it literally reads "…and was not knowing her…" But that is not the interesting part. The interesting part (for this post anyway!) is the word until. In English a common sense of until in such a context implies that the action identified by the main verb (*kept* in this case) no longer applies after the event in the subordinate clause. For example, I drove until I was tired.
There is a difficulty here for this meaning in this context, however: namely, that the Catholic Church teaches us that Mary was perpetually virgin, so that she did not stop being a virgin with Christ's birth, and she never had other children. The "obvious" English meaning presents a problem for this dogma. Thus we need to either reject the literal rendering for something more idiomatic which better expresses what Matthew must have meant, or we need to consider an alternate way of understanding the literal translation.
We find one example of a less literal rendering that better communicates the Catholic perspective in the New Jerusalem Bible (NJB):
…he had not had intercourse with her when she gave birth to a son; and he named him Jesus.
The benefit of this translation is that it makes clear the same thing about how St. Joseph treated Mary while she was pregnant and at the same time implies nothing contrary about the future. Personally I think this is a very good way to render this verse, but I am not qualified to speak authoritatively about it. At the least, though, it is much more readily seen that Mt. 1:25 is in perfect harmony with the Catholic dogma of Mary's perpetual virginity than if we resort to the more wooden reading of the NASB.
But is there a way that perhaps we can save the literal rendering? Maybe so, though I hasten to point out again that I am not qualified to make a judgment that is in any way official here. In English we have expressions like the following: "God bless you until we meet again." Does the man who says this mean to imply that after meeting his friend again he hopes God will cease blessing his friend?!? Of course not! We see the same kind of usage in this: "I had all sorts of problems in my life until I received my inheritance." Does this mean that our lucky legatee no longer has problems? Heh. Not likely. No, if he was pressed he would undoubtedly have to concede that he still has problems, even if they are not of the same sort as in his earlier days of penury.
The point of these examples is that there are usages of until in English that imply nothing whatsoever about cessation of the referenced action. So the fact that Matthew may have literally said until does not ipso facto imply cessation even in English, and hence it is reckless to assume from a literal translation that it does. The question that interests me is whether the Greek uses until in the same sort of way as my two alternate English examples above. If so, it is completely reasonable to use a less literalistic translation (like the NJB's) because of the confusion the literal rendering produces.
The Navarre Bible commentary (sorry, I know of no online edition) has this to say:
Following the Greek text strictly, the New Vulgate version says: "et non cognoscebat eam, donec peperit filium". The literal English translation is: "and he knew her not until she had borne a son". The word "*donec*" (until) of itself does not direct our attention to what happened afterwards; it simply points out what has happened up to that moment, that is, the virginal conception of Jesus Christ by a unique intervention of God. We find the same word in John 9:18, where it says that the Pharisees did not believe in the miraculous cure of the man blind from birth "until" (*donec*) they called his parents. However, neither did they believe afterwards. Consequently, the word "until" does not refer to what happens later.
It turns out that the same Greek particle is used for until in both Mt. 1:25 and Jn. 9:18. Clearly in the latter the Pharisees did not believe even after talking to the parents of the man born blind. Hence it seems safe to conclude that the Greek for until can bear both senses that it does in English: for action that stops at some point, and for action that continues after some event. This being the case, it seems that tradition must be taken into account in interpreting Mt. 1:25. Since it is a dogma that Mary remained virgin throughout her life, the translation of Mt. 1:25 ought to reflect this (as it does in the NJB). The literal translation too readily creates opportunities for the error of supposing that Mary had other children. Sometimes literalism is not always best.
This is consistent with the second principle according to which the Catechism of the Catholic Church says that we should approach hermeneutics:
Read the Scripture within 'the living Tradition of the whole Church'. [CCC §113]
Acknowledgment
This post was inspired in part by comments made here by fra Charles, as well as by others participating in the conversation in that thread.
Further Reading
Brantly Millegan offers a look at Protestant defenses of Mary's perpetual virginity here.
Bryan Cross discusses the relationship between interpretation, tradition, and lexicon here.