"Made Perfectly One": A Reflection for the Week of Prayer for Christian Unity
Jan 24th, 2014 | By
Tom Brown
| Category:
Blog Posts
The 17th chapter of the Gospel according to St. John is an essential missional treatise for this year's "Week of Prayer for Christian Unity," as it has been in years past, and as it is to the mission of Called to Communion.  I recently saw a phrase from Christ's prayer in this chapter used in a collection of homilies by St. Josemaría Escrivá, published as Christ is Passing By:
Those who aspire to unity should be shown Christ who prays that we will all be consummati in unum: "made perfectly one." Hunger for justice should lead us to the original source of harmony among mankind: the fact that we are, and know ourselves to be, sons of the Father, brothers.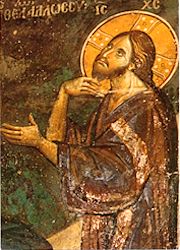 Lord Jesus in High Priestly Prayer
Notice what is the original source of our harmony as humans, according to St. Josemaría.  The headwater of human unity is our common fraternity, a consequence of God's divine fatherhood of all humans.  Because God is our heavenly father, we are all brothers and sisters.  We are brothers and sisters no matter how well or how poorly we get along, no matter how much or how little we'd care to have to do with one another. This is not true merely of baptized Christians, but of all of mankind.
Notice also that harmony among mankind is something toward which we hope to be led. We navigate the river to harmony by way of hungering for justice. How often do we think of "justice" and "unity" as related concepts? For me, not often. But they are deeply related, as can be demonstrated by thinking of the disunity created between peoples because of injustices. Examples are legion, such as judicial refusal to acknowledge the personhood of unborn babies, to ethnic maltreatment leading to genocide.1 These failures of justice show a deficit of fraternal love, and clearly further human disharmony.
Therefore, we must have real hunger for justice. This hunger should be evident in our speech (or writing) to one another as we discuss the faith. We must resist the urges to squabble, to attack one other, to score debate 'points,' or the like. By prizing just treatment of our brothers, we can put down our own pride, anger, or lack of patience that lead us to uncharitable words. By treating each other justly, we will build each other up as brothers. Then we will be able to band together in consummate unity.
Loving Father, help us to see your son Jesus Christ praying that we will all be made perfectly one. Help us to recognize this imperative, and grant us the grace to obey our Lord. Out of love for each other, may we hunger for justice in the words we use toward and about one another. Amen.
See Immaculée Ilibagiza,

Left to Tell

, for a powerful first-hand account of the crazed ethnic hatred involved in the Rwandan genocide. [↩]