Why Evangelicals Are Getting High – A Response to Rebecca VanDoodewaard
Aug 7th, 2013 | By
Jeremy Tate
| Category:
Blog Posts
A few weeks ago Rebecca VanDoodewaard posted an article on the website "The Christian Pundit" entitled "Young Evangelicals are Getting High." Rebecca is a co-contributor on the website with her husband William VanDoodewaard who is an associate Professor of Church History at Puritan Reformed Theological Seminary in Grand Rapids, Michigan.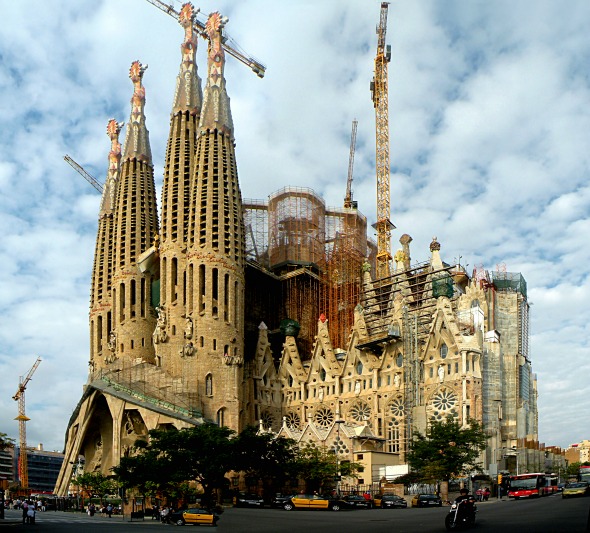 (La Sagrada Familia in Barcelona, Spain.  This magnificent Cathedral will be complete within the next two decades.  Architect Antoni Gaudi began work more than a century ago with the purpose of proclaiming the truths of Catholicism to the modern world) 
I appreciated the witty title of Rebecca's article and even now, having reread it a few times, I appreciate her writing style throughout. She honestly acknowledges the mass exodus of young evangelicals out of the denominations they grew up in and into "High Church" traditions, especially Roman Catholicism. In the short post Rebecca offers some thoughts about the reasons these unhappy young people jump ship. She writes:
The kids who leave evangelical Protestantism are looking for something the world can't give them. The world can give them hotter jeans, better coffee, bands, speakers, and book clubs than a congregation can. What it can't give them is theology; membership in a group that transcends time, place and race; a historic rootedness; something greater than themselves…"
I wouldn't necessarily object to anything up to this point. In the second to last paragraph of the post, however, she writes:
But not all kids who grew up in American evangelicalism are jumping off into high church rite and sacrament: congregations that carefully teach robust, historic Protestant theology to their children are notably not losing them to the Vatican…
This statement is the essence of Rebecca's argument. At first glance it may appear to be an affirmation of "robust, historic Protestant theology." At its core, however, this is simply an ad hominem argument concerning the reason individuals leave Protestantism for Catholicism. It asserts that all those who convert to high Church traditions come from watered down evangelicalism devoid of history and all the beauty of the Reformed tradition.  In short, Rebecca's claiming that those congregations that carefully teach "robust historic Protestant theology" are NOT losing their young people to Catholicism.  She doubles down on this point in the conclusion of her post stating:
…children raised in spiritually substantive and faithful homes usually find things like holy water, pilgrimages, popes and ash on their faces an affront to the means for spiritual growth that God has appointed in His Word.
But Rebecca offers nothing to back up her claim (apart from relaying the experience of one personal friend), making her claim a mere unsubstantiated assertion that risks falling into the no true Scotsman fallacy.  Moreover, her thesis does not fit with the existence of a website like Called To Communion where the vast majority of authors, if not all, were actually taught "robust, historic Protestant theology."
A few cases in point: Called To Communion authors Tim Troutman, Sean Patrick, and Stephen Wilkins all grew up in solid, southern, PCA churches from childhood, and still became Catholic. Dr. David Anders also grew up in the PCA, in one of the founding churches of the denomination, went on to get a Ph.D. on John Calvin, and still became Catholic. Marc Ayers was raised in the ARP, and he too, became Catholic. Bryan Cross, Tom Riello, Taylor Marshall, John Kincaid, Barrett Turner, Jason Stewart, Jason Stellman, Jason Kettinger, Joshua Lim, and many others all studied at or graduated from conservative Reformed seminaries, where presumably "robust, historic Protestant theology" is taught, and they too, subsequently became Catholic.  Is it likely that the numerous Reformed seminaries these men came from, along with all the different congregations where they were members, are all failing to teach "robust, historic Protestant theology" as Rebecca's thesis implies?
The reality of all the converts mentioned, along with countless others I haven't named, suggests that Rebecca's assertion is not true.  Even if Rebecca's thesis were true, it would do nothing to disprove the substantive arguments presented by Catholic apologists, nor would it do anything to patch over the gaps in Reformed teaching on authority. It's not merely the poorly instructed who are converting to Catholicism; it's also, in some cases, the instructors themselves.  It's not just those who came from watered down "generic evangelicalism," but also those who come from the most faithful Reformed congregations.
In my own tiny social circle where I've been able to meet well over two dozen converts to the Catholic faith, I would estimate that at least 80% were raised in congregations that "carefully teach robust, historic Protestant theology to their children." In fact, this was often part of the problem. Consider Tom Brown's story. As the son of a CRC pastor, Tom knew the Scriptures well, knew Church history, and had a well-developed theology along with a faith he had internalized and made his own. Yet Tom couldn't respond to a Catholic layman who challenged him with some basic questions about Church authority. Simple questions like "Where does the Bible teach Sola Scriptura?" couldn't be answered from his Reformed framework. He discovered that the Reformed paradigm's internal criterion isn't adequate when it is the paradigm itself that is being called into question.
The reason so many Reformed seminarians, well-educated layman, and former pastors become Catholic isn't because the Reformed tradition failed to teach them the tenets of the Reformed faith.  Paradoxically, it's because the Reformed tradition did well in teaching them how to think theologically. The Reformed faith taught them to cherish the idea of the Church even though in the end it has no Church to match its theology. Most importantly, the Reformed faith did well in teaching them to desire Christ above all else. Well formed in Christ-centered Christianity, many who grew up in the Reformed faith are compelled at least to investigate openly the bold claim that the Catholic Church is the Church that Christ founded, and that in her one may receive the Body, Blood, Soul and Divinity of Christ in the Eucharist.