The Papacy and the Catholic Act of Faith
Feb 26th, 2013 | By
Bryan Cross
| Category:
Blog Posts
On Friday, April 22, 2005, I was sitting at my desk at Saint Louis University, trying to think of a good remaining reason not to be Catholic. I had been investigating the Catholic question intensely for over a year, and one by one I had been discovering that my objections were largely based on straw men or question-begging assumptions. The final obstacle for me was not a doctrinal or intellectual objection. It was the difficulty of trusting that no future pope would turn against the Tradition, and lead the Church into heresy or apostasy. Pope Benedict XVI had been selected by the conclave three days earlier, and his selection challenged me to face this difficulty thoughtfully and carefully. Was it reasonable for me, in light of the entirety of the Catholic paradigm, to treat the selection of Pope Benedict XVI as another factor in deciding whether Christ was perpetually protecting the papal office, and whether or not to become Catholic?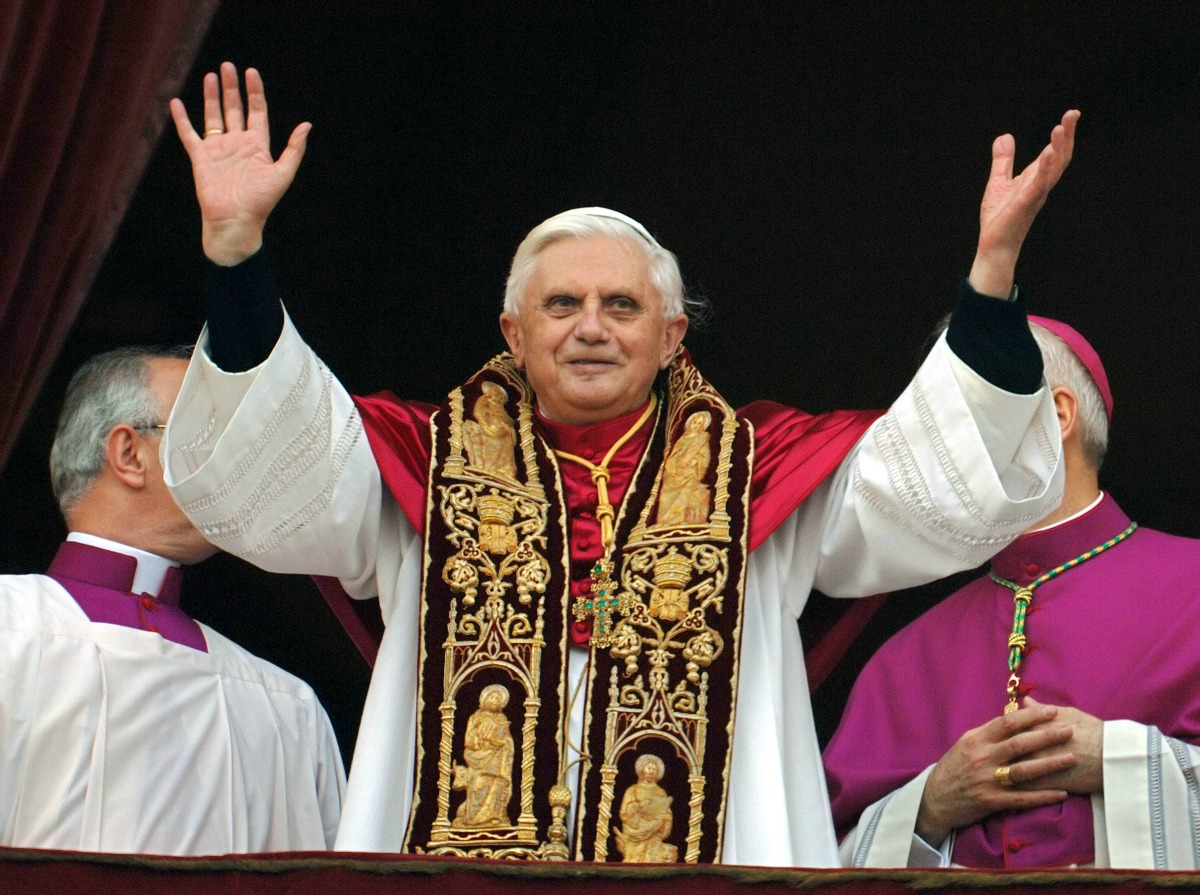 Pope Benedict XVI on the day of his election to the Papacy
April 19, 2005
As a non-Catholic at the time, I was facing a unique aspect of the Catholic act of faith, one that is tested in the hearts of all Catholics whenever a new pope is to be selected. This aspect of the Catholic faith cannot be found in any empire, State government, political party, or corporation, and distinguishes Catholicism both from ecclesial consumerism and from every Protestant denomination.1 Intrinsic to the Catholic faith is a belief that goes beyond the notion that divine providence governs the course of events, since Catholics believe that all events, including the rise and fall of empires, nations, corporations, and denominations, occur under the hand of divine providence. Divine providence offers no guarantee that any such entity will endure, and therefore no sufficient reason to believe that when an empire, nation, corporation, or denomination selects a new leader, that leader will not conduct it to its demise. By his or her beliefs, character, experience and vision, the new leader of any such entity variously offers grounds for hope or despair concerning its successful perpetuation.
The Catholic faith, however, contains a doctrine involving Christ's founding of and indissoluble union with the Catholic Church as His Mystical Body, sustained in part but essentially through His unique relation to St. Peter and his episcopal successors in Rome in their role as the Vicar of Christ until Christ returns. The Catholic act of faith is in this way unique, because in making this act of faith, one does not merely assent to propositions concerning Christ as considered apart from the Church, or as considered apart from any visible body on earth. One expresses faith in Christ-as-inseparably-united-to-the-Catholic-Church, and thus faith in His working in and through His Church, to guard her from error and guide her into all truth until He returns. Because of the essential role of St. Peter and his episcopal successors in the structure and identity of the Catholic Church, the act of Catholic faith includes faith in Christ regarding each successive pope, specifically faith that Christ will protect each pope in his exercise of the papal office from promulgating any false doctrine.
This kind of component does not belong to a Protestant act of faith, because in Protestantism the Church Christ has promised to protect and guide is not a particular visible body, but all Christians and denominations whose doctrine sufficiently match [what one judges to be] the gospel laid out in Scripture.2 So from the Protestant point of view, the existence of such Christians and denominations is taken to be the present fulfillment of Christ's promise. And the future fulfillment of the divine promise is taken to mean not that any one of these presently existing denominations will remain until Christ returns, but merely that until Christ returns there will be Christians somewhere who hold beliefs sufficiently conforming to the gospel laid out in Scripture.
This difference between Protestant and Catholic ecclesiologies has an important comparative implication for the respective acts of faith. While I was a Protestant investigating the Catholic question, I wrote the following to a friend sixteen months before I was received into full communion with the Catholic Church:
In a certain way, being a Protestant requires less faith, because the Bible does not change (at least not now). If others depart from Scripture, then one just departs from them and brings the Scripture with oneself. But a Catholic must have more faith in God to guide His Church. And that is hard for me, in large part I suspect because I have been a Protestant all my life.
Four months later I wrote to this same friend:
But trusting the Holy Spirit to guide the Church is a very hard thing for a person who has been a Protestant for a long time, or from birth. It is not easy to distinguish between rightly trusting the Holy Spirit to guide the Church, and wrongly trusting that men are following the Holy Spirit (when in fact they are not). I mean, there are two ways to error. But, for a Protestant by second nature, the tendency (in my opinion) is to err on the side of not trusting the Spirit to guide the Church through the men He has appointed.
In this respect, the Catholic act of faith is more difficult, because in this act one is believing that until Christ returns He is faithfully protecting and preserving this ecclesial body in orthodoxy, rather than that at every moment until He returns, He will ensure merely that some body or other will hold doctrine in sufficient conformity to the gospel contained in Scripture. More specifically still, the concrete application of this component of the Catholic act of faith is trusting that Christ will guard and protect not just some persons somewhere, whom one then discovers and identifies by their sufficient agreement with one's own interpretation of Scripture, but will guard and protect this man selected to govern the Church from the Chair of St. Peter, as his 266th successor in the case of Pope Benedict XVI.3
The assent of faith in this doctrine is tested in the hearts of Catholics when a new pope is selected. If we believe this doctrine, then when a new pope is to be selected, the future prospects and possibilities arising from the ideas held by the person who will be selected provide no sufficient reason to the Catholic faithful to cease being Catholic, or to non-Catholics to become Catholic, as though some previous dogma will be overturned, or some new assurance of the preservation of Tradition has been provided. On the contrary, by faith through this doctrine we know that God in His faithfulness will continue to govern and preserve His Church, guarding her from shipwreck no matter which man is brought to her helm. Those who disbelieve this doctrine, however, embrace the Church when she agrees with them, and depart from her when she does not, flock to her when a man of their particular theological or moral party receives the keys, and abandon her when a man holding some perspective other than their own is selected for the fisherman's throne. That stance falls short of Catholic faith and what it means to be Catholic.4
Of course as grace builds on nature, so too does the charism of the one to whom Christ entrusted the keys of the Kingdom. As history shows, a good pope can be an instrument of great good and flourishing in the Church, and likewise a bad pope can bring great harm and shame to the Church. Hence we rightly pray that God would provide a virtuous and orthodox man with the natural and spiritual gifts needed to shepherd the Church well. But that is altogether different from the stance of disbelief characterized by notions such as that if Cardinal X is selected then one will have reason to become Catholic, or that if Cardinal Y is selected then one will have reason to leave the Church. The identity of the next pope provides no reason to become Catholic, and no reason not to be Catholic, precisely because the Catholic faith concerning the Church's government transcends the man Peter, and rests in the unbreakable promises of Christ concerning both the Church and the Petrine office. If this faith were false, there would never be sufficient reason to be Catholic, even if the pope of that time happened to be a good pope. But if this faith is true, then it is always time to become and remain Catholic, whether the next pope is a good pope or a bad pope.
As I sat at my desk that Friday and pondered that truth, I came to see clearly that the selection of Pope Benedict XVI as the next pope was not in itself evidence of Christ's protection of the papacy, much as the selection of much less pious men for the papacy in previous times was not evidence of Christ's failure to protect the office. Rather, what confronted me as one among many motives of credibility was the history of the papacy itself, and the very fact that there was a 266th successor of St. Peter. To make the Catholic act of faith, I would need to believe in Christ's fidelity to the papal office not because a man like Pope Benedict XVI had been selected, as though every future pope would be such a man. Rather, I needed to believe that what Christ had done over the course of 266 successors of St. Peter, He would continue to do through that office until He returned. On the one hand I had no good reasons remaining not to be Catholic, and on the other hand I had the Church of all the ages with all her martyrs and saints, beckoning me to come as Christ bade St. Peter come to Him on the water. I pushed back from my desk, walked to the nearest Catholic church, and said the following to the first person I met there: "I've decided to become Catholic. What must I do to be received into full communion with the Catholic Church?"