Catholic Church and Four Reformed Denominations Agree to Recognize the Validity of Each Other's Baptisms
Jan 30th, 2013 | By
Bryan Cross
| Category:
Unity in the News
Last night, in Austin, Texas, representatives of the U.S. Conference of Catholic Bishops, the Presbyterian Church (U.S.A.), the Christian Reformed Church in North America, the Reformed Church in America, and the United Church of Christ signed a document titled "These Living Waters: Common Agreement on the Mutual Recognition of Baptism."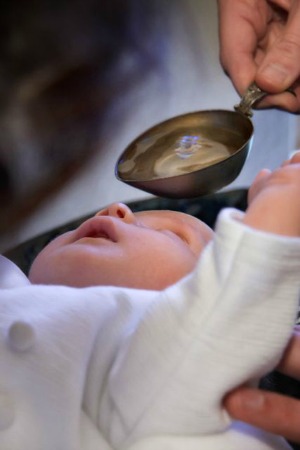 News reports concerning this event can be found here, here, and here. The Catholic Church has long recognized the validity of Protestant baptisms in which the person was baptized in the name of the Father, and of the Son, and of the Holy Spirit. The validity of non-Catholic baptisms was worked out in a dispute between Pope St. Stephen I and St. Cyprian in the third century. In the last ten or fifteen years, however, there were concerns among Catholic bishops regarding Protestant baptisms in which different names were substituted for the Holy Trinity, or in which a method of sprinkling was used that did not achieve any flow of water on the skin.
The Dutch and German Reformed traditions have generally recognized the validity of Catholic baptisms, as have most Presbyterian churches. The major exception to this were the Presbyterian churches in the United States since the time of James Henry Thornwell in the mid-nineteenth century, especially in the south.1 Thornwell argued that Catholic baptisms were invalid because Catholic priests were not "lawful ministers of the Word." Charles Hodge represented the traditional Reformed position in opposing Thornwell on this question. Some Reformed denominations in the United States remain on Thornwell's side of that debate, and still do not necessarily accept the validity of Catholic baptisms. In the Presbyterian Church in America, for example, the majority opinion of the 1987 PCA Study Committee on this question sided with Thornwell, the minority with Hodge. The denomination decided to leave the question up to each presbytery.