Anglicans Becoming Catholic
Dec 13th, 2012 | By
Bryan Cross
| Category:
Unity in the News
Earlier this year, Bishop Richard Gagnon of the Diocese of Victoria in British Columbia, received into the Catholic Church the members of the Fellowship of Blessed John Henry Newman, formed by members of the Anglican Catholic Church of Canada who were seeking full communion with the Catholic Church under the terms of the Apostolic Constitution Anglicanorum Coetibus.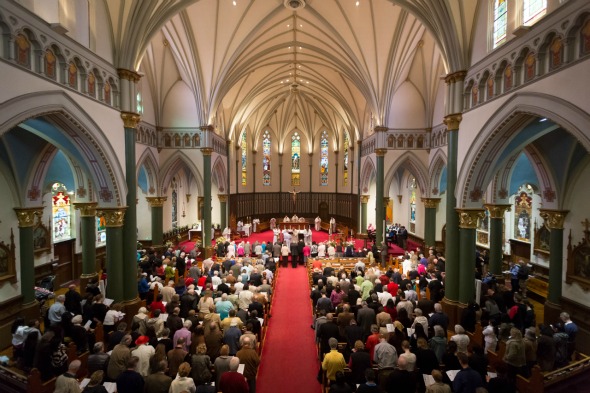 Bishop Gagnon receiving former Anglicans into the Catholic Church
(Photo by Thatcher Kelley)
Peter Wilkinson, a former Anglican bishop in the Traditional Anglican Communion, was just ordained a Catholic priest on December 8, the Feast of the Immaculate Conception. He is now the administrator of the new Ordinariate mission parish of Blessed John Henry Newman in Victoria, British Columbia. Photos of his first mass are available here. H/T: New Liturgical Movement
This coming Sunday, the Church of the Holy Nativity, an Anglican parish in Arizona, will return to the Catholic Church.
Father Lowell Andrews will be ordained into the Roman Catholic priesthood under the Ordinariate of the Chair of St. Peter in services at 2 p.m., Sunday, Dec. 16.
Andrews is also the first Anglican Catholic pastor in Arizona to be ordained as a Roman Catholic priest. …
"One of the most exciting things about this is that after 500 years, parts of the Anglican church are coming back to the Mother Church and bringing the rich and traditional liturgy and patrimony of the Anglicans," Andrews said.
Continue reading at "Anglican Parish Will Rejoin Catholic Church On Sunday."
In addition, a community of Anglican nuns in the UK will also be received until full communion with the Catholic Church on January 1, 2013. One of the nuns, a former Anglican minister, said the following regarding their decision:
The call to Christian unity must always be the primary motivating factor in the decision of Anglicans to enter the Catholic Church. Anything which impedes that process cannot be of God, and so must be set aside to achieve this aim, which is the will of Christ.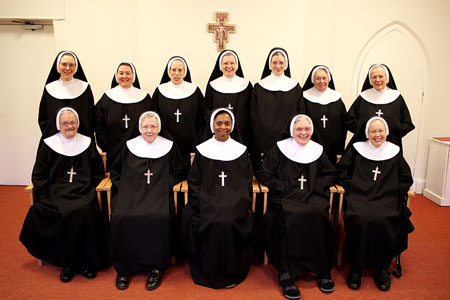 Anglican Nuns Seeking Full Communion with the Catholic Church
Continue reading at "Community of Anglican Nuns to join the UK Ordinariate."