The Holiness of the Church
Oct 16th, 2012 | By
Bryan Cross
| Category:
Blog Posts
Recently some Protestant participants in the dialogue here raised the objection that grave sins by Catholics seem to be incompatible with the Catholic claim that the Catholic Church is the one, holy, catholic and apostolic Church. If holiness is one of the four marks of the Catholic Church, how can the Catholic Church contain persons who commit such grievous sins? Four years ago the Association of Hebrew Catholics held a lecture series on "Themes of the Kingdom." During that series Dr. Lawrence Feingold, who is now an Associate Professor of Philosophy & Theology at Kenrick-Glennon Seminary in St. Louis, Missouri, and author of The Natural Desire to See God According to St. Thomas and his Interpreters and the three volume series The Mystery of Israel and the Church, gave a lecture titled "The Holiness of the Church," in which he addressed precisely this question. The audio recordings of the lecture and of the following Q&A session, along with an outline of the lecture and a list of the questions asked during the Q&A are available below. The mp3s can be downloaded here.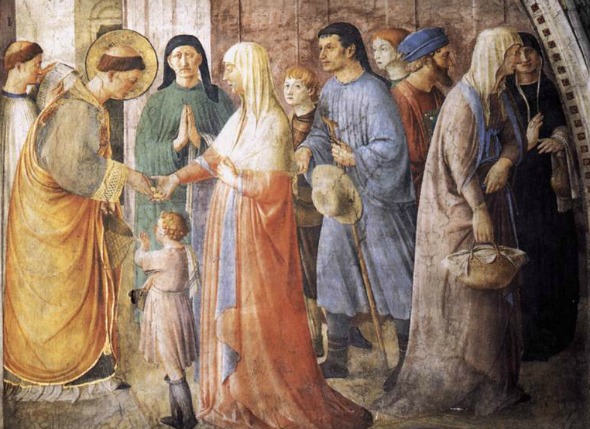 St Stephen Distributing Alms (1447-49)
Fra Angelico
Lecture: The Holiness of the Church

In What Sense is the Church Holy?
Holiness is one of the four marks of the Church (1′)
Holiness is the very reason of being of the Church (2′)
Of the four marks, holiness is the most difficult to use, for two reasons: (2′)
(a) holiness is inward, and thus cannot be experimentally measured
(b) the holiness of the Church does not exclude sinners from her midst
Two kinds of members of the Church (3′)
This holiness is especially manifested in the saints, who are never lacking in the Church. (4′)
Is the Church immaculate, or is she stained by the sins of her members? (6′)
Ephesians 5:25-27
Why the sins of the members of the Church do not truly stain the Church. (9′)
The Church remains holy, as the source of grace by which dead members are restored.
Quotation from Creed of the People of God, promulgated by Pope Paul VI (11′)
She [the Church] is therefore holy, though she has sinners in her bosom, because she herself has no other life but that of grace: it is by removing themselves from her life that they fall into sins and disorders that prevent the radiation of her sanctity. This is why she suffers and does penance for these offenses, of which she has the power to heal her children through the blood of Christ and the gift of the Holy Spirit.
The Church is holy because she has the seven sacraments by which grace is given. (13′)
The Church as a universal sacrament of salvation (19′)
The Church is holy because of the communion of saints (20′)
The Works of Mercy in the Church
How do we see that the Church on earth is holy? Primarily through her corporal works of mercy. (22′)
The Holiness of the Church's Doctrine (30′)
The spiritual works of mercy.
Example of the holiness of the law in the Old Testament
Example of the Church's teaching on the sanctity of marriage and human life (31′)
Example from the Epistle to Diognetus (32′)
How Mary is the perfect model of the Holiness of the Church (34′)
Are There Elements of Sanctity Outside the Church? (41′)
Is the Mystical Body of Christ the Catholic Church? (42′)
What is the meaning of "subsists in"? (43′)
Is salvation possible outside the Church? (50′)
Feeneyism (56′)
The Church and Evangelization (58′)
Decree on the Mission Activity of the Church
Redemptoris missio
Questions and Answers

1. What is the definition of 'holy'? (1′)
2. Catholics often mix up salvation and sanctification, which means they misunderstand the role of the Mosaic covenant, which is about sanctification, not salvation. Please comment. (5′)
3. Is the Church a moving body, continually moving to the end times? What is the difference between the Church and the New Jerusalem? (15′)
4. Do you discern some error in modern society that causes many young people born and raised in the Church to leave it after citing bad or insensitive pastoral care, often a priest or scandals with priests, etc.? (17′)
5. Are there any circumstances which a cradle Catholic who has received the sacraments and formation in the faith can nevertheless be invincibly ignorant or become invincibly ignorant? (20′)
6. The number of people who are saved is known only to God. But Matthew 7:13 speaks about the narrow gate. What is the Church's current view regarding numbers of percentage of those saved?(26′)