Truth Speaks in Love
Sep 5th, 2012 | By
Bryan Cross
| Category:
Blog Posts
Faith can wish to understand because it is moved by love for the One upon whom it has bestowed its consent. Love seeks understanding. It wishes to know ever better the one whom it loves. It "seeks his face," as Augustine never tires of repeating. Love is the desire for intimate knowledge, so that the quest for intelligence can even be an inner requirement of love. Put another way, there is a coherence of love and truth which has important consequences for theology and philosophy. Christian faith can say of itself, I have found love. Yet love for Christ and of one's neighbor for Christ's sake can enjoy stability and consistency only if its deepest motivation is love for the truth. This adds a new aspect to the missionary element: real love of neighbor also desires to give him the deepest thing man needs, namely, knowledge and truth. (Josef Cardinal Ratzinger, The Nature and Mission of Theology, 27)
ἀληθεύοντες δὲ ἐν ἀγάπῃ αὐξήσωμεν εἰς αὐτὸν τὰ πάντα, ὅς ἐστιν ἡ κεφαλή, Χριστός ["But speaking the truth in love, we are to grow up in all aspects into Him who is the head, even Christ."] (Ephesians 4:15)
Today is the feast of Blessed Mother Teresa of Calcutta, whose life exemplified the union of love and truth.
Truth speaks and is made intelligible through love (Eph. 4:15), and love in turn "rejoices in the truth" (1 Cor. 13:6). To the Christian, this deep union and interplay of love and truth is not surprising, because the God who is the Truth (Jn. 14:6) is also the God who is Love (1 Jn. 4:8, 16). In their ultimate referent, therefore, truth and love are one and the same, God Himself, even though in our human minds they are conceptually distinct, and in their expression in creation they are ontologically distinct. Yet because they are one in God, any attempt to separate them radically from each other not only separates us from them both, but also distorts our image of God, and distorts man who bears His image.
The truth is revealed through love for the truth. At the most basic level, this is why we listen, because we want to learn the truth, and this is why we speak, because we want the truth to be known and shared by all. Because of this relation between truth and love, truth is revealed more truly the more it springs from love, is conveyed by love, and is received in love. This is because Truth ultimately is personal; propositions are, in a way, abstractions, reflections of Truth abstracted by persons from communicating persons. I am a person now writing these words to you, the reader, and you are a person now reading these words from me. Truth in its personal dimension as known by and communicated among persons, depends upon love, not only a shared love for the truth communicated, but also a love for the communicants, those whose deepest appetite is love for the Truth because they are made in the image of the God who is Truth.
Love rejoices not only in possessing the truth, but also in its universal propagation and diffusion. Love for the truth is in this way also irreducibly social. We cannot love the truth and hate our neighbor. Love for the truth requires of us that we desire our neighbor freely to love the truth and be united by love to the truth we love. Our neighbor himself is a truth because as a created person he bears in his very nature the image of Truth itself, and is in this way an analogous adequatio of the Truth, a truth of the Truth. The truth he is includes his teleology, the flourishing toward which he is ordered by his created nature, and by which his heart is restless until it rests in the Truth who is Love. Therefore if we love the truth, we must love to see and effect our neighbor's well-being. Scorning one's neighbor while claiming to love the truth is in this way a kind of contradiction, because in doing so one is failing to love the truth one's neighbor is, the Truth imaged in one's neighbor.
Love's joy in the truth extends to each personal union with truth. Love rejoices in receiving the truth from others, communicating the truth to others, and sharing with others in the truth possessed together. And love for other persons as persons who are aimed most deeply at truth necessarily includes therefore a desire to share together in the truth with them, whether by receiving the truth from them, or bringing them to the truth, or resting with them in a shared joy in the truth. Love makes truth social and communal.
In his encyclical Caritatis in veritate, Pope Benedict XVI wrote:
Hence the need to link charity with truth not only in the sequence, pointed out by Saint Paul, of veritas in caritate (Eph 4:15), but also in the inverse and complementary sequence of caritas in veritate. Truth needs to be sought, found and expressed within the "economy" of charity, but charity in its turn needs to be understood, confirmed and practised in the light of truth. (Caritas in veritate, 2)
Because love and truth are the same in God, each is necessary to acquire the other, and a deficiency in one is a deficiency in the other. Love requires truth because love becomes authentic only as informed by the truth. Pope Benedict writes, "Without truth, charity degenerates into sentimentality. Love becomes an empty shell, to be filled in an arbitrary way." (Caritas in veritate, 3) And the encyclical primarily develops that direction of the relation between truth and love. But just as importantly, truth is empowered, animated, authenticated, and thus made credible and communicable, only by love. Faith working through love is only a more specific and elevated application of truth speaking through love.
Because of the deep connection between truth and love, a failure in love leads to a darkening of the mind, whether on the part of the speaker or on the part of the listener. If the speaker is deficient in love, his words do not penetrate to the heart of those to whom he speaks; he fails to gain a hearing because he does not connect with his hearers at the heart. A deficiency of love for his hearers indicates an insufficient love for the truth, and thus undermines the speaker's credibility.
Likewise, if the listener is deficient in love, the listener closes himself off to the truth he might receive from the speaker. Disdain or apathy for the speaker does not allow the truth he might be saying to be received and sincerely considered. The absence of love in his heart places an obstacle in his intellect to perceiving correctly and subsequently embracing the truth presented to him. Insofar as the listener departs from the principle of charity, he will distort even unintentionally, in a negative and further polarizing manner, what the speaker is saying, constructing a straw man and construing the speaker's words as harmful or threatening either to himself or to what the listener loves. The greater the departure from the principle of charity on the part of the listener, the less he is able to listen and understand rightly what he is hearing. Love for the speaker is a necessary condition for hearing and interpreting the speaker rightly.
Without love, the intellect cannot penetrate to the heart of anything, and remains in the darkness of superficiality. And this darkness in turn hinders love, for in darkness one does not see the beauty of that which truly is. As St. Augustine says, we cannot love what we do not know. Yet neither can we grow in our knowledge of what we do not love, because without love we see it at best only from a distance, as a disengaged and apathetic outsider, and so its truth remains hidden from us. If we want to be truly loving, then we must seek out the truth, in love, so that our love is true love. And if we want to understand the truth, we must be saturated in love, for love gives us eyes to see the truth.
But is not love blind? Does not love blind us to faults we ought to see? No, love is not blind, because God is love, and God is not blind. Lust is blind, because lust clouds and obscures the truth from the intellect. Love, by contrast, as stated by Pope Benedict in the first quotation above, pursues the truth of the one whom it loves, enabling us to see deeply, and thus see truly — as things truly are, according to their true nature, order and worth. The wife who stays with her Marine husband after he loses both legs in an explosion in Afghanistan, is not blind to his disability; rather, in love, she sees the disability more clearly for what it truly is, in relation to who he is. Love, true love, see things according to their proper value and order, because true love is informed by the truth of wisdom, to which it belongs to order; "sapientis est ordinare" says St. Thomas. True love therefore is not blind to faults, but sees them truly, according to their actual significance and import in relation to their subject.
One who is deficient in love for others is deficient in love for the Truth who made them. Hence we see in the first epistle of John the continual interconnection of love and truth, as mutual indicators of the other's presence. The one who loves is born of God and knows God. The one who does not love does not know God, for God is love. (1 Jn. 4:7-8) He who hates his brother is in the darkness still, and does not know where he is going, but he who loves his brother abides in the light. (1 Jn. 2:9-11) By our love for the brethren we may know we are "of the truth." (1 Jn. 3:19) He who abides in love abides in God, and God abides in him. (1 Jn 4:16)
Of course these passages do not exclude the need at times for 'tough love,' for discipline and rebuke. But they indicate that where love is lacking, truth is in some way lacking. And where love is present, truth is in some way present. These passages are not speaking of natural love by which one loves God as the source of all natural goods, but of agape, the supernatural love by which one loves God above all else, as Father, the source of the supernatural beatitude which He is in Himself, and loves one's neighbor as oneself, for God's sake. Nor do these passages entail that in any particular case, where agape is, no theological error is present. Nevertheless, they hold forth an undeniable relation between truth and love. A theology that fosters and nurtures the virtues of love, kindness, and mercy in the communities living out that theology testifies to its truth. Conversely, a theology that fosters unkindness or rudeness (1 Cor 13:4-5) or other qualities contrary to love in the communities holding that theology, testifies to its deficiency in the truth. Such communities cannot endure, but must fragment, and the relation of truth and love explains why such fragmentation is an indicator of heterodoxy.
Christians are called to communicate the truth of Christ in the love of Christ, with sincerity and good will to those with whom we engage. When Christ is lifted up in truth speaking in love, He will draw all men unto Himself. And Christ is lifted up in us when we are charitable, lifting up His truth in its beauty for His sake, sincerely loving all those who bear His image. The human heart does not ultimately rest in a mere abstract theological system, but instead in the living God who is Love. Because the one who abides in love abides in God, only in love do men encounter the living God: only in acts of love, lives of love and in communities living in love. No one argues against love as such. And only in love does genuine communication of the truth become possible. Without love there can be no effective evangelism, and no fruitful ecumenical dialogue.
Love rejoices even in the truth present in partial truths, and yet love does not limit itself only to part of the truth. Love rejoices fully in the whole truth. In that sense love itself is catholic. Love therefore is incompatible with that sort of ecumenism that sacrifices truth or ignores truth for the sake of superficial unity. In this way love is the precondition of genuine ecumenical dialogue, because love not only impels toward unity in the truth as the first mark of the Church, but also impels toward the Church's third mark of catholicity in its embrace of the whole truth, and therefore toward unity in the whole truth. Provincialism and sectarianism, by their very nature, have a divisive, abrasive tone. Deficient in love, they seek not the whole truth; deficient in truth, they do not love the whole people of God. Ideology that does not love the whole truth manifests its defective relation to truth through inauthentic, sophistical engagement with beliefs it opposes, or selfish isolation. Catholicity, by contrast, and the ecumenical dialogue that leads to true catholic unity, is by its very nature characterized by a tone of love and grace, one that always speaks the truth in love, and thereby brings maturation and unity in Christ the Head to all those who enter deeply into this practice, or rather, to all those in whom this practice enters deeply, till Christ be formed within them.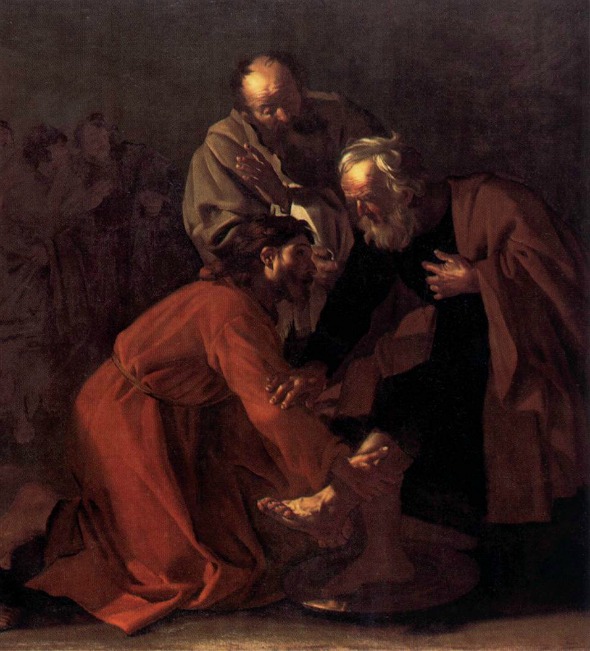 Christ Washing the Apostles' Feet
Dirck van Baburen (c. 1616)