Is Certainty a Bad Thing? Certainty, Infallibility, and the Reformed Tradition
Aug 1st, 2012 | By
David Anders
| Category:
Blog Posts
Is it wrong to desire certainty in our act of faith?  If you peruse the Reformed blogoshpere these days, you might come to that conclusion. As more and more Reformed Christians join the Catholic Church in search of doctrinal certainty, an all-too common response from the Reformed world has been to impugn this desire for certainty as somehow illegitimate. Instead, we are told, "All we can do is commend ourselves to God, keep vigilant, and keep on our knees." Presumably, then, the best we can do is hope that we shall not be led into doctrinal error. We can have no assurance that we will not actually err.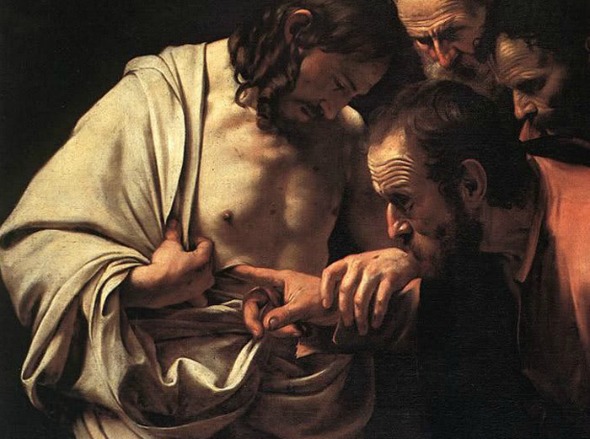 The Incredulity of Saint Thomas
Caravaggio
As someone raised across the two worlds of American Evangelicalism and Reformed Protestantism, I confess to finding this line of reasoning strange and novel.  Growing up, I cut my theological teeth on Francis Schaeffer and C.S. Lewis.  In seminary, I discovered the likes of B.B. Warfield, the Hodges, Graham Machen, Carl Henry, and David Wells –all of whom would be astonished, I think, to learn that we could not be certain in our act of faith. Indeed, the whole 20th century Reformed and Evangelical apology for traditional Protestantism against liberalism and modernism was that it offered the only rational basis for sure knowledge of ethics and metaphysics.
But it is not just 20th century Protestants who took this line. In graduate school, I turned to a much deeper study of the sources of the Reformed tradition. There I found no skepticism at all about theological knowledge, provided it was derived from Scripture as interpreted by Spirit-illumined ministers of the Gospel. Granted, the early Reformers allowed for human depravity and were not surprised by religious dissent, but they believed that Christians could arrive (were in fact morally obligated to arrive) at certainty and agreement regarding the core doctrines of the faith.  Moreover, one of the earliest arguments for sola scriptura was that it would allegedly provide doctrinal clarity whereas the multiplicity of Catholic authorities had brought only confusion.
Where, then has this new-found assault on certainty come from? How does it compare to earlier Reformed statements on religious epistemology? The answers, I think, are more historical, social and psychological than exegetical or theological. Early in the Reformation, there was a very broad range of topics about which certainty  was believed both possible and necessary. Calvin, for example, did not hesitate to assert that proper Eucharistic theology is necessary for salvation.  (See his Petit traicté de la Saincte Cene.) With each passing generation, however the promise of agreement became more and more elusive. Eventually, Protestants were forced by circumstances to declare themselves theologically pure in the most narrowly sectarian way, or else continually and reductively to redefine what counts as "core," or "essential." In some cases (Schleiermacher, Barth, and some evangelicals) this "core" was redefined in non-doctrinal terms altogether.
Against this theological reductionism, the Catholic Church begins to appear an attractive alternative.  Catholicism offers a principled way to distinguish dogma from mere theological opinion.  Rather than admit the impossibility of doctrinal certainty arising from Scripture alone, however, Reformed detractors now impugn the very desire for the certainty promised by Catholicism.
To be fair, Michael Horton, Wes White and the others who have made these claims do not personally ascribe to the radical theological skepticism I think their critique suggests. They do acknowledge a type of theological certainty. However, I would like to place their view of certainty in historical context, and ask why it has failed to satisfy the restless heart of the ex-Reformed.
Certainty and the Catholic Tradition
If you are going to object to the quest for doctrinal certainty in the Catholic Church, I think it is very important that you understand just what the Catholic Church offers. Some Reformed Christians of my acquaintance object to the Catholic doctrine of an infallible magisterium on the grounds that "there is no infallible list of infallible pronouncements," or "Catholics disagree on the status of such-and-such a dogma," or "where is the infallible interpretation of such-and-such a verse?"  What such objections amount to, it seems to me, is – "If you cannot give me an infallible answer to every question I have, then your infallibility is of no use."
All of these objections miss the mark. The point of the extraordinary Magisterium (councils and ex cathedra pronouncements) is not to give an infallible answer to every question, but only to intervene on those questions that the Church deems essential to the faith. There are many issues on which the Magisterium has refused to dogmatize. (See the Congregatio de auxiliis, for example). There are others for which the ordinary teaching of the church is deemed sufficient.
In all of these cases, what must be born in mind is the distinction between dogma and theological opinion. The Catechism: "The Church's Magisterium exercises the authority it holds from Christ to the fullest extent when it defines dogmas, that is, when it proposes truths contained in divine Revelation or also when it proposes in a definitive way truths having a necessary connection with them . . . Dogmas are lights along the path of faith; they illuminate it and make it secure." (CCC, 88)
What the Catholic Church promises, then, is not an answer to every question, but a principled way, established by divine authority, to differentiate dogma from mere opinion, and to do so in a way that allows for certainty in our act of faith. As we shall see, the historic Reformed tradition makes very similar claims, but on a very different basis.
Certainty in the Reformed Tradition
Zwingli
Ulrich Zwingli offered one of the earliest apologies for the doctrine of sola scriptura. In his Clarity and Certainty of the Word of God (1522), he argued that a spirit-illumined reading of Scripture could provide far more certainty and clarity than any appeal to competing Catholic authorities:
When the rabble of carnal divines that you call fathers and bishops pronounce upon a doctrine about which there is a doubt, are you enlightened, and do you know with absolute certainty that it is as they say? . . . [You] put your trust in fallible men, who can do nothing without the grace and spirit of God . . . You believe that men can give you certainty, which is no certainty, and you do not believe that God can give it to you. . . .You do not know that it is God himself who teaches a man, nor do you know that when God has taught him that man has an inward certainty and assurance. . . . If you think there can be no assurance of certainty for the soul, listen to the certainty of the Word of God. The soul can be instructed and enlightened – note the clarity – so that it perceives that its whole salvation and righteousness, or justification is enclosed in Jesus Christ. [1]
Zwingli here specifically contrasts the lack of certainty in Catholicism with the absolute certainty one has of one's salvation from Scripture and the Spirit. This emphasis on soteriology and pneumatology continues to be a mainstay of Protestant hermeneutical theory, and the response to Catholic claims about authority.
Calvin
Anyone familiar with Calvin's struggle for "doctrinal purity" in Geneva, his imposition of a common catechism, the legal strictures placed on theological dissent, and the harsh words he uttered against other Protestants  cannot doubt that he thought doctrinal clarity was both possible and necessary. (See How John Calvin Made me a Catholic.)
Not only did Calvin believe in doctrinal certainty, he also believed that failure to agree with an ordained minister was a sign of reprobation.  On Friday June 28 and Saturday June 29, 1549, Calvin preached two sermons that must have goaded the individualists in his congregation.  Calvin taught that the mother of all superstition and idolatry, and the cause of all dissension is the belief that one can "discern between the good and the bad apart from the rule of God." [2]  He made it quite plain, however, that the office of discerning good from bad belongs exclusively to the ordained ministry.  Those who obey this rule are the elect, those who disobey the reprobate.  Calvin says:
We see that those who have charge of the word of God, their office is to discern what is good in order to approve it and what is bad in order to condemn it.  And when men submit themselves to the doctrine that we preach, we [should] regard them as those in whom God is working [i.e., the elect].  On the contrary, those who draw themselves back, we [must] hold them in derision. [3]
In a number of places, Calvin equates opposition to ministerial teaching (i.e., the Reformed Magisterium) as rebellion against God himself.  Some deny that the ministry of the prophets continues in the church, Calvin says, but this is "execrable blasphemy."  Though his word may be pronounced by a mortal man, "we must be completely certain that God ratifies from heaven whatever is pronounced here in his name."  Those who oppose a prophet, Calvin explains, oppose not the prophet but God.  "If someone brings us the word of God and he is despised among us," he preaches, "we must not look to mortal men as if it were to them that we had done injury, but let us know that God will always be their guardian, and let us feel that it is him we have offended." [4]
This is why the mature Calvin could even affirm the doctrine of implicit faith. The majority of the faithful, he held, are unable accurately to derive doctrinal conclusions from Scripture, but must be content with an implicit faith in the teaching of the ordained ministry.
The Westminster Confession on Certainty and Infallibility
Zwingli and Calvin were naive in their belief that Scripture-interpreted-by-the-Reformed-ministry would provide doctrinal clarity and theological unity. By the time of the Westminster Assembly, theological pluralism was a fact of Protestant life.  Rather than give up the hope for clarity and unity, however, the Westminster divines articulated a nascent theological reductionism.  According to Westminster, certainty might not be possible for every issue, but God did promise infallibility and certainty regarding those doctrines necessary for salvation.
In chapter one, the WCF treats of Holy Scripture, its composition, nature, authority, clarity, and interpretation. For our purposes, the most interesting part is how the confession addresses the problem of Scriptural interpretation. It acknowledges that "all things in Scripture are not alike plain in themselves, nor alike clear unto all," yet it asserts that "those things which are necessary to be known, believed, and observed, for salvation are so clearly propounded and opened in some place of Scripture or other, that not only the learned, but the unlearned, in a due use of the ordinary means, may attain unto a sufficient understanding of them ." WCF I.vii
The confession is equally interesting when it considers the kind of knowledge available to the elect regarding those doctrines "necessary for salvation."
The Confession:
[S]uch as truly believe in the Lord Jesus . . . may in this life be certainly assured that they are in a state of grace . . . This certainty is not a bare conjectural and probably persuasion, grounded upon a fallible hope; but an infallible assurance of faith, founded upon the divine truth of the promises of salvation, the inward evidence of those graces unto which these promises are made, the testimony of the Spirit of adoption witnessing with our spirits that we are the children of God.  XVIII.I (Emphasis mine.)
Certainty. Infallible. Assurance. This is the language of the Confession, though limited to the doctrines and knowledge of salvation.
Protestantism and Theological Reductionism
Why did some Reformed Protestants take the reductionistic path? Scripture does not call for theological reductionism. Paul could exhort the Corinthians "to agree on everything." Clearly, Calvin and the early Reformed tradition envisioned something much more solid than the current Reformed fare.  The answer, I think, is historical. Although the process of doctrinal disintegration began immediately with the Reformation (and is reflected in the WCF) it had reached a fever pitch by the 18th century.
As I have discussed elsewhere, the 18th century revivals were disastrous for Protestant Ecclesiology and hermeneutics. As Protestants across denominations began to testify to the same saving experiences, revival proponents concluded that denominational differences did not matter. George Whitefield, for example, remarked:
I saw regenerate souls among the Baptists, among the Presbyterians, among the Independents, and among the Church [i.e., Anglican] folks—all children of God, and yet all born again in a different way of worship: and who can tell which  is the most evangelical.
And again,
It was best to preach the new birth, and the power of godliness, and not to insist so much on the form: for people would never be brought to one mind as to that; nor did Jesus Christ ever intend it. [5] (Emphasis mine.)
Whitefield's remarks are very far removed from the sentiments of Calvin and the early Reformed Tradition, but they are emblematic of the emerging direction of Reformed Ecclesiology. Eventually, some schools of Reformed theology would move away from doctrinal affirmations of any sort.
Certainty, the Blogosphere, and the Reformed Tradition
The historic Reformed tradition promises doctrinal certainty. Zwingli believed in certainty at least regarding the soteriological core  of the Christian faith. Calvin had a much more robust notion of doctrinal certainty, based on the authority of the Reformed Magisterium. Westminster, like Zwingli, promises certainty and assurance regarding the question of personal salvation.
Some contemporary writers, like Horton, recognize the more robust, classical Calvinist view of certainty and religious authority.  To Horton, it seems incredible that anyone could defect from a "Reformational" view of Scripture and authority, and seek certainty from the elusive and questionable Catholic magisterium. The question then arises, "Why would so many ex-Reformed Christians find the Reformation option ultimately unsatisfying?"
Assessment:
Horton would have us believe that anyone who defects from the Reformed faith must not really have understood the Reformed faith, and its nuanced view of Scripture, tradition, and ministerial authority. But this is not true. There are a number of problems with the Reformed view, so that even a fully-orbed Reformational view of Scripture fails to satisfy the ex-Reformed.
To begin with, we note that the historic Reformed faith is as interested in the question of certainty and assurance as any Catholic. Zwingli uses the language of absolute certainty; the WCF speaks of an infallible assurance. The problem enters in with the basis of that certainty. The Reformed tradition offers two approaches.
First, there is the infallible assurance that WCF lodges in the individual conscience. This is the theme, taken in a highly reductive sense, of the Evangelical tradition. Second, there is the magisterial authority – worthy of implicit faith – that Calvin asserts. Writers like Horton and Keith Matthison seek to blend the two, emphasizing the final authority of Scripture, while stressing both Scripture's soteriological core and the role of authorized interpreters. Let's take each view in turn.
First, the subjectivist view. The subjectivist dimension to Reformed theology is particularly problematic when considered in light of the WCF teaching on false assurance (basically, that false assurance is possible). (XVII.i)  If infallible assurance is possible, and false assurance is possible, then there must be some way to differentiate an infallible witness of the spirit from a spurious one. What is that way? What could it possibly look like?
Here is where I would like particularly to challenge our Reformed readers. Can you give a coherent description of how one could distinguish a genuine from a spurious claim to illumination? I imagine that the true and the genuine could be distinguished only by what philosophers of mind call qualia: those utterly subjective and ineffable elements of consciousness that color our perceptions, like the way that green appears to me. I can give no coherent description of what green "looks like," nor can I know with certainty that my "green" is not your "orange." This is what philosophers call the "inverted spectrum" problem.
I can think of no coherent way to differentiate genuine from spurious claims to illumination that does not fall prey to the inverted spectrum problem.  It is always possible, it seems to me, that my experience of "true faith," is really your "hypocritical and passing faith." This is rendered even more likely by the Reformed doctrine of original sin. If my every thought and inclination is depraved, then even my most perfect act of faith and trust must be deficient. In the final analysis, it seems to me that Reformed subjectivism can provide certainty of only one proposition: "I am the subject of something; I have had an experience." But that purely interior experience can tell me nothing certain and objective about the world outside my mind.
Another problem with the subjectivist view is that it wrecks havoc with ecclesiology. This may not bother Schleiermacher or the radical evangelical, but it should seem problematic to anyone with an even slightly empirical doctrine of the Church. Without an external authority to check my private experience, the church necessarily reduces to "Me and whoever agrees with me." This is, in fact, precisely the answer to religious pluralism given by one recent critic of Catholic converts. He writes, "The way forward is to separate oneself from all that is evidently doctrinally and morally corrupt [sic!] and fellowship with small groups of like-minded believers."
What of the Reformed Magisterum? Many Reformed Christians acknowledge the authority of creeds, confessions, and Church ministers. These serve allegedly as a check on the private interpretation of individuals. The problem with this view comes in the criteria we must use to identify that Magisterium, and the degree of authority we ascribe to it.
The Reformed tradition clearly rejects apostolic succession, miracles, or any other empirical criteria for recognizing the Magisterium. Calvin's view was that the Reformed Magisterium be recognized by its fidelity to "The Word." Horton stresses the hermeneutical centrality of "the Gospel."  The problem with these is that they reduce, in the end, again to subjectivism.  Who gets to be the judge of an authority's fidelity to "The Word?" Who judges fidelity to "The Gospel?"  This very question befuddled the Genevan church in Calvin's day, which was wracked over just these problems of biblical interpretation and the criteria for religious authority.
There is a way to illustrate this from something in the field of finance. In my business (investments), you NEVER give unqualified investment advice. You always qualify it with a lengthy, legal disclaimer saying, in effect, "This investment advice really should not be construed as investment advice. Really, its just for educational purposes. If you act on it and lose your shirt, remember that we never told you to act on it." In the end, the Reformed Magisterium reduces to something similar. The only infallible interpreter of Scripture is Scripture itself. The only infallible assurance is the subjective assurance of salvation. Therefore, any pronouncement of the Reformed Magisterium is qualified by, "But, we're really not certain of this. Make sure you check it against Scripture."
Again, in his own ministry, Calvin had no credible answer to this problem. When members of his congregation challenged him on biblical exegesis, he would respond by insulting them, impugning their motives, questioning their election, and asserting his own divine authority. (Oh, and by urging the city council to enact legal strictures against, and punishments of theological dissent.)
Another problem with the Reformed view of Scripture and authority is the glaring historical record, the very reason for evangelical reductionism. However you construe theological certainty, there just hasn't been any in Protestant history. The only way you can say otherwise is to assert some doctrinal core (based on subjective criteria) and then to go poking through history looking for theological bedfellows. But this hardly does justice to the actual theological pluralism of Protestantism – of even the Reformed tradition. (If anyone doubts the existence of Reformed pluralism, please take a peak at Janice Knight's Orthodoxies in Massachusetts.)
Closely related to this is another problem: the putative "clarity" of Scripture's soteriological core. One of the mainstays of Reformed hermeneutics is the alleged clarity of those doctrines "necessary for salvation." By this, the WCF means the whole complex of ideas related to justification, imputation, faith-alone, atonement, etc. Increasingly, the claim that these are clear even to the unlearned seems less and less credible.
At risk of provoking shrieks and catcalls, I invoke N.T. Wright and the "New Perspectives." Anyone who has read Wright's Justification can hardly question his commitment to sola scriptura, his seriousness as an exegetical scholar, and his rejection of traditional Reformed soteriology. Now, it is one thing to reject Wright on exegetical grounds (as many do). But then what to make of the WCF claim that the core doctrines of the faith are so plain that even the unlearned (elect) can grasp them in Scripture? Do we really conclude that Wright is among the unregenerate simply because he disagrees with the Reformed doctrine of justification? To many ex-Reformed, this appears an egregious case of special pleading.
There is yet another problem with the "soteriological core" view of Scripture's clarity. Positing a clear "core" of soteriological doctrines, and a less clear penumbra of ecclesiology is one way to distinguish essential from non-essential. But, it is atrociously ad hoc. Who says we should divide essential and non-essential this way? Calvin clearly didn't limit the "essentials" to only soteriological data. Neither did Nicaea. Nor does Scripture itself. ("Agree on everything," says Paul.)
Then finally, there is the actual teaching of Scripture about religious authority. Many of the ex-Reformed were persuaded in favor of the Catholic Magisterium on the basis of Scripture itself. The ultimate problem with the Reformed view of biblical authority (however you construe it) is that it is unbiblical. Scripture simply knows no doctrine of Sola Scriptura. Scripture says much, however, about the authority of the Church.
Conclusion
More and more Reformed Christians are becoming Catholics in search of doctrinal certainty. They have recognized that Protestantism has no principled way of objectively distinguishing dogma from opinion. The Catholic claim to be able to do this is not only attractive and satisfying, but it is objectively grounded in revelation and history.
Some Reformed writers have criticized this quest for certainty. They object to this search for "hard edges." Instead, they urge humility and prayer, veneration of Scripture alone, and a limited reliance on ministerial authority and tradition. They acknowledge that these measures are prone to failure and cannot provide absolute certainty, but they suggest that they provide enough certainty to guarantee a saving knowledge of Christ.
We have placed this objection in historical context. We see that the early sources of the Reformed tradition were not reticent about promising doctrinal certainty, but that over time Protestantism was subjected to a type of theological reductionism. This reductionism is a challenge to the Reformed view of doctrinal certainty. We have also called into question a central claim of the Reformed view of Scripture: that there is a (Reformed) soteriological core that is so clear as to be reasonably beyond question. We have also questioned why theological certainty should be limited to only soteriological issues?
Finally, it is not true that all Reformed converts to Catholicism are ignorant of Reformation history and doctrine. I, for one, was raised fully in the reductionistic, evangelical school of Reformed history. When I began to study the Reformation in earnest, however, I discovered the more robust view of ecclesiastical authority, liturgy, and sacramental life. I also discovered an intolerance of schism, and a real desire for doctrinal unity on even (seemingly) trivial questions. Inspired by this more robust, Calvinistic vision of doctrinal unity, theological certainty, and ecclesial life, I pursued a systematic investigation of Scripture, history, and tradition to discern which communion had the strongest claim to orthodoxy, historical continuity, and biblical fidelity.  Study of history, Scripture, and tradition made the Calvinist claim to authenticity incredible to be. It made the Catholic claim credible.
____________
[1] Cited in Zwlingli and Bullinge, ed. G.W. Bromley (Westminster/John Knox, 1953), 83-84.
[2]Supplementa Calviniana  6: 54. Cited hereafter as SC.
[3] Calvini Opera 6: 48. (Cited hereafter as CO): "En cela nous voyons que ceulx qui ont charge de la parolle de Dieu, leur office est de discerner ce qui est bon pour l'approuver et ce qui est meschant pour le condampner.  Et quant les hommes se rengent à la doctrine que nous portons que alors nous les regardions comme ceulx en qui Dieu besogne.  Au contraire ceulx qui s'en retirent que nous les ayons en mespris."
[4] SC 5: 3, 11; 6: 122: "Et de dire que les prophetes n'ayent plus de lieu, mais qu'il nous fault contenter de la doctrine de l'Evangile, c'est un blaspheme execrable."  "Combien que cela nous soit annoncé d'ung homme mortel, nous en debvons estre tout certains, d'autant que Dieu ratiffie au ciel ce qui est icy prononcé en son nom."  "Voila donc l'intention du prophete: c'est de monstrer à ceux qui on mesprisé sa doctrine qu'ilz n'auront [pas] seulement à faire à luy, mais à Dieu.  Voila qu'il faut que nous notions, que si on nous apporte la parolle de Dieu et [qu']il y a mespris en nous, il ne faut pas que nous regardions les hommes mortelz comme si c'estoit à eux que nous pens[i]ons faire injure, mais que nous congoissons que Dieu sera tousjours leur garand et sentions que c'est luy que nous avons navré."
[5] Journals (London: Banner of Truth, 1960), 458, Cited in Mark Noll, The Rise of Evangelicalism: The Age of Edwards, Whitefield and the Wesleys (Downers Grove: IVP, 2003), 13-15.