Two Questions about Marriage and the Civil Law
May 13th, 2012 | By
Bryan Cross
| Category:
Blog Posts
Here I consider two questions. The first question is whether defending the legal recognition of marriage as exclusively between a man and a woman is imposing one's religious views on others. The second is whether Christians should seek through the political process to maintain or change civil laws.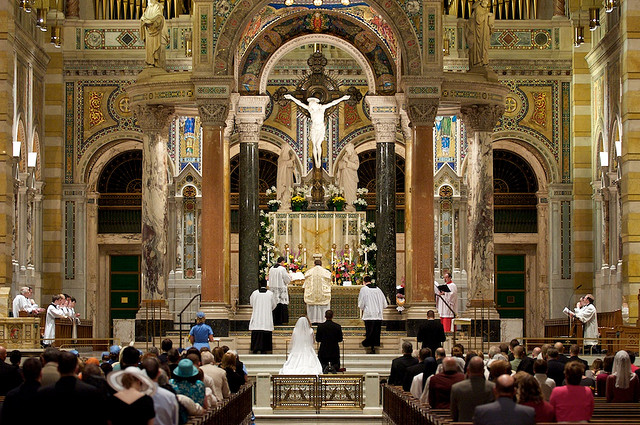 Nuptial Mass at the Saint Louis Cathedral Basilica
(Photo courtesy of Jeff Geerling)
I. Is Defending the Legal Recognition of Marriage Imposing one's Religion on Others?
Some people think that Christians should not propose or support legislation that legally defines marriage as a union of one man and one woman. Among the reasons they offer is the notion that religious people should not 'impose' their religious beliefs on people who do not hold those religious beliefs. We would not want others to impose their religious views on us, and therefore we should not do so to others. So, the objection bases itself on the Golden Rule.1
It is true, of course, that we ought not coerce people to believe or practice our religion. That is a truth we know by natural law, that the dignity of the human person calls us to uphold the religious liberty of all persons, such that their freedom of will and self-determination are respected.2 But our obligation not to impose our religious beliefs on others does not entail that we should not support civil legislation that upholds the traditional definition and institution of marriage.
That is because we can know both what marriage is, and what is right and wrong regarding marriage through the same natural law by which we know that our religious beliefs should not be imposed on others. (See the article by Sherif Girgis, Robert George, and Ryan Anderson, titled "What is Marriage?.") Natural law is not based on or derived from divine revelation, and is therefore not based on religion. Our grasp of the natural law can be improved or diminished by the communities in which our moral understanding takes shape. And religion can illumine or distort our perception of the natural law in certain respects and to varying degrees. But even so, we know natural law through the rational capacity we have as human persons. So seeking to conform civil law to the natural law is not necessarily imposing religious beliefs on anyone, even if a truth belonging to the natural law is also believed and taught within one or more religions.
In addition, by reason we can know that marriage is a natural institution ordered to the common good, and upon which the common good depends essentially. The common good requires the formation of stable families intrinsically ordered to the procreation and rearing of children. The preservation of society requires a continual addition to its population, since each human person has only a finite lifespan. Without procreating couples, a society would cease to exist within a century. But for its perpetuation, society needs more than additional human beings; it needs these additional citizens to be educated, socialized, and formed in the virtues, such that upon reaching adulthood, they too can enter into marriage and other practices or crafts, and contribute to the preservation and improvement of society. A mere child factory or cloning factory could not do that, nor is that what children need in order to develop in a healthy, well-adjusted way.3 Only families are intrinsically suited to provide the formation and rearing children need to acquire the virtues and enter into society. Without the institution of the family, society would not only depopulate into extinction, but children would not be rightly prepared upon reaching adulthood to enter into marriage and other practices necessary for the flourishing of society. For this reason the common good of society depends vitally on the institution of the family, and therefore on marriage which is the family's stabilizing bond by which it is intrinsically ordered to the procreation and rearing of children.
The legal recognition and defense of marriage helps protect and preserve a correct public understanding of and participation in the natural institution of marriage, because just law is a tutor in virtue to the citizens raised under and informed by that law in their actions and thus in the dispositions they develop.4 If the civil law were to treat other types of union as marriage as well, this would teach the citizens under that law that marriage is merely an arbitrary social contract between any number of persons of any sex — a concept of marriage presupposed by the 'equality argument.'5 Such a law would obscure the truth about marriage as a natural institution, and would sanction and promote a culture of sexual behavior and dispositions contrary to that required to enter into and maintain the marriage institution as the essential foundation of the stable family. In this way the legal recognition of marriage as exclusively between a man and a woman protects and preserves not only marriage, but also the social practice of forming families naturally ordered to the procreation and rearing of children, by which our society is maintained. Conversely, legislation that defines marriage as something other than a union of one man and one woman is in this way harmful to the common good.6
In his 2004 pastoral letter titled "On Our Civic Responsibility for the Common Good," Archbishop Burke (now Cardinal Burke and Prefect of the Supreme Tribunal of the Apostolic Signatura) wrote:
"Such legal recognition of a same-sex relationship undermines the truth about marriage, revealed in the natural law and the Holy Scriptures, namely that it is an exclusive and lifelong union of one man and one woman …. Likewise, the legal recognition of a homosexual relationship as marriage redounds to the grave harm of the individuals involved, for it sanctions and even encourages gravely immoral acts."
And in 2003, as Prefect of the Congregation of the Doctrine of the Faith, Cardinal Ratzinger (now Pope Benedict XVI) published a document titled "Considerations Regarding Proposals to give Legal Recognition to Unions Between Homosexual Persons," in which he wrote:
"Laws in favour of homosexual unions are contrary to right reason because they confer legal guarantees, analogous to those granted to marriage, to unions between persons of the same sex. Given the values at stake in this question, the State could not grant legal standing to such unions without failing in its duty to promote and defend marriage as an institution essential to the common good.

It might be asked how a law can be contrary to the common good if it does not impose any particular kind of behaviour, but simply gives legal recognition to a de facto reality which does not seem to cause injustice to anyone. In this area, one needs first to reflect on the difference between homosexual behaviour as a private phenomenon and the same behaviour as a relationship in society, foreseen and approved by the law, to the point where it becomes one of the institutions in the legal structure. This second phenomenon is not only more serious, but also assumes a more wide-reaching and profound influence, and would result in changes to the entire organization of society, contrary to the common good. Civil laws are structuring principles of man's life in society, for good or for ill. They "play a very important and sometimes decisive role in influencing patterns of thought and behaviour". Lifestyles and the underlying presuppositions these express not only externally shape the life of society, but also tend to modify the younger generation's perception and evaluation of forms of behaviour. Legal recognition of homosexual unions would obscure certain basic moral values and cause a devaluation of the institution of marriage."
The State has an obligation under the natural law to defend the natural institution of marriage for the common good, just as the State has an obligation to defend innocent human life. Legally defining other sorts of union as 'marriage' would obscure the truth concerning marriage, and distort the public's conception of marriage and the dispositions and behavior of its citizens in relation to marriage. In such a case, the State would be failing in its duty to defend marriage. When a State's marriage laws fail to defend marriage, its laws are in that respect unjust, and citizens, whether Christian or not Christian, are right to seek to rectify the unjust laws.7
Cardinal Ratzinger in that same document explains that justice requires that the State defend and not distort marriage, writing:
Society owes its continued survival to the family, founded on marriage. The inevitable consequence of legal recognition of homosexual unions would be the redefinition of marriage, which would become, in its legal status, an institution devoid of essential reference to factors linked to heterosexuality; for example, procreation and raising children. If, from the legal standpoint, marriage between a man and a woman were to be considered just one possible form of marriage, the concept of marriage would undergo a radical transformation, with grave detriment to the common good. By putting homosexual unions on a legal plane analogous to that of marriage and the family, the State acts arbitrarily and in contradiction with its duties.

The principles of respect and non-discrimination cannot be invoked to support legal recognition of homosexual unions. Differentiating between persons or refusing social recognition or benefits is unacceptable only when it is contrary to justice. The denial of the social and legal status of marriage to forms of cohabitation that are not and cannot be marital is not opposed to justice; on the contrary, justice requires it.

Nor can the principle of the proper autonomy of the individual be reasonably invoked. It is one thing to maintain that individual citizens may freely engage in those activities that interest them and that this falls within the common civil right to freedom; it is something quite different to hold that activities which do not represent a significant or positive contribution to the development of the human person in society can receive specific and categorical legal recognition by the State. Not even in a remote analogous sense do homosexual unions fulfill the purpose for which marriage and family deserve specific categorical recognition. On the contrary, there are good reasons for holding that such unions are harmful to the proper development of human society, especially if their impact on society were to increase.8
My point in quoting from these Church documents is not to base the natural law argument on the Church, but to show that even the Church's argument makes use of a natural law argument.
Christian traditions in which morality is drawn exclusively from the Bible have very little recourse when and where the moral authority of the Bible or their particular interpretation of the Bible is not recognized in the public square. This is also why Protestantism is more vulnerable than is Catholicism to the objection that opposing same-sex 'marriage' legislation is imposing one's religious beliefs on others.9 Calvin and Luther believed that depravity had so corrupted human reason that it is untrustworthy especially in ethics and philosophy. For their theological heirs, the practical consequence of that position is that we must rely on Scripture, not reason, both to determine and to ground morality. There is, of course, truth to our susceptibility as humans to rationalizing our unethical behavior, and using metaphysical assumptions we want to believe, in order to arrive at the philosophical and moral conclusions we want to be true. And there were Protestants who developed and contributed to our understanding of natural law — persons such as Hugo Grotius, Peter Vermigli and Francis Turretin. But Protestantism's low view of reason, in combination with modern philosophy's move toward positivism, tended to prevent any substantive or widespread Protestant reliance on or formal recognition of the natural law, and a development of and integration of natural law ethics within its theology. That was especially so in the nineteenth century, and culminated in the twentieth century with Karl Barth's explicit rejection of natural law.10 And without a formal recognition of the natural law, a Christian's opposition to same-sex 'marriage' can be based consciously only on Scripture, and he is therefore susceptible to the "religious imposition" objection.
II. Should Christians even seek to maintain or change public laws?
Similarly, some Christians claim that the efforts to protect the legal recognition of marriage or enact legal protections for the unborn, are an unhealthy or unjustified mix of religion and politics. Christianity, they claim, is about bringing people to the Kingdom of heaven, not about making this world a better place. The latter notion is associated with both theological liberalism and 'liberation theology' which replace the supernatural with the natural, and so remove from Christ's gospel His invitation to the heavenly union which is eternal life in the divine family of Father, Son, and Holy Spirit, and reduce the heavenly call to a summons to social and political transformation on earth. According to such Christians,
[T]the realm of nature should not be expected to function and look like the realm of grace. Living in the tension of two kingdoms we should stop trying to transform the culture of this world into the kingdom of our Lord and instead focus on the church being the church, led by it duly ordained officers and ministering through the ordinary means of grace. (Source)
What "the church being the church" means here is engaging and focusing on preaching, evangelism, sacraments, prayer, discipleship, etc. What this theological position intends to exclude, more than anything else, is the organized attempt by Christians or the Church to change laws or influence government policies, whether regarding marriage, abortion, war, capital punishment, etc. They express this typically as opposition to Christian engagement in 'the culture war.' In a post titled "How to win a culture war and lose a generation," Rachel Held Evans recently proposed that Christians simply stop fighting the culture war, because, she claims, it is not working, and it is 'turning off' a generation of young people.
What ought we say to this? To be sure, from a Catholic point of view, those who seek to maintain the distinction between the Kingdom of heaven and any earthly political system are right that there is such a distinction, and that the denial of the supernatural is a grave error. The good news of Jesus Christ is a call to the beatific vision, a supernatural participation in the eternal life of the Blessed Trinity, not a man-made utopia accomplished by a Pelagian-style reversal of Babel. And we are built up in this eternal life through the liturgy of word and sacrament. And as Catholics we believe by divine revelation that Christ has elevated marriage to the dignity of a sacrament as I've written about in more detail elsewhere.
Yet this does not make marriage cease to remain a natural institution, much as baptism infuses into us the supernatural life of God, but does not make us cease to remain human. Marriage remains a natural institution to which humans are intrinsically ordered as beings who are by nature both rational and sexual. A fundamental Catholic principle is that grace perfects nature; grace does not abandon or destroy nature. Catholics are not Marcionites, Manicheans or gnostics. The God who created us is the same God who calls us to eternal life. The notion that salvation involves a spurning of nature or creation implies that the God who saves us is not the God who created us and all of nature. The falsehood of Marcionism is the reason underlying the truth of the Catholic principle that grace perfects nature. Redemption is not a second deity's exit plan for man from the bungled mess brought about by an incompetent previous deity's flawed design. In calling us to supernatural union with Himself, God does not call us to abandon our natural responsibilities to our family, our neighbors, and our society. The opposite error of a liberation theology that reduces the gospel to corporal works of mercy is a gnosticism that purportedly takes us 'out' of the world, and strips us of our civic obligations to build up the political society in which we live according to the natural law and the common good.
Cardinal Burke described our dual citizenship in this way:
Through the outpouring of the Holy Spirit into our lives, we have become citizens of Heaven, heirs to the eternal life which Christ has won for us by His Passion, Death and Resurrection. Citizens of Heaven, we remain citizens of Earth and of the particular nation in which we live. In fact, our heavenly citizenship requires our imitation of Christ who "came not to be served but to serve, and to give his life as a ransom for many" (Mark 10:45).

13. As citizens of both Heaven and Earth, we are bound by the moral law to act with respect for the rights of others and to promote the common good. The Second Vatican Ecumenical Council makes clear the responsibilities which are ours as citizens of the City of God and the city of man:

"The Council exhorts Christians, as citizens of both cities, to perform their duties faithfully in the spirit of the Gospel. It is a mistake to think that, because we have here no lasting city, but seek the city which is to come, we are entitled to shirk our earthly responsibilities; this is to forget that by our faith we are bound all the more to fulfill these responsibilities according to the vocation of each one. But it is no less mistaken to think that we may immerse ourselves in earthly activities as if these latter were utterly foreign to religion, and religion were nothing more than the fulfillment of acts of worship and the observance of a few moral obligations. One of the graver errors of our time is the dichotomy between the faith which many profess and the practice of their daily lives. As far back as the Old Testament the prophets vehemently denounced this scandal, and in the New Testament Christ Himself with greater force threatened it with severe punishment. Let there, then, be no such pernicious opposition between professional and social activity on the one hand and religious life on the other. The Christian who shirks his temporal duties shirks his duties towards his neighbor, neglects God Himself, and endangers his eternal salvation" (Gaudium et spes, No. 43a).

Our heavenly citizenship adds the grace of Christ to the duty of our earthly citizenship, which is to preserve, safeguard and foster the common good. As citizens of Heaven, we have the grace of the divine charity of the Good Samaritan to inspire and strengthen us in loving all, without boundaries.

14. The secularism of our culture, with its tendency to an exaggerated individualism, can easily cause confusion regarding the relationship of our duties as Christians and citizens, as citizens of Heaven and citizens of Earth. We can easily begin to view our Christian duty as a private matter without legitimate reference to our civic duty. The Word of Christ, however, calls us to the constant conversion of our lives, by which we overcome any selfish individualism and live truly in Christ for love of God and our neighbor, also in fulfilling our civic responsibility. ("Our Civic Responsibility for the Common Good")
The duties and obligations we have as humans, to our families and to the common good of society, are retained, not lost or revoked when we become Christians. Among these duties are the promotion and preservation of the common good through the establishment of just laws. Our obligation to establish and uphold just laws in our society belongs to us even apart from Christianity, and is not removed by becoming Christian. Nor does becoming a Christian restrict the legitimate means by which we are to establish justice in society only to evangelism or individual conversion. Martin Luther King Jr., in his "Letter from Birmingham Jail," explicitly appeals to natural law to argue that the Jim Crow laws must be changed. He did not think that becoming or being a Christian meant that we should no longer seek for our civil law to reflect and uphold the natural law. Otherwise, he would not have marched and protested against unjust civil laws. Similarly, William Wilberforce invested his whole life into a similar effort to establish laws against the grave injustice of slavery.
The gospel does not present us with an either/or regarding grace and nature, but a both/and. This is why becoming a Christian does not negate our responsibility as Christians to work to change unjust laws, whether they be about abortion, euthanasia, torture, racism, child sex trade, even laws that fail to give marriage its due protection, and are in that respect unjust. If abandoning the culture war means letting unjust laws or practices prevail, then calls to abandon the culture war are calls to cowardice, apathy, and indifference. That's not what any generation needs. Our obligation not just as Christians, but first as human persons, to establish and defend social justice depends neither on our prospects for success, nor on the youth being enamored or 'turned off' by our efforts. It depends only on the goodness of justice, and the evil of injustice.
Some Christians acknowledge our obligation as individual Christians to establish and defend justice, but claim that the Church as such has no business in such matters. And it is true that the mission of the Church is not fundamentally directed toward a political or economic end, but instead to a supernatural end. The Second Vatican Council taught, "Christ, to be sure, gave His Church no proper mission in the political, economic or social order. The purpose which He set before her is a religious one." (Gaudium et Spes, 42.) This, however, does not mean that the Church has nothing to say regarding political or social injustice, or that her mission which she received from Christ calls her to remain silent or disengaged in the face of social or political injustice. It means rather, as Pope John Paul II explains, that the Church has been given no technical competence or specific mission to promote some political or economic system over another, provided they each properly respect human dignity and uphold justice.11
From the Catholic perspective, the gospel handed down to us from Christ through His Apostles is not merely to man as individual, but also to man in his social dimension. The Church's proclamation of repentance and conversion applies not only to individuals, but also to entire societies. In his 1991 Encyclical Letter Centesimus Annus, Pope John Paul II wrote:
The Church, in fact, has something to say about specific human situations, both individual and communal, national and international. She formulates a genuine doctrine for these situations, a corpus which enables her to analyze social realities, to make judgments about them and to indicate directions to be taken for the just resolution of the problems involved.

In Pope Leo XIII's time such a concept of the Church's right and duty was far from being commonly admitted. Indeed, a two-fold approach prevailed: one directed to this world and this life, to which faith ought to remain extraneous; the other directed towards a purely other-worldly salvation, which neither enlightens nor directs existence on earth. The Pope's approach in publishing Rerum novarum gave the Church "citizenship status" as it were, amid the changing realities of public life, and this standing would be more fully confirmed later on. In effect, to teach and to spread her social doctrine pertains to the Church's evangelizing mission and is an essential part of the Christian message, since this doctrine points out the direct consequences of that message in the life of society and situates daily work and struggles for justice in the context of bearing witness to Christ the Saviour. This doctrine is likewise a source of unity and peace in dealing with the conflicts which inevitably arise in social and economic life. Thus it is possible to meet these new situations without degrading the human person's transcendent dignity, either in oneself or in one's adversaries, and to direct those situations towards just solutions. (Centesimus Annus, 6)
The Church's mission is neither entirely other-worldly, nor entirely directed to this world. Social justice is not the entirety of the gospel, but it is "an essential part of the Christian message," because grace does not destroy nature, but preserves and perfects it. Repentance is a turning away from, and repudiation of injustice. In this way the call to justice, addressed both to individuals and societies, is an inseparable part of the gospel of Jesus Christ. Just as the Church's proclamation of the gospel calls individuals to repentance, so she calls nations to "let justice roll down like waters, and righteousness like an ever-flowing stream." (Amos 5:24.) This justice to which the Church calls the nations includes the legal recognition and protection of the marriage institution.
Pope Benedict XVI (when still Cardinal Ratzinger), summarized the Church's teaching on same-sex 'marriage' laws in this way:
The Church teaches that respect for homosexual persons cannot lead in any way to approval of homosexual behaviour or to legal recognition of homosexual unions. The common good requires that laws recognize, promote and protect marriage as the basis of the family, the primary unit of society. Legal recognition of homosexual unions or placing them on the same level as marriage would mean not only the approval of deviant behaviour, with the consequence of making it a model in present-day society, but would also obscure basic values which belong to the common inheritance of humanity. The Church cannot fail to defend these values, for the good of men and women and for the good of society itself. ("Considerations Regarding Proposals To Give Legal Recognition to Unions between Homosexual Persons," 11)
We can and should reason together concerning the natural law argument's implications regarding same-sex 'marriage,' and we should do so with respect and genuine charity for all the persons involved. To participate in that dialogue, we need to be able to listen and understand those with whom we disagree, and genuinely respect their dignity and personhood. For our part, that conversation needs to be marked by kindness, compassion, patience and sensitivity. Empathy helps us see that the desire for marriage among persons with same-sex attraction is a same-sex expression of the deep longing we all have as humans to love and be loved with lifelong commitment. In this way we start by recognizing and affirming common ground, and what we recognize in each other that is good and right. We are not merely seeking agreement with those who disagree with us, but civic friendship which includes sincere and mutual good will, even when we see little prospect for reaching agreement.12
Here I have sought very briefly only to explain answers to two relevant questions: why opposition to same-sex 'marriage' legislation need not be the imposing of religious beliefs on others, and why Christians have an obligation to seek to establish and maintain just civil laws ordered to the common good of society, including laws protecting the natural institution of marriage. Such concern for justice is part of what it means for Christians to be the salt of the earth. Love is the fulfillment of the law, and Christ's gospel of love therefore calls us to rectify social injustices, even within the civil law. The Catholic teaching is in this way a middle position between the error of liberation theology on the one hand, and the error of gnostic theology on the other.