"Edifying Idolatry: What Would Calvin Say to David Garibaldi?"
Mar 11th, 2012 | By
David Anders
| Category:
Blog Posts
David Garibaldi is a "performance painter" who creates live art  "to inspire the audience to use their passion to benefit and inspire others." I have no idea what his religious convictions are. However, an organization called "Thriving Churches" has posted a video of Garibaldi dramatically painting an image of Christ. The performance is surprising and engaging.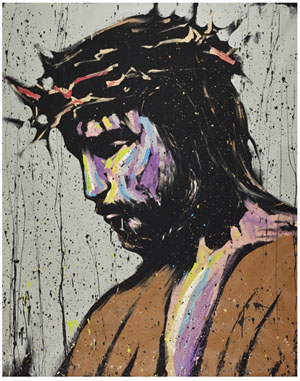 I learned of the link when when a Presbyterian acquaintance sent it to me.  I had two initial responses: 1) Wow! That's good art! and 2) Calvin would call this damnable idolatry.1
My die-hard Reformed friends would probably agree. Garibalidi's performance, while entertaining, would definitely have been rejected as blasphemous and idolatrous by the historic mainstream of Reformed thought, which objects to images of Christ or the saints. However, "Thriving Churches" and my less die-hard acquaintance celebrate it as something beautiful and edifying.
There is really no middle ground between these two positions. If something is "idolatrous and blasphemous," we should literally die rather than submit to it. However, if it is edifying, we should encourage it. How to decide between these? Appeal to the Bible alone?
Zwingli, Calvin, and the historic Reformed tradition thought that Scripture was very clear on the creation of religious art. Modern Evangelicals, by implication, must think so too, though they come to a diametrically opposed interpretation of the text. They cannot both be right. However, this is simply one of many issues on which Sola Scriptura provokes mutually exclusive interpretations about matters that cannot be dismissed as secondary or non-essential.
The Catholic Tradition, by contrast, has always enjoyed a principled way of interpreting the deposit of faith and of distinguishing the essential from the non-essential. We believe that Christ established The Church as the final arbiter or Rule of Faith. "The task of giving an authentic interpretation of the Word of God, whether in its written form or in the form of Tradition, has been entrusted to the living teaching office of the Church alone. Its authority in this matter is exercised in the name of Jesus Christ." (Dei Verbum 10.2.)
With respect to Mr. Garibalid, we can point to the teaching of the Catechism:
 Sacred art is true and beautiful when its form corresponds to its particular vocation: evoking and glorifying, in faith and adoration, the transcendent mystery of God – the surpassing invisible beauty of truth and love visible in Christ, who "reflects the glory of God and bears the very stamp of his nature," in whom "the whole fullness of deity dwells bodily." This spiritual beauty of God is reflected in the most holy Virgin Mother of God, the angels, and saints. Genuine sacred art draws man to adoration, to prayer, and to the love of God, Creator and Savior, the Holy One and Sanctifier. (Catechism of the Catholic Church, 2502)
I would ask our Reformed readers, "What do you think of Garibaldi's painting? What do you think of the historic, Reformed position on religious art? What do you think of Thriving Churches's promotion of this video? And finally, what do you think about the evolution of Protestant interpretation of Scripture? What does this suggest about the alleged perspicuity of Scripture?
On this topic, see Carlos Eire, War against the Idols: the Reformation of Worship from Erasmus to Calvin (Cambridge: Cambridge University Press, 1986.) See also the Institutes 1.11.1-16. [↩]