Brantly Millegan reviews Brad Gregory's The Unintended Reformation: How a Religious Revolution Secularized Society
Mar 21st, 2012 | By
Guest Author
| Category:
Blog Posts
This is a guest post by Brantly Millegan, in which he reviews the recently published book The Unintended Reformation: How a Religious Revolution Secularized Society, authored by University of Notre Dame professor of history Brad Gregory. Such a topic seems fitting on the traditional feast day for St. Benedict in the usus antiquior. We're very grateful to Brantly for his contribution to Called To Communion. – Eds.
Judged on their own terms and with respect to the objectives of their own leading protagonists, medieval Christendom failed, the Reformation failed, confessionalized Europe failed, and Western modernity is failing, but each in different ways and with different consequences, and each in ways that continue to remain important in the present. This sums up the argument of the book. (p. 365)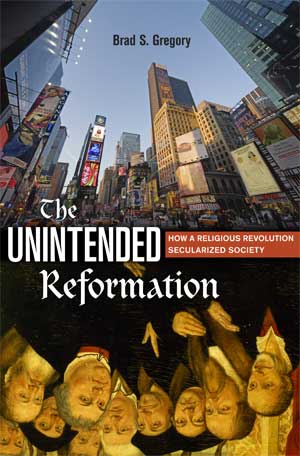 Indeed, in his new book The Unintended Reformation: How a Religious Revolution Secularized Society (released January, 2012 by Belknap Press of Harvard University), historian Brad Gregory does not shy from bluntly assigning blame for contemporary problems, and there is a lot of blame to go around.
Drawing on an astounding breadth of knowledge across multiple disciplines, and with writing that is clear, poignant, and at times even funny, Gregory expertly tells the story of the western world of the last five centuries in a way that both enlightens as well as challenges. Gregory lays out the hard facts of history that force all in the western world, regardless of their religious persuasion or lack thereof, to confess mea culpa.
But, as indicated in the quotation above, Gregory doesn't think that all are to be given the same kind of blame. Medieval Christendom's failure historically speaking, Gregory insists throughout the book, "was not a function of the demonstrated or demonstrable falsity of central doctrinal claims of the Christian faith as promulgated by the Roman Catholic Church." Instead, it was due to the
pervasive, long-standing, and undeniable failure of so many Christians, including members of the clergy both high and low, to live by the church's own prescriptions and exhortations based on its truth claims about the Life Questions [meaning, purpose, and goal of life, etc]. It was at root a botching of moral execution, a failure to practice what was preached. (p. 366)
The Protestant Reformers were disturbed by this moral failure, as had Catholic reformers for centuries (e.g. St Francis of Assisi, St Catherine of Sienna, Erasmus, etc). But the Protestant Reformers differed from the Catholic reformers, and followed in a long line of those declared to be heretics by the Church, by diagnosing the problem as a theological one at its core. That much Protestants could agree on. But what exactly was wrong with Catholicism's beliefs, or what its correct alternative was, as Gregory demonstrates, Protestants have been unable to agree on from the 1520s to the present, with disagreement increasing rather than diminishing over time.
This failure of the Reformation, according to Gregory, was "derived directly from the patent infeasibility of successfully applying the reformers' own foundational principle [sola scriptura]." As a result,
the unintended problem created by the Reformation was therefore not simply a perpetuation of the inherited and still-present challenge of how to make human life more genuinely Christian, but also the new and compounding problem of how to know what true Christianity was. 'Scripture alone' was not a solution to this new problem, but its cause. (p. 368)
He concludes, and this is a primary point made in the book:
Hence, the Reformation is the most important distant historical source for contemporary Western hyperpluralism with respect to truth claims about meaning, morality, values, priorities, and purpose. (p. 369)
The failure of sola scriptura was quickly recognized by many, even in the 16th century, and the proposal of sola ratio – or, reason alone – was an attempt by some to circumnavigate the new theological impasse. Unfortunately, sola ratio, and its secularization of all realms of life, has also failed dramatically in achieving any kind of consensus regarding the Life Questions that are necessary for successful human community. Instead, the hyperpluralism created by sola scriptura, which was exacerbated rather than corrected by sola ratio, has led many contemporary people to conclude that all truth is relative and all morality subjective, leading to what Gregory calls the "Kingdom of Whatever." Thus, Protestantism's sola scriptura and its secular analog sola ratio are both failed attempts at articulating a coherent, workable alternative to Roman Catholicism (which never went away, but was sidelined relative to its previously prominent position).
Gregory deftly traces the effects of these two separate though closely linked attempts in six chapters that each focus on a particular area of life: 'Excluding God,' 'Relativizing Doctrines,' 'Controlling the Churches,' 'Subjectivizing Morality,' 'Manufacturing the Goods Life,' and 'Secularizing Knowledge.'
In the end, Gregory contents himself with only one seemingly modest proposal:
Therefore, consistent with the academy's commitments to the open pursuit of intellectual inquiry without ideological restrictions, to critical rationality, to the importance of rethinking and reconsidering, to the questioning of assumptions, to academic freedom, and motivated by the desire to shed light on our current problems and to seek more fruitful ways to address them, the contemporary academy should unsecularize itself. (p. 386)
He asks not for religion to be embraced necessarily, but only that the possibility of religious truth be brought back on the table.
In addition to the wonderfully clarifying main argument of the book, there were also other, smaller helpful insights scattered throughout: e.g. I was personally unaware of the adventist expectations of many of the initial reformers. I particularly appreciated Gregory's insistence that the radical Reformation be given its due, pointing out that the radical reformers fundamentally differed from magisterial reformers only in their lack of success, or purposeful refusal, to wed themselves with secular power. Gregory argues that a hard distinction between magisterial reformers and radical reformers is ultimately unhelpful and only masks the truly vast diversity of Christian belief created within a few years of Luther's insistence on sola scriptura.
And Gregory's scathing critique of the modern normalization of avarice via capitalism in chapter five ('Manufacturing the Goods Life'), particularly when put in its historical context (Gregory argues that consumerism was intended to be a common activity to unite and pacify otherwise divided and increasingly violent Christians), is a welcome and much needed challenge to our modern world's consumerism.
Also, the main text's 390 pages are supplemented by a further 150 pages of footnotes that greatly complement and often either further expound the main text or point to what appear to be other great resources. I kept a second bookmark in the footnotes section and checked it often, and I recommend any reader to do the same.
I have only two complaints:
The first is that while most of Gregory's writing throughout the book is exceptional, I must warn the reader that at times he gets wordy and repetitive. At those times, I exhort the reader to trudge on: the book is more than worth it.
The second is that, and perhaps this is only because the last book I read before reading this one was by Marshall McLuhan, the role of new technology isn't given any consideration. Gregory does note in his conclusion that one could analyze how other areas of life, including new forms of communication, were affected by the Reformation and its ensuing hyperpluralism. But Gregory seems to be saying that one could analyze how communication was changed by the Reformation rather than how the new forms of communication – namely, the printing press – affected or helped precipitate the Reformation, which to me seems to be an oversight, and might add further explanatory power to his assessment that the Reformation was inspired by widespread immorality in the medieval Church.
I also must note, and this is not a criticism but a heads-up to potential readers, that due to its attempt to pull together a great breadth of content, many theological, philosophical, and historical concepts and terms are assumed or given little explanation. While I encourage anyone to give the book a shot, those unstudied in those subjects will most likely find themselves lost or spending a good amount of time looking things up.
Gregory's masterpiece is a must-read for anyone who wants to understand why the world is the way it is and has the potential of becoming a landmark book of our times. In other words, if you decide to take a pass, and it later becomes big, remember that I told you so.
The Unintended Reformation: How a Religious Revolution Secularized Society is available at Amazon in hardcover ($25.20) and for Kindle ($22.68).
There's a great interview with Brad Gregory about the book over at the Harvard University Press website.
About the Author: Brad S. Gregory is the Dorothy G. Griffin Associate Professor of Early Modern European History at the University of Notre Dame. He received his Ph.D. from Princeton University (1996) and was a Junior Fellow in the Harvard Society of Fellows (1994-96). Before joining the faculty at Notre Dame in 2003, Gregory taught at Stanford University, where he received early tenure in 2001. Gregory has two degrees in philosophy as well, both earned at the Catholic University of Louvain, Belgium. He has received teaching awards at Stanford and Notre Dame, and in 2005 was named the inaugural winner of the Hiett Prize in the Humanities from the Dallas Institute of Humanities and Culture as the outstanding mid-career humanities scholar in the United States. Gregory's research focuses on Christianity in the Reformation era, the long-term effects of the Reformation, secularization in early modern and modern Western history, and methodology in the study of religion.
Brantly Millegan is a part-time MAT student at the St. Paul Seminary School of Divinity in St. Paul, MN, while also working full-time as the Director of Family Faith Formation at St Francis Xavier Parish in Buffalo, MN. He and his lovely wife Krista joined the Catholic Church in 2010 while they were both undergraduates at Wheaton College (IL). They have two children (one of whom is due by the end of March). He blogs at Young, Evangelical, and Catholic. Update: Watch him on The Journey Home here.