Are We All Heretics? A Reply to Zack Hunt
Mar 29th, 2012 | By
Andrew Preslar
| Category:
Blog Posts
Zack Hunt of the facetiously titled blog, The American Jesus, gives a provocative twist to the Protestant principle of ecclesial fallibility (otherwise called sola scriptura) in his recent post, You're a Heretic & So Am I. According to Hunt, all Christians are heretics, and all ecclesial communities are heretical, because every visible society of believers that reckons itself to be in some sense a church is divided from another such body, by way of having departed from another church and/or by dissenting from one or more of the doctrines taught by other denominations or congregations.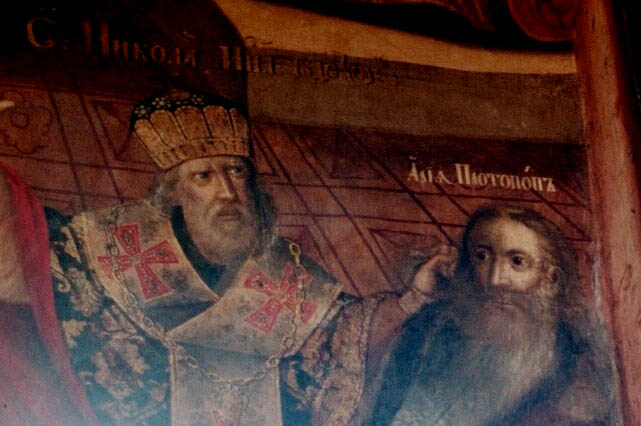 Hunt's thesis that heresy and schism are part and parcel of Christian identity is based upon the historical record of Christian division. Working backwards, we find Protestants divided from Protestants, Protestants divided from Catholics, and Orthodox divided from Catholics. Surprisingly, however, Hunt includes even the original Church (which for the sake of argument he grants is the Catholic Church) within the pale of heresy:
You see, when the Christian faith began it wasn't a separate faith from Judaism. For the first followers of Jesus, and no doubt for Jesus himself, Christianity (or more precisely "the Way") was the fulfillment of God's promises to the people of Israel. Jesus was a Jew. His disciples were (mostly) Jews. Christianity, in its infancy, was simply a branch of Judaism which believed that Jesus was the promised Messiah.

Of course, we all know from history that this marriage didn't last long. After the first Christians had been expelled from their synagogues one too many times for being "dissenters of the established (Jewish) religious dogma," they eventually broke away to form what we now call the Church.

Which means, therefore, that every single person who has every [sic] worn the mantle of "Christian" is, by definition, a heretic.
There are several layers of confusion in this analysis. For one thing, Hunt wrongly conflates schism with heresy, such that a schismatic person or group is by definition heretical. Secondly, it is not the case that the Church was formed in response to the first Christians being expelled from the Jewish synagogues. Christ first established his Church, with distinct government, rites, commandments, and the gift of the Holy Spirit; subsequently, the leaders and other members of the Church were rejected by Israel (that is, Israel "according to the flesh"), even as Israel had rejected Christ while he was on earth. But neither Christ nor his mystical Body were heretics or schismatics. Christ was and is the Davidic King of Israel, and the Church was and is the present manifestation of the kingdom, which is particularly made evident in the celebration of the Eucharist (cf. Luke 22:14-30).
The Church was not originally constituted by the principles of schism and heresy, but rather by the principles of unity and truth. Those who would be united to Christ in the Church that he founded cannot therefore be content to be a heretic among many heretics, nor a member of a schism among many schisms.
A third problem with Hunt's analysis is that he uses the word "heresy" in a purely horizontal sense, as something that merely stigmatizes an ecclesial community in the eyes of other such communities. He overlooks or ignores the relation between heresy and falsehood. Even though schism is not the same thing as heresy, schisms often seek to justify themselves by the adoption of some heresy, or are formed due to the perception of heresy in the Church at large, or in a denomination, or in a particular congregation. In these cases, attribution of "heresy" is not simply a rhetorical device by which to stigmatize the other in relation to oneself. It is a declaration that an individual or ecclesial body has denied a truth which has been revealed by God. And the point of believing truth that has been divinely revealed is not to distinguish oneself from others, but to know God.
Only by defining "heresy" in purely relative and horizontal terms is Hunt able to dismiss the attribution as insignificant:
So what does all of this mean?

For starters, it means that if someone ever calls you a heretic, you can look them in the eye with confidence and say, "You're right, I am a heretic. And so are you."

More importantly, this brief history lesson should remind us that in our zeal to "defend the faith" we should remember that the faith is not always as black and white as we may have come to believe. Furthermore, we should remember that the Christian faith is full of disagreement. It's full of people who were at first labeled heretics, but who, over time, came to be regarded as great heroes of the faith.
The effect of Hunt's post is to call into question the absolute nature of doctrinal truth claims, or else to advance a skeptical position with reference to the question "Which is the true doctrine?" The key assumption behind the entire piece is that there is no living authority on earth whose interpretation of the Bible (i.e., doctrine) is binding upon everyone, as being specially protected from error. Thus, the situation according to Hunt is simply that Christians do not all agree in matters of doctrine, and in all probability no one's doctrine is entirely right, since no individual or community is being especially protected from error. Ergo, we are all heretics.
By contrast to Hunt's horizontal definition of heresy, the Catholic Encyclopedia defines "heresy" in relation not only to various groups of Christians, but to doctrinal truth. Of course, it is readily apparent that the definition in this article presupposes that there is a vital connection between one body of Christians, referred to as "the Church," and the authentic exposition of the doctrinal content of the Bible, the denial of which constitutes heresy:
St. Thomas (II-II:11:1) defines heresy: "a species of infidelity in men who, having professed the faith of Christ, corrupt its dogmas". "The right Christian faith consists in giving one's voluntary assent to Christ in all that truly belongs to His teaching. There are, therefore, two ways of deviating from Christianity: the one by refusing to believe in Christ Himself, which is the way of infidelity, common to Pagans and Jews; the other by restricting belief to certain points of Christ's doctrine selected and fashioned at pleasure, which is the way of heretics. The subject-matter of both faith and heresy is, therefore, the deposit of the faith, that is, the sum total of truths revealed in Scripture and Tradition as proposed to our belief by the Church. The believer accepts the whole deposit as proposed by the Church; the heretic accepts only such parts of it as commend themselves to his own approval.
Granted that heresy is false doctrine, and not simply doctrine which I and those like me happen not to hold, and granted that we are saved not merely by belief, but by belief in the truth, then it becomes evident that we need to know what is the actual doctrinal content of divine revelation; i.e., true doctrine. We cannot be content with Hunt's softly skeptical assurance that we are all heretics, because heresy is not benign, it is cancerous. And if this cancer is in fact ubiquitous, then we are all in peril.
As David Anders has recently shown, many Evangelicals are coming to terms with the implausibility of restorationism or Christian primitivism, whether of the confessional or fundamentalist variety, by adopting a more conciliatory attitude towards other groups of Christians, including Catholics and the Orthodox. The move from fundamentalism or confessional exclusivism to "we are all heretics," or some other, less provocative, affirmation of ecumenical fallibility, seems to me to generally proceed along the following (hypothetical) line of reasoning:
There are all kinds loving, bright, dedicated groups of Christians, each committed to the Bible as the word of God. These groups contradict one another on what at least some of them take to be essential aspects of the biblical message. No individual or group is infallible in its interpretation of the Bible. Out of all this morass of theological opinion, who am I (or the particular denomination or congregation to which I belong) to say that such and so is orthodoxy, and that whoever disagrees with me (or my denomination or congregation) is a heretic? Conversely, who am I to say that my own doctrine or confession is particularly orthodox? Surely my personal interpretation of the Bible is not the standard of doctrine with which all Christians are bound to agree, or else fall short of the truth of Sacred Scripture and, perhaps, Heaven itself.
No, indeed. Neither your personal interpretation of the Bible, nor mine, is the Rule of Faith. But this does not entail that we are all heretics whenever we disagree and / or are divided. Nor need we revert to restorationism, in one its many permutations, in order to embrace a full and absolute orthodoxy. We could instead enter into full communion with the Catholic Church, which is both ancient and dogmatic, and furthermore is alive and active through the centuries in defining doctrine, protecting the faithful from the corrosive effects of heresy by building them up in the fullness of truth.