Salvation Pinball & the Devotional Life of Catholics (Part 4 of Becoming Catholic)
Jan 22nd, 2012 | By
Taylor Marshall
| Category:
Blog Posts
Yesterday we examined difficulties that Catholic converts experience in the context of family life. Today we look at how how your devotional might change when you become a Catholic. What would change?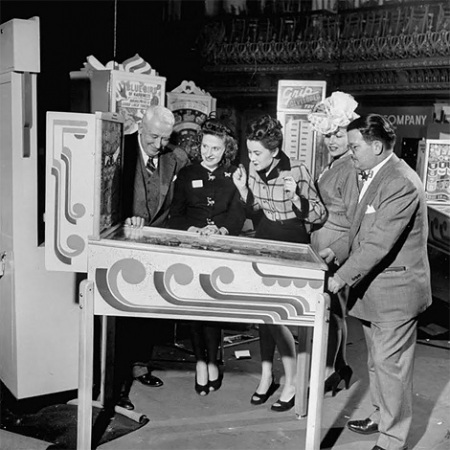 For a Protestant looking in from the outside, it might appear that Catholics are mechanical about their devotional life. I remember seeing Catholicism as a giant machine with handles and levers. Catholics scurried around it pulling levers and pulling knobs hoping that grace would come out. As a Protestant, I thought that being a "good Catholic" was like working a soft-serve ice cream machine or a soda fountain. If you learned how to use the system, you can get grace and hopefully earn salvation.
More accurately, I suspected that the Catholic salvation was more like a pinball machine. The ball was grace and Catholics were constantly mashing the buttons to keep the flippers moving and the ball in play. However, all pinball players know that eventually the ball gets past you and your game is over. How could Catholics honestly believe that human effort could keep the ball in play for decades and decades of human life? Why can't they just trust in the finished work of Christ and relax…?
So now that I'm Catholic, am I playing salvation pinball?
I don't think so. Salvation only appears mechanistic to Protestants because they haven't experienced it. For example, the sacrament of Penance is not at all like getting your time card punched. There is a real human being behind that screen! He asks questions. He challenges you. He loves Christ. You love Christ. You're both praying that you will grow in Christ. It's extremely intimate and the opposite of mechanical.
Take the Holy Mass. Most Protestants are not familiar with liturgical worship. What they see seems robotic. But when you know it, it's like an elegant waltz. You can even do it with your eyes closed. If you don't know how to waltz and you've never seen it, one might look at people waltzing and say: "This is so hard and those people are slaves to this music. How could they be enjoying this?"
Yet the couple might be having the dance of their lives…the formal aspect makes it all the more intimate.
All important things in our lives are ritualized – Sunday dinner, weddings, sports, and anniversaries come to mind. The repetition makes them more important and more intimate.
In order to understand Catholic devotion, don't think of it as a machine…think of it as a mother. Mothers and babies seem to have a mechanical relationship. Baby sucks milk from breast. Spits up. Mommy cleans it. Baby cries. Mommy bounces. Baby poops. Mommy changes the diaper. Repeat cycle, non-stop, for nine months. But that is not all there is. They are the cues. There are the moments when the mommy gazes with love on the nursing baby. The nursing baby caresses the hair of the mother. The mother smiles and talks to the baby during the diaper change. It's all very loving and intimate. To an outsider looking in from the outside, it could appear like an endless hell. But ask any old lady and she will tell you that those were great days. And all of us are grateful for the maternal care. None of us think of mom as "mechanical."
Of course, you won't ever experience this if you don't become Catholic so you won't ever really understand. I hope that if you're reading this, you'll take a moment and pray to Christ and ask Him to give you special gifts of the Holy Spirit. You have to deal with the Catholic question, so you be sure that you pray to Christ at every step of the way.
Please read Taylor's Parts 1, 2, and 3 on "Becoming Catholic" by clicking here.
ad Jesum per Mariam,
Taylor Marshall