Does God Predestine Infant Baptisms?
Jan 9th, 2012 | By
Taylor Marshall
| Category:
Blog Posts
When I was a Calvinist, I began to call myself a "Reformed Catholic." I wanted to be Reformed, but I wanted to take the church and the sacraments seriously. Of course, if one follows the Westminster Confession, he cannot hold to an Anabaptistic understanding of sacraments. He is bound to hold that the sacraments have a sort of efficacy.
I believed in infant baptism but I did not then believe in baptismal regeneration. The reason for this was clear. Only the elect are regenerated. It is obvious that not everyone who is baptized as an infant demonstrates the behavior of regeneration in adulthood. Therefore, baptismal regeneration was, in my mind, false.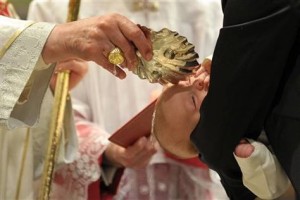 The guiding principle for me was that God's positive decree of predestination sealed the number of the elect. The action of sacraments, then, could not be perfectly related to human salvation. I nonetheless recognized the language of the Westminster Confession regarding it's moderate stance on regeneration and baptism. I did not assent to baptism as the "instrumental cause" of regeneration, which is the definition of the Council of Trent. The decree of predestination always held the preeminence.
One day, however, a PCA friend asked, "Well does not God predestine all those infant baptisms?" I had not thought of baptism in this light. Of course, God's sovereignty included both decrees – that of each particular baptism and that of the salvation of the predestinate.
This forced me to meditate on the disconnect between the economy of salvation and the sacramental economy. If the two were entirely distinct, then the sacraments were superflous and completely unneeded. However, my ecclesiology was high enough to know that this conclusion was false. So this cause me to seek a way to see how "predestined baptisms" and "predestined people" could have some sort of connection.
Of coure, Catholicism has a very nuanced way of handling all of this. The Catholic Faith reveals how baptism is both efficacious and instrumental, but not a guarantee of final predestination. Ultimately, the answer if found in temporal chronology. Sanctifying grace is not something super-temporal (existing in God's mind as His generic "favor") but something that is placed into the human soul in time. Grace is a supernatural quality given to the soul. Since this giving happens in time, it can grow or decrease. It can come and it can go. The fact that grace is given in time provided the answer that I needed to solve this mystery.
I learned that the "ordo salutis" or "order of salvation" is not an abstraction but is actually lived out in each person's life. It's dynamic – just as human life is dynamic. To be honest, every moment is predestined. Every baptism is just as predestined as the eschaton or the predestined full number of the elect. This flattens out predestination and helps us to appreciate temporal order and chronology.
I hope this helpful and I hope that it generates some interesting conversation in the comments below. Please don't hesitate to leave a comment.
Godspeed,
Taylor Marshall