Why John Calvin did not Recognize the Distinction Between Mortal and Venial Sin
Nov 10th, 2011 | By
Bryan Cross
| Category:
Blog Posts
Catholics and Protestants agree on many points regarding sin, but the Catholic Church makes a distinction generally not found in Protestant theologies: the distinction between mortal and venial sin. John Calvin rejected the distinction between mortal and venial sin, and Protestantism has largely followed Calvin on this point. Calvin rejected it because he did not see it clearly laid out in Scripture, and also because he viewed sin primarily in legal terms. For Calvin, all sin is a rebellion against God's law, and therefore deserving of eternal punishment. Therefore for Calvin all sin committed by those who have come to faith in Christ is mortal sin in what it deserves, but is venial in the sense that it is covered by the merits of Christ, so that those who have come to faith never lose their justification.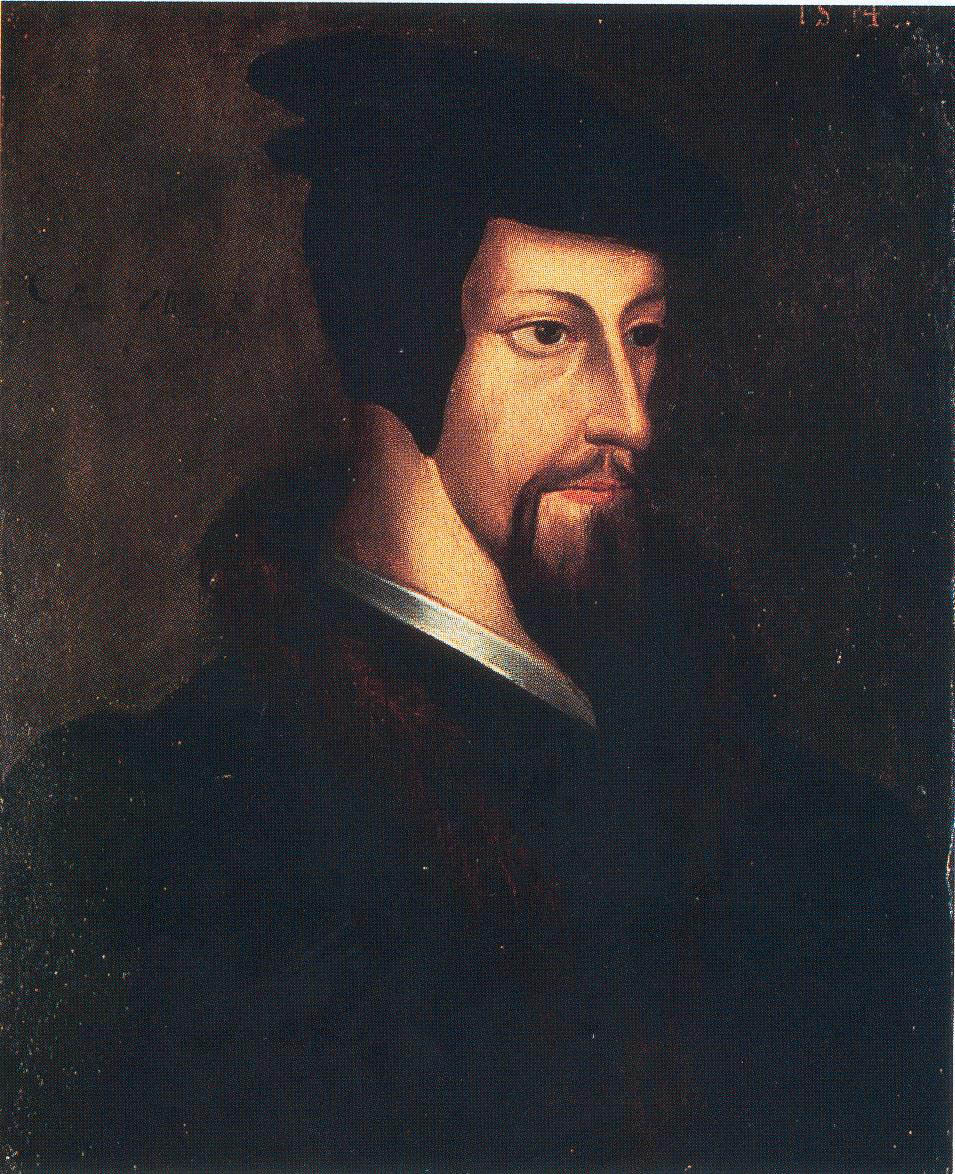 Calvin writes:
For in every little transgression of the divinely commanded law, God's authority is set aside. … [S]ince God has explained his will in the Law, every thing contrary to the Law is displeasing to him. Will they feign that the wrath of God is so disarmed that the punishment of death will not forthwith follow upon it? He has declared … "The soul that sinneth it shall die," (Ezek. 18:20). Again, in the passage lately quoted, "The wages of sin is death." … [L]et the children of God remember that all sin is mortal, because it is rebellion against the will of God, and necessarily provokes his anger; and because it is a violation of the Law, against every violation of which, without exception, the judgment of God has been pronounced. The faults of the saints are indeed venial, not, however, in their own nature, but because, through the mercy of God, they obtain pardon. (Institutes II.8.59)
Later in the Institutes Calvin writes:
Here they take refuge in the absurd distinction that some sins are venial and others mortal; …. Thus they insult and trifle with God. And yet, though they have the terms venial and mortal sin continually in their mouth, they have not yet been able to distinguish the one from the other, except by making impiety and impurity of heart to be venial sin. We, on the contrary, taught by the Scripture standard of righteousness and unrighteousness, declare that "the wages of sin is death;" and that "the soul that sinneth, it shall die," (Rom. 6:23; Ezek. 18:20). The sins of believers are venial, not because they do not merit death, but because by the mercy of God there is "now no condemnation to those which are in Christ Jesus" their sin being not imputed, but effaced by pardon. (Institutes, III.4.28)
The substance of Calvin's argument is that all sin is a violation of God's law, and is therefore a rebellion against the will of God. But the wages of any rebellion against God's will is eternal death, and therefore all sin is mortal sin. The sins of the saints are all venial only in the sense that though each sin deserves eternal condemnation, yet on account of the righteousness of Christ having been imputed to the saints, none of their sins is in effect mortal.
And the Westminster Confession of Faith follows Calvin in this:
[T]here is no sin so small, but it deserves damnation. (WCF XV.4)
In this respect Calvin and the Westminster Confession departed from the longstanding teaching of the Church.
For example, St. Augustine of Hippo wrote:
For as, on the one hand, there are certain venial sins which do not hinder the righteous man from the attainment of eternal life, and which are unavoidable in this life, so, on the other hand, there are some good works which are of no avail to an ungodly man towards the attainment of everlasting life, although it would be very difficult to find the life of any very bad man whatever entirely without them. (On the Spirit and the Letter, 48)
Elsewhere he wrote:
He is worse who steals through coveting, than he who steals through pity: but if all theft be sin, from all theft we must abstain. For who can say that people may sin, even though one sin be damnable, another venial? (Against Lying, VIII.19)
Again, he wrote:
He, however, is not unreasonably said to walk blamelessly, not who has already reached the end of his journey, but who is pressing on towards the end in a blameless manner, free from damnable sins, and at the same time not neglecting to cleanse by almsgiving such sins as are venial. For the way in which we walk, that is, the road by which we reach perfection, is cleansed by clean prayer. That, however, is a clean prayer in which we say in truth, "Forgive us, as we ourselves forgive." (Concerning Man's Perfection in Righteousness, IX)
In another place he wrote:
Accordingly, if any Christian man loves a harlot, and, attaching himself to her, becomes one body, he has not now Christ for a foundation. But if any one loves his own wife, and loves her as Christ would have him love her, who can doubt that he has Christ for a foundation? But if he loves her in the world's fashion, carnally, as the disease of lust prompts him, and as the Gentiles love who know not God, even this the apostle, or rather Christ by the apostle, allows as a venial fault. And therefore even such a man may have Christ for a foundation. For so long as he does not prefer such an affection or pleasure to Christ, Christ is his foundation, though on it he builds wood, hay, stubble; and therefore he shall be saved as by fire. For the fire of affliction shall burn such luxurious pleasures and earthly loves, though they be not damnable, because enjoyed in lawful wedlock. And of this fire the fuel is bereavement, and all those calamities which consume these joys. Consequently the superstructure will be loss to him who has built it, for he shall not retain it, but shall be agonized by the loss of those things in the enjoyment of which he found pleasure. But by this fire he shall be saved through virtue of the foundation, because even if a persecutor demanded whether he would retain Christ or these things, he would prefer Christ. (City of God, XI.26)
And elsewhere he writes:
While he is in the flesh, man cannot help but have at least some light sins. But do not despise these sins which we call "light": if you take them for light when you weigh them, tremble when you count them. A number of light objects makes a great mass; a number of drops fills a river; a number of grains makes a heap. What then is our hope? Above all, confession. (In ep. Jo. 1,6)
To the Catechumens being prepared to be received into the Church through baptism, St. Augustine preached the following:
I do not tell you that you will live here without sin; but they are venial, without which this life is not. For the sake of all sins was Baptism provided; for the sake of light sins, without which we cannot be, was prayer provided. What has the Prayer? "Forgive us our debts, as we also forgive our debtors." Once for all we have washing in Baptism, every day we have washing in prayer. Only, do not commit those things for which you must needs be separated from Christ's body: which be far from you! For those whom you have seen doing penance, have committed heinous things, either adulteries or some enormous crimes: for these they do penance. Because if theirs had been light sins, to blot out these daily prayer would suffice. In three ways then are sins remitted in the Church; by Baptism, by prayer, by the greater humility of penance; yet God does not remit sins but to the baptized. The very sins which He remits first, He remits not but to the baptized. When? When they are baptized. The sins which are after remitted upon prayer, upon penance, to whom He remits, it is to the baptized that He remits. (Sermon to Catechumens on the Creed)
According to St. Augustine, our venial sins committed after baptism are remitted through prayer. If a person commits a mortal sin, then he must be reconciled to the Church through the sacrament of penance; prayer is not sufficient.
St. Augustine refers to venial sins in a number of other places as well. He refers to it so often, and in passing, that it is clear that he is not saying something controversial in his time, something novel or needing to be supported or defended. He writes about the distinction between mortal and venial sin as something taken for granted. But his conception of venial sin is not like that of Calvin's. Calvin thought all sin deserved eternal punishment, but that the sins of the saints were venial only in the sense that they do not pay any penalty for committing them, not because they are light sins not deserving of eternal punishment, as St. Augustine thought.
Roughly two hundred years later, Pope St. Gregory the Great (AD 590-604) wrote:
Our Lord saith in the Gospel: Walk whiles you have the light: and by his Prophet he saith: In time accepted have I heard thee, and in the day of salvation have I holpen thee: which the Apostle St. Paul expounding, saith: Behold, now is the time acceptable; behold, now the day of salvation. Solomon, likewise, saith: Whatsoever thy hand is able to do, work it instantly: for neither work, nor reason, nor knowledge, nor wisdom shall be in hell, whither thou dost hasten. David also saith: Because his mercy is for ever. By which sayings it is plain, that in such state as a man departeth out of this life, in the same he is presented in judgment before God. But yet we must believe that before the day of judgment there is a Purgatory fire for certain small sins: because our Saviour saith, that he which speaketh blasphemy against the holy Ghost, that it shall not be forgiven him, neither in this world, nor in the world to come. Out of which sentence we learn, that some sins are forgiven in this world, and some other may be pardoned in the next: for that which is denied concerning one sin, is consequently understood to be granted touching some other. But yet this, as I said, we have not to believe but only concerning little and very small sins, as, for example, daily idle talk, immoderate laughter, negligence in the care of our family (which kind of offences scarce can they avoid, that know in what sort sin is to be shunned), ignorant errors in matters of no great weight: all which sins be punished after death, if men procured not pardon and remission for them in their lifetime: for when St. Paul saith, that Christ is the foundation: and by and by addeth: And if any man build upon this foundation gold, silver, precious stones, wood, hay, stubble: the work of every one, of what kind it is, the fire shall try. If any man's work abide which he built thereupon, he shall receive reward; if any mans work burn, he shall suffer detriment, but himself shall be saved, yet so as by fire. For although these words may be understood of the fire of tribulation, which men suffer in this world: yet if any will interpret them of the fire of Purgatory, which shall be in the next life: then must he carefully consider, that the Apostle said not that he may be saved by fire, that buildeth upon this foundation iron, brass, or lead, that is, the greater sort of sins, and therefore more hard, and consequently not remissible in that place: but wood, hay, stubble, that is, little and very light sins, which the fire doth easily consume. Yet we have here further to consider, that none can be there purged, no, not for the least sins that be, unless in his lifetime he deserved by virtuous works to find such favour in that place. (Dialogues IV.39.)
In the thirteenth century St. Thomas Aquinas explained the difference between mortal and venial sin, as follows:
Now the difference between venial and mortal sin is consequent to the diversity of that inordinateness which constitutes the notion [i.e. definition] of sin. For inordinateness is twofold, one that destroys the principle of order, and another which, without destroying the principle of order, implies inordinateness in the things which follow the principle: thus, in an animal's body, the frame may be so out of order that the vital principle is destroyed; this is the inordinateness of death; while, on the other hand, saving the vital principle, there may be disorder in the bodily humors; and then there is sickness. Now the principle of the entire moral order is the last end, which stands in the same relation to matters of action, as the indemonstrable principle does to matters of speculation (Ethic. vii, 8). Therefore when the soul is so disordered by sin as to turn away from its last end, viz. God, to Whom it is united by charity, there is mortal sin; but when it is disordered without turning away from God, there is venial sin. For even as in the body, the disorder of death which results from the destruction of the principle of life, is irreparable according to nature, while the disorder of sickness can be repaired by reason of the vital principle being preserved, so it is in matters concerning the soul. Because, in speculative matters, it is impossible to convince one who errs in the principles, whereas one who errs, but retains the principles, can be brought back to the truth by means of the principles. Likewise in practical matters, he who, by sinning, turns away from his last end, if we consider the nature of his sin, falls irreparably, and therefore is said to sin mortally and to deserve eternal punishment: whereas when a man sins without turning away from God, by the very nature of his sin, his disorder can be repaired, because the principle of the order is not destroyed; wherefore he is said to sin venially, because, to wit, he does not sin so as to deserve to be punished eternally. (Summa Theologica I-II Q.72 a.5 co.)1
St. Thomas distinguishes between mortal and venial sin by explaining that mortal sin destroys the supernatural virtue of agape in the soul, and agape is the principle by which we are directed to heaven as our supernatural end. If agape is lost, the person is no longer ordered toward heaven, but instead toward some creature (e.g. himself) as his highest end. And he cannot be restored to friendship with God except by the power of God, since agape is supernatural, and we cannot give to ourselves what we do not have. Venial sins, by contrast, do not destroy agape from the soul, but are disordered in relation to the agape within the soul.2
Some articles later he explains why venial sins do no incur a debt of eternal punishment:
As stated above (Article 3), a sin incurs a debt of eternal punishment, in so far as it causes an irreparable disorder in the order of Divine justice, through being contrary to the very principle of that order, viz. the last end. Now it is evident that in some sins there is disorder indeed, but such as not to involve contrariety in respect of the last end, but only in respect of things referable to the end, in so far as one is too much or too little intent on them without prejudicing the order to the last end: as, for instance, when a man is too fond of some temporal thing, yet would not offend God for its sake, by breaking one of His commandments. Consequently such sins do not incur everlasting, but only temporal punishment. (Summa Theologica I-II Q.87 a.5.)
According to St. Thomas, those sins that destroy charity in the soul cause an irreparable disorder, and therefore incur eternal punishment if the person dies in that state. Some sins are not in themselves contrary to the last end (i.e. God) because the disorder in these sins is not contrary to the last end per se, but only to the perfection of those acts directed to that end. As an example, St. Thomas describes a man who is too fond of some temporal thing, but would not offend God for the sake of this temporal thing. Because these sins are not contrary to the last end per se, they do not incur everlasting punishment, but only temporal punishment.3 What makes a sin mortal, and another venial, is therefore whether the disorder in the will is incompatible with the virtue of agape or disordered yet still compatible with agape. St. Thomas writes:
When the will sets itself upon something that is of its nature incompatible with the charity that orients man toward his ultimate end, then the sin is mortal by its very object . . . whether it contradicts the love of God, such as blasphemy or perjury, or the love of neighbor, such as homicide or adultery. . . . But when the sinner's will is set upon something that of its nature involves a disorder, but is not opposed to the love of God and neighbor, such as thoughtless chatter or immoderate laughter and the like, such sins are venial. (Summa Theologica I-II Q.88 a.2.)4
And in continuity with the Tradition handed down from the Church Fathers, the Catholic Church teaches the same. The Church teaches that salvation is ultimately and irreducibly personal in this sense: salvation is a loving union of human persons with the Divine Persons, and thereby with all those other created persons, human and angelic, also in loving communion with God. So until we are perfectly united to God in the beatific vision, in this life our freedom is such that we can choose to turn away from loving God. This turning away from God can take place in a single free act. And that is what mortal sin is. It does not have to be an act of apostasy, i.e. abandoning of faith. A person can commit a mortal sin and still affirm the Creed. Mortal sin is in the will, when a person chooses with full knowledge and complete consent, to love some creature over God, whether or not he maintains belief in all the articles of faith. The Catechism teaches:
Mortal sin is a radical possibility of human freedom, as is love itself. It results in the loss of charity and the privation of sanctifying grace, that is, of the state of grace. If it is not redeemed by repentance and God's forgiveness, it causes exclusion from Christ's kingdom and the eternal death of hell, for our freedom has the power to make choices for ever, with no turning back. (CCC 1861)
One act of mortal sin destroys charity (i.e. agape) in the heart:
Mortal sin destroys charity in the heart of man by a grave violation of God's law; it turns man away from God, who is his ultimate end and his beatitude, by preferring an inferior good to him. Venial sin allows charity to subsist, even though it offends and wounds it. (CCC 1855. )
According to the Catechism mortal sin destroys charity in the heart by a grave violation of God's law. For a sin to be mortal, three conditions must together be met: "Mortal sin is sin whose object is grave matter and which is also committed with full knowledge and deliberate consent." (CCC 1857) Mortal sin turns man away from God, who is his ultimate end and his beatitude, by preferring an inferior good to Him.
To cease to adhere to God as our final end and to cease giving ourselves to Him for His own sake, is to commit mortal sin. That can be expressed in different kinds of mortal sins (e.g. murder, adultery, etc.) but this is what makes a mortal sin a mortal sin, namely, that in committing this act, with full knowledge and complete consent, we are choosing to make ourselves (or some other creature) our final end, and act not out of love for God as our final end, but love for some creature. And no man can serve two masters. Hence no man can love some creature (e.g. himself) as his highest end, and love God as his highest end. To choose to make oneself one's own god, is to vanquish charity from the soul.
Venial sin, by contrast, is sin in which, though God remains our final end whom we love for His sake, our action deviates from the means by which to attain that end. In venial sin the believer retains love for God as his highest end, but falls short in the order by which he moves toward God as his highest end. Venial sin thus allows charity to subsist, even though it offends, wounds, and weakens charity. Deliberate and unrepented venial sin disposes us little by little to commit mortal sin. (CCC 1863) But venial sin does not in itself deprive us of charity, sanctifying grace, or eternal life. We experience this sort of distinction even in ordinary friendships, where we understand the difference between an act that hurts the friend but in which the offender still loves the other person, and an act making it clear that the person does not love the other person — and this sort of act destroys the friendship.
The Explanation of Calvin's Error
So why did Calvin reject the distinction between mortal and venial sins? Calvin, having been trained as a lawyer, approached the question of righteousness under the concept of law, and therefore conceived of righteousness fundamentally in term in terms of law-keeping. From that point of view, there is no basis for a distinction between mortal sins and venial sins. Sin is a transgression of the law of God, and although one could acknowledge that not all sins are of equal gravity, nevertheless, it would (from that point of view) be entirely ad hoc to claim that some violations of God's law deserve eternal punishment, while others do not. Violation of God's law is violation of God's law, opposing God and therefore deserving of eternal separation from God. End of discussion.
Calvin's theology does not show a grasp of the relation of love to the fulfillment of the law. For St. Augustine, however, this is the very heart of the gospel, that by the sanctifying grace merited for us by the work of Christ, the agape of God has been poured out in our hearts by the Holy Spirit, and only by this agape is the law of God fulfilled in us. See "St. Augustine on Law and Grace." Over and over St. Augustine repeats the Scriptural teaching that love fulfills the law (Rom. 13:8,10; Gal. 5:14).
According to St. Augustine, the infused grace given to us in baptism through the work of Christ is the fulfillment of the Old Testament prophecy that God would take away their stony hearts, and write the law on their hearts (Jer. 31:33; Ez. 36:26). He would do this by pouring out grace and agape into our hearts. (Rom. 5:5) This is the whole purpose of the gospel, to bring about the "obedience of faith" (Rom. 1:5; 16:26) that fulfills the law through living faith [faith informed by agape], so that we might attain to union with God in the beatific vision; this "obedience of faith" is the faith that works through love. This love is the law-written-on-the-heart (Rom 2:15, 29), which is the "new life of the Spirit" in contrast to "the old written code." (Rom 7:6) This living faith is itself a gift of grace, through Christ, (Rom 3:24); it makes us "doers of the law" who will be justified on that Day. (Rom 2:13) By writing the law on our hearts through the infusion of sanctifying grace and agape, the law of the Spirit of life in Christ Jesus sets us free from the law of sin and death, (Rom. 8:2) doing what the written code could not do. In this way, the requirement of the law is fulfilled in us in the way that we walk, walking not according to the flesh, but walking according to the agape infused into us by the indwelling Spirit. (Rom. 8:4)
Through Christ's obedience unto death, we receive the infused grace and agape by which we are made righteous. (Rom. 5:17,19) St. Paul argues that our justification is by living faith, not by [dead] works (Rom. 3:28), precisely because what matters, and what has always mattered, is whether or not there is agape in the heart. Only the heart having living faith is the heart that has the "righteousness of faith." (Rom. 4:13) By our union with Christ through baptism we have died to sin so that we might walk in newness of life. (Rom. 6:2,4) Romans 6:14 would be a non sequitur if St. Paul were not writing about sanctifying grace. By this infused sanctifying grace and indwelling of the Spirit we have become "obedient from the heart," (Rom 6:17) set free from sin and become slaves of righteousness, putting to death the deeds of the flesh (Rom 8:13)
This is what the Pharisees had not understood. St. Paul explains that the Gentiles attained the righteousness that is by living faith, while Israel though pursuing the righteousness that is conceived as keeping the [external] written code, thereby failed to attain the true righteousness that comes only by infused living faith. Why did Israel fail? Because they did not pursue it through living faith, but as though it could be attained by mere external works. (Rom. 9:30-32)
Ironically, however, Calvin mistakenly conceives righteousness as did the Pharisees, namely, as perfect fulfillment of the written law, and not as infused agape by which the law is truly fulfilled. Therefore for Calvin every infraction of the law is worthy of eternal damnation, and there is no basis for the mortal/venial distinction.
The role of agape in fulfilling the law allows for a principled difference between violations of the law that are incompatible with agape and violations of the law that are compatible with agape. And that is precisely what differentiates mortal and venial sins, respectively. Because agape fulfills the law (Rom 13:8,10; Gal 5:14), there is a distinction between sins that go against agape, and sins that fall short of the perfect expression of agape but do not go against agape. In this way differences in the condition of the heart from which a disordered action comes, with respect to agape, allow for a principled difference between mortal and venial sins. But if one approaches the question of sin only from the point of view of the letter of the law, one cannot see the basis for any such distinction.
Calvin thinks that James 2:10 supports his position. "For whoever keeps the whole law and yet stumbles in one point, he has become guilty of all." (James 2:10) He likewise takes "the soul that sins, it shall die" (Ez. 18:20) as supporting his position. But the Catholic understanding of these verses is that they are about mortal sin, and it would be question-begging to hang the justification for a schism on the assumption that there is no such thing as venial sin, and that St. Augustine et al were wrong about the existence of venial sin.
The passage in James would not make sense if it were not indirectly referring to some principle that underlies the law, namely, agape. How does a person who steals thereby violate all the other commands of the law? He does so by going against the agape that fulfills the whole law. And therefore the kind of violation of the law in view here in this verse is best understood as one that is contrary to agape. If we go 'behind' the law to see the role that agape is playing in the fulfillment of the law, then instead of making righteousness equivalent to fulfilling the letter, we can see righteousness as the fulfillment of the spirit, even when we fall short in the letter.
Other Scripture Evidence
The distinction between mortal and venial sin can be found in other passages as well. St. Peter says, "Above all hold unfailing your love for one another, since love covers a multitude of sins." (1 Peter 4:8) As long as agape remains in the soul, venial sins are not damning, because they do not remove the person from a state of grace.
St. John at the end of his first epistle makes a distinction between two essentially different types of sin: a sin that leads to death, and a sin that does not lead to death. Elsewhere in the epistle he says that no one who is born of God sins (1 John 3:9; 5:18), but in the same epistle he says that if we say we have no sin we are deceiving ourselves and making God a liar (1 John 1:8, 10). Those four verses are reconciled with each other by the mortal/venial distinction St. John makes at the end of his letter. (1 John 5:16-17) The meaning is that no one who is born of God commits mortal sins; to do so would be to drive out the life of God and agape and the indwelling Holy Spirit. But if any Christian were to say that he had no venial sins, he would be deceiving himself. St. John distinguishes mortal and venial sins at the end of his epistle:
If anyone sees his brother committing a sin not leading to death, he shall ask and [God] shall give life to him, to those committing sin not leading to death. There is a sin leading to death. I am not saying he should ask for that kind. All wrongdoing is sin, but there is a sin that does not lead to death. (1 John 5:16-17)
St. John is not writing here about unbelievers who have never been regenerated. He is writing about believers ("a brother") who commit venial sins. In this passage he makes an explicit distinction between a sin that does not lead to death, and a sin that leads to death. But, he makes the distinction between mortal and venial sins, and implies that someone who has fallen into mortal sin is in a very different condition from that of someone who has fallen into venial sin.
Concerning this passage St. Jerome writes:
Some offenses are light, some heavy. It is one thing to owe ten thousand talents, another to owe a farthing. We shall have to give account of the idle word no less than of adultery; but it is not the same thing to be put to the blush, and to be put upon the rack, to grow red in the face and to ensure lasting torment. Do you think I am merely expressing my own views? Hear what the Apostle John says: 1 John 5:16 He who knows that his brother sins a sin not unto death, let him ask, and he shall give him life, even to him that sins not unto death. But he that has sinned unto death, who shall pray for him? You observe that if we entreat for smaller offenses, we obtain pardon: if for greater ones, it is difficult to obtain our request: and that there is a great difference between sins. (Against Jovinianus, II.30.)
Fellow Christians can through their prayers bring healing and restoration to the brother whom they see committing a venial sin. But while we can and should intercede for the repentance of the person in mortal sin, he cannot be restored except through the sacrament of penance administered through the clergy. The person who has fallen into mortal sin has fallen from grace, and so cannot be restored except by the Church (i.e. by the bishop or priest), through the sacrament of penance. The prayer of a brother is not sufficient to restore the one who has fallen into mortal sin — he must go to confession.
My point in citing this passage, however, is to show that in Scripture there is a clear reference to a sin that does not lead to death, alongside of a sin that does lead to death. And the existence of a sin that does not lead to death, which for St. John is not simply any sin that a believer happens to commit, is incompatible with the Calvinist notion that every sin is deserving of eternal punishment.
This distinction between mortal and venial sin makes possible the truth of many passages in the Old Testament, such as "Noah was a righteous man, blameless in his time." (Gen 6:9) This is how Job was blameless and upright. (Job 1:1,8; 2:3) This is how Joseph was a "righteous man." (Mt. 1:19) This is how Abraham could have a discussion with God about the "righteous" and the wicked in Sodom; that conversation would not have been possible if all people are unrighteous. Does that mean that Noah never sinned? No, as Ecclesiastes 7:20 says, "there is not a righteous man on earth who continually does good and who never sins." So Noah was both righteous and blameless, and yet not without sin. That is because though he sinned venially, he did not sin mortally. And that is true of all the Old Testament saints who died in friendship with God. They fulfilled the law not necessarily in the letter, but in the spirit of the law, which is the essence of the law. And the spirit of the law is agape. Because they had agape, they fulfilled the law, for as St. Paul teaches, agape fulfills the law (Rom 13:8, 10; Gal 5:14, James 2:8).
The Greatest Commandment and Venial Sin
You shall love the Lord your God with all your heart, and with all your soul, and with all your mind. (Matthew 22:37)
Calvin refers to this verse in the Institutes, writing:
When the mind, under the influence of distrust, looks elsewhere or is seized with some sudden desire to transfer its blessedness to some other quarter, whence are these movements, however evanescent, but just because there is some empty corner in the soul to receive such temptations? And, not to lengthen out the discussion, there is a precept to love God with the whole heart, and mind, and soul; and, therefore, if all the powers of the soul are not directed to the love of God, there is a departure from the obedience of the Law; because those internal enemies which rise up against the dominion of God, and countermand his edicts prove that his throne is not well established in our consciences. It has been shown that the last commandment goes to this extent. Has some undue longing sprung up in our mind? Then we are chargeable with covetousness, and stand convicted as transgressors of the Law. (Institutes, II.8.58)
For Calvin, if a wayward or inordinate thought or desire springs into the mind, then one has violated the command to love God with all our heart, soul, mind and strength. One is therefore deserving of eternal damnation. This is in part because for Calvin concupiscence is sin. Disordered desires are themselves hateful in God's sight, and thus sufficient (apart from extrinsic imputation of Christ's righteousness) to damn a soul. I have addressed that in "Protestant Objections to the Catholic Doctrines of Original Justice and Original Sin." See also "V. Errors Regarding the Removal of Sin Through Baptism" in "Aquinas and Trent: Part 7," where I explain why concupiscence is not sin, according to the Council of Trent.
Nevertheless, when Protestants hear or read this verse, they tend to think of the command in terms of exclusive and absolutely maximal conative exertion. So the feeling is a bit like running a long race, and then, after completing it, asking yourself whether possibly you could have dug down deeper, and given some additional effort. And usually it is very difficult to believe that you could not have given some additional modicum of effort at some point in the race. You always think, I probably could have cut off at least another hundredth of a second. I could have done a little more, fought a little harder, pushed myself to go a little faster, endured a little more pain, etc.
That is the way many Protestants read this verse; it is the way Calvin understood the verse. In his Catechism of the Church of Geneva he wrote:
Q219 M. What do you understand by the whole heart, the whole soul, and the whole strength?

S. Such vehemence of zeal, that there be no place at all in us for any thoughts, desires, or pursuits, adverse to this love.
And so, of course, on that interpretation, it is impossible in this life to love God with all one's heart, because no matter how much one loves God, one could always have dug down a little deeper, and loved Him a little more, done some other loving deed for Him, spent a little more time in prayer, given one more cup of cold water to another needy person in His Name, etc. The I-could-have-done-more way of interpreting the standard God calls us to in this verse suggests then (on this view) that God is calling us to recognize that we cannot actually fulfill this command, and that we therefore need someone (i.e. Christ) to do this in our place, and have that active obedience then imputed to our accounts.
But that is not how this verse is understood in the Catholic tradition. What Christ means by "all your heart" is not the degree of conative exertion, but that love of God is the highest end or purpose in the hierarchy of ends in our life. It is a teleological standard, not a conative standard. The Catholic encyclopedia article on "Love (as a theological virtue)" explains:
The qualifications, "with thy whole heart, and with thy whole soul, and with thy whole mind, and with thy whole strength", do not mean a maximum of intensity, for intensity of action never falls under a command; still less do they imply the necessity of feeling more sensible love for God than for creatures, for visible creatures, howsoever imperfect, appeal to our sensibility much more than the invisible God. Their true significance is that, both in our mental appreciation and in our voluntary resolve, God should stand above all the rest, not excepting father or mother, son or daughter (Matthew 10:37).
This is what agape is, a supernatural love for God above [i.e. more than] all other things, for His sake. This is why charity (the Latin term referring to agape) is defined as the virtue by which we adhere to God as our final end and give ourselves to Him for His own sake. That definition captures the meaning of the 'all' in the command to love God with all our hearts; God is highest (i.e. "final") in the order of ends, and He is highest in that He is not pursued as means to some other end (hence "for His sake".) So love of God, here, is not referring to a feeling or an emotion or affection. It is the supreme act of the will (and the will's disposition to this supreme act) to order everything else in one's life, including oneself, toward blessing and glorifying God, for His sake. When we order our lives to God as our highest end, even higher than ourselves, and do so for His sake, and not fundamentally in order to get something from Him, that is loving God with all our heart. Of course sometimes this requires self-sacrifice and exertion of the will, to say no to evil, and yes to God, much as a married man must sometimes say no to temptation and yes to fidelity to his spouse. But the degree of exertion of the will is not the meaning of the 'all' in the command to love God with all our heart. Rather, it is the place of God in the hierarchy of ends in our will.
The quotation from St. Augustine's City of God above makes this clear. The man who loves his wife with selfish aspects, but nevertheless "if a persecutor demanded whether he would retain Christ or these things, he would prefer Christ" is loving God with all his heart, and is therefore saved. In Calvin's theology, what St. Augustine says there makes no sense, but in Catholic theology it makes perfect sense.
Because Protestant theologies generally do not recognize the distinction between mortal sin and venial sin, their tendency is either to treat all sins as mortal (i.e. each in themselves making us deserving of eternal damnation), or all as venial (i.e. incapable of causing a loss of heaven). If all sin were mortal sin, then we would be losing our salvation every day. Protestant theologies seek to get around this problem only by construing salvation as fundamentally juridical. But then salvation is not fundamentally personal. If all sin were mortal, and believers sin every day in thought, word, and deed, then believers would still be dead in their sins, or there would be no fundamental difference between the regenerate and those dead in their sins.
If, on the other hand, all sins were venial, then again, our relationship with God would be quite independent of what we say and do, both to God and to others. And this too treats salvation as impersonal. So the distinction between mortal and venial sin has significant implications, as does overlooking this distinction. The Catholic doctrine avoids both errors, because it recognizes that love is at the center of our friendship with God, and sin must therefore be understood in relation to love.
Feast of St. Leo the Great