Lawrence Feingold: A Catholic Understanding of Predestination and Perseverance
Nov 26th, 2011 | By
Bryan Cross
| Category:
Blog Posts
Over the last three months, Professor Lawrence Feingold of Ave Maria University's Institute for Pastoral Theology and author of The Natural Desire to See God According to St. Thomas and his Interpreters and the three volume series The Mystery of Israel and the Church has been giving a series of lectures to the Association of Hebrew Catholics on man's call to share in the divine life. Last week he gave a lecture on the Catholic doctrines of Predestination and Perseverance. The topic of predestination must always be approached in light of the truth of God's universal salvific will, which was the subject of the previous lecture. Some of the objections that a Protestant might raise to a Catholic understanding of predestination were addressed in the Q&A following that lecture. In the present lecture on predestination, Professor Feingold not only explicates the nature of predestination but also shows clearly the different ways that Luther's and Calvin's views of predestination differ from the Catholic doctrine. The audio recordings of the lecture and of the following Q&A session, along with an outline of the lecture and a list of the questions asked during the Q&A are available below. The mp3s can be downloaded here.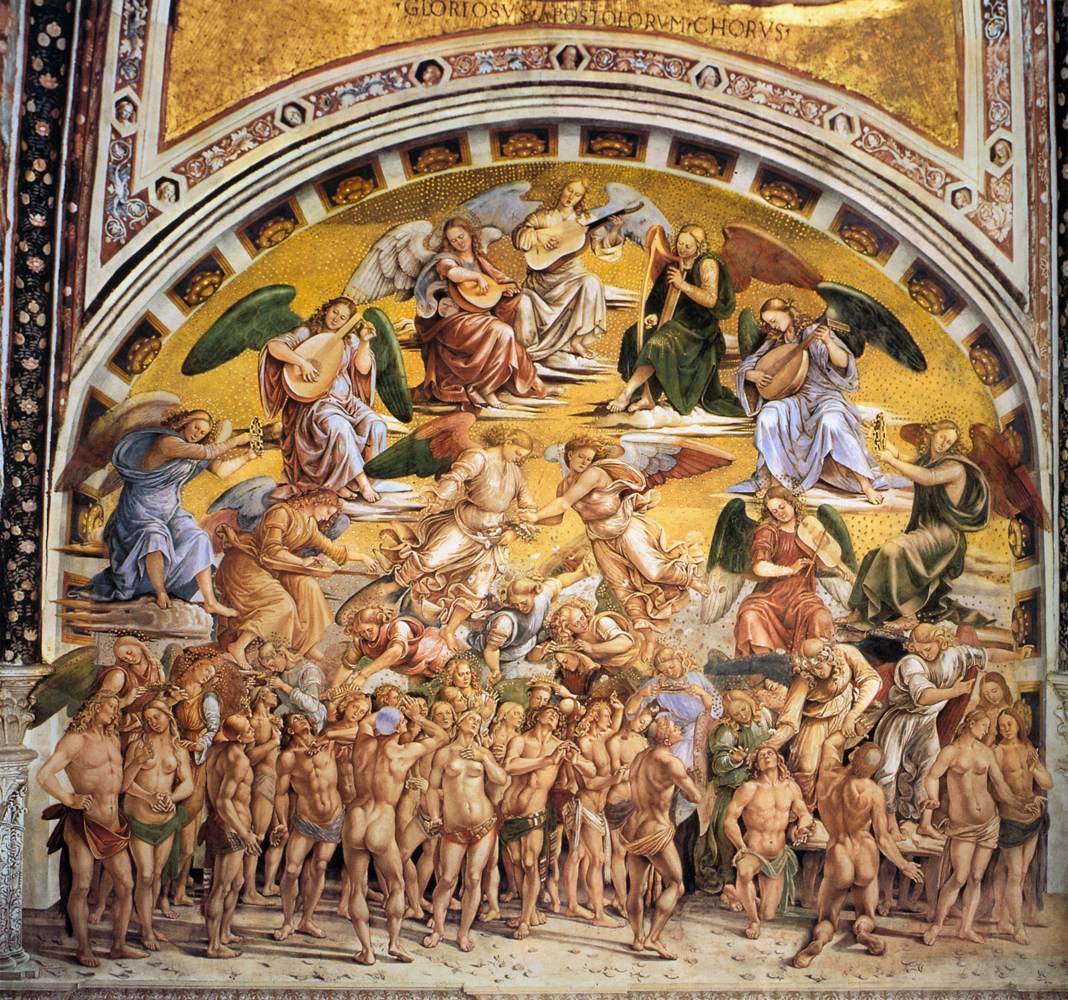 The Elect
Luca Signorelli (1499-1502)
Lecture: Predestination and Perseverance (November 16, 2011)

When we talk about predestination, we always have to keep in mind God's universal salvific will. (1′)
What does predestination add to God's universal salvific will? (2′)
A summary of the meaning of the word 'predestination' in Catholic doctrine (2′ – 5′)
Predestination includes foreknowledge, and is a part of divine providence. (6′)
Predestination has only one fundamental cause: God's love. (7′)
Predestination is the part of God's eternal plan by which the just reach their supernatural end through a series of graces God has prepared for them.
Predestination has two elements:
(a) God's gracious aid directing us to an end we cannot reach ourselves, and
(b) foreknowledge of our correspondence with His grace. (9′)
St. Augustine's definition of predestination: (11′)
St. Thomas Aquinas on predestination: (13′)
It is fitting that God should predestine men. For all things are subject to His providence, as was shown above (Question 22, Article 2). Now it belongs to providence to direct things towards their end, as was also said (Q. 22, a.1, ad 2). The end towards which created things are directed by God is twofold; one which exceeds all proportion and faculty of every created nature; and this end is life eternal, that consists in seeing God which is above the nature of every creature, as shown above (Question 12, Article 4). The other end, however, is proportionate to created nature, to which end created being can attain according to the power of its nature. Now if a thing cannot attain to something by the power of its nature, it must be directed thereto by another; thus, an arrow is directed by the archer towards a mark. Hence, properly speaking, a rational creature, capable of eternal life, is led towards it, directed, as it were, by God. The reason of that direction pre-exists in God; as in Him is the type of the order of all things towards an end, which we proved above to be providence. Now the type in the mind of the doer of something to be done, is a kind of pre-existence in him of the thing to be done. Hence the type of the aforesaid direction of a rational creature towards the end of life eternal is called predestination. For to destine, is to direct or send. Thus it is clear that predestination, as regards its objects, is a part of providence. (Summa Theologica I, a.23, a.1)
Example of the arrow and archer (14′)
The idea or blueprint in the mind of God of the way by which we will be saved is predestination. (19′)
Two causes of predestination: one primary, the other secondary (20′)
Reprobation (21′)
Predestination in the Letters of St. Paul (22′)
Romans 8:28-31 (23′)
We know that in everything God works for good with those who love Him, who are called according to His purpose. For those whom He foreknew He also predestined to be conformed to the image of His Son, in order that He might be the first-born among many brethren. And those whom He predestined He also called; and those whom He called He also justified; and those whom He justified He also glorified. What then shall we say to this? If God is for us, who is against us? (Rom 8:28-31)
The set of those called, is not the same set as those justified, because some reject the actual grace given to them. Example of the wedding feast (29′)
Difference between foreknowing and predestining (32′)
Calvinist interpretation of the passage (33′)
Ephesians 1:3-6 (34′)
Blessed be the God and Father of our Lord Jesus Christ, who has blessed us in Christ with every spiritual blessing in the heavenly places, even as He chose us in Him before the foundation of the world, that we should be holy and blameless before Him. He predestined us in love to be His sons through Jesus Christ, according to the purpose of His will, to the praise of His glorious grace which He freely bestowed on us in the Beloved. (Eph 1:3-6)
Relation between predestination, the Incarnation, and the Church (37′)
Election and predestination in an ecclesiological sense (38′)
1 Corinthians 2:7-9 (39′)
We impart a secret and hidden wisdom of God, which God decreed [predestined] before the ages for our glorification. . . Eye has not seen, nor ear heard, nor has it entered into the heart of man what God has prepared for those who love Him. (1 Cor. 2:7-9)
1 Thessalonians 5:6-10 (42′)
For you are all sons of light and sons of the day; we are not of the night or of darkness. So then let us not sleep, as others do, but let us keep awake and be sober. … But, since we belong to the day, let us . . . put on the breastplate of faith and love, and for a helmet the hope of salvation. For God has not destined us for wrath, but to obtain salvation through our Lord Jesus Christ, who died for us so that whether we wake or sleep we might live with Him. (1 Thess. 5:6-10)
St. Paul's notion of predestination was already contained in the Old Testament understanding of the election of the Jews. (45′)
Parable of the sower: election isn't enough; there has to be perseverance. (48′)
Two senses of the term 'election' (49′)
God Does Not "Predestine" Anyone to Hell (50′)
Distinction between predestination and foreknowledge (51′)
God has a universal salvific will, but not all are predestined; only those who cooperate (54′)
Predestination according to Luther and Calvin (54′)
Luther and Calvin's notion of predestination differs in two fundamental ways from the Catholic doctrine of predestination.
(1) Double predestination (54′)
Why did Luther hold this? Because he denied free will. (57′)
In his On the Bondage of the Will, Luther wrote: (58′)
Now the highest degree of faith is to believe that He is merciful, though He saves so few and damns so many; to believe that He is just, though of His own will He makes us perforce proper subjects for damnation, and seems (in Erasmus' words) "to delight in the torments of the poor wretches."
In his Institutes of the Christian Religion, Calvin wrote: (59′)
By predestination we mean the eternal decree of God, by which He determined within Himself whatever He wished to happen with regard to every man. All are not created on equal terms, but some are preordained to eternal life, others to eternal damnation; and, accordingly, as each has been created for one or other of these ends, we say that he has been predestinated to life or to death. (Institutes of the Christian Religion, III.21.6)
The problem here is the notion of irresistible grace. (62′)
(2) Luther and Calvin deny our ability to cooperate with grace. (63′)
The Lutheran and Calvinist thesis of double-predestination was condemned at the Council of Trent: (64′)
If anyone says that the grace of justification is shared by those only who are predestined to life, but that all others who are called are called indeed but receive not grace, as if they are by divine power predestined to evil, let him be anathema. (Session VI, Canon 17)
Predestination and God's Antecedent and Consequent Will (64′)
St. Thomas explains this in Summa Contra Gentiles III 159-161: (66′)
[S]ince one cannot be directed to the ultimate end except by means of divine grace, without which no one can possess the things needed to work toward the ultimate end, such as faith, hope, love, and perseverance, it might seem to some person that man should not be held responsible for the lack of such aids. Especially so, since he cannot merit the help of divine grace, nor turn toward God unless God convert him, for no one is held responsible for what depends on another. Now, if this is granted, many inappropriate conclusions appear. (SCG III.159.1)
To this problem St. Thomas replies:
To settle this difficulty, we ought to consider that, although one may neither merit in advance nor call forth divine grace by a movement of his free choice, he is able to prevent himself from receiving this grace: Indeed, it is said in Job(21:34): "Who have said to God: Depart from us, we desire not the knowledge of Your ways"; and in Job (24:13): "They have been rebellious to the light." And since this ability to impede or not to impede the reception of divine grace is within the scope of free choice, not undeservedly is responsibility for the fault imputed to him who offers an impediment to the reception of grace. In fact, as far as He is concerned, God is ready to give grace to all; "indeed He wills all men to be saved, and to come to the knowledge of the truth," as is said in 1 Timothy (2:4).But those alone are deprived of grace who offer an obstacle within themselves to grace; just as, while the sun is shining on the world, the man who keeps his eyes closed is held responsible for his fault, if as a result some evil follows, even though he could not see unless he were provided in advance with light from the sun. (SCG III.159.2)1
Final Perseverance (71′)
Second Council of Orange: (72′)
God's help is always to be sought even for the regenerated and holy, that they may come to a happy end, or that they may continue in the performance of good works. (Denz. 183)
Can Final Perseverance be Merited? (73′)
St. Thomas addresses this in Summa Theologica I-II, q. 114, a.9.
Can the Faithful Have Complete Assurance of Final Perseverance? (75′)
Luther taught that faith had to include faith in one's own justification. (76′)
Calvin taught that faith had to include faith in one's own final perseverance to glory. (77′)
The problem with the claim that faith must include belief in one's own final perseverance (77′)
The Council of Trent condemned this: (77′)
Canon 15. If anyone says that a man who is born again and justified is bound ex fide to believe that he is certainly in the number of the predestined, let him be anathema.

Canon 16. If anyone says that he will for certain, with an absolute and infallible certainty, have that great gift of perseverance even to the end, unless he shall have learned this by a special revelation, let him be anathema. (Session VI)
St. Francis de Sales on God's Universal Salvific Will (79′)
First He willed, with a genuine will, that even after the sin of Adam all men should be saved, but in a way and with means suited to the condition of our nature, which is endowed with free-will; that is to say He willed the salvation of all those who would contribute their consent to the graces and favours which He would prepare, offer and distribute for this purpose. Now, among these favours, He willed that the call be first, and that it should be so accommodated to our freedom that we might at our good pleasure accept or reject it. And to those whom He foresaw would receive it, He willed to give the sacred movements of repentance; and to those who would follow those movements He determined to give holy charity, those again who were in charity, He purposed to supply with the helps necessary to persevere, and to such as should make use of these divine helps He resolved to impart final perseverance, and the glorious felicity of his eternal love. … Without doubt, God prepared heaven only for those whom He foresaw would be His. … But it is in our power to be His: for although the gift of being God's belongs to God, yet this is a gift which God denies no one, but offers to all, and gives to those who freely consent to receive it. (Treatise on the Love of God, 3.5)
Questions and Answers

1. In light of all you have said, then why do we pray for anyone else? (1′)
2. The gospel readings of last Sunday and this morning dealt with the servants receiving talents from their master. How does that relate to predestination? (3′)
3. God knowing from the beginning who and how many would be saved, why didn't He set the bar lower, to save more? (7′)
4. How did Luther and Calvin ever give the early Protestants incentive to love God more or live moral lives if it didn't matter or change predestination? (10′)
5. Paul himself seemed to know that he himself was saved. How is that possible? (13′)
6. Because the Church allows many views on this subject, can you distinguish the view of the Dominican Bañez from that of Calvin? (14′)
7. I understand that God gives sufficient grace for all to be saved, but it seems unfair that God gives more grace to some than to others. It seems the ones that He gave more grace to would have a better chance at salvation than someone to whom He gave less grace. (17′)
8. Shouldn't Jesus have said more accurately "All are called and some are chosen"? (21′)
9. What does it mean that Herod and Pilate were predestined to do what God had planned to take place (Acts 4:28)? (23′)
10. What about Jude 4, which speaks of present persons long ago "designated" for condemnation? (25′)
11. Why does St. Paul say regarding Jacob and Esau that God chose Jacob over Esau before either had done anything good or bad (Rom 9:11)? (27′)
12. Why doesn't the notion that men can successfully resist God's grace detract from His omnipotence? If He really wants all men to be saved, why doesn't He overwhelm all men with irresistible grace? (33′)
13. If God's knowledge is the cause of what happens, rather than the other way around, how can man's response to grace be the cause of God's foreknowledge of who is predestined? (37′)
14. What about Limbo? (39′)
Elsewhere St. Thomas adds:

Therefore, since God has made all human beings for beatitude, He is said to will the salvation of all through His antecedent will. But because there are those who resist their salvation, those whom, because of their own defectiveness, the order of His wisdom does not allow to attain salvation, in them He brings to fulfillment in a different way that which pertains to His goodness, namely, by condemning them through His justice–so that while they are falling short of the primary order of His will, they are slipping into the secondary order, and while they are failing to fulfill God's will, God's will is being fulfilled in them. (De Veritate, q. 23, a.2, corpus)

[↩]