Lawrence Feingold on God's Universal Salvific Will
Nov 16th, 2011 | By
Bryan Cross
| Category:
Blog Posts
"It must therefore be firmly believed as a truth of Catholic faith that the universal salvific will of the One and Triune God is offered and accomplished once for all in the mystery of the incarnation, death, and resurrection of the Son of God." Those words were written by then Cardinal Ratzinger, in the Declaration Dominus Iesus, published in 2000. Last week Professor Lawrence Feingold of Ave Maria University's Institute for Pastoral Theology and author of The Natural Desire to See God According to St. Thomas and his Interpreters and the three volume series The Mystery of Israel and the Church gave a lecture on God's universal salvific will to the Association of Hebrew Catholics. The doctrine of God's universal salvific will is the doctrine that God desires all men to be saved and to come to the knowledge of the truth. This doctrine is another point of disagreement between Reformed theology and Catholic theology. Reformed theology denies that God desires all men to be saved, and claims that Christ died only for the elect, not for the sins of all men. The audio recordings of the lecture and of the following Q&A session, along with an outline of the lecture and a list of the questions asked during the Q&A are available below. The mp3s can be downloaded here.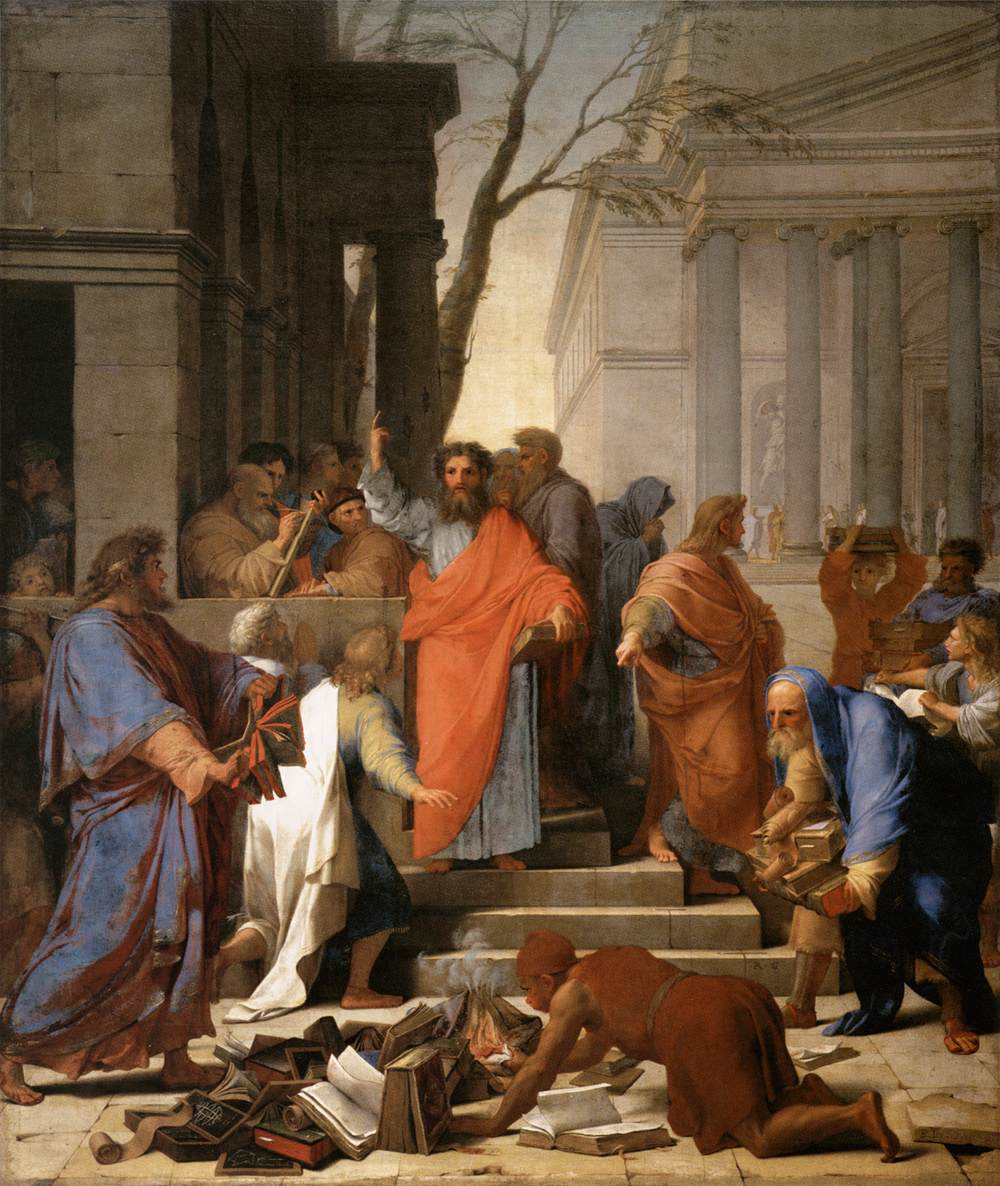 The Preaching of Paul at Ephesus
Eustache Le Sueur (1649)
Lecture: God's Universal Salvific Will (November 9, 2011)

God's universal salvific will, and predestination, must always be considered together. (1′)
"God desires all men to be saved and to come to the knowledge of the truth" (1 Tim 2:4)
God desires all to be saved, because He loves all men, and wants us all to enter into His own life.1 (1′)
God truly wills the salvation of all men: Scripture
1 Tim 2:1-4 (2′)
Christ gave Himself "as a ransom for all" (1 Tim 2:6) (3′)
John 3:16 (5′)
How do we reconcile the universal salvific will of God with the fact that some are lost? (6′)
2 Peter 3:9 "not wishing that any should perish, but that all should reach repentance" (7′)
1 John 2:2 "expiation for our sins, and not for ours only but also for the sins of the whole world" (8′)
Sermon on the Mount (8′)
Parable of the Sower (9′)
Parable of the Wedding Feast (Mt. 22:1-14) (11′)
Parable of the Sheep: "So it is not the will of my Father who is in heaven that one of these little ones should perish." (Mt. 18:14) (15′)
Universal Means of Salvation
To say that God wills all men to be saved would be empty if it did not include some kind of universal means so that all can be saved. (16′)
Christ through His Church and sacraments is the universal means (17′)
Four steps (18′)
(1) Christ's incarnation and passion for all men2
(2) Grace merited by Christ
(3) Universal Church
(4) Sacraments in His Church, by which men can receive His grace.
All men who attain the age of reason are given operative grace, sufficient for salvation if men cooperate (20′)
Cooperative grace is given only to those who cooperate with operative grace. (21′)
The Old Covenant not yet Catholic, and not yet a universal means of salvation, but hints at it (23′)
The Book of Jonah (25′)
The Fathers and Doctors on the Universal Salvific Will3 (26′)
All are agreed that God wills all men to be saved in a manner fitting for free creatures.
St. John Chrysostom (28′)
St. Ambrose (28′)
St. Augustine (29′)
St. John Damascene (31′)
Two senses of God's salvific will: antecedent and consequent
Also one must bear in mind that God antecedently wishes all to be saved and come to His Kingdom. (1 Timothy 2:4) For it was not for punishment that He formed us but to share in His goodness, inasmuch as He is a good God. But inasmuch as He is a just God, His will is that sinners should suffer punishment. The first then is called God's antecedent will and pleasure, and springs from Himself, while the second is called God's consequent will and permission, and has its origin in us. (De Fide Orth 2.29) (34′)
St. Thomas Aquinas (36′)
Objection: It seems that the will of God is not always fulfilled. For the Apostle says (1 Timothy 2:4): "God will have all men to be saved, and to come to the knowledge of the truth." But this does not happen. Therefore the will of God is not always fulfilled.

Response: According to Damascene (De Fide Orth. 2.29), they are understood of the antecedent will of God; not of the consequent will. This distinction must not be taken as applying to the divine will itself, in which there is nothing antecedent nor consequent, but to the things willed. To understand this we must consider that everything, in so far as it is good, is willed by God. A thing taken in its primary sense, and absolutely considered, may be good or evil, and yet when some additional circumstances are taken into account, by a consequent consideration may be changed into the contrary. Thus that a man should live is good; and that a man should be killed is evil, absolutely considered. But if in a particular case we add that a man is a murderer or dangerous to society, to kill him is a good; that he live is an evil. Hence it may be said of a just judge, that antecedently he wills all men to live; but consequently wills the murderer to be hanged. In the same way God antecedently wills all men to be saved, but consequently wills some to be damned, as His justice exacts. Nor do we will simply, what we will antecedently, but rather we will it in a qualified manner; for the will is directed to things as they are in themselves, and in themselves they exist under particular qualifications. Hence we will a thing simply inasmuch as we will it when all particular circumstances are considered; and this is what is meant by willing consequently. Thus it may be said that a just judge wills simply the hanging of a murderer, but in a qualified manner he would will him to live, to wit, inasmuch as he is a man. Such a qualified will may be called a willingness rather than an absolute will. Thus it is clear that whatever God simply wills takes place; although what He wills antecedently may not take place. (Summa Theologica I Q.19, a.6.)
God wills all men to be saved, and prepares for them a series of graces sufficient (and in fact, superabundant) to bring them to salvation. But we have to correspond to them. God leaves us free will, by which we either cooperate with His grace, or freely impede it, and His consequent will takes into account our cooperation and resistance. (37′)
Denial of the Universal Salvific Will at the Reformation (38′)
Luther and Calvin denied our ability to cooperate with grace.4 (39′)
That denial eliminates the distinction between antecedent and consequent will (40′)5
This entails that God's salvific will is not universal (41′)
Luther's On the Bondage of the Will: (41′)
In a word: if we are under the god of this world, strangers to the work of God's Spirit, we are led captive by him at his will, as Paul said to Timothy (2 Tim. 2.26), so that we cannot will anything but what he wills. For he is a 'strong man armed,' who keeps his palace to such good effect that those he holds are at peace, and raise no stir or feeling against him — otherwise, Satan's kingdom would be divided against itself, and could not stand; but Christ says it does stand. And we acquiesce in his rule willingly and readily, according to the nature of willingness, which, if constrained, is not 'willingness'; for constraint means rather, as one would say, 'unwillingness'. But if a stronger appears, and overcomes Satan, we are once more servants and captives, but now desiring and willingly doing what He wills — which is royal freedom (cf. Luke 11.18-22). So man's will is like a beast standing between two riders. If God rides, it wills and goes where God wills: as the Psalm says, 'I am become as a beast before thee, and I am ever with thee' (Ps. 73.22-3). If Satan rides, it wills and goes where Satan wills. Nor may it choose to which rider it will run, or which it will seek; but the riders themselves fight to decide who shall have and hold it.' (On the Bondage of the Will, 103-104)
Luther applies this to Cain (43′)
This leads to the notion of double-predestination (45′)
John Calvin (46′)
Claimed that Christ did not die for all, but only for the elect. "Limited atonement"
Leads to the notion that some are predesined by God to hell.
Denial of the Universal Salvific Will by Jansenism (47′)
The following five Jansenist positions were infallibly condemned by Pope Innocent X in 1653: (48′)
1. Some of God's precepts are impossible to the just, who wish and strive to keep them, according to the present powers which they have; the grace, by which they are made possible, is also wanting.

2. In the state of fallen nature one never resists interior grace.

3. In order to merit or demerit in the state of fallen nature, freedom from necessity is not required in man, but freedom from external compulsion is sufficient.

4. The Semipelagians admitted the necessity of a prevenient interior grace for each act, even for the beginning of faith; and in this they were heretics, because they wished this grace to be such that the human will could either resist or obey.

5. It is Semipelagian to say that Christ died or shed His blood for all men without exception. (Denzinger 1092-1096)
Real Possibility of Salvation for All (53′)
Sufficient grace to be saved is given to everyone who reaches the age of reason. Christ died for all men. God wills all men to cooperate with that grace, and thus God predestines no one to hell.
What about those who never hear the gospel? (53′)
What about "outside the Church there is no salvation"?
Lumen Gentium: (55′)
Basing itself upon Sacred Scripture and Tradition, it teaches that the Church, now sojourning on earth as an exile, is necessary for salvation. Christ, present to us in His Body, which is the Church, is the one Mediator and the unique way of salvation. In explicit terms He Himself affirmed the necessity of faith and baptism and thereby affirmed also the necessity of the Church, for through baptism as through a door men enter the Church. Whosoever, therefore, knowing that the Catholic Church was made necessary by Christ, would refuse to enter or to remain in it, could not be saved. (Lumen Gentium, 14)
Vincible ignorance and invincible ignorance (57′)
Bl. Pope Pius IX on invincible ignorance (59′)
Lumen Gentium: (60′)
Those also can attain to salvation who through no fault of their own do not know the Gospel of Christ or His Church, yet sincerely seek God and moved by grace strive by their deeds to do His will as it is known to them through the dictates of conscience. Nor does Divine Providence deny the helps necessary for salvation to those who, without blame on their part, have not yet arrived at an explicit knowledge of God and with His grace strive to live a good life. (Lumen Gentium, 16)
Creed of the People of God (Pope Paul VI) (61′)
We believe that the Church is necessary for salvation, because Christ, who is the sole mediator and way of salvation, renders Himself present for us in His body which is the Church. But the divine design of salvation embraces all men, and those who without fault on their part do not know the Gospel of Christ, but seek sincerely, and under the influence of grace endeavor to do His will as recognized through the promptings of their conscience, they, in a number known only to God, can obtain salvation. (Creed of the People of God)
Catechism of the Catholic Church (62′)
"Since Christ died for all, and since all men are in fact called to one and the same destiny, which is divine, we must hold that the Holy Spirit offers to all the possibility of being made partakers, in a way known to God, of the Paschal mystery." Every man who is ignorant of the Gospel of Christ and of his Church, but seeks the truth and does the will of God in accordance with his understanding of it, can be saved. It may be supposed that such persons would have desired Baptism explicitly if they had known its necessity. (CCC 1260)
Explicit desire and implicit desire (65′)
Letter of the Holy Office to the Archbishop of Boston, August 8th, 1949 regarding Feeneyism. (67′)
However, this desire need not always be explicit, as it is in catechumens; but when a person is involved in invincible ignorance God accepts also an implicit desire, so called because it is included in that good disposition of soul whereby a person wishes his will to be conformed to the will of God. (Letter of the Holy Office to the Archbishop of Boston)
Salvation outside the visible Church requires perfect contrition (69′)
God gives the grace to everyone to make an act of perfect contrition (69′)
Some faith is necessary for salvation (70′)
Hence missionary activity of the Church is not rendered useless by the fact that it is possible for those to be saved who have never heard the gospel.
It is much more difficult to be saved when not in full communion with the Catholic Church, and therefore without the fullness of the truth and the means of grace Christ has established in His Church.
Mystici Corporis Christi (71′)
They who do not belong to the visible Body of the Catholic Church, … We ask each and every one of them to correspond to the interior movements of grace, and to seek to withdraw from that state in which they cannot be sure of their salvation. For even though by an unconscious desire and longing they have a certain relationship with the Mystical Body of the Redeemer, they still remain deprived of those many heavenly gifts and helps which can only be enjoyed in the Catholic Church. (Mystici Corporis Christi, 103)
Questions and Answers

1. How does the Catholic understanding of the universal salvific will compare to that of the Orthodox Jewish or Islamic view? (1′)
2. Is inculpable ignorance holding views contrary to the Church because you run out of time before you can investigate the reasons for the truth on all the issues, or is it necessary to hold the principles of the Church by faith before you dismiss them by investigation that confirms your conscience? (3′ 19″)
3. Luther said that in Genesis God was simply telling Cain what he ought to do. But if as Luther believed, Cain had no choice in the matter, why would God bother telling him at all? (4'42")
4. In many places in Scripture we see God hardening people's hearts. In Deuteronomy 2:30 He hardens the heart of Sihon King of Heshbon. In Joshua 11:20 He hardens the hearts of the Canaanites. In 1 Sam. 2:25 He hardens the hearts of Hophni and Phineas, so that they would not listen to Eli. Jesus thanks the Father for hiding things from the wise and prudent (Matt. 11:25,26), and quotes Isaiah saying that God has blinded their eyes and hardened their hearts, so that they should not see with their eyes, nor understand with their heart, and be converted. (John 12:37-40) St. Paul says the same in Romans 11:8, and in 2 Thess 2:11 he says that God sends them a strong delusion to make them believe what is false. How is all this compatible with a universal salvific will? (6'30")
5. In John 10:26 Jesus says, "but you do not believe, because you do not belong to my sheep." If God wants all men to be saved, why doesn't Jesus say, "you are not of my sheep because you do not believe"? (17′)
6. If God wants all men to be saved, then why does St. Paul say (Rom. 9:22) that there are "vessels of wrath made for destruction" and why does St. Peter say "for they stumble because they disobey the word, as they were destined to do"? (1 Pet. 2:8) (19′)
7. If our being saved or being lost depends fundamentally on whether we cooperate or do not cooperate with grace, then why does St. Paul say that "it is not of him that wills or runs, but of God that shows mercy" (Rom 9:16) Why does St. Paul in Romans 9 seem to make election depend not on human choice but on God's sovereign and inscrutable will? (24′)
8. Does the possession of sanctifying grace require conscious explicit faith in Jesus as the Son of God? If not, how is the Council's teaching different from Rahner's "anonymous Christian"? If it requires faith, then how can the Catechism speak of atheists possibly attaining salvation? [Note: the Catechism does not speak of atheists as such possibly attaining salvation. The questioner was referring to Lumen Gentium 16] (26′)