Robert George and Russell Moore on the State of Evangelicalism
Oct 11th, 2011 | By
Bryan Cross
| Category:
Blog Posts
Recently I referred to Russell Moore, in reference to his article published earlier this year titled "Where Have all the Presbyterians Gone?" in the WSJ. He is Dean of the School of Theology at Southern Baptist Theological Seminary. Last Monday he sat down with Catholic philosopher Robert George (McCormick Professor of Jurisprudence, Princeton University) at an event titled "Faith in America: The Role of Religion in the Public Square," and discussed the state of Evangelicalism in America. The event was sponsored by the James Madison Institute at Princeton University. Over the course of the discussion George asks Moore, a Southern Baptist, a number of questions about the ecclesiology of Evangelicalism. The discussion touches on the ecclesial questions and debates that have taken place here at CTC over the last two years. Both George and Moore provide an exemplary model for Catholic-Protestant dialogue, always gracious and charitable, even where they obviously disagree, but always sincerely seeking to listen and better understand each other.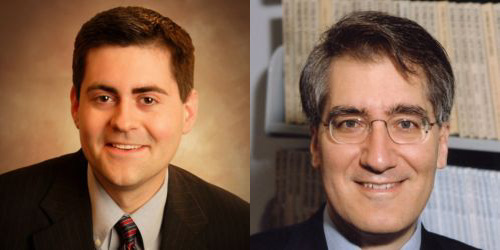 Listen to the discussion here:
The mp3 can be downloaded here. A video of the discussion can be viewed here.
The combox below is open only to those who have listened to the discussion or watched the video.