Reformation Sunday 2011: How Would Protestants Know When to Return?
Oct 29th, 2011 | By
Bryan Cross
| Category:
Blog Posts
Imagine that the Occupy Wall Street protest continued for years, during which time the community of protesters divided into different factions, each with different beliefs, different demands, and different leaders. But the protests continued for so long that the protesters eventually built makeshift shanties and lived in them, and had children. These children grew up in the protesting communities, and then they too had children, who also grew up in the same communities of protesters, still encamped in the Wall Street district. Over the course of these generations, however, these communities of protesters forgot what it was that they were protesting. They even forgot that they were protesting. Life in the shanties in Wall Street was what these subsequent generations had always known. They did not even know that they had inherited a protesting way of life, separated from the rest of society. When asked by a reporter what Wall Street would have to change in order to get them to return home, they looked at him confusedly, and responded, "We are home; this is home." They no longer had any intention to 'return to society' upon achieving some political or economic reform. For them, camping out on Wall Street was life as normal, and those with whom they had grown up camping simply were their society.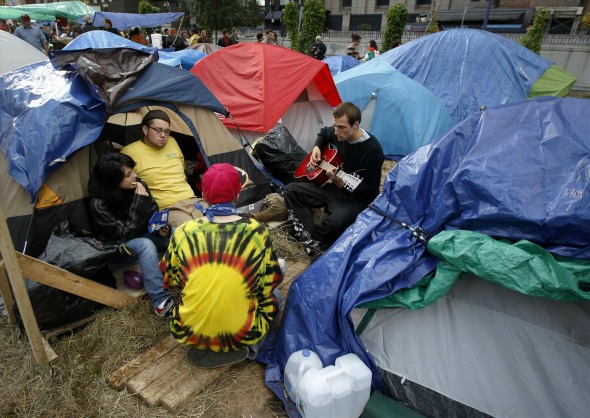 What if Protestantism in its present form is the fractured remains of a Catholic protest movement that began in 1517, but which has long since forgotten not only what it was protesting, but that it was formed by Catholics, in protest over conditions and practices within the Catholic Church? What if Protestantism has forgotten that its original intention was to return to full communion with the Catholic Church when certain conditions were satisfied?
During the week approaching Reformation Sunday last year those questions prompted me to write, "Trueman and Prolegomena to "How would Protestants know when to return?"." I included the term 'prolegomena' because before discussing the conditions under which Protestants can return to full communion with the Catholic Church, Protestants (and Catholics) must first recover the memory of our history, not only our shared history as one Church prior to the sixteenth century, but also the history by which we came to be divided during that century. Recovering that history shows not only that the early Protestants never intended to form a perpetual schism from the Catholic Church, but also helps us remember that Protestant communities are by their history, communities in exile from the Catholic Church, and thereby by that history ordered toward eventual reconciliation and reunion with the Catholic Church. According to that history Protestantism began as a protest movement initially made up of Catholics protesting the Catholic Church and seeking to reform her; it was never intended to remain perpetually in schism from her.1 Semper Reformanda does not translate as "perpetually in schism." Hence in "Trueman and Prolegomena" I quoted Protestant professor of historical theology Carl Trueman, who wrote:
[W]e [Protestants] need good, solid reasons for not being Catholic; not being a Catholic should, in others words, be a positive act of will and commitment, something we need to get out of bed determined to do each and every day.
Yet even among those Protestants who retain the memory of Protestantism's origin as a Catholic protest movement, Reformation Day is typically viewed as a day of celebration. On Reformation Sunday of 2009, we posted a 1995 Reformation Day sermon by the Protestant theologian Stanley Hauerwas, named by Time magazine as America's best theologian. A few weeks ago I had a chance to talk with Hauerwas in person, and he said that he still affirms every word of that sermon. In that sermon Hauerwas says:
After all, the very name 'Protestantism' is meant to denote a reform movement of protest within the Church Catholic. When Protestantism becomes an end in itself, which it certainly has through the mainstream denominations in America, it becomes anathema. If we no longer have broken hearts at the church's division, then we cannot help but unfaithfully celebrate Reformation Sunday.
Tomorrow will be celebrated by many Protestants as "Reformation Sunday." To be sure, part of what Protestants celebrate on Reformation Day are what they believe to be the truths upheld and preserved within Protestantism. But without careful qualification, celebrating "Reformation Day" while remaining separated from the Catholic Church is a kind of performative contradiction, because it implies that separation, not reform, is the ultimate goal of the protest. Celebrating Reformation Day can be for that reason like celebrating a divorce, or more accurately, celebrating estrangement from our mother and from all our brothers and sisters who remain in her bosom, when in truth Christ calls us all to full communion and prays that we would be one. Moreover celebrating what is a division can blind the celebrants to the evil of that continuing division, just as celebrating divorce could blind children to its evil, or celebrating abortion could blind the celebrants to its evil.
But Reformation Day can be approached differently. It should be an annual reminder of the continuation of the evil in our midst that is the Protestant-Catholic division, a division that causes scandal to the rest of the world regarding the identity and efficacy of Christ's gospel. In that respect, Reformation Day is a day to ask ourselves the following question:
What have I done, since the last Reformation Day, to help bring reconciliation between Protestants and Catholics?
If the answer is 'nothing,' then by our inaction we are in actuality perpetuating the schism which has continued now for almost five hundred years. Reformation Day ought therefore be a day in which Protestants are reminded to enter into authentic and charitable dialogue with Catholics, and Catholics are reminded to enter into such dialogue with Protestants, in order to put this schism behind us as a tragic event in Church history, through which God can nevertheless bring good. The lot of those who despair over the possibility of reconciliation is to die without seeing it. However, that generation which in faith truly believes that with God nothing is impossible will live to see it, and will be graced with the everlasting privilege of being the instruments through which this reconciliation is accomplished.
Having recollected our memory of our history, and a shared understanding of the early Protestants' intention to reform the Catholic Church, not to form a schism from the Catholic Church, each Protestant faces the following question: How would I as a Protestant know when to return? No one Protestant can answer that question for all Protestants, because no one Protestant has the authority to speak for all Protestants. Each Protestant therefore must answer that question for him or herself.
But at the same time, the Protestant is faced with a second-order question and a second-order problem. The problem is that if we survey a thousand Protestants, and ask each what the Catholic Church would have to change, in order for him or her to stop protesting and be reconciled to the Catholic Church, we get almost a thousand different answers. When the Protestant reflects on his own act of setting conditions that the Catholic Church must meet in order for him to return to full communion with her, he is faced with an awareness that because each Protestant has a different set of conditions for return, and because he has no unique authority above that of all other Protestants to speak for all other Protestants, his very approach makes Protestant-Catholic reconciliation impossible. That's because even if (per impossible) the Catholic Church could abandon her own doctrine and adopt a Protestant doctrine, the Church could not possibly adopt and simultaneously hold the incompatible Protestant positions on any particular theological question.2
The Protestant who reflects on this cannot but notice that to approach reconciliation this way is to fall into ecclesial consumerism, as each person demands that the Church conform to his own interpretation of Scripture before he will submit to her. Implicit in the very nature of an "I won't return unless the Church does x" condition for reconciliation is a denial of ecclesial authority, a denial that not only presumes precisely what is in question between Protestants and the Catholic Church with respect to the existence of magisterial authority, but implicitly exercises that magisterial authority. So the second-order question is this: How can a Protestant pursue an end to the Protestant-Catholic schism without falling into ecclesial consumerism?
If, as Neal and I argued in "Solo Scriptura, Sola Scriptura, and the Question of Interpretive Authority," to make conformity to one's own interpretation a condition for submission is performatively to make oneself one's own authority, the Protestant's very act of laying out a list of conditions for reunion with the Catholic Church is not a theologically neutral act. In this act the Protestant intrinsically arrogates to himself an interpretive authority exceeding that of the magisterium of the Catholic Church. He is therefore confronted not only with the changes he wants to see in the Catholic Church, but with the realization that if he sets conditions that the Catholic Church must satisfy in order for him to return to full communion with her, he is performatively arrogating to himself ultimate interpretive authority, and seeking to conform the Church to the image of his own interpretation of Scripture. So the question I invite our Protestant readers to answer is not "What would the Catholic Church have to change in order for me to return to her?" but rather, "What does the multiplicity of Protestant answers to that question reveal about both the prospects and presuppositions of that approach to Protestant-Catholic reconciliation?
So long as Protestants redefine schism from the Church as heresy, that memory will remain hidden. [↩]
See, for example, the various Protestant notions of justification in the recent book Justification: Five Views. [↩]