The Exaltation of the Holy Cross
Sep 14th, 2011 | By
Andrew Preslar
| Category:
Blog Posts
The Byzantine Liturgical Year kicks off with two feasts that are also observed, on the same dates, in the Roman Rite: the Feast of the Nativity of the Theotokos and the Exaltation of the Holy Cross. The latter, which we observe today (September 14), is an appropriately paradoxical feast, being also a fast.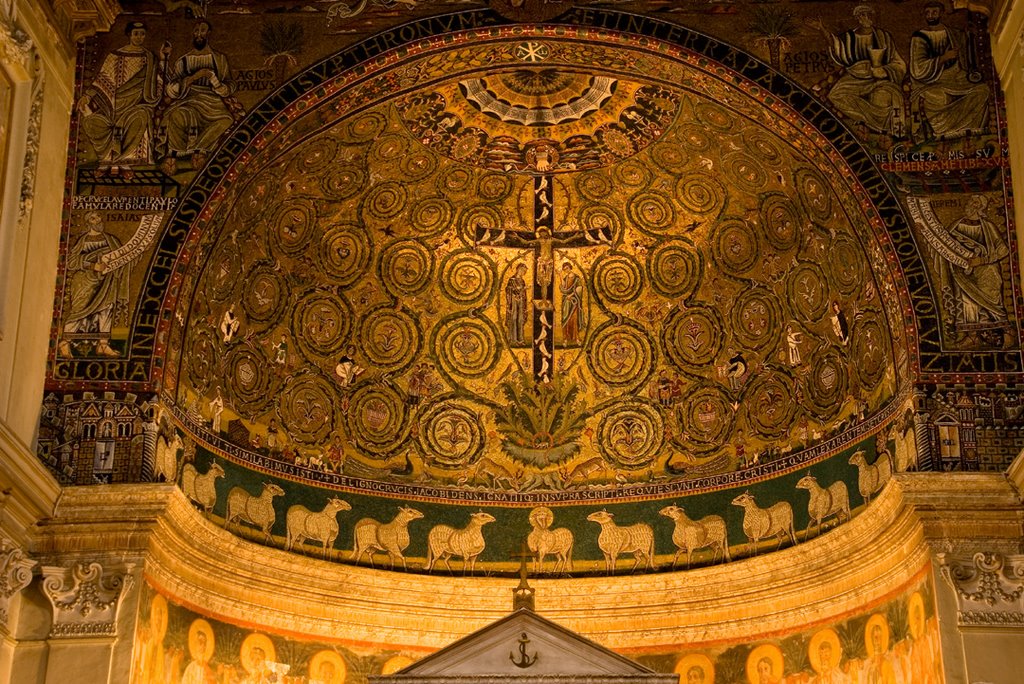 It is difficult to say anything about this particular thing, beyond St. Paul's exclamation: But God forbid that I should glory, save in the cross of our Lord Jesus Christ, by whom the world is crucified unto me, and I unto the world (Galatians 6:14). The Catholic Church takes Paul's words about the Cross symbolically and, much to the consternation of some, literally. Bits of wood are preserved around the world and presented to the faithful as fragments of the very cross upon which our Lord was crucified. For the life of me, I cannot see how this is any more offensive than the claim that, as a matter of historical fact, the Son of God was put to death by being nailed to this gibbet.
Of course, some have tried to say something about this archetype of our faith, and among many attempts I particularly appreciate the following, especially in light of today's Feast: The Dream of the Rood (Old English poem, c. 7th century) and The Elevation of the Cross (Alexander Schmemman, Celebration of Faith, vol. II: The Church Year. See Part II, Chapter 1, "The Elevation of the Cross," beginning on page 41.)
The Exaltation of the Cross is Good Friday viewed through the prism of Easter Day, which is to say that today is something like the epitome of Christianity.
And the serpents bit the people; and much people of Israel died.  Therefore the people came to Moses, and said, We have sinned, for we have spoken against the Lord, and against thee; pray unto the Lord, that he take away the serpents from us. And Moses prayed for the people.  And the Lord said unto Moses, Make thee a brazen serpent, and set it for an ensign ; and it shall come to pass, that every one that is bitten, when he looketh upon it, shall live.  And Moses made a serpent of brass, and set it up for an ensign, and it came to pass, that if a serpent had bitten any man, when he beheld the serpent of brass, he lived.

(Numbers 21:6-9, Lesson for Matins, Roman)
Dearly beloved, when we look to Christ lifted up on the Cross, the eyes of faith see more than what the wicked saw, unto whom it was said through Moses : And thy Life shall hang in doubt before thee, and thou shalt fear day and night, and shalt have none assurance of thy Life.  They saw in the Crucified nothing but the work of their own wickedness.  As it is written : They feared greatly.  But their faith was not unto faith, which giveth life by justification, but unto the torture of their own bad conscience.  But our understanding is enlightened by the Spirit of Truth.  And so with pure and open hearts we can see the glory of the Cross shining over heaven and earth, and discern by inward sight what the Lord meant when his passion was nigh at hand, and he said : Now is the judgment of this world ; now shall the prince of this world be cast out ; and I, if I be lifted up from the earth, will draw all men unto me.

(From a Sermon by Pope St. Leo, Lesson for Matins, Roman)
The Cross is raised on high, and urges all the creation to sing the praises of the undefiled Passion of Him who was lifted high upon it. For there it was that He killed our slayer, and brought the dead to life again: and in His exceeding goodness and compassion, He made us beautiful and counted us worthy to be citizens of heaven. Therefore with rejoicing let us exalt His Name and magnify His surpassing condescension.

(From Great Vespers, Byzantine)