The Bible Made Impossible: Reviewed by Brent Stubbs
Aug 18th, 2011 | By
Guest Author
| Category:
Blog Posts
This is a guest post by Brent Stubbs, in which he reviews Christian Smith's recent book The Bible Made Impossible: Why Biblicism Is Not a Truly Evangelical Reading of Scripture. Brent is a convert to the Catholic Church from the Pentecostal tradition. However, his theology became Reformed while he was pursuing a BA in Theological Historical Studies at Oral Roberts University ('03). He has studied graduate philosophy at the University of Dallas, has an MBA and writes about his reasons for conversion at www.almostnotcatholic.com. Brent started blogging after participating in the comboxes at Called To Communion. He and his wife and four children live in central Florida. On August 22 at 8pm EST, he will be sharing his story with Marcus Grodi on EWTN's "The Journey Home." You can also hear Brent discuss the "The Scriptures He Never Saw" on Marcus Grodi's radio show "Deep in Scripture" — which will air August 24 at 2 pm EST.
—————————————-
The Bible Made Impossible: Why Biblicism Is Not A Truly Evangelical Reading of Scripture, by Christian Smith, the William R. Kenan, Jr. Professor of Sociology and Director of the Center for the Study of Religion and Society at the University of Notre Dame, is his effort to understand why the Bible, in his view, does not seem to work as the "sole rule of faith" within his evangelical tradition — hence the term "impossible." The book is divided into two parts: the first part a diagnosis of the problem of biblicism and the second part Smith's proposed solution.
What is Biblicism?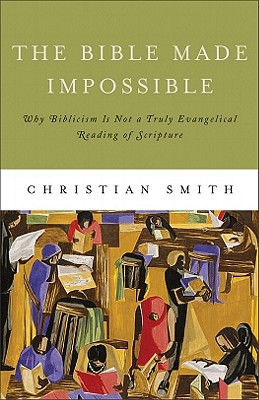 According to Smith, Biblicism is a belief that assumes at least one of the following to be true about the Bible:
1. The Bible is identical to God's very words
2. The Bible is the total representation of God's will for humanity
3. The Bible covers every topic you need to know about anything
3. Democratic perspicuity- "almost anybody can read the Bible and get it"
4. "Common sense" hermeneutic- just take it literal
5. Solo Scriptura
6. Internal harmony- everything in the Bible fits together
7. Universal applicability of all direct teachings of the Apostles
8. Inductive method as the preferable method for understanding the Bible
As to #5, Bryan and Neal have demonstrated how sola reduces to solo here. Smith points to the way Westminster Theological Seminary refers to the Westminster Confession Faith (WCF) as fallible on the one hand, yet treats it as though "the likelihood…of detecting or admitting error or revisions is effectively nil" (p.14). He goes on to point out the way the WCF affirms many of his biblicist criteria. In the end, Smith's criticism virtually includes almost all of Protestantism by implying that both confessional and evangelical Protestant denominations treat the Bible in a biblicist way.
What to think of all of this?
Having defined biblicism, Smith next considers how the belief in the Bible as the rule of faith has fared in history. As evidence of the hermeneutical confusion, he quotes from the founder of Mormonism, Joseph Smith:
"In the midst of this war of words and tumult of opinion, I often said to myself, What is to be done? Who of all these parties are right? Or, are they all wrong together? If one of them is right, which is it, and how shall I know? The teachers of religion of the different sects destroy all confidence in settling the question by an appeal to the Bible. At length I came to the conclusion that I must…ask of God."
The fact that Joseph Smith's sentiments reflect the average Christian's should be startling. Of course, the average Christian doesn't run out and start a completely new church. The broader question, and the one Smith is asking in the use of this quotation and others he deploys, is how do Christians of good faith sort through all the thousands and thousands (probably millions) of pages of competing interpretations?
Christian Smith's greater point, and the one he makes well in the first half of the book is that the notion of the "Bible alone" as understood in the biblicist tradition has simply failed as a method for resolving theological conflict of almost any kind. For example, he argues that even on the "essentials" — a concept that is an undefined 'moving target' as well — there is a plethora of resources espousing three to four plausible views (pp. 22-23). Whether on the atonement, church governance, communion or moral teachings, Christians of good will, trained in Scripture, simply cannot agree on what the Bible actually teaches. Even more alarming, biblicists seem to believe that on very important teachings three to four incompatible views can be accepted as "plausible," yet their own view of the Bible would seem to require something more like dogma than plausibility. In other words, no biblicist would admit that the Bible "teaches" only plausible ideas but is rather "profitable for doctrine": positive, perspicuous dogmas clearly articulated in the Bible.
Smith goes on to explain why none of the possible solutions to the problems of biblicism work, because all of them undermine an essential biblicist belief about the Bible as detailed in the aforementioned list (pp. 37-41). For example, Peter Leithart recently responded to Smith's book by arguing that the problem is not in the Bible but rather in our failure to grasp its "essential" teaching regarding unity. Leithart also claimed that evangelicals just need "more time," and that in charity Smith should give more consideration to the length of time it took Catholics to promulgate dogmas such as transubstantiation or the Assumption of the Blessed Virgin.
Regarding Leithart's first claim, his point merely proves that what is "essential" is both difficult to grasp and plainly not obvious to all — both of which undermine the basic assumptions biblicists have about the Bible. Leithart's second claim, that evangelicals "need more time," is an unfalsifiable assumption that, given enough time, someone will get to the "right" theological conclusion. The claim also assumes that given some present-yet-unknown hermeneutical method, all true followers of Christ will come to see the truth of a particular solution and all previous exegetical chaos will simply vanish. The fact that we have no historical precedent or principled reason to believe that this is possible points to the difference between the Church promulgating and a theologian opining — a distinction simply not available in the Protestant paradigm.
The Bible as a Jig-Saw Puzzle
Subsequently, Smith introduces what I think is a perfect analogy for the problem of biblicism. In the Bible-only paradigm, Scripture acts like a gigantic jigsaw puzzle. He explains:
The only difficulty is that this is a very unusual puzzle. For, as far as anyone working on it can figure out, different puzzle pieces can fit together in different ways to make distinctly different pictures. Nearly all of them are portraits of people… the puzzlers discover that many of the pieces that make one portrait can be rearranged differently, with some pieces removed and others added, to make other portraits…. Every picture, no matter how well it is put together, still has some missing puzzle pieces…. Nevertheless, despite, or perhaps precisely because of, the unusual nature of this complicated puzzle, it is very popular…. Some are proud of being "scowling-man puzzlers," claiming that his is the real portrait that the puzzle makes when rightly put together…. Partiality to different puzzle portraits tends to run in families… puzzlers like to sweep the unused pieces that do not fit their portraits into Ziploc bags and put them into their closets. (pp. 45-46)
At this point, Smith is ready to make the claim that the Bible is "exponentially multivocal, polysemic, and multivalent, [and] semantically indeterminate" (p. 48). In other words, the Bible does not speak with one voice, intrinsically has the possibility of having multiple meanings, can cohere in various ways that seem incompatible with other possible combinations, and does not produce an effect of meaning in the reader that is exact. The result is a "pervasive interpretive pluralism" among most Protestants that somehow goes ignored.
The question still remains, "why is pervasive interpretive pluralism a problem?" Pervasive interpretive pluralism isn't a problem if Christians who come to different conclusions are using different methods. However, if ten Christians are using the same method, using the same rules, and reach different conclusions, then the method/rule must not be able to produce a homogeneous result. Aristotle might say that what we find in an effect, we should also find in the cause. However, since the biblicist method of using Scripture consistently produces a plurality of results, we have good reason to believe that the Scripture — when used under the paradigm of biblicism — cannot effectively operate as a singular, definitive "rule" of anything.
Who Cares? Why Not?
Why is this not a problem to most biblicists? In chapter three, Smith is at his best because above all, Smith is a professional sociologist. In chapter three, Smith demonstrates how and why biblicists tend to associate in groups that believe like themselves, and how this behavior significantly diminishes the impact of the real problems caused by their theory of the Bible. When Christians always live among like-minded believers, "camps" emerge that create an "us" vs. "them" effect. In turn, differences are magnified in such a way that the entire existence of one camp is predicated on the falsity of the other camp (while all the other camps get left out of the picture, thereby diminishing the problem). Conversely, the "tribalism" of biblicists tends to diminish the real differences of the "other" simply because, according to the data, evangelical Christians tend to live more isolated from other belief systems than do persons of other faiths. So on the one hand, biblicists, like Leithart, propose various theological or philosophical reasons why interpretative pluralism–which undermines the very assumptions of biblicism — is not problematic for biblicists, and on the other hand their social behaviors tend to further diminish the effects of biblicism by alienating them from the real effects of pervasive interpretive pluralism.
To close out his critique of biblicism, Smith in chapter four points out "Blatantly Ignored Teachings" (p.68), and the interpretive decisions that are made about those passages of Scripture that seem to be direct commands but are often directly ignored. The examples he uses are: (1) "Greet one another with a holy kiss," (2) "Women should remain silent in the churches," and (3) our Lord's instructions to wash feet (Jn. 13:14-15). Smith also points out other strange passages and extra-Biblical terminology that are essential to make the Bible "work" in the biblicist paradigm. At first glance, any student formally trained in theology can imagine a number of ways to massage away Smith's problems with any one of the passages he cites. However, Smith's larger argument is that to employ any one of those interpretive strategies is to exert on the text what is in fact not there. If Scripture is perspicuous and able to work-by-itself, then it should not require extensive exegesis, extra-biblical language, etc. to work out problems in texts that are direct commands. For Smith, this shows the absolute necessity for some type of agency external to the text, but Smith does not address what that implies.
The Barthian Way Out
When reading the second part (in chapter five), I couldn't help but wonder why it sounded all too familiar. Smith's solution to biblicism was the Chistocentric hermeneutic common to Protestant seminaries for decades, but was being presented by Smith as a possible theological break-through. In the second half of the book Smith introduces a solution to a problem, but surprisingly, he gives credit to its source only at the end of the chapter. Karl Barth's Church Dogmatics was hiding at the end of chapter five (p.121). The deja vu feeling I had was from a Systematic Theology II class, where my professor, Dr. Daniel Thimell — a Calvin and Barth scholar (University of Aberdeen) — trained in the ways of the Christocentric hermeneutic against the "10 ways to improve your marriage" biblicist themes, fed us the bread of Barth. Smith sups at Barth's table, and at the end of the book imagines that such communion can truly lead evangelicals to a new theological vision for the Bible that overcomes biblicism's problems.
When I originally sat down to write the review, I thought I would have to point out where, in the end, Smith begs the reader to employ the same problem he laments, namely another version of biblicism. One could say that in a way, the entire book is a project that fails if 'success' is defined as a solution to the problem. However, to be fair, Smith doesn't posit that as his purpose but rather that the book should serve as a kind of "first shot" that will get biblicists discussing their inherently flawed assumptions about the Bible. Kevin DeYoung's review here misses that purpose altogether, and therefore over-emphasizes the way Smith's Barthian solution begs the question or is unoriginal. I have tried to resist that temptation. In the combox at DeYoung's review, Smith has responded, pointing out the glaring fact that DeYoung's critique fails to consider any of his germane criticisms of biblicism.
Taking It Personal
One commonality I notice about the gentlemen who write at CTC that is common to my journey as well is that we all "got out of the tribe." Generally, Protestant converts to Catholicism who knew Protestant theology did not remain all their days in one camp within Protestantism. Instead, they ventured out, and it was precisely in that venturing out that they came into contact with "irreconcilable problems." It is only when you finally work face-to-face with theologians and live in community with believers who pray, study and commit their lives to Scripture and are as convinced as yourself that they are interpreting the Bible correctly — yet you disagree — that you begin to wonder if "the Bible alone" is a workable theory. Even more unsettling is a case where the "church" that one associates with loses its authoritative hold on you because you realize that in fact, it has no authority (see A Reflection… and Why Protestantism has no visible…) and therefore no right to bind its members' consciences.
How did we resolve this? At one time (before Catholicism), we may have arrived at a new way of doing theology, the method that would eliminate all the problems and bring order to Protestantism again. "If only they would listen or see," we might have yelled in the quietness of our studies, and like Smith, struggled to come up with the "better way" only to figure out later on that we had just joined the crowd or worse yet created a new one. On page 117, we get evidence that Smith has begun to read the Church Fathers seriously, with an ear inclined to their wisdom. Like us, as Smith has recently converted to Catholicism, he apparently figured out that there is no way to solve the problems from within the Protestant paradigm.
Smith's book does not necessitate becoming Catholic, but it does necessitate dealing with the divergent theologies that are accepted as orthodoxy among Bible-only Christians. For that reason, I believe Smith's book is important because it asks biblicists to look not just in their mirror, but in a larger mirror that can capture all of the problems within the larger community that claims the Bible as their rule of faith. It is in that encounter, with the broader Christian community, that the force of Smith's argument can gain the illocutionary force he intended.