A Reflection on PCA Pastor Terry Johnson's "Our Collapsing Ecclesiology"
Aug 7th, 2011 | By
Bryan Cross
| Category:
Blog Posts
Terry Johnson, senior minister of Independent Presbyterian Church (PCA) in Savannah, Ga., wrote an article titled "Our Collapsing Ecclesiology" in the March issue of the Orthodox Presbyterian Church's magazine New Horizons. The article is well worth reading, because it examines the recent trends in Evangelicalism away from attendance in Sunday morning services, even away from organized institutional church altogether. It cites George Barna's announcement of the "New Church," which is "without structure, organization, clergy, officers, accountability, or discipline. It has no location, commitments, or physical presence. It is merely an informal, ad hoc, uncovenanted association of believers." According to this view "the local church ceases to exist. The requirement of Hebrews 10:25 (that believers assemble together) could be fulfilled … "in a worship service or at Starbucks." In the mind of these Evangelicals, "I am not called to attend or join a church. I am called to be the church." For them, writes Terry, "Church … is like the YMCA, except that one actually has to join the YMCA. It's good to go there to exercise, but sometimes one can do just as well at home—or maybe somewhere else. "Do what feels right for you," we hear said. "Go where your needs are met."
For Terry, this Evangelical conception of ecclesiology is deeply flawed, and he contrasts it with the ecclesiology in the Reformed tradition. He writes:
Thankfully, we have a strong ecclesiology in the Reformed tradition. Calvin endorsed Cyprian's statement that there is no salvation outside of the church. The Westminster Confession of Faith warns that outside of the visible church "there is no ordinary possibility of salvation" (25.2). Jesus gave to the church the keys of the kingdom of heaven, the power of binding and loosing (Matt. 16:19), and the authority to forgive and retain sin (John 20:23). He appointed apostles, who appointed elders, who are responsible for calling the church to assemble on the Lord's Day, for conducting public worship, for administering the word and sacraments, and for maintaining a disciplined membership (Matt. 18:15-20; 28:18-20).
As a Catholic, I'm very glad to see interest among Reformed Christians in ecclesiology. I say that because I believe that Terry is absolutely correct in his evaluation of Evangelical ecclesiology and the "Revolution" Barna is describing. The rejection of the local church is a mistake, and the consequence of that rejection is, I suspect, that in one or two generations the children of such Evangelicals will mostly not even identify themselves as Christian. Watching the collapse of Evangelicalism is like watching a trainwreck in slow-motion, but in this case the wreck is the rapid de-Christianizing of a significant percentage of the Christian population. So I affirm the desire of Reformed Christians to separate themselves theologically from the ecclesial desert that is Evangelicalism. And I agree with much of the above cited paragraph.
At the same time, I wish to show here that the ecclesial problem Terry is pointing out in Evangelicalism is not limited to Evangelicalism, but is intrinsic to Protestantism as such. Evangelicalism is only the further inevitable stage in the outward expression of the essence of Protestant ecclesiology. According to that essence, there is no sacramental difference between laity and clergy, the individual ultimately has highest interpretive authority,1 and there is no visible catholic Church, even though reference is made to such a thing. Terry claims that commitment to "the visible institutional church" has become optional among Evangelicals. But there is a certain sort of irony here, because as I have shown in "Why Protestantism has no "visible catholic Church,"" there is no "visible catholic Church" into which the various Protestant denominations are fully incorporated. Given Protestant ecclesiology, if the alleged entity "the visible catholic Church" were removed and we were left only with embodied Christians, congregations, denominations, and an "invisible catholic Church," nothing at all would change in reality. And this shows that in Protestant ecclesiology, the "visible catholic Church" is only an idea, not an actual entity; in that respect it is like the clothes in the story of "The Emperor's New Clothes." The child can know that the Emperor isn't wearing any visible clothes, because the Emperor's appearance is in every way identical to what it would be if he were not wearing any visible clothes.
That there is no "visible catholic Church" into which the various Protestant denominations are fully incorporated is also shown by the fact that within Protestantism there is no way of distinguishing between a schism from the visible catholic Church and a branch within the visible Catholic Church. And yet the Church Fathers distinguished between heresy and schism, and they condemned schism from the Church. St. Cyprian, for example wrote against the Novatian schism from the Church, and St. Optatus and St. Augustine wrote against the Donatist schism from the Church. These saints [i.e. St. Cyprian, St. Optatus, and St. Augustine] saw Novatianism and Donatism as schisms from the Church, not as mere denominations or 'branches within' the Church. And the reasons to which they appealed to make this determination would entail that the various Protestant denominations are schisms from the Church, not branches within the Church. (See my post titled "Branches or Schisms?")
Of course I agree that the Church Christ founded is visible.2 But the only visible catholic Church is the Catholic Church in communion with the bishop of Rome.3 But Protestant denominations are not in full communion with the Catholic Church. At the Reformation Protestants made commitment to the "visible catholic Church" optional, by separating themselves from the only visible catholic Church there is. Hence the irony mentioned above, in Terry's claiming that Evangelicals now are making commitment to "the visible institutional church" optional.
Reformed Ecclesiology vs. Evangelical Ecclesiology
The relation between twenty-first century Evangelicalism and traditional Protestantism in certain respects parallels the relation between sixteenth century Protestantism and the Catholic Church. Terry writes:
Church, as "traditionally" understood, was for Barna a human institution, not a biblical one. The new church, as he construes it, is without structure, organization, clergy, officers, accountability, or discipline. It has no location, commitments, or physical presence. It is merely an informal, ad hoc, uncovenanted association of believers.
Terry points out that for Barna and like-minded Evangelicals, the Church has no structure or hierarchical organization. For Barna, the "visible institutional Church" to which people like Terry refer is merely a set of man-made institutions. And regarding all the Protestant denominations, it is relatively easy to see why Barna could reach that conclusion; they were each founded by mere men, not by Christ Himself. (See "How old is your church?.") But the "the visible, institutional church" to which Terry refers likewise has no structure or hierarchy. Reformed Christians cannot identify the boundaries of "the visible catholic Church."4 To the question, "What would be different if there were no visible, catholic Church, but only embodied Christians, visible local churches, denominations and associations of denominations?" the Reformed Christian must answer, "nothing." And this shows that the term does not refer to anything actual in reality, but that in Protestant ecclesiology, the "visible catholic Church" is only a concept in the mind, a mental category under which all Christians are mentally placed.
The collapse of ecclesial structures in Evangelicalism is the logical consequence of this Emperor-has-no-clothes version of Protestantism's "visible, catholic Church." If, as Reformed ecclesiology entails, the Church is fundamentally invisible at the universal level, then the Church is essentially invisible all the way down to the local level. In that case the man-made structures at the local level are just that, merely man-made and therefore not only dispensable, but rightly dispensed with, since they were not instituted by Christ. If they are merely man-made ecclesial organizations, then they are instances of the use of human power, control, and manipulation, since the persons who control them have no more divine authority than Joe Protestant. So with respect to authority, there is no reason for these Evangelicals to submit to traditional Protestant denominations or local hierarchies.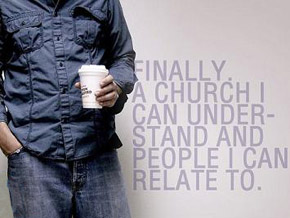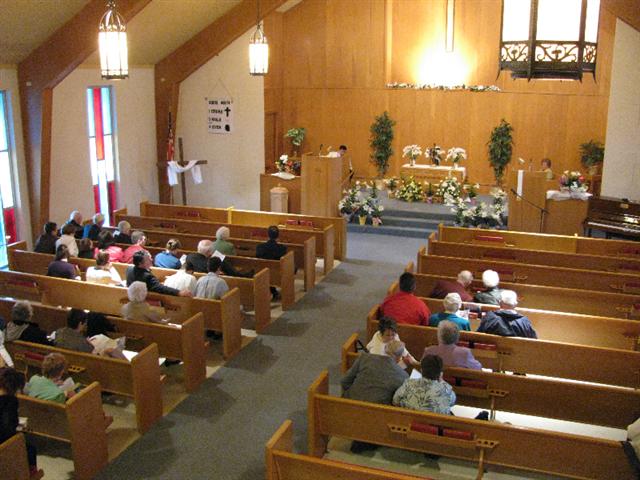 Consumerism
Terry claims that people like Barna helped create "the purpose-driven, market-driven church." He laments the "ipodization" of Christian ministry, in which particular segments of the demographic are 'targeted,' leading to "cowboy churches" and "hip-hop churches," and the endless pursuit of novelty. He adds:
The eccentricities of the highly influential Barna are matched by the commonplace practices of a growing number of unaffiliated and nonattending believers. Church, for many, is like the YMCA, except that one actually has to join the YMCA. It's good to go there to exercise, but sometimes one can do just as well at home—or maybe somewhere else. "Do what feels right for you," we hear said. "Go where your needs are met."
Again, the irony is that going where they believe their needs are being met is precisely why all the members of Terry's church attend his church. They are going where they believe their needs are being met, according to their own interpretation of Scripture. Protestantism is the "purpose-driven, market-driven church," as I showed in Ecclesial Consumerism, where I argue that ecclesial consumerism belongs to the very nature and essence of Protestantism. What Barna is talking about as a future Revolution is just another step 'forward' in the very same revolution Protestants are living in from five centuries past. Barna's is the fruit of Protestantism's ecclesial seed. Terry, however, is making an arbitrary distinction, criticizing the ecclesial consumerism of Evangelicals, but accepting it when his own congregation does it.
There is no principled difference between the ecclesial consumerism that targets a specific demographic or makes itself attractive by following a popular trend, and an ecclesial consumerism that targets a specific "ecclesiastical culture," or a particular interpretive framework or doctrinal system. The latter is the father of the former.
Concerning the Evangelical pursuit of novelty and trendiness, Terry writes:
Trendy, culturally driven, market-driven churches sow the seeds of their own irrelevance. As the saying goes, "He who marries the spirit of the age will soon find himself a widower." Their claim upon their audience is temporary: personal preferences expressed, personal needs met, and personal desires fulfilled. Treat the congregation like a market where the consumer is key, where the market's fickle whims are sovereign, and expect transitory commitments or no commitments.
Terry is right. But what he says applies just as much to ecclesial communities that exist because they preach and teach according to a novel "interpretation of Scripture," such as the ones Luther and Calvin proposed in the sixteenth century.5
Terry wants to put the brakes on the movement of Protestants into the full-blown invisible-Church ecclesiology Barna describes. But this movement is the consequence of the universal acid the first Protestants unleashed in the sixteenth century, the universal acid of the supremacy of the individual's interpretation of Scripture over against that of the Church. What Barna is describing is that universal acid eating away at Protestantism's own confessions and denominational structures. If in the sixteenth century Luther and Calvin were justified in rejecting Catholic doctrine, Catholic tradition and the Catholic hierarchy on the basis of their own interpretation of Scripture, then it logically follows that their tradition's descendants in the twenty-first century may do the same with the Calvinistic/Lutheran/Wesleyan etc. traditions. Protestantism can't have it both ways. If it wants immutability of doctrine, it needs ecclesial infallibility. But because Protestantism rejected ecclesial infallibility in the sixteenth century, confessional Protestants have no authority to prevent their contemporary heirs from remaking 'church' in their own image, each man doing what is "right in his own eyes," according to his own interpretation, and fashioning a religious practice that Calvin wouldn't even recognize.
Privately defined marks of the Church
Concerning Barna, Terry writes:
He announces the emergence of the "New Church," which in fact is no church at all.
Any Catholic bishop in the sixteenth century could have said the same about what Protestants at the time were doing. So in a way, what Terry is criticizing is a case of Protestantism applied to itself. Because the rejection of the sacrament of Holy Orders is intrinsic to Protestantism, each version of Protestantism can define 'the Church' according to its own interpretation. Terry, according to his definition (derived from the early Protestants) judges the new Evangelicals not to be a church. But these Evangelicals, by means of their own interpretation of Scripture have arrived at different criteria regarding what is and isn't a church, and could just as easily judge Terry's not to be one, or could judge his to be one along with theirs. In Protestantism, no one person or group's ecclesial criteria (i.e. determination of what is or isn't a church) has any more authority than anyone else's. So any person's "You're not a church" charge is not only question-begging, but is also a form of theological bullying, because it seeks to impose by stipulation one's own judgment concerning the marks of the Church over such judgments by other persons, as though one Protestant has authority over the others, when, given Protestantism, no one has the authority to bind anyone else's conscience regarding the interpretation of Scripture and thus the marks of the Church.
According to Terry, on Sunday morning we are to:
Do what the Scriptures require and what Christians have done for two thousand years. Go to the public assembly, gathered under the discipline of Christ's appointed officers to be ministered to by the word read, preached, sung, prayed, and administered. God's people should consider no other alternative, nor desire any other option.
Again, I agree with Terry that God's people should go to the public assembly on the Lord's Day. But during the first fifteen hundred years of those "two thousand" years, to all the Christian ancestors of Protestants what was meant by "Christ's appointed officers" were those having apostolic succession. In the sixteenth century, Protestants redefined 'apostolicity' as 'the Apostles teaching,' which in practice means, "agreement with one's own interpretation of Scripture." So long as Protestantism determines "Christ's appointed officers" as those who agree with one's own interpretation of Scripture, rather than those who received authorization from the Apostles, the ecclesial error Terry is addressing in Evangelicalism will only get worse, because the Barna-type ecclesial consumerism is only the more explicit outworking of the same ecclesial consumerism intrinsic to Protestantism itself, where each person chooses who counts as "Christ's appointed officers" based on the agreement between what those potential officers believe, and one's own interpretation of Scripture. (See "Solo Scriptura, Sola Scriptura, and the Question of Interpretive Authority.")
Catholicity
Terry argues that Evangelicals are abandoning 'catholicity.' He writes:
The Reformers and their children took catholicity seriously. John Owen, Richard Baxter, and other mainstream Puritans embraced the titles of "Reformed catholic" or even "mere catholic." They sought continuity with the catholic tradition, which they accused the Roman Catholics of abandoning in favor of medieval novelties. They rooted their reforms in both Scripture and in catholic practice, particularly as found in the church fathers and the best medieval theologians, such as Bernard of Clairvaux. Universal practice, the established practices of all the churches, was an apostolic ideal (see 1 Cor. 1:2; 4:7; 11:16; 14:33) that the Reformers sought to honor. It matters what "the churches of God," or "all the churches," believe and practice. The apostles expected that individual churches would conform to universal (i.e., catholic) norms.
I agree that the early Reformers applied the term 'catholicity' to themselves, and wanted to be 'catholic.' But in doing so they emptied the word 'catholic' of meaning, because in their mouths what counted as 'catholic' in the tradition was only what agreed with their own interpretation of Scripture. And so anyone could in that way claim to be catholic. The first Protestants proposed doctrines that were novel and not held by the other local Churches throughout the Catholic Church of that time, and had never been universally held throughout the history of the Catholic Church. Concerning the early Protestants, Terry writes, "Their public ministry was historic—what the church, more or less, had always practiced." Except without apostolic succession, Holy Orders, Confirmation, Eucharistic Adoration, exorcisms, holy water, relics, penance, absolution, bishops, religious orders, the liturgical calendar, fast days, icons, the sacrifice of the Mass, prayer to the saints, etc. The Protestant movement has been an exercise in historical eclecticism by each of the founders of each Protestant tradition.
And this has left us with an ecclesial mess — there are presently forty-four Reformed denominations just in North America. Catholicity becomes a meaningless word the way it is used in the paragraph just cited, because even the most provincial denomination or Protestant tradition could have written the same paragraph. When one picks and chooses from the Church Fathers according to one's own interpretation of Scripture, and dismisses everything between St. Ignatius of Antioch and Martin Luther that doesn't fit with one's own interpretation of Scripture, the claim to historical catholicity is just empty semantics, because what took place between St. Ignatius of Antioch and Luther wouldn't look any different if the Reformed system of doctrine is not in fact 'catholic' at all, but is a novelty never before believed by any Christians.
Part of Terry's conception of catholicity is not attempting to appeal to any particular culture or demographic. And again, I agree with him. There should be only one local church in each geographical parish, and all Christians of every age, race, and ethnicity who live in that parish should worship together in that parish. It is the Protestant experiment that has left us with churches of all different denominations in a square-mile area, even across the street from each other, dividing Christians on Sundays by every conceivable doctrinal system, style of worship, and cultural tastes. Terry writes:
Churches ought not to adopt the cultural preferences of any single demographic in the church. To do so is to give an unwarranted preference to one group and unnecessarily alienate everyone else. What should the church do? What did Protestant churches do for the last four hundred years? Or two hundred years? Or one hundred years prior to 1980? Their public ministry was catholic. They ministered and worshiped in the forms of their own ecclesiastical culture, founded on Scripture and tested by time. … A resilient ecclesiology honors catholicity and the communion of all the saints. It maintains universal practice over against the latest thing
There has never been universal practice within Protestantism, since Luther thrust his knife into the table during his unresolved dispute with Zwingli over the Supper at the Marburg Colloquy in 1529. As soon as Protestants left the Catholic Church, they began to become provincial. At first the divisions were based only on differences of interpretation, but soon the differences were based on style, culture, ethnicity, language, socio-economic status, etc. All those differences became factors in determining where and how and with whom one would worship on Sundays. Terry is a member of the Presbyterian Church in America, itself a member of NAPARC, i.e. the North American Presbyterian and Reformed Council, which is not itself a member of some international body of Christians encompassing all the nations and ethnicities of the world (except the invisible catholic Church). That's not catholicity; that's regionalism and provincialism.
But in the prospect of the collapse of Evangelicalism, Terry is advocating a qualified ecclesial uniformity among Protestants:
Do the public ministries of any two churches anywhere look alike? Absolute uniformity is not necessary, to be sure, but how about some measure of uniformity? Churches ought not to design their public ministries in isolation from the rest of the church, past, present, and future. No public ministry should be idiosyncratic. … A church that targets a specific demographic, be it the young or the old, cowboys or surfers, rockers or hip-hoppers, forfeits apostolicity. Why? Because the apostles did not target specific kinds of people. They cast their gospel nets widely, and their churches, as a consequence, were heterogeneous.
I'm reminded of what the Hebrew said to Moses prior to his divine calling: "Who made you judge over us?" Terry wants uniformity, and calls for it, but he has no more authority to effect it than any other Protestant pastor. So his voice is merely one additional opinion in the sea of competing voices, each offering church-as-he-sees-it, to all the persons seeking church-as-I-want-it. To reject the Catholic Church is to embrace ecclesial pluralism on the grandest scale, because the uniformity Terry wants requires unified authority, which is impossible when, given the "priesthood of all believers" and the rejection of Holy Orders, each man is essentially his own pope, his own conscience being his own highest authority under God.6 For this reason, to choose Protestantism, while calling for ecclesial uniformity, is a performative contradiction.
When the first Protestants chose to depart from the practice of the rest of the Catholic Church in the sixteenth century, that idiosyncracy was perfectly acceptable, from Terry's point of view. But when other Protestants presently do not conform to Terry's particular form of Protestantism, then this idiosyncracy is unacceptable to him. And that's ad hoc. Terry's opinion about this is no more authoritative than that of those Protestants who disagree with him and seek to take Protestantism in new directions. The authority vacuum created by the rejection of apostolic succession necessarily leads to a pluralism in which promoters of Reformed ecclesiology have no more authority than do Evangelical ecclesiology, and that authority vacuum created by Protestantism's fundamental principles is precisely what makes possible the Evangelical ecclesiology Terry is calling Evangelicals to reject.
Yes the Apostles as a whole did not limit themselves to any specific demographic. But that is not what defines apostolicity. Protestantism lost apostolicity at its inception, when it abandoned Holy Orders and apostolic succession. Though apostolicity is related to catholicity, the two are not the same. A person having Holy Orders in succession from the Apostles, who is called to evangelize only say, the Gentiles, retains apostolicity even if his ministry is to a specific group of people. He retains catholicity if he remains part of the Catholic Church. But if he forms or joins a schism, he will necessarily lose catholicity, because no schism can be catholic. The root of the problem of provincialism is schism from the one, holy, catholic and apostolic Church Christ founded. Catholicity, like the other three marks of the Church, cannot be removed from the Church Christ founded, because it is part of the very essence of the Church. Just as provincialism is a sign of schism from the Church, so reconciliation to the Catholic Church is the only solution to provincialism, the only way to attain and retain catholicity.
Roots in Tradition
In his diagnosis of the Evangelicalism's ecclesial problem, Terry advocates a recovery of tradition:
A church without roots in tradition is a church that forfeits the respect that accompanies the voice of historical consensus. It violates catholicity and, as a consequence, forfeits authority. It is perceived as arbitrary, mutable, human, and, ultimately, optional.
Terry is absolutely right. The problem is that merely having "roots in tradition" is not sufficient to give actual authority; it is only sufficient to give the appearance of authority, since any heretical sect could have roots in tradition, either by having originated many centuries ago, or by reading itself back into the Church Fathers through historical ecclecticism, and painting itself as drawing from the past. Terry is telling Evangelicals that by not drawing from the past, they lose the appearance of having authority, and are perceived as merely optional. They can present themselves as having authority (though having no actual authority) only if they sufficiently portray themselves as having roots in the tradition.
It would not be difficult for the new Evangelicals to have their cake and eat it too. So long as they can lay claim to a few phrases or captions from Church Fathers (see "Ligon Duncan's "Did the Fathers Know the Gospel?"), they can lay claim to those same roots, and avoid this appearance-of-rootlessness problem. It is a very easy solution, since the problem of not having roots in tradition, as Terry describes it, is merely a cosmetic problem. Terry is not saying that the problem with Evangelicalism is that it is not the Church Christ founded, only that its disregard for the tradition in history makes it be perceived (by certain people) as having no authority, and thus to lose the respect of those people.
But the Evangelical rejoinder could just as well be a de-masking of confessional Protestantism as Evangelicalism with window-dressing drawn from Christianity's past to make itself seem authoritative, but giving it no actual authority. These Evangelicals might just be seeing through the window-dressing, and no longer cowed into submission by it. If it all comes down to a relationship with Jesus, and no man has any more interpretive authority than does anyone else, then, they might say, "we don't need the window-dressing of tradition; that's still other men, with no authority over us, trying to control how we 'do church.'" What is needed for actual authority is not merely "roots in tradition," but to be, in fact, the very Church Christ founded.
Terry is objecting to what these new Evangelicals are doing, namely, stripping away the appearance of transcendence and authority in what among Protestants has been treated as "the church." He writes:
In the process, the transcendent reality of the church as Christ's church, to which respect is due and where authority is recognized, will be lost.
That's just what Protestantism did in the sixteenth century, by constructing 'church' according to each individual's interpretation of Scripture concerning what are the marks of the Church. Terry accepts that revolution, because he himself works in it; but he objects to the application of it to his own Protestant ecclesial practice. He does not place these new Evangelicals outside the Church. (Notice the title of his article: "Our Collapsing Ecclesiology.") Instead, he claims that their ecclesiology hides the transcendent reality of the Church. But if respect and authority are due to every part of the Church, including the part which is the new Evangelicalism, then why think that those who wish to emphasize ecclesial transcendence and ecclesial authority have more authority than those Christians who prefer not to emphasize these things, such that the former can tell the latter how to organize and run their churches?
The new Evangelicalism is exposing the chimera of Protestant ecclesial authority. Because anyone can leave any Protestant church at any time and join or form another, while remaining a "branch within," the 'authority' of these communities is only an illusion. The form and practice of the new Evangelicalism is making that explicit, unmasking the illusion of ecclesial authority in the more traditional Protestant churches.
Conclusion
Terry concludes his article with this:
Ecclesiology is collapsing all around us. Our Reformed foundations are sound. However, if we get swept up in the ecclesiastical trends, we too may find our people perceiving the church as something less than the indispensable institution that it is meant to be.
The "Reformed foundations" are Protestantism's foundations, which are the very foundations upon which the ecclesial consumerism Terry decries are built. Terry is concerned that confessional Protestants may be swept up in the ecclesial consumerism rush. The problem is, they already are, simply by being Protestants. Barna Evangelicals and Emergents are merely taking Protestantism to its logical conclusions. They do not even pretend that there is some "indispensable institution" which Terry still thinks there is. The PCA isn't indispensable; it only came into existence in 1973. So, what is this indispensable institution of which Terry speaks? NAPARC? No. It is this supposed visible, catholic Church, which as I have shown in Why Protestantism has no "visible catholic Church" is nothing at all.7
In Protestantism, if I don't like a denomination, I can simply start my own, or start my own congregation, or my own house church. In Protestantism ordination does not require apostolic succession; it requires only congregational approval. That is what ordination is in Protestantism, the permission by a congregation (or denomination) to serve as a minister in that congregation or denomination. That's because one of the fundamental principles of Protestantism is the priesthood of all believers and the rejection of the sacrament of Holy Orders and apostolic succession. Any group of Christians therefore can lay hands on someone, and 'ordain' him or her. And the Reformed denominations are the products of just this sort of thing. So the supposed distinction in authority between pastor and laity is, in Protestantism, only a useful fiction. For this reason, there is no principled difference between the Barna Evangelicals who are less formal and structured, and Reformed Protestants, who maintain the illusion of pastoral authority.
Some Evangelicals are beginning to see that the Emperor has no clothes, that "visible catholic Church" language is just that, mere semantics. Though the collapse of ecclesiology in Evangelicalism is in appearance a movement away from Catholicism, yet it is a more transparent expression of Protestantism's essence as such. And because self-understanding is crucial for ecumenical progress, in that respect the collapsing ecclesiology to which Terry refers might perhaps make possible a more fruitful dialogue between Protestants and the Catholic Church in the pursuit of unity and reconciliation.8