Habitual Sin and the Grace of the Sacraments
Jul 25th, 2011 | By
Jeremy Tate
| Category:
Blog Posts
In a class at Reformed Theological Seminary I had a professor address the issue of internet pornography among seminarians. According to my professor, around fifty percent of seminary students view internet pornography on a weekly basis. I'm not sure where this stat comes from, but I do not doubt its accuracy. I appreciated my professor's willingness to address this issue. Having been a member of three different PCA churches, and now a local Catholic parish, I have never heard the issue truly addressed from the pulpit. Yet, this is a habitual sin that is destroying marriages and numbing the consciences of those who are in its grip. It's an issue too big to ignore.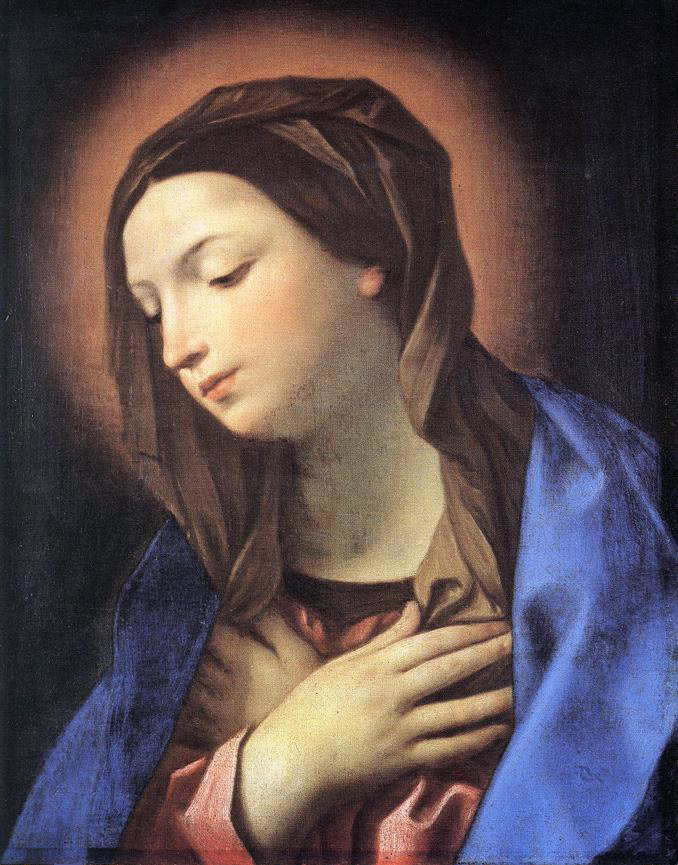 Virgin of the Annunciation
by Guido Reni (early 17th century)
This is also a subject where Catholics and Reformed Christians find strong agreement. We both recognize the gravity of this sin. Unfortunately though, this is not the case with all churches. In high school, before my conversion through Young Life, I occasionally attended a Methodist church where there was little mention of sin, Christ, or redemption. One of my most poignant memories is a conversation between a group of other students and a member of the church staff who was defending his subscription to Playboy Magazine. He argued that the magazine honored women by showing their beauty. Stories like this should make all Christians weep, but it should also highlight the fact that Catholics and Reformed Christians are fighting the same battle.
Since coming into the Catholic Church I've tried to maintain relationships with my Reformed friends as best as possible. As these relationships have continued to grow I've also been able to form deep friendships with Catholics as well. In the context of these relationships I have been struck by the different approaches of these groups in the fight against habitual sin. For the Reformed the battle seems to be fought primarily through Bible study, accountability groups, prayer, and attentiveness to solid preaching. For the Catholics, however, the sacraments are paramount. This is not to say that Catholics do not love accountability groups, Bible study, preaching, and prayer.  When it comes to how we believe God is transforming us, however, Catholics take comfort that their Savior is healing them through the sacraments.
This is not because Catholics believe the sacraments have magical voodoo powers to cure. On the contrary, we believe that the sacraments are where we encounter Jesus Christ, and the means He established by which we are more deeply united with Him and grow in sanctification. As I reflect on my own struggles with various forms of habitual sin throughout my entire Christian life, I realize that I've always known what I needed. I've always known the answer: more of Jesus.  Union with the living Christ is the ultimate remedy for the sickness of sin. This is what Christ offers us in the sacraments: deeper union with him.
This does not mean that Catholics are more sanctified or that they necessarily sin less than Protestants. The tragedy of the recent sex scandal within the Catholic Church demonstrates this point all too well. Though certain priests were partaking of the sacraments, they were still living in a horrible pattern of habitual sin. But this is precisely why the Catholic sacraments are not magic. An unrepentant man can partake of the sacraments and still be an unrepentant man. This reality can be seen in Jesus' own ministry. For some, an encounter with Christ meant judgment, not forgiveness and transformation. The grace offered to us in the sacraments is resistible. And the measure of grace we receive through the sacraments depends on our disposition. The greater our love for Christ, the more grace we receive from Christ through the sacraments. Conversely, those who approach the sacraments in mortal sin and without contrition, receive no grace from the sacraments.
For years I prayed that God would free me from particular habitual sins. However, I never expected this prayer to be answered in the form of the Catholic sacraments. Yet this is where Christ has met me and this is where I believe He will continue to transform me. I am speaking here from experience and am fully aware of the limited strength of an experiential argument. Nonetheless, I have to share my story. When God does something incredible it is hard not to tell others. My hope and prayer is that my own story will encourage you to continue reading Called To Communion and further consider the claims of the Catholic Church, especially as you consider your own desire to grow in holiness for Christ.