Reflections – Graduating Catholic from a Reformed Seminary
Jun 7th, 2011 | By
Jeremy Tate
| Category:
Blog Posts
I would like to thank Dr. David Anders for encouraging me to write this post. I would not have had the idea on my own, but I am hopeful that it can now serve as a way for me to thank the faculty of RTS in Washington D.C. and encourage future dialogue between the Reformed and Catholic Christians.
Approximately thirty credit hours into the Master of Divinity program at Reformed Theological Seminary (RTS) in Washington D.C. I made the decision to enter into the Catholic Church. Since I've already had a chance to describe my theological journey to the Catholic Church here on a Called to Communion podcast, I would like to share some of my experiences after my conversion while still a student at RTS. Although I made the decision to convert more than two years before I graduated it was only in my last three semesters at RTS that I attended as a confirmed Catholic.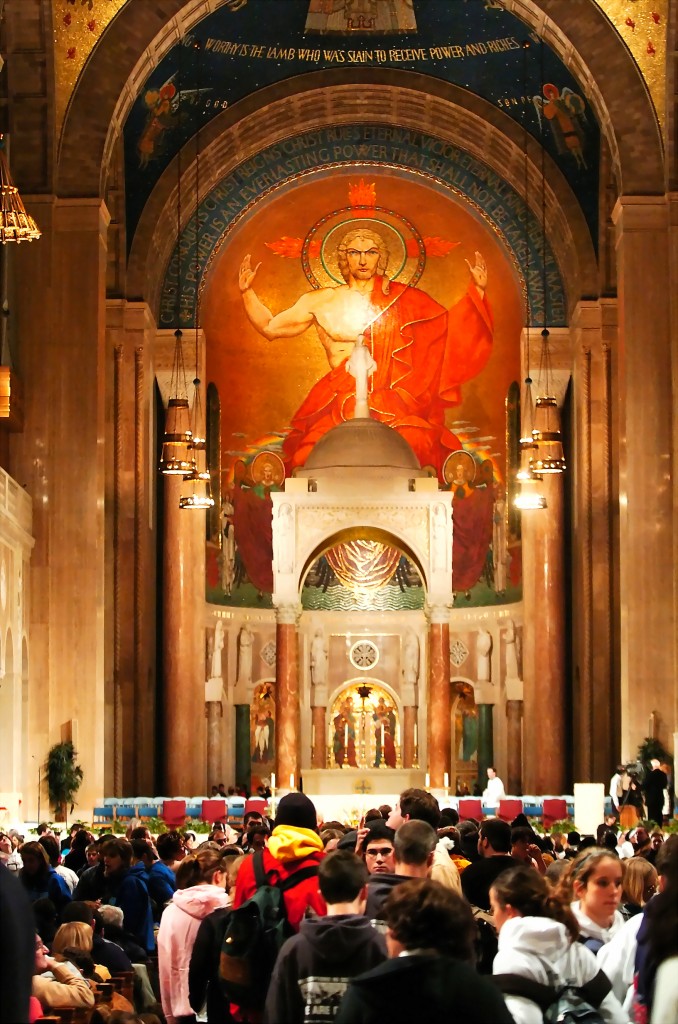 (Sometimes I would stop here, the Basillica of the National Shrine of the Immaculate Conception, on my way to class at RTS. It might not have been a typical stop for an RTS student, but it always helped me slow down and focus my heart and mind on Christ.)
In the fall of 2008 when I finally resolved to convert to the Catholic Church from the Presbyterian Church in America I faced the tough question of whether I would stay at RTS and finish my degree. At first I didn't even know if I would be allowed to stay. I had already heard horror stories of Catholic converts at Protestant institutions being pushed out after their decision to convert. After realizing I could stay I had to ask the difficult question of whether I should. After consulting with numerous people I respect, both Catholic and Reformed, I made the decision to continue at RTS. I withdrew from the M.Div. program and finished out at RTS in D.C. with a Master of Arts in Religious Studies. I graduated on June 4th, 2011.
I can say with all honesty that the faculty of RTS in D.C. treated me with more kindness than I possibly could have imagined. They never made me feel unwelcome at the seminary and were willing to engage Catholic questions whenever I would ask. Nonetheless the situation made for some awkward experiences as I sat in class and talked with students. I'll never forget the reaction of some of my classmates when they asked me what church I was at. I think the most common response was a look of disbelief and then a simple "…seriously?"
In the summer of 2009 I had the chance to take a three day intensive class, "Ministry in a Postmodern Context", with Michael Horton. A couple times he made jokes about the Catholic Church and the reason people convert. At one point, maybe only in a half joking manner, Horton suggested that people convert because the papacy offers a senior pastor that many Protestant congregations are failing to offer.  Horton makes a similar comment in his book, God of Promise. This mindset suggests that people become Catholic primarily because their existential experience within Protestantism is unsatisfying. As I sat in the class though, I realized that Horton was mistaken. All the Catholics I knew who had converted from Calvinism had embraced the Catholic Church through a thoughtful and scripturally informed theological journey.
During breaks, which we frequently had during the intensive classes, I had the chance to have lunch with groups of RTS students and I was always surprised to discover how many had been at least baptized in the Catholic Church. This reality reinforced the perception, almost always present in Reformed circles, that when Catholics have a true conversion to Christ they leave the Catholic Church. In truth, however, these students had never really entered into the fulness of the Catholic Church; they were never catechized, they were never taken to Mass regularly, they were never taught the unbroken history of the Church back to the Apostles themselves. In addition, they had no exposure to the sea of converts from Reformed churches into the Catholic Church. Since they now lived in the "Reformed World," they were likely only to meet other people with similar stories who had likewise left the Catholic Church. Where would they come in contact with people who had gone in the other direction, who had been baptized in a Reformed Church, but became Catholic for theological reasons? I found that these interactions simply didn't happen.
Even from a sociological standpoint I was fascinated by the mindset of these two groups. From their own experiences, the Reformed believed that Catholics who truly found Christ became Protestant while the Catholics believed that any Protestant who truly wanted pure and undistorted Christianity became Catholic. Both groups (Catholics from Calvinism and Calvinists from Catholicism) were either unaware of, or maybe just ignored, the existence of the other group. However, I did notice a profound difference between these two groups and the stories they shared of their conversions. Those who had left Catholicism for Calvinism never loved Catholicism to begin with. On the other hand, the Calvinists who had gone Catholic had previously been the most zealous of Calvinists. They were believers who knew and loved the Reformed tradition and had essentially followed it until the road came to an unexpected end.
I have frequently been asked whether or not the Professors at RTS accurately articulate the teachings of the Catholic Church when juxtaposing it with the Reformed tradition. The answer here is complicated. There is no doubt that at times I heard gross misrepresentations of what the Catholic Church teaches. For example, in the Michael Horton class I mentioned earlier, a class with probably fifty students in it, Dr. Horton condemned the Vatican II position on the possibility of salvation for those who do not profess faith in Christ. Horton offered a caricature of the Catholic position which suggested that Vatican II taught that anybody who lives a good life will be saved. In fact, Vatican II taught nothing of the sort. Though Vatican II affirmed the truth that some men may be saved apart from a conscious knowledge of Christ as Savior (a truth affirmed by the WCF as well in the case of infant mortality and mental retardation), the Council maintained with clarity that salvation comes only through Christ.
The other distortion of Catholic teaching that I noticed took an unexpected form. As might be expected, several classes discussed the crucial differences in the understanding of justification between the Catholic Church and the Reformed tradition. At times, the substance, or the brute facts, concerning how the Catholic Church understands justification were accurately presented. These facts, however, had been completely removed from the context of God's love. In contrast, the Professors presented the Reformed view of justification as the most wondrous act of God's love. To be fair, Catholics tend to do this to the Reformed as well. I've heard Catholics present the Reformed view as if God still despises us, but has found a loophole to his own justice through the death of Christ.
If the dialogue towards unity is to continue, we must recognize that for both the Catholic and the Reformed, the death of Christ on the cross is the supreme act of God's love. For it is here that he merited salvation for us and attained the promised blessings of the old covenants for God's people. It is here that salvation can be by grace alone and not by works. It is here that God's love melts away the hardness in the hearts of his children. It is here that we must focus our eyes if we are to make any progress towards Christian unity.
Indebted to the Reformed Tradition
I had expected that as I settled into the Catholic Church I would begin to feel less indebted to the Reformed tradition. As I reflect on my experience at RTS, however, I realize the exact opposite has happened. If you click on the welcome link on the Called to Communion home page you'll find an answer to the question, "Who are the members of Called to Communion?" There you will find this statement.
We are grateful for all that we learned about the Christian faith in the Reformed tradition. We are also grateful for the piety that we found within the Reformed congregations to which we belonged, and for the love for truth that is a significant aspect of the Reformed tradition. We do not view ourselves as having left our Reformed faith behind, but rather as having found its fullness in the Catholic Church.
Now that I have graduated from RTS I feel a deeper affinity with these words than ever before. I am humbled by the leadership at RTS D.C. My professors are among the most scripturally knowledgeable believers I have ever met. The whole of their lives is clearly informed by the love of God. Their focus is Christ and they live out of a profound thankfulness for his saving work on the cross. I do not wish to estrange myself from them or pick a fight with them. I simply want them to discover what I have. I want them to see that the glorious benefits that we have in Christ, benefits which they articulate so well, benefits which they first taught me to relish in, are available right here, in this life. They are available in the Catholic Church. They are available in the Eucharist, in the liturgy, in Confession, in Absolution, in Holy Water, in witnessing baptism, and in real communion with the saints of old.