Michael Horton on Terrence Malick's "Tree of Life"
Jun 23rd, 2011 | By
Bryan Cross
| Category:
Blog Posts
Recently Michael Horton reviewed Terrence Malick's film The Tree of Life. Michael is the editor-in-chief of Modern Reformation, co-host of the White Horse Inn radio program, the J. Gresham Machen Professor of Systematic Theology and Apologetics at Westminster Seminary California, and one of the most well-known and well-respected Reformed figures today. For this reason, when Michael speaks or writes about a theological matter, many Reformed Christians assume that what he says is accurate. And in his review of Malick's film, Michael offered some rather poignant criticisms of Catholic doctrine. So I think it would be worth discussing those criticisms.
For Michael the film is fundamentally about nature and grace. Toward the beginning of the film, the narrator defines the terms 'nature' and 'grace' in the following way, as Michael describes:
Toward the beginning—I think it may be the opening spoken lines, the narrator says that "there are two ways through life, the way of nature and the way of grace." "Nature is willful, it only wants to please itself, to have its own way." On the other hand, "grace" is "smiling through all things." According to the way of grace, "the only way to be happy is to love."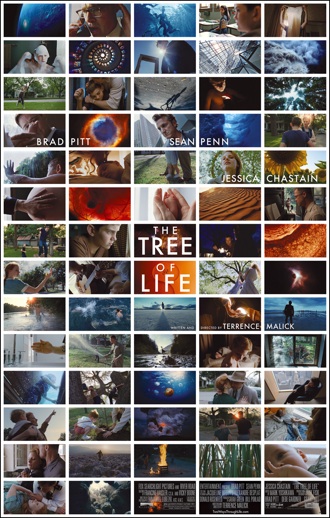 It is very important to note that these are not the Catholic definitions of these terms. In Catholic theological anthropology, human nature is not selfish or sinful; human nature is good. Christ received our human nature, and yet was without sin. Moreover, even at the level of human nature, the only way to be truly happy (with the natural happiness proportional to man's nature) is to love both God and neighbor. That is, even if God had not given grace to Adam and Eve prior to the Fall, their happiness would still have required love for and justice to God as their Creator, and love for and justice to each other. Religion is a natural virtue, pertaining fundamentally and first to human nature, for we know by nature that our Maker is due adoration and gratitude. By nature mankind is inclined to worship his Creator, and this religious disposition has been present in every culture, even when it has been distorted through ignorance and sin. Grace does not destroy religion, but perfects, informs, and elevates it. Hence grace is not opposed to the natural virtue of religion. (Cf. "Angels trapped in stinkin' flesh.") Similarly, because man is naturally a social animal, virtuous friendship is necessary for natural human happiness, on account of human nature. Even by nature alone we are happier when we pursue the common good, than when we focus only on our own well-being.1
Some Reformed Christians think Catholic anthropology makes nature evil because in Catholic theology some additional divine gift (over and above the gift of human nature itself) is necessary to ameliorate what the Catholic tradition calls 'concupiscence, i.e. a disordered inclination toward sin.' (Cf. CCC 2515, 1264) In other words, the Reformed argument is that since concupiscence is a flaw or defect, and since Catholic theology maintains that without an additional gift (called 'integrity') from God, humans will have concupiscence, therefore Catholic theology treats human nature as inherently flawed or defective. It is worth pointing out in reply first that in Catholic theology concupiscence is not the absence of grace. Since the fall of Adam and Eve, all those who come to living faith have grace in their hearts, and yet they still have concupiscence. Concupiscence is due to the absence of the preternatural gift of integrity, which is one of three preternatural gifts. (See Fr. Hardon's explanation of the preternatural gifts.) This preternatural gift of integrity is shown to be not intrinsic to human nature by the fact that otherwise we could not lose it without ceasing to be human. But Adam did not cease to be human when he sinned, nor are we a different species from Adam.
Why is integrity not intrinsic to human nature? Because man is both body and soul, and matter by its nature cannot be intrinsically ordered to the good as such, as reason is. That inability is not a defect in matter; it is merely a natural limitation of matter. For example, arrows are not naturally ordered to their target, but this is not a defect or imperfection in arrows. Similarly, not being the Creator is not a defect or imperfection in creatures; it is a limitation that necessarily accompanies being a creature. So likewise, not being intrinsically ordered to the good as such is not a defect or imperfection in matter; it is merely an intrinsic limitation of matter. And therefore the need for the preternatural gift of integrity, in order for there to be no concupiscence, is not an indication that human nature is imperfect or flawed.2
Michael knows that the film narrator's way of defining nature and grace is not the Catholic way of defining these terms, but he does not point this out, or explain how nature and grace are distinguished in Catholic theology. He writes:
Basically, the nature-grace thing is told with a pretty Roman Catholic twist, too. Malick, who was raised in the Bible belt (interestingly, Waco), attended an Episcopal school and went on to study philosophy at Harvard and Oxford (Magdalen College, with philosopher Gilbert Ryle as his supervisor). Reformed theologians have been tweaking Roman Catholic tails for some time now over the way in which the latter seems to turn everything into a nature-grace instead of a sin-grace problem. Briefly put, Rome teaches that grace elevates or perfects nature, raising it from its imperfect natural state into a supernatural condition. A perennial Reformed objection is that this makes nature—creation—inherently flawed and demands that it becomes something other than what God created it to be in order to be truly "good." And that also means that grace is the infusion of divine goodness and love into the soul, to raise the creature from being trapped in earthly (material) things.
Let's see if we can get to the bottom of this 'tweaking,' as he puts it. The distinction between nature and grace is not the distinction between sin and grace. They are two different distinctions, precisely because nature is not sin; that would be Manicheanism. And it is quite possible that the dualistic philosophy Michael perceives in the film is a kind of Manicheanism. But the Catholic distinction between nature and grace is not Manichean dualism. To deny the distinction between nature and grace is to deny the Creator-creature distinction, because grace is a participation in the divine nature. (2 Peter 1:4. cf. Summa Theologica Q.110 a.2.) Since Michael believes that grace is undeserved divine favor in response to human sin, and that nature is what God created, Michael himself does not believe that nature is grace. Of course Michael believes that everything God has created is an undeserved gift. But he does not believe that God's undeserved divine favor toward us in response to sin is the same thing as human nature. So, we're agreed at least that nature and grace are not the same thing. And therefore Michael gains no advantage in pointing out that the Catholic Church distinguishes between nature and grace, since he too distinguishes between them.
Michael, however, seems to think that in Catholic theology there is only a nature-grace problem, not a sin-grace problem. But in fact, if Adam and Eve had never sinned, they could not have entered into heaven without grace. Claiming otherwise leads to Pelagianism, as Barrett Turner explained in "Pelagian Westminster?." The problem with Pelagianism is not fundamentally a sin problem; it is that heaven is infinitely above our human nature, and we cannot attain that supernatural end without grace. But that does not mean that there is not a sin problem in the post-Fall condition. Yes, there is a sin problem, and that is why Christ came, to make atonement for our sins. (cf. "Catholic and Reformed Conceptions of the Atonement.") But we do not have to choose between a Pelagian notion of salvation prior to the Fall, and a denial of the Fall. Hence we can affirm both a nature-grace 'problem' and a sin-grace 'problem.' And these two problems interpenetrate in our human history, because Adam, by sinning, both forfeited the grace he had been given, and incurred a debt of punishment he could not pay. Hence we not only need grace, as Adam and Eve did before the Fall, we also need forgiveness, which they would not have needed had they not sinned.
When Michael says, "Briefly put, Rome teaches that grace elevates or perfects nature, raising it from its imperfect natural state into a supernatural condition" he makes "imperfect" the antithesis of "supernatural." But that's not a justified assumption. Not to be in a supernatural condition, is to be in a natural condition, not necessarily an imperfect condition. That grace perfects what is imperfect does not entail that grace only perfects what is imperfect. Prior to the Fall, Adam and Eve were not imperfect or flawed, and yet prior to the Fall they needed grace in order to attain the beatific vision.3 The fact that the creature is not by nature proportionate to seeing the inner Life of God is not a "flaw" or "imperfection" in the creature; it is a necessary result of the Creator-creature distinction. Creatures are finite; God is infinite. God alone has the beatific vision by His nature; man does not have the beatific vision by his [i.e. man's] nature. And that is why man can attain the beatific vision only by a gratuitous divine gift in addition to our nature. In order for creatures to enter into the divine Life of the Holy Trinity, those creatures must be elevated by being made partakers of the divine nature (2 Peter 1:4). To deny that is either to reduce the divine nature to the level of creatures, or to elevate man's nature to the very nature of God, and thus deny the Creator-creature distinction.4
As for Michael's claim that the Catholic doctrine of grace "demands that [nature-creation] become something other than what God created it to be in order to be truly 'good,'" this is a misunderstanding on Michael's part. In Catholic doctrine, everything is good according to its nature. But, only God is Goodness itself, from which everything else derives its goodness, as Jesus taught in St. Mark 10:18 and St. Luke 18:19. The goodness of a creature is not equivalent to the goodness of God. To be elevated by grace is not [necessarily] to go from not good, to good; it can be (as it was when God bestowed grace on Adam and Eve and all the angels, prior to any sin) an infinite elevation from a natural finite good, to a participation by that creature in the divine nature which is infinite Goodness. But that elevation does not destroy man, or make him something other than what God made him to be. Grace does not distort, negate, corrupt or obliterate nature. Grace elevates nature while preserving nature, and this elevation was something God planned all along. From the beginning He made man with the purpose of bringing man into the fullness of perfect communion in agape with the three divine Persons of the most Holy Trinity.5
When Michael says, "And that also means that grace is the infusion of divine goodness and love into the soul, to raise the creature from being trapped in earthly (material) things," he seems to be implying that believing in infused grace entails a kind of gnoticism in which humans are pure spirits trapped in earthly bodies. One problem with this claim, for Michael, is that Reformed theology also believes in infused grace for sanctification. (If I don't say that, JJS will have an embolism; see comment #621 and following.) But, regardless of the Reformed position on the infusion of grace for sanctification, it simply does not follow from the proposition "God infuses grace into human hearts for salvation" that therefore "humans are spirits trapped in earthly bodies." We are by nature rational animals, but Christ in His gratuitous benevolence and mercy has condescended to give to us through the sacraments He established in His Church a participation in His divine Life. This is what eternal life is, a participation in the supreme happiness that is God's own Life.6 That we are given this divine gift does not imply that we are mere spirits, or that we are not animals. One does not have to be an angel in order to receive through infusion a participation in the divine life.
Next Michael writes:
Something of this almost dualistic view of nature and grace forms the philosophical backbone of this story.
That might be so, but the Catholic teaching concerning nature and grace is not dualistic. It does not deny our embodiedness. We receive the grace of Christ through material sacraments precisely because we are animals; this is why sacraments are necessary for our salvation. (Cf. Summa Theologica III Q.61 a.1.) Grace builds on nature, and elevates it; grace is not opposed to nature, and does not destroy nature. So we do not have to choose between nature and grace. We choose between nature-without-grace and nature-with-grace. Nor is it dualistic to affirm the distinction between good and evil, between God and creature, or between what the Didache describes as the way of life and the way of death.
Michael next writes:
I'm going to go out on a limb here, but it's provoked by the film itself. Intentional or not, the movie exhibits some of the deep ontological flaws in Roman Catholic theology. It's not just a doctrine here or there, but a worldview in which nature tends toward evil and grace, rather than being God's favor toward sinners on account of Christ, is a cosmic-metaphysical substance infused into the world to make it, well, less worldly.
It is strange to hear a Calvinist blame "Roman Catholic theology" for believing that nature tends toward evil. Among possible rejoinders that refer to the 'T' in TULIP, I wish only to point out that the shoe is on the other foot.7 Michael apparently disapproved of the film's portrayal of nature, but instead of allowing the film's portrayal of nature to challenge or revise his Calvinistic conception of fallen human nature, he seemingly projected his own theology of fallen nature onto the Catholic Church, and then accused this theology of "deep ontological flaws."
The Catholic conception of nature is not that nature tends toward evil. All creatures are by nature and providence ordered to their Creator, who is the Good.8 Nor in Catholic doctrine is grace a "cosmic-metaphysical substance." Grace is not a substance at all, but a participation in the divine nature.9
Lastly, he writes:
The nature-father vs. grace-mother business is underscored also by the powerful, arbitrary, and destructive forces of cosmic evolution in the stunning vignettes scattered throughout. At least in a lot of popular Roman Catholic devotion, Mary is larger-than-life, like the mother in this film. Wrapped in eternal light with angels in an assumption-like scene, the mother says, "I give you my son." This is rather different from the biblical gospel, where the Father is the one who "so loved the world that he gave his only begotten Son…."
Michael treats the nature-father vs. grace-mother antithesis as though that is either a Catholic teaching or is at least implied by the Catholic distinction between nature and grace. But it should not be necessary to point out that Catholic theology in no way pits grace against nature, or God the Father against Mary, or identifies God the Father with [fallen] nature. God created nature and it is good.
God chose Mary to be the means by which He would send His Son into the world, so that we might be redeemed through Him. Grace therefore comes to us from God the Father, since He sent Christ. But at the same time, and without any contradiction or competition, grace comes to us through Mary, precisely because grace comes to us from Christ, and Christ comes to us from Mary. The notion that nature-is-evil-and-opposed-to-grace, which Michael took away from the film, is not Catholic, but Marcionite. In Marcionite theology, the Father of Jesus is not the Creator of nature, and therefore the grace that comes from Jesus is placed in opposition to nature. But it was the Church at Rome that excommunicated Marcion around AD 144.10 Catholicism is not Marcionism. If Malick's Tree of Life contains a Marcionite theology of nature and grace, this should not be mistaken for (or assumed to be) the Catholic doctrine of nature and grace.
Catholicism is known for its both-ands, and here too, in Michael's closing line he presents what for Catholics is a false dilemma. He points out that in the film, the mother says, "I give you my son." That is different from the Biblical gospel, he claims, in which it is God the Father who gives us His Son. But why does Michael see these as at odds? The Church Fathers teach that Christ is eternally begotten of the Father, and in time begotten of the Virgin Mary. From God the Father He receives His divine nature, and from Mary He receives His human nature. Did Mary not give permission for the shepherds to adore her Son at the stable in Bethlehem? Did the Magi barge their way in, against her will? Or did the baby Jesus rise up and bid them to bow before Him? Surely not. She gave her Son to them then, and later to the whole world when she stood at the foot of the cross.11
The notion that Christ cannot also be Mary's gift (or should not also be thought of as Mary's gift) is a form of docetism that abstracts Jesus from Mary as His maternal source and from the Holy Family. I know that Michael is not a docetist, but there is no good reason for anyone who affirms orthodox Christology to dismiss or disparage the notion that Christ comes to us from Mary, and that Mary, as His Mother, also gave Christ to the world. Marcionism seeks to disconnect Christ from matter, from Eden, and from the Creator. It is precisely in Mary that the Marcionite heresy is defeated, not only because Mary as the Daughter of Zion shows Christ to be the Son of David and the Seed of the Patriarchs, and not only because Mary as the Second Eve shows Christ to be the Redeemer promised in the Garden by the Creator, but also because from Mary and in Mary the natural (i.e. human nature) and supernatural (i.e. divine nature) were made one in the eternal Person of Christ. Mary thus safeguards the truth that the God who made nature is the same God from whom we receive grace.12