Kallistos Ware: Orthodox & Catholic Union
Jun 30th, 2011 | By
Bryan Cross
| Category:
Blog Posts
Yesterday, June 29, was the Solemnity of Sts. Peter and Paul. In recent years it has become a custom for the Pope and the Patriarch of Constantinople to exchange official delegations on the patronal feasts of their respective sees. In this year likewise, the Orthodox sent a delegation to Rome for the feast of Sts. Peter and Paul. Pope Benedict, in his address to the Orthodox delegation, said, "the incomplete communion that already unites us must grow until it attains full visible unity."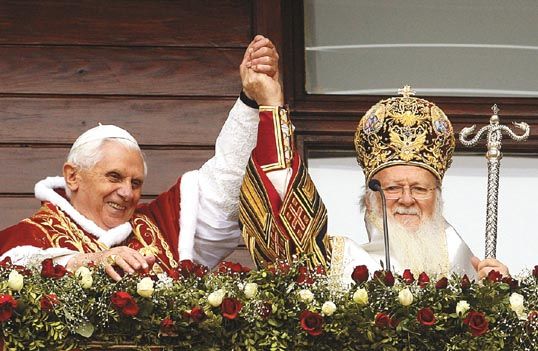 Pope Benedict XVI and Patriarch Bartholomew I, Nov. 30, 2006
What is the state of the Catholic-Orthodox ecumenical dialogue? One window into the state of that dialogue can be seen in a recent address by Metropolitan Kallistos Ware of the Diocese of Diokleia. On April 3, 2011, in Atlanta, Georgia, Metropolitan Ware gave the keynote address to an ecumenical gathering of Catholics and Orthodox. In this address he first discusses the implications of the Ravenna Statement, by the Joint International Commission for Theological Dialogue Between the Catholic Church and the Orthodox Church, held October 8-14, 2007, in Ravenna, Italy. In this statement the Orthodox representatives recognized a universal primacy of the bishop of Rome. Metropolitan Ware then discusses the Orthodox conception of the exercise of that primacy, drawing from Apostolic Canon 34 (canon 35 here). Watch the keynote address in the two-part video below:
Kallistos Ware: Orthodox & Catholic Union Part 1

Kallistos Ware: Orthodox & Catholic Union Part 2

Or watch them on Youtube: Part 1, and Part 2.
H/T: Orthocath