Saturday, May 21st – Judgment Day?
May 19th, 2011 | By
Jeremy Tate
| Category:
Blog Posts
If you haven't already heard, it sounds like Saturday will be the end of the world. The Bible is actually quite clear about this. You see, God told Noah that he had seven days until the flood would begin (Gen. 7:4). We know that the ark represents safety in Christ and that for God, one day is a thousand years and a thousand years is a day (2 Peter 3:8). Then, from the genealogies in Scripture, we know that Saturday will be exactly 7000 years since the flood. Hence, it will be Judgment Day. True, the all-knowing incarnate God said that he himself said he did not know the day or the hour (Matt 24:36), but then again, he did not have the precision of modern math or the insight of dispensational theology. – This is essentially the argument I heard from a radio preacher driving home the other day.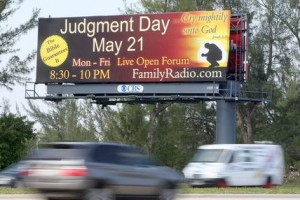 All the hype about Saturday might provide a good opportunity to point out that the Catholic Church and Reformed theology share quite a bit of theological overlap in their understanding of eschatology, and especially the millennium referred to in Revelation 20. We both celebrate the "realized-eschatology" inaugurated in the 1st coming of Christ and we both reject millennial views that deny the clear NT teaching that believers are to share in the suffering of Christ (Phil 3:10). We also share the belief that those who preach that Saturday is Judgment Day are misinformed. We do not think this because they believe in a literal second coming of Christ, for we believe this as well. We believe they are misinformed because they have the audacity to think that they know what Christ did not!  Saturday may very well be Judgment Day, just as any other day may be Judgment Day.  We do not know.
This also provides a good opportunity to restate one of our main beliefs here at Called to Communion. We believe God established a Magisterium to authentically interpret Scripture and preserve the Apostolic faith handed down from the Apostles. When individuals reject this Magisterium and put themselves in its place as the ultimate interpreter of Scripture, disorder and confusion are bound to be the result. All the hype about Saturday should serve as a sad reminder to Protestants, that the Reformation, despite what may have been good intentions, has unleashed incredible confusion into the world.