Thought experiment for monergists
Apr 3rd, 2011 | By
Andrew Preslar
| Category:
Blog Posts
Monergists, i.e. Calvinists and some Lutherans, claim that man cannot cooperate with God in salvation, because that would detract from God's glory. I think that by God's glory they mean something like "God appearing very impressive to everyone." They probably mean additional though related things, like God doing whatever he wants. But let's stick with that, the idea of God's glory as God being impressive.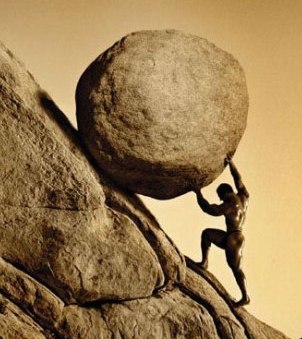 First, imagine a man rolling a large stone up a hill. If someone else helps him out a little bit, gives a little shove, then the man does not appear as impressive as he would had he rolled alone. Now, imagine a man holding a little child in his arms. This man essays to roll the stone up the hill. The child, having comparatively no strength and being absolutely unable to even reach the stone unless his father holds him up, reaches out to push as well. What would be more impressive, for the father to set the child aside and push alone, or for the father to let the child put his hands on the stone and join in the task of rolling the stone up the hill? The answer is obvious. A man who can hold a child, let the child "help," and still roll the stone up the hill is far more impressive.
Of course, there is a sense in which the father does all the work. The child really makes an effort, wills what the father wills, but his little push does not add any strength that was lacking in the father. But there is also a sense in which the child really joins in the father's work. What would be lacking, without the child's efforts, would be the element of participation, the agape, friend of the father dimension of moving the rock. Got it? Now you have the gist of synergism.
[Update: Subsequent comments on this thread indicate that it would be helpful for me to provide a definition along with the foregoing illustration of synergism. So far as I can tell, synergism denotes the joining of two wills in acting towards one end.]
God does not "need" us (in the sense that his happiness does not depend upon us), but for that very reason he is not afraid to let his children participate in his work of salvation (Philippians 2:12), even as he called us to participate in his work of creation (Genesis 1:28; 2:15), such that "he will render to every man according to his works: to those who by patience in well-doing seek for glory and honor and immortality, he will give eternal life" (Romans 2:6-7). This participation in salvation through faith and agape, which involves good works, is all a matter of grace. Our Father has his children in his arms. He will never drop us. In his arms, our hearts grow to be like his heart, and we learn to love to walk in his ways.