The Man Who Showed Us Perelandra–A Short Tribute to C. S. Lewis
Apr 13th, 2011 | By
Andrew Preslar
| Category:
Blog Posts
As a scholar, a writer, and a theologian, C. S. Lewis was very much a medieval man, for whom reality is full, extravagant, and sweetly ordered (neither starched nor stifling)–much like, for example, the Byzantine liturgy. Lewis came to learn, and then richly to show, that the religion of medieval man, namely, Christianity, far from prescinding from reality thus conceived, takes all of it up into something which is its source and eternal home, a greater and more perfect unity, nonetheless diverse. The Christian gospel is old and for many of us familiar, and Lewis helped us to love it, to feel for the faith what we feel for our favorite stories, the former not subduing the latter as competitors, but implicit within them.
By contrast, some of us can remember a time when Christianity seemed to be primarily a lesson learned by rote, stamped "true," but experienced as unrelated and even hostile to every other good thing. But when we read Lewis, the faith snapped to life in all of its familiar strangeness and ancient novelty and mysterious light. Dogmatic theology, the stuff we were supposed to confess, became something we wanted to be a part of, to participate in on the level of a living experience because it was inviting and invigorating, though also in some ways intimidating. It was real.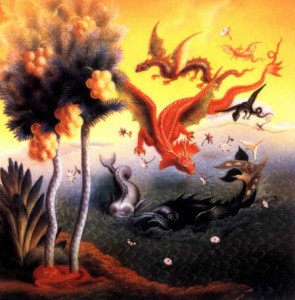 C. S. Lewis showed us that in Christ every good thing in the world finds its supreme source, significance, and resolution. To become a Christian is to enter into the true inheritance of mankind, and to find all things made new. Once we found that reading Lewis could so enrich our faith, it was natural to take him as an authority in matters divinely revealed, which is the very thing that he repeatedly claimed not to be (and was not). Still, Lewis showed us so much unexpected depth and richness in some of "the basics" of the faith that we became more or less open to what he said about disputed matters and things of which we were ignorant or not so sure. At the very least, someone who so obviously saw reality so brightly could not easily be dismissed, even when we thought he might be mistaken.
For example: for most of my life, I thought that any so-called Christian who believed that "you can lose your salvation" was basically an emissary of Satan. Yet I barely blinked when Lewis essentially said exactly that in The Screwtape Letters and Mere Christianity. You have got to have skills to get past the guard of a sensitive and contentious young theologue. Lewis had skills, and he bypassed my sectarian defensiveness. Even now, when I see both salvation and C. S. Lewis in a somewhat different light, I take Lewis as an unofficial guide in the realm of faith, primarily because he has done more than almost anyone else to help me see that the Christian faith is true and good and beautiful, the "epitome and apotheosis" of all worthy and joyful things, like kings and ships and pomp and philosophers, the whole bright, shining, dark, furry, wise, merry panoply of creation, called together unto God in the great realm of being, yearning for the freedom and glory of the children of God.
All of this, and Lewis helped us to make some small, inadequate sense out of suffering, especially when he suffered greatly, when his wife lived with terrible physical pain and finally died from cancer. We learned that Lewis was not just a bright philosopher and gifted writer and mythopoeic theologian. He was a prayerful and deeply charitable man, who learned first hand that a Christian person can in his own flesh supply that which is lacking in the sufferings of Christ, in love with one another, en route to God.
Agape, angels, and animals. And then there is man, placed in the world.