St. Thomas on Sacramentalism
Mar 7th, 2011 | By
Tim A. Troutman
| Category:
Blog Posts
Protestants often caricature the Catholic doctrine on sacramentalism as if it taught that a sacrament was something like a magic wand waved over the recipient regardless of his disposition. But this is not an accurate description of the Catholic doctrine.   In this short article, I will explain why.
On this day, March 7, 1274, St. Thomas Aquinas fell asleep in the Lord.  In the old calendar, this was his feast day.  And so in his honor, I would like to show how St. Thomas Aquinas explains that the sacraments do not dispense the need for faith and repentance in the recipient. A recipient may place an impediment such that the sacrament does not have its effect, but this is not to say that the sacrament is not inherently efficacious.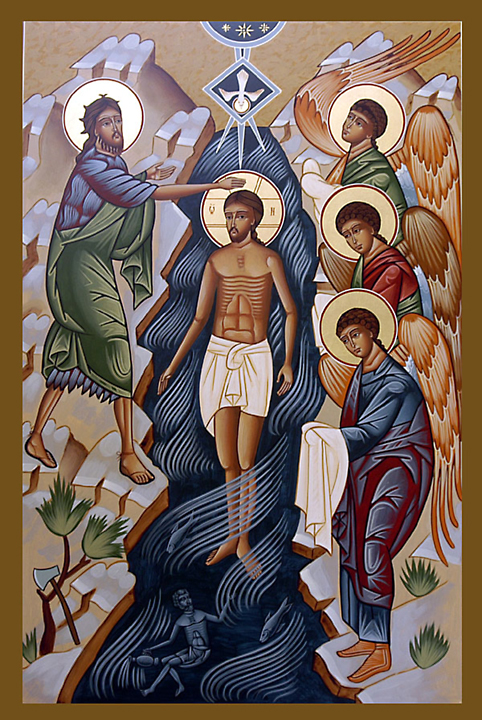 If a sacrament was efficacious, wouldn't that mean that it always has its effect regardless of the disposition of the recipient? No. We do not disprove the tendency of a rock to fall to the ground by catching it. We only prove that something might hinder the rock from doing what it would have otherwise accomplished. One who places an impediment in between a sacrament and his own reception is like one who stops a rock from falling.
Sacraments contain grace like words contain information. The sacrament will confer that grace upon the recipient, so long as he places no obstacle in its path, just as a word will convey information to the hearer so long as the hearer does not place an obstacle in its path (such as deliberately ignoring the word or sticking his fingers in his ears).
I have already responded once to the repeated claims that the Catholic doctrine on sacramental efficacy amounts to belief in magic. You can read that response here. But I would like to show that if one were familiar with the writings of St. Thomas Aquinas, he would already know how misplaced and uninformed these sort of accusations are.
The first thing one should know about the Catholic doctrine of sacraments is that their function is to confer grace. Reformed Protestants view the few sacraments they retain as signs of, not causes of grace. God is the cause of grace, they argue. They are right that God is the cause of grace, but their doctrinal error is caused by a failure to distinguish between types of causes. God is the principal cause of grace, and the sacrament is the instrumental cause of grace.1 Thus, to say that sacraments cause grace is not to deny that God is the origin of that grace.
Since sacraments cause grace, what is true of grace is also true of the sacrament as its cause. As St. Thomas often repeats, grace does not destroy nature but rather perfects it. This is an easy way to recognize the falsity of the Protestant caricature that Catholics view sacramental efficacy as a magical override of nature. Free will belongs to man's nature; hence sacraments do not destroy man's free will. Rather, sacraments confer grace which perfects man's will. A man's will can place an impediment to reception of the sacramental grace. For example, if a man were forcibly baptized against his will, the sacrament would not have its effect. St. Thomas says, "in order that a man be justified by Baptism, his will must needs embrace both Baptism and the baptismal effect."2
What about forgiveness of sins? Does man have to repent or can he simply receive the sacrament of baptism, penance, or extreme unction? Many Protestants would say that the Catholic Church teaches that one must simply receive the sacraments and that one's will to repent is not important, or at the very least, not essential. But St. Thomas says, "there is no remission of sins, even in Baptism, without an actual change of the will, which is the effect of Penance."3 Repentance is essential to forgiveness. The sacraments do not forgive one's sin in spite of one's impenitence; that is impossible. Furthermore, properly speaking, forgiveness of sins is an effect of penance as a virtue. That is, forgiveness of sins is a proper result of a man repenting of his sins. The grace is conferred by penance as a sacrament, but its proper cause is the virtue of penance.4
According to St. Thomas, '"the power of the sacraments which is ordained unto the remission of sins is derived principally from faith in Christ's Passion."5 And he goes on to say:
No sin can be forgiven save by the power of Christ's Passion: hence the Apostle says that "without shedding of blood there is no remission."6 Consequently no movement of the human will suffices for the remission of sin, unless there be faith in Christ's Passion, and the purpose of participating in it, either by receiving Baptism, or by submitting to the keys of the Church. Therefore when an adult approaches Baptism, he does indeed receive the forgiveness of all his sins through his purpose of being baptized, but more perfectly through the actual reception of Baptism.7
We have seen that according to Catholic doctrine, repentance is necessary for forgiveness of sins and that man may freely reject the graces offered to him in the sacrament. As stated above, faith is also necessary. St. Thomas also says that, "she [the Church] does not intend to give Baptism save to those who have right faith, without which there is no remission of sins."8 Thus faith, repentance, and assent are all necessary components of receiving sacramental grace.9 As with other issues of contention, the sandy ground on which the Protestant objection was built washes away once we examine the authentic Catholic doctrine.
St. Thomas Aquinas, pray for us that we might be able to better understand the mysteries of the sacraments and more so that we would often avail ourselves to them and be found worthy recipients of the grace that they confer unto salvation.  Amen.