Sola Scriptura vs. the Magisterium: What did Jesus Teach?
Mar 9th, 2011 | By
David Anders
| Category:
Blog Posts
Did Jesus provide for the continuing transmission of the Christian faith? What a simple and foundational question! And yet, oddly, it is one that Protestant apologists rarely ask. In the history of Protestant apologetics, great emphasis is placed on how we recognize the inspiration of Scripture (Church authority vs. internal witness of the Spirit), the witness of ancient Christianity, and the supposed "errors" of Catholicism. But the one question almost never asked is, "Did Jesus teach Sola Scriptura?"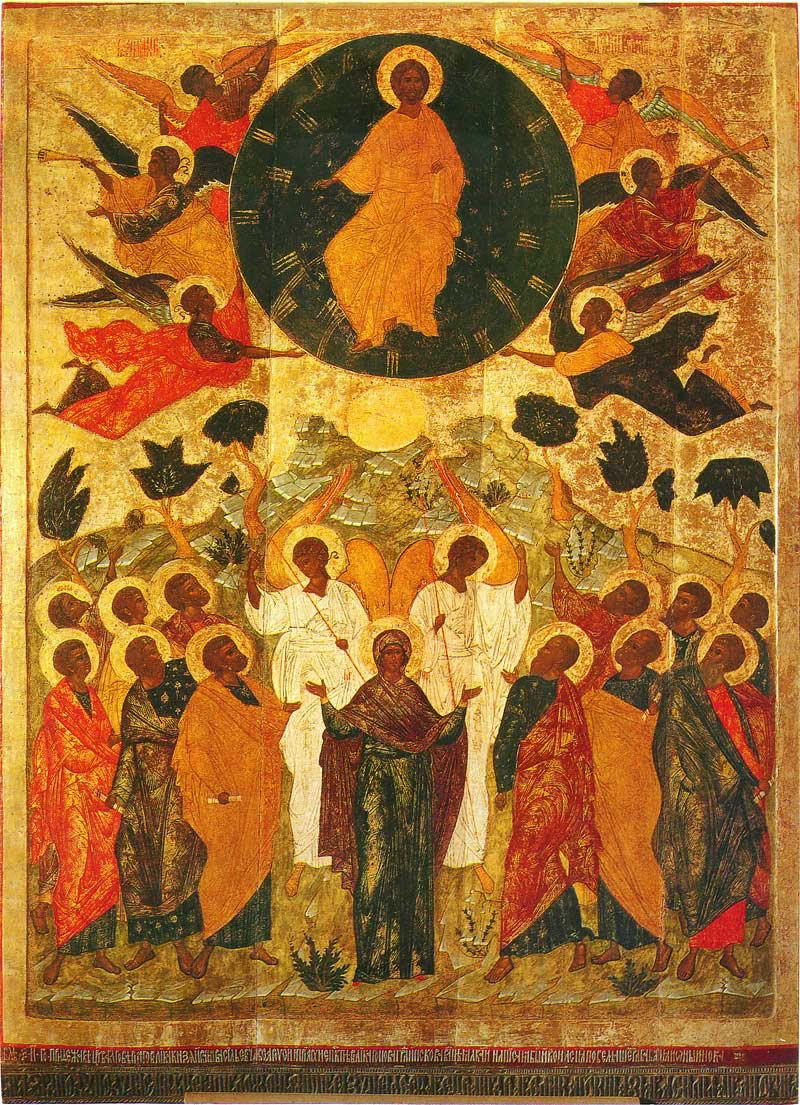 The Ascension
Protestant dogma insists that Sola Scriptura is an article of faith.1 By its own criteria, articles of faith must be established by divine revelation. In the words of Zacharius Ursinus (d. 1583), author of the Heidelberg Catechism, "The doctrine of the church has God for its author . . . whilst the various religious systems of sectarists have been invented by men."2 It is strange, then, that the Protestant apology for this article of faith rests almost entirely on an alleged logical inference, and not from the direct witness of divine revelation. The syllogism runs as follows:
1) We need a final authority,
2) Scripture, because of its unique attributes, is the best candidate,
3) Therefore, Scripture is the final authority.
This syllogism is found again and again, in various forms, throughout the history of Reformed dogmatics. The Dutch theologian Leonard van Rijssen, for example, argued simply, "From these attributes of Scripture it follows that it is a canon and norm of the things to be believed." According to Richard Muller, Rijssen understood Scripture's canonical authority "as a deduction, not directly from divinity or divine authority but from several attributes of Scripture."3 Rijssen's argument was not unique. Luther and Calvin both suggest it. Others, like Musculus, Polanus, Turrentin, Hyperius, and Vermigli, teach it more explicitly.4
We can and should debate these premises of this syllogism, since they are not self-evident, but even if we grant them for the sake of argument, does this syllogism meet the Ursinus test? Can it demonstrate that sola scriptura is an article of faith, revealed by God?
The Catholic position has always been that Christ did give explicit instructions concerning the transmission of the Christian faith. We are not left to inferences, deductions, and "funny, internal feelings." He gave us the Church. What follows below is a brief survey of some of the Biblical and historical evidence for this claim.
The Final Authority Established by Christ: the Teaching Church
All Christians agree that Jesus Christ is the ultimate authority. During his earthly ministry, He was the Final Authority. His authority superseded the Old Testament, human reason, Jewish Tradition, and the power of the state. But after His ascension, He did not leave us without direction. Before He ascended, He made provisions for a continuing doctrinal authority.
Jesus commissioned his apostles to teach with authority:
Jesus told his disciples, "All power in heaven and on earth has been given to me. Go, therefore, and make disciples of all nations . . . teaching them to observe all that I have commanded you. And behold, I am with you always, until the end of the age." (Matt. 28:18-20)
Jesus sent his apostles to teach, and promised to remain with them. Many passages of Scripture show that Christ's authority accompanied their teaching:
"As the Father has sent me, so I send you." (John 20:21)
"Whoever listens to you listens to me. Whoever rejects you rejects me. And whoever rejects me rejects the one who sent me." (Luke 10:16)
"Whatever you bind on earth shall be bound in heaven, and whatever you loose on earth shall be loosed in heaven." (Matt. 16:18; Matt. 18:18)
These texts answer our question. Christ did give us a rule of faith before His ascension. He gave us the teaching of the apostles. It is important to note that Christ never mentions the writings of the apostles. He gave them no command to write, and never restricted their authority to the written word. His authority attached to their persons and their teaching.
The Apostles Appointed Successors to Teach with Authority
Protestants usually admit that the apostles taught with authority. They deny that the apostles transmitted this authority to their successors. However, Scripture and history refute them.
Scripture:
"They appointed presbyters for them in each church." (Acts 14:23)
[Paul to Titus] "For this reason I left you in Crete so that you might . . . appoint presbyters in every town, as I directed you." (Titus 1:5)
[Paul to Timothy] "And what you heard from me through many witnesses entrust to faithful people who will have the ability to teach others as well." (2 Timothy 2:2)
"For a bishop as God's steward must . . . be able both to exhort with sound doctrine and to refute opponents." (Titus 1:7-9)
These texts show clearly that the apostles appointed the bishops and priests (presbyters) who took over the leadership of the infant church. They also show that leaders were 1) stewards of the Gospel, 2) given authority to teach and refute false doctrine, 3) ordered to entrust this charge to others.
History:
The earliest sources outside the New Testament attest the belief that the apostles appointed successors who continued to teach with authority.
The First Epistle of Clement, c. 42 (written sometime between A.D. 70-96): "Christ therefore was sent forth by God and the apostles by Christ . . . [T]hey [the apostles] appointed the first fruits [of their labours], having first proved them by the Spirit, to be bishops and deacons of those who should afterwards believe."
St. Ignatius to the Ephesians, (between A.D. 98-117): "For we ought to receive every one whom the Master of the house sends to be over His household, as we would do Him that sent him. It is manifest, therefore, that we should look upon the bishop even as we would upon the Lord Himself."
The Earliest Christians Confirm the Authority Established by Christ
Doctrinal controversy struck Christianity in the second-century church. The Gnostics taught esoteric doctrines, and claimed to be the inheritors of secret wisdom passed down from the apostles. They also appealed to the Scriptures. The Church Father Tertullian (ca. 160-ca.220) responded to their claims and offered one of the earliest and clearest statements of authority established by Christ.
From this, therefore, do we draw up our rule. Since the Lord Jesus Christ sent the apostles to preach, (our rule is) that no others ought to be received as preachers than those whom Christ appointed . . . Now, what that was which they preached — in other words, what it was which Christ revealed to them — can, as I must here likewise prescribe, properly be proved in no other way than by those very churches which the apostles founded in person. (Prescription against Heretics, 21).
Conclusion
The heart of the Protestant apologetic for sola scriptura is not the teaching of Christ, but the alleged failure of the Church's magisterial authority. Consider Luther's famous argument at Leipzig: Councils can err; therefore Scripture is the final authority. The Protestant position infers canonical authority from inspiration. But this is not a valid inference. God can inspire a text without intending that text to serve as a final authority for all matters doctrinal.
I am well aware that Protestants will dispute the Catholic understanding of the texts I have cited. This is not threatening, and we should have a lively discussion about what they mean. What Protestants must concede, however, is that Catholics attempt to ground their doctrine of authority on the teaching of Christ and the apostles. They do not resort to tenuous logical inferences. Can Protestant apologists do the same?5