Our Lady of Guadalupe
Dec 11th, 2010 | By
Bryan Cross
| Category:
Blog Posts
In the decade following the arrival of Hernando Cortez and the Spanish Conquistadors in the New World in 1519, the Aztecs were highly resistant to Christianity. But in 1531 an amazing miracle took place, and the missionaries were soon overwhelmed with requests for catechesis and baptism. This miracle precipitated the greatest flood of conversions in the whole history of Christianity. In the seven years following this miracle, approximately eight million Aztecs converted to Christianity. This miracle thereby facilitated the Christianization of Central and South America in the sixteenth century. For this reason, this miracle is undoubtedly one of the most important events in the history of Christianity in the Americas.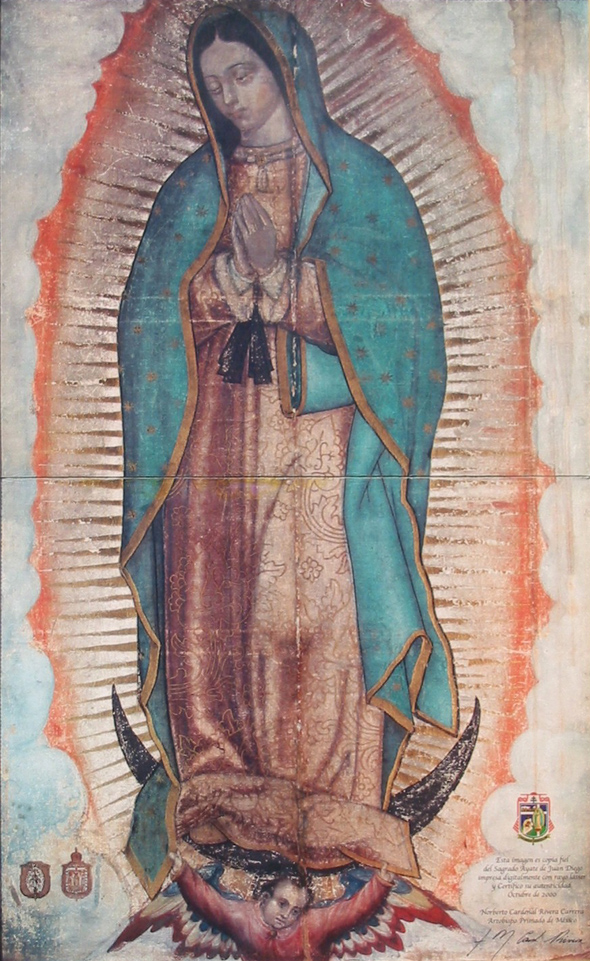 Tomorrow, December 12, is the Feast of Our Lady of Guadalupe, celebrating Mary's appearances to a native American peasant named Juan Diego from December 9 through 12, 1531, and the miraculous appearance of her image on his tilma, shown above. Prior to this event, the Aztecs were offering thousands of human sacrifices per year in central Mexico, including child sacrifice. The conversion of the Aztecs to Christianity ended the brutal practice of human sacrifice, and helped bring Central and South America to Christianity.
The image above is the image that miraculously appeared on the tilma of Juan Diego when he opened it before the bishop. The image shows Mary as a humble but royal maiden. Under her feet is the Moon, which for the Aztecs represented the devil. In this way the image depicts Mary as crushing the head of the serpent, and corresponds to the description of the woman described in Revelation 12.
This past Wednesday, December 8, Professor Lawrence Feingold (Ave Maria University) gave a lecture to the Association of Hebrew Catholics on the subject of the miracle of Our Lady of Guadalupe. To listen to that lecture, click on the 'play' button directly below.
To listen to the Q&A following the lecture, press play directly below:
Download the mp3s for the lecture and the Q&A here.
To read a fuller account of this miraculous event see here, here, and here. Or read Warren Carroll's Our Lady of Guadalupe and the Conquest of Darkness (Christendom Press, Front Royal, Virginia, 2002). On the miracle of the cloth's preservation, see this talk by Dr. Aldofo Orozco.
Our Lady of Guadalupe, pray for us, that we may be more deeply united to your Son, Jesus. In the name of the Father, and of the Son, and of the Holy Spirit. Amen.