I Believe in the Rapture-and it Happens Very Often
Aug 31st, 2010 | By
J. Andrew Deane
| Category:
Blog Posts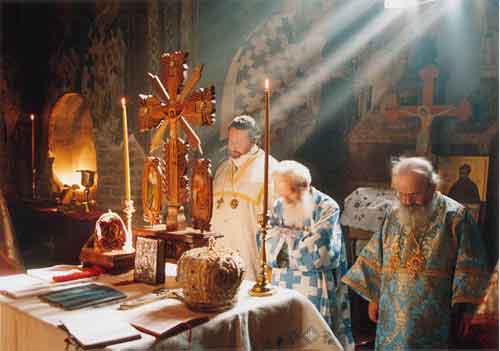 Becoming Reformed after a six year sojourn in the evangelical world of Calvary Chapel, I was pleased to give up speculations about the end of the world via the notion of an imminent Rapture. There was a lack of historical support for thinking this way, and there was also a pleasing emphasis on Scripture as opposed to the newspaper. But every once in awhile, I must admit that the pure joy of thinking about the coming of God Himself to earth seemed to be too distant for someone like me to continue to enjoy. Was there any place for a continued hope of God coming to earth? Or was all of that joy based on predictions that so often never came to pass?
It was an amazing truth to appreciate that in the Catholic view of things, the eternal kingdom of God became present, and not through some theocracy of sorts. It was a far more mystical vision of God becoming present through our liturgy. The rapture was not distant–it was a real experience that comes through the Eucharist.
Being an Eastern Catholic, our liturgy enters into the mystery of the Eucharistic sacrifice with many beautiful prayers. The main liturgical service that we celebrate is the divine liturgy of St. John Chrysostom. There are so many thoughts that I have about this service, and I hope to spend future posts considering how our liturgy informs all of our theology. Truly the law of prayer provides the law of belief (lex orandi, lex credendi).
As we listen to the words of an Eastern Christian service, we hear these words that juxtapose the past, present and future all into one, for the presence of God puts us into contact with eternity Himself.
In that liturgy of St. John Chrysostom, we hear these words:
Priest:
Together with these blessed powers, merciful Master, we also proclaim and say: You are holy and most holy, You and Your only begotten Son and Your Holy Spirit. You are holy and most holy, and sublime is Your glory. You so loved Your world that You gave Your only begotten Son so that whoever believes in Him should not perish, but have eternal life. He came and fulfilled the divine plan for us. On the night when He was delivered up, or rather when He gave Himself up for the life of the world, He took bread in His holy, pure, and blameless hands, gave thanks, blessed, sanctified, broke and gave it to His holy disciples and apostles, saying:
Take, eat, this is my Body which is broken for you for the forgiveness of sins.

People:
Amen.

Priest:
Likewise, after supper, He took the cup, saying:Drink of it all of you; this is my Blood of the new Covenant which is shed for you and for many for the forgiveness of sins.
People:
Amen.

Priest:
Remembering, therefore, this command of the Savior, and all that came to pass for our sake, the cross, the tomb, the resurrection on the third day, the ascension into heaven, the enthronement at the right hand of the Father, and the second, glorious coming,
We offer to You these gifts from Your own gifts in all and for all.
This is the faith that we profess. It enters the eternal world where there is a sense in which the second coming is not a future event, for all things are present to Him who is beyond time. And this is not a particularly Eastern thought, with no parallels in the Roman Rite. Let's look at a Roman Canon (canon I, to be precise), for if we do we will hear similar words speaking the same truth which transcends time. After the same consecration and recitation of the words of Institution of Christ, we hear this prayer at the Holy Roman Mass:
Father, we celebrate the memory of Christ, your Son. We, your people and your ministers, recall his passion, his resurrection from the dead, and his ascension into glory; and from the many gifts you have given us we offer to you, God of glory and majesty, this holy and perfect sacrifice: the bread of life and the cup of eternal salvation.
Look with favor on these offerings and accept them as once you accepted the gifts of your servant Abel, the sacrifice of Abraham, our fathers in faith, and the bread and wine offered by your priest Melchizedek.
Almighty God, we pray that your angel may take this sacrifice to your altar in heaven. Then, as we receive from this altar the sacred body and blood of your Son, let us be filled with every grace and blessing. Through Christ Our Lord, Amen.
This is our profession of what happens in a Church service. It goes beyond intellectual proclamations of faith, which we see as most clearly expressed in things like the Creed. It leaves this miry world of sin and calls us to the heavenly kingdom. It is a Rapture, a seizing up of our earthly life to the real spiritual existence which is our inheritance, in Christ.
This is of critical importance, for many people have chided Churches for having luxurious vestments and buildings. "I thought that we were supposed to lay up our treasures in heaven!", or so the objection would roughly run. That objection only makes sense, however, if what we think we are doing is something this-worldly. If all we are doing is singing a feel good song and listening to a spiritual lecture of sorts, of course we ought not give our best for what we wear, and the room that we inhabit, and the chalice and paten/diskos that holds the wine and bread that go to the altar for a mere remembrance. But if there is something far deeper, something otherworldly to our worship, we will reach out and give our everything to strive to enter into that Sabbath rest, as the epistle to the Hebrews puts it. We will be raptured from day to day existence into another kingdom.
And so, as Christians of an ancient faith, there is a deep sense in which we are caught up into heaven already, while we remain in the world of not yet. We enter into that spiritual kingdom via a rapture that is not the end of a Church age, but is the continuation of a transcendent reality that can make a poor sinner like me united to the God of the universe, through His blessed kingdom.
Blessed is the Kingdom of the Father, and of the Son, and of the Holy Spirit, always ever and forever, Amen.