The Minor Seminary
Jul 12th, 2010 | By
Tom Brown
| Category:
Blog Posts
As a Reformed Christian, my lips pursed at the very idea of 7th graders beginning "seminary." Only the Catholics could come up with such a bizarre scheme, I thought. It made as much sense to me as gifted monks spending all of their earthly days milling about in silence. I didn't get it. But two decidedly Catholic principles about the priestly vocation make sense of the minor seminary and, indeed, rather commend it. These are, first, the supernatural essence of the 'call' or vocation to the sacrificial priesthood, and second, God's desire that man freely respond to that calling.
 The Minor Seminary: A Background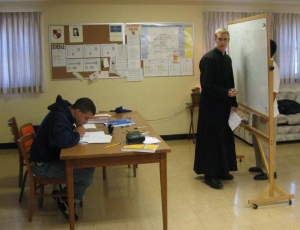 What is a minor seminary, anyway? Simply put, it is a boarding schoolhouse where young men from junior high school onward can conduct their schooling and spiritual growth in an environment that prepares them for post-secondary seminary studies. It does not obligate a young man to be ordained, or even to continue seminary at more advanced levels. Rather, it gives interested young men solid early formation while enjoying protection from the pressures and distractions of secular secondary education so that they can remain focused on what may be their blossoming vocation to the priesthood.
While these institutions had all but entirely died out in the English-speaking world, there are hints at a resurgence. The Institute of the Incarnate Word (IVE), a Catholic religious order, recently formed the Blessed Jose Sanchez del Rio Minor Seminary in Minnesota for boys in grades 7 to 12. The order already operates several minor seminaries overseas, and hopes to expand this effort in the English-speaking part of the Catholic Church.
Supernatural Call
As the IVE website notes, the minor seminary is a 'good idea' because "God calls who He wills when He wills." This reveals something about the Catholic view of the calling to receive Holy Orders. God does not choose the individuals whom He wills to call in response to certain of a man's intellectual accomplishments; God chooses these individuals in advance. Because of this, there is no reason to think that God would not begin some of His callings with young men. Indeed, many Catholic priests and seminarians describe experiencing their call to the priesthood even from their early youth. So Catholics should not 'wait and see' if a man turns out to seem worthy of ordination before investing in his formation, but rather should begin investing when a young man shows an interest.
The Reformed, and generally Protestant, view of the calling to the ministry does not necessarily conflict with the idea that God calls whom He wills when He wills. And the Reformed pastor will certainly tell you that his calling to the ministry was a supernatural one. But in practice, I think that most Reformed will reject the idea that a young man in his high school years has the intellectual capacity to receive, discern, or understand the call from God. But on the other hand, the average Reformed pastor likely would not have qualms with a seminarian's claim that he has known since 12 or 14 years that he was called.
So, I think that the Catholic and Reformed views about God calling young men to ministry are not that distinct at a theoretical level. But at least in practice, if a young man approached his pastor or parents and said that he felt called to the ministry, our approaches differ. The Reformed might say, "I think that's great," but then probably would not take positive steps to foster this in any particular way. They would probably treat it similarly to a boy saying he had a sense he was meant to be a doctor – "That's great, you'll need to work hard at the appropriate age." The Catholic, on the other hand, should say, "I think that's great, and because this might be your calling, and because such a calling is so precious to the Church, we must take positive steps to foster it and to see to your proper spiritual and intellectual formation." This is the first difference, then, that helped me to understand and appreciate how it is that the Catholic Church could send boys off to seminary.
Free Will, Free Response
The second particularly Catholic principle that helped me appreciate the concept of the minor seminary is the freedom of man to respond to God's calling. The Catholic Church maintains that God has given man free will, and desires that man use this liberty for God's greater glory. This belief percolates into our present discussion of vocational discernment because it places a burden upon Catholic adults to foster the young man's potential vocation. Should a man show signs of being called, and we neglect to train him up properly, we leave him prone to abuse his freedoms and neglect God's calling.
A common scenario is the family who waits until after their son finishes college before encouraging him to consider the priesthood. They want him to experience life a bit before making such a serious and permanent commitment. But in the process, he is heavily influenced and distracted by his secular experiences, leaving his vocation to wither. We have frustrated God's calling by leaving the man's free will floating in the waters of secular temptations or distractions.
The Reformed are less likely to view the operation of a young man's free will like this. They will probably say that if God wills to call a particular man to the ministry, God will efficaciously carry out that will. In short, if the man becomes ordained, that was God's will, and if the man does not become ordained, that was God's will too. This unintentionally avoids the burden Catholics face, to foster a young man's potential vocation lest he should miss his calling by abusing his free will.
Conclusion
The Reformed and Catholic beliefs about God's "calling" about the priesthood or pastorate have far more in common than not. But only the Catholic Church operates minor seminaries to train young men for ordained ministry. We agree that God can call whom He wills when He wills, and probably even agree that God could begin this calling from a young age. While in practice, I think the Reformed are strained to see how a junior high school boy could perceive or receive such a significant calling from God, in principle there is no reason why they could not let this boy begin something similar to the minor seminary model, say to study ancient Greek from home. Let us help each other, especially the young among us, to be willing and ready to obey God's call.