The Harrowing of Hell
Apr 9th, 2010 | By
Bryan Cross
| Category:
Blog Posts
One week ago we celebrated Holy Saturday, the day between the death of Christ and His resurrection. What happened to the soul of Christ during that time? The Tradition answers this question in the line of the Apostles Creed: "He descended to hell," referring there not to the hell of the damned, but to what is called Abraham's bosom or limbus patrum. According to the consensus of the Church Fathers, Christ went there to liberate those souls who had died in a state of grace, but were not yet able to enter heaven, because Christ had not opened the gates of heaven by His Passion and death.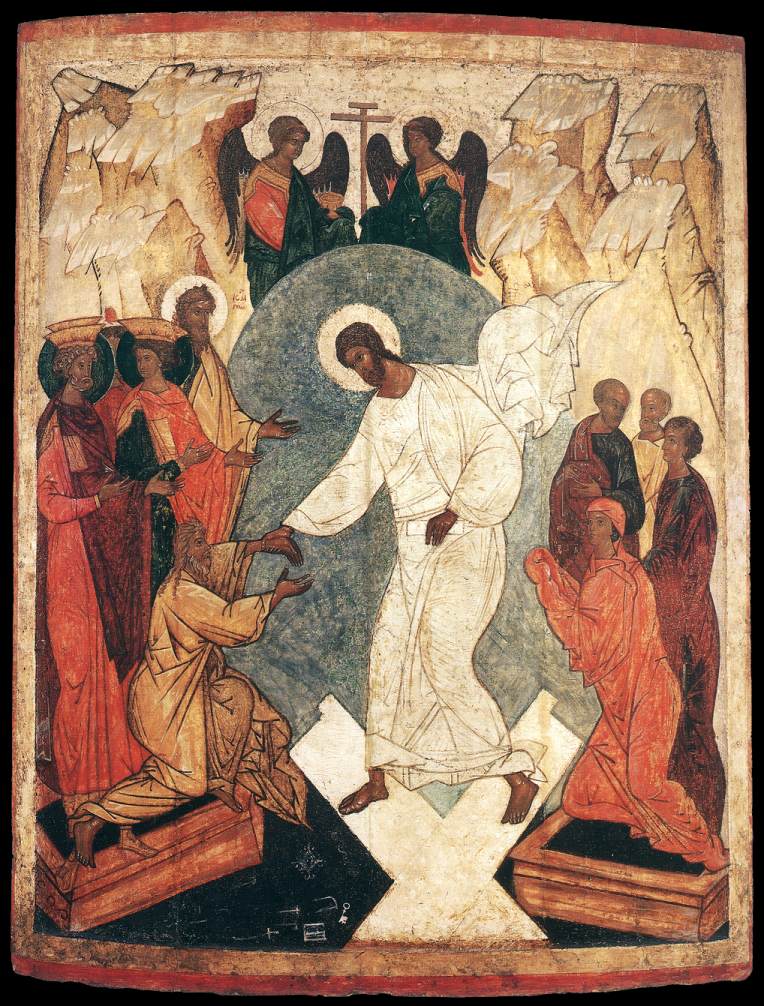 Unknown Russian Icon Painter (1500s)
Ikonen-Museum, Recklinghausen
For fifteen hundred years all Christians believed this. But in the sixteenth century John Calvin rejected this understanding of this article of the Creeds, calling it "childish." He offered an innovation, proposing that the "descent into hell" meant that during the three hours on the cross, Christ's soul descended into the hell of damnation, and was subjected to torments there from the wrath of God, the fear of eternal damnation, and the devil's power. Last September Taylor posted about this here, provoking a fascinating discussion. This past Wednesday Professor Lawrence Feingold of the Institute for Pastoral Studies at Ave Maria University, gave an excellent lecture to the Association of Hebrew Catholics titled "The Harrowing of Hell," in which he addressed this subject, defending the traditional position both from Scripture and the Fathers. What are implications of this doctrine? What are the implications of rejecting it? Listen to the lecture and the Q&A below.
"The Harrowing of Hell"

Q&A

Download the mp3s here: "Harrowing of Hell" and Q&A.
Patristic evidence:
St. Ignatius of Antioch: (c. AD 107)
how shall we be able to live apart from Him, whose disciples the prophets themselves in the Spirit did wait for Him as their Teacher? And therefore He whom they rightly waited for, having come, raised them from the dead. (Mag. 9)
St. Justine Martyr: (c. AD 160)
The Lord God remembered His dead people of Israel who lay in the graves; and He descended to preach to them His own salvation. (Dia. 72)
St. Melito of Sardis: (c. AD 170)
by the cross death is destroyed,
and by the cross salvation shines;
by the cross the gates of hell are burst,
and by the cross the gates of paradise are opened." (New Fragment III.5, lines 24-36)
I am He who destroyed death
and triumphed over the enemy
and tread down Hades
and bound the strong one
and bore man away to the heights of heaven. (PP 102, II. 760-64)
St. Irenaeus: (c. AD 180)
He also descended into the lower parts of the earth, to behold with His eyes the state of those who were resting from their labours, in reference to whom He did also declare to the disciples: Many prophets and righteous men have desired to see and hear what you see and hear.

For it was not merely for those who believed on Him in the time of Tiberius Cæsar that Christ came, nor did the Father exercise His providence for the men only who are now alive, but for all men altogether, who from the beginning, according to their capacity, in their generation have both feared and loved God, and practised justice and piety towards their neighbours, and have earnestly desired to see Christ, and to hear His voice.(Ad. Haer. IV.22.1-2)
He became a man subject to stripes, and knowing what it is to bear infirmity, and sat upon the foal of an ass, and was a stone rejected by the builders, and was led as a sheep to the slaughter, and by the stretching forth of His hands destroyed Amalek; while He gathered from the ends of the earth into His Father's fold the children who were scattered abroad, and remembered His own dead ones who had formerly fallen asleep, and came down to them that He might deliver them (Ad. Haer. IV.33.1)
For they do not choose to understand, that if these things are as they say, the Lord Himself, in whom they profess to believe, did not rise again upon the third day; but immediately upon His expiring on the cross, undoubtedly departed on high, leaving His body to the earth. But the case was, that for three days He dwelt in the place where the dead were, as the prophet says concerning Him: And the Lord remembered His dead saints who slept formerly in the land of sepulture; and He descended to them, to rescue and save them. And the Lord Himself says, As Jonas remained three days and three nights in the whale's belly, so shall the Son of man be in the heart of the earth. Then also the apostle says, But when He ascended, what is it but that He also descended into the lower parts of the earth? This, too, David says when prophesying of Him, And you have delivered my soul from the nethermost hell; and on His rising again the third day, He said to Mary, who was the first to see and to worship Him, Touch Me not, for I have not yet ascended to the Father; but go to the disciples, and say unto them, I ascend unto My Father, and unto your Father.

If, then, the Lord observed the law of the dead, that He might become the first-begotten from the dead, and tarried until the third day in the lower parts of the earth; then afterwards rising in the flesh, so that He even showed the print of the nails to His disciples, He thus ascended to the Father;— [if all these things occurred, I say], how must these men not be put to confusion, who allege that the lower parts refer to this world of ours, but that their inner man, leaving the body here, ascends into the super-celestial place? For as the Lord went away in the midst of the shadow of death, where the souls of the dead were, yet afterwards arose in the body, and after the resurrection was taken up [into heaven], it is manifest that the souls of His disciples also, upon whose account the Lord underwent these things, shall go away into the invisible place allotted to them by God, and there remain until the resurrection, awaiting that event; then receiving their bodies, and rising in their entirety, that is bodily, just as the Lord arose, they shall come thus into the presence of God. (Ad Haer. V.31.1.)
Tertullian: (c. AD 200)
But what is that which is removed to Hades after the separation of the body; which is there detained; which is reserved until the day of judgment; to which Christ also, on dying, descended? (On the Soul, 7)

By ourselves the lower regions (of Hades) are not supposed to be a bare cavity, nor some subterranean sewer of the world, but a vast deep space in the interior of the earth, and a concealed recess in its very bowels; inasmuch as we read that Christ in His death spent three days in the heart of the earth, that is, in the secret inner recess which is hidden in the earth, and enclosed by the earth, and superimposed on the abysmal depths which lie still lower down. Now although Christ is God, yet, being also man, He died according to the Scriptures, and according to the same Scriptures was buried. With the same law of His being He fully complied, by remaining in Hades in the form and condition of a dead man; nor did He ascend into the heights of heaven before descending into the lower parts of the earth, that He might there make the patriarchs and prophets partakers of Himself. (On the Soul, 55)
St. Hippolytus: (c. AD 205)
He showed all power given by the Father to the Son, who is ordained Lord of things in heaven, and things on earth, and things under the earth, and Judge of all: of things in heaven, because He was born, the Word of God, before all (ages); and of things on earth, because He became man in the midst of men, to re-create our Adam through Himself; and of things under the earth, because He was also reckoned among the dead, preaching the Gospel to the souls of the saints, (and) by death overcoming death. (On the Antichrist, 26)

He also first preached to those in Hades, becoming a forerunner there when he was put to death by Herod, that there too he might intimate that the Saviour would descend to ransom the souls of the saints from the hand of death. (On the Antichrist, 45)
Origen: (AD 246)
"First therefore he bound him at the cross, and thus he has entered his house, that is, Hades, and from there "ascending on high, he led captivity captive," those certainly who with himself are co-resurrected and have entered the holy city, heavenly Jerusalem. (Commentary on Romans 5:10)
Rufinus: (c. AD 400)
That He descended into hell is also evidently foretold in the Psalms, where it is said, You have brought Me also into the dust of the death. And again, What profit is there in my blood, when I shall have descended into corruption? And again, I descended into the deep mire, where there is no bottom. Moreover, John says, Are You He that shall come (into hell, without doubt), or do we look for another? Whence also Peter says that Christ being put to death in the flesh, but quickened in the Spirit which dwells in Him, descended to the spirits who were shut up in prison, who in the days of Noah believed not, to preach unto them; where also what He did in hell is declared. Moreover, the Lord says by the Prophet, as though speaking of the future,You will not leave my soul in hell, neither will You suffer Your Holy One to see corruption. Which again, in prophetic language he speaks of as actually fulfilled, O Lord, You have brought my soul out of hell: You have saved me from them that go down into the pit." (Commentary on the Apostles' Creed)
St. Augustine: (AD 414)
It is established beyond question that the Lord, after He had been put to death in the flesh, descended into hell; for it is impossible to gainsay either that utterance of prophecy, You will not leave my soul in hell, — an utterance which Peter himself expounds in the Acts of the Apostles, lest any one should venture to put upon it another interpretation—or the words of the same apostle, in which he affirms that the Lord loosed the pains of hell, in which it was not possible for Him to be holden. Who, therefore, except an infidel, will deny that Christ was in hell? (Letter 164.2)
St. Gregory the Great: 6th century
Moreover, after your departure I learned from information given me by my most beloved sons the deacons that your Love had said that our Almighty Lord and Saviour Jesus Christ, when He descended into hell, saved all who there acknowledged Him as God, and delivered them from the pains due to them. With regard to this subject I desire that your Charity should think very differently. For, when He descended into hell, He delivered through His grace those only who both believed that He should come and observed His precepts in their lives. (Book VII, Letter XV)