Review: Fortescue, Adrian – The Early Papacy to the Synod of Chalcedon in 451
Apr 24th, 2010 | By
Guest Author
| Category:
Blog Posts
The following is a guest post written by R.E. Aguirre, General Editor., Paradoseis Journal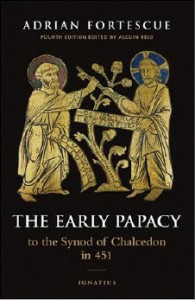 Book Review: Fortescue, Adrian – The Early Papacy to the Synod of Chalcedon in 451
San Francisco: Ignatius Press, 2008.
Fourth Edition, ed., Alcuin Reid.
Pp. 7 + 121. ISBN 9781586171766
It is always rather exigent to review an older work, especially one which is aimed at a specific problem in a specific academic discipline.1 The Early Papacy to the Synod of Chalcedon in 451 by Adrian Fortescue was written to defend the thesis that the early Church had a clear awareness of the Primacy of Peter.2 In order to accomplish this Fortescue uses clear reasoning along with a survey of the primary writings of the Church Fathers to 451 AD.3 Much development has occurred in the field of Patristics and Patrology since 1920 and the argument for the Primacy of Peter and the Roman Papacy has become ever more sophisticated.4 Still, the editor Alcuin Reid notes in his introduction,
Fr. Fortescue wrote in 1919, and since then, there have been advances in the study of patristics, none of which calls into question any of the texts adduced5
It is evident that Fortescue is a master of the patristic literature.6 Yet he writes this short work in a readable and accessible manner, distinctly not for the scholar alone but also for the educated layman as well. It is intelligent, and utilizes philosophical, historiographical, and theological arguments to bolster the dogma of the Primacy of Peter and the Roman Papacy. Among the various grounds brought forward by Fortescue (many of which have been rehashed, – and usually with much less power) I found his discussion on the presumptions that are used in the hermeneutics of Scripture and the Patristic literature very stimulating. Fortescue's case being that every scholar reads both Scripture and the Patristic writings according to the bending of his current presuppositions.
We say that it is impossible for a plain man to make up his own religion out of sixty six books (seventy-three if you count the deuterocanonical books), written at different times, and not specifically for his difficulties now. It is even more obviously impossible if to these you add about a hundred volumes of Migne. All these methods of taking some early documents, whether the Bible of the Fathers, and making them your standard, mean simply a riot of private judgment on each point of religion…When one Anglican has admitted that he finds a constitutional papacy in the Fathers and councils down to 451, another Anglican, possibly still more learned in patrology, will deny that these old texts mean any real primacy at all7
What is needed is an authoritative voice on these matters, and that voice according to Fortescue is the Church via her official and living leadership. Another highlight of this work is the most excellent survey given to us by Fortescue concerning the numerous examples of the juridical cases in the ancient Church that were brought to the Roman Bishop or cases in which he took the initiatory lead in order to settle theological disputes, all of which declares and assumes Roman Primacy. In conclusion, I recommend Fortescue's work on the early papacy for both specialist and as a entry level academic work for the interested layman. It is free from the harsh polemical tones of the earlier centuries, and it is as well an interesting oeuvre on this subject well before Vatican II.
R. E. Aguirre
Reader in New Testament Studies and Patrology,
Southern California.
General Editor., Paradoseis Journal