Augustine: "He Who Is Mature in Faith, No Longer Needs Scripture"
Feb 3rd, 2010 | By
Taylor Marshall
| Category:
Blog Posts
I was reading Saint Augustine's De doctrina Christiana today and bumped into a zinger that caused even my own Catholic soul to squirm. In book one, we come to this chapter: Chapter 39.— He Who is Mature in Faith, Hope and Love, Needs Scripture No Longer.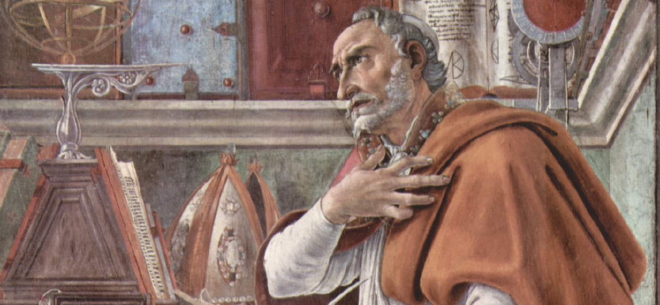 In the very least, it shows that Augustine was not a "religion of the book" sort of a Christian. Scripture instructs in the faith, but it is not the object of our faith. Here's the full quote:
And thus a man who is resting upon faith, hope and love, and who keeps a firm hold upon these, does not need the Scriptures except for the purpose of instructing others. Accordingly, many live without copies of the Scriptures, even in solitude, on the strength of these three graces [here Augustine seems to refer to hermits like St Antony of Egypt] . So that in their case, I think, the saying is already fulfilled: "Whether there be prophecies, they shall fail; whether there be tongues, they shall cease; whether there be knowledge, it shall vanish away." 1 Corinthians 13:8 Yet by means of these instruments (as they may be called), so great an edifice of faith and love has been built up in them, that, holding to what is perfect, they do not seek for what is only in part perfect— of course, I mean, so far as is possible in this life; for, in comparison with the future life, the life of no just and holy man is perfect here. Therefore the apostle says: "Now abides faith, hope, charity, these three; but the greatest of these is charity:" 1 Corinthians 13:13 because, when a man shall have reached the eternal world, while the other two graces will fail, love will remain greater and more assured.
Now when I was at Westminster Theological Seminary in Philadelphia, we were taught that 1 Cor 13 taught "cessationism" – the doctrine that prophecy and tongues ceased with the arrival of "the perfect" which was assumed to be the canonized text of Scripture. Saint Augustine turns this on its head. Augustine lumps "Scripture" under "prophecies" and thus concludes that when the perfect comes (that is, faith, hope and charity), then Scripture is no longer needed.
Wow. The assumption is that you believe and act perfectly, you don't need a Bible…
Just for the record, I'm far from giving away my Bible, since I'm a rather poor exemplar of faith, hope, and charity. But still, I'm rather blown away by these words of Augustine.
Any comments?