The Catholic-Protestant Divide: A Path to Unity
Jan 23rd, 2010 | By
Bryan Cross
| Category:
Blog Posts
The second winning essay in our essay contest is titled, "The Catholic-Protestant Divide: A Path to Unity," written by Dave Wade. Dave is a lifelong Catholic, a catechist on the RCIA-ACI team and musician at St. Cecelia Catholic Church in Clearwater, Florida. He is also the Catholic Mentor/Moderator @ theCircle.org. Dave is planning to enter the Masters Degree program at the Institute for Pastoral Theology at Ave Maria University.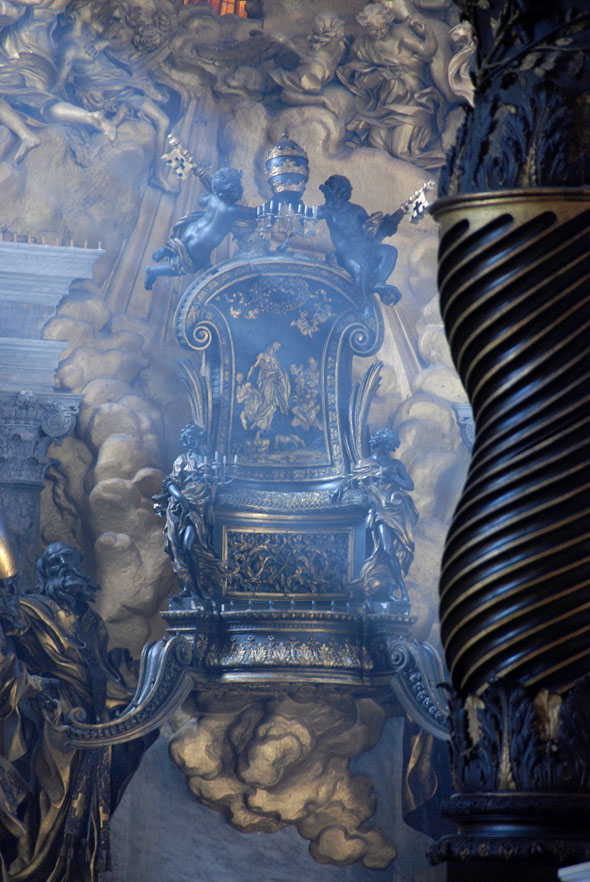 The Chair of St. Peter
The Catholic-Protestant Divide: A Path to Unity
by Dave Wade
Understanding "what" fundamentally divides Christians is not beyond the intellectual reach of the everyman. It is understanding "why" that splinters and fractures into incomprehensible and disconnected thoughts. The fundamental disagreement that underlies all the other Catholic-Protestant disagreements concerns His Church and its Teaching Authority. The Church…the one Christ imbued upon the Apostle Peter in Matthew 16:18 and its Teaching Authority referred to as the Magisterium, is understood by Catholics as clearly seen in Scripture to be created, instructed, planned and executed according to Scripture.
Why is the Church and its Authority in Christianity the fundamental point of division? The teachings of this visible Authority, The Church, headed by Christ, by Peter and their appointed and initiated chain of Apostolic successors, produce all the other Catholic practices that Protestants claim are not valid — those that fuel long standing disagreements among both. Sacraments, liturgical worship, doctrines, dogmas, sainthood, indulgences, prayer practices, papal infallibility, and all the rest that Catholics and Protestants debate are Catholic teachings from that Authority (i.e. the Church) that Protestants deny have any salvific value. Catholics rely upon this Authority to guide their worship and direct their worship practices to become and remain centered on Christ and His teachings. Reliance on this Authority provides Catholics with a universally consistent application of Fatherhood and the unimaginable benefits promised by Him. The Catholic submission to authority demonstrates an authentic understanding of worship as a permanent love relationship, one that does not dissolve from argument,  but calls for obedience and parallels our tangible experience as parents and children. Some of these Catholic individual and liturgical practices are  misperceived by Protestants to be heretical, giving  them reason to continue remaining separate from the Catholic Church. Protestants view these practices as creating a "performance" or "works" based false salvation, which if true would be tragically misguided. Yet, studied and knowledgeable Catholics understand that salvation can only come from outside of ourselves and that these Catholic worship practices prove to remove the fallible and impure obstacles (that we as humans create for ourselves) that block a progressive personal Christ relationship which is necessary for salvation.
To make ecumenical progress, Christians on both sides of the divide must begin by treating each other with the highest level of dignity and respect possible, especially when communicating about the Faith. The unifying basis of both sides is a common knowledge and experience of relational theology in Christ's promise of salvation by grace. As demonstrated by the Joint Declaration on the Doctrine of Justification, Catholics and Lutherans not only agree on the assurance of salvation, but also formally and publicly declare it as permanent evidence of a pre-existing unification point. Paragraph 38 of the Joint Declaration exposes this with such alarming clarity, any Christian apologist should question the very need to defend his Faith to another Christian altogether:
"According to Catholic understanding, good works, made possible by grace and the working of the Holy Spirit, contribute to growth in grace, so that the righteousness that comes from God is preserved and communion with Christ is deepened. When Catholics affirm the "meritorious" character of good works, they wish to say that, according to the biblical witness, a reward in heaven is promised to these works. Their intention is to emphasize the responsibility of persons for their actions, not to contest the character of those works as gifts, or far less to deny that justification always remains the unmerited gift of grace.1
If Catholics and Lutherans of authority can by their own free will produce a doctrine having such unifying impact, then certainly their members are able intellectually to participate accordingly.
Historically, Catholic initiated ecumenism is not without its self-inflicted misperceptions. Certain Catholics must cease observing Protestants as "privatizing the Faith" by selectively hearing that they only profess a mandatory personal relationship with Christ. While salvation begins personally and intimately in our adoption into God's family, it cannot result in a tunnel-visioned and self-guided faith. As we strengthen a communion with Jesus, we come to receive His heart and a genuine compassion for the lost, the poor, and the sinner. Personal relationship with God begins individually, but then pours over into all of our relationships, caring for the least, loving our enemies, and exposing the fruit of that genuine personal connection. This is how Christ ministered, personally and individually. Additionally, this is how the emulation of Christ and relational permanence of Fatherhood produces visible manifestation of His love, and is universal in all the Christian faithful. Protestant ministries have this much in common with the same in Catholic ministries.
When a Catholic or Protestant finds the Christo-centric reality in his separated brother, and in that person's Faith, a dialogue of unity can follow on the subjects of Christ's deity, the Trinity and His own teaching of a unified body. Both sides of this divide would enter still further into fruitful ecumenical territory by discussing the progressive nature of the Church, including its human error throughout nearly two millennia. All Christians should recognize the rational truth that "the perfect is not the enemy of the good." Man was not given religious truth as though from a Scholastic theologian, perfectly organized and tabulated with citations. Nor have we seen a perfect progression of doctrine by perfect Bishops. The Church develops its doctrine by advancement within itself, without changing the core truths. The progression of doctrine also does so in tune with current realities and cultures, and in spite of its entrusted keepers' faults and the personal or public sin for which they will be accountable. The fact that imperfect humans may have wreaked havoc on other believers at various times throughout history never constituted a truth ending event, or a conspiracy to do so. It must be with this concrete reason and logic that the one true Church is held believable, visible and accessible for all Christians.
Once we share a view that the One Infallible God has left His fallible children a path to seek and find His love for us, the perceived differences become less daunting and we, together, can reach out to unify once again.
Joint Declaration on the Doctrine of Justification, 38. [↩]