The Authority of Divine Love
Jan 20th, 2010 | By
Jeremy Tate
| Category:
Blog Posts
A few weeks ago we announced an essay contest for the Week of Prayer for Christian Unity. The essays were to answer the following question: "What is it, most fundamentally, that still divides Catholics and Protestants?" They were to locate the fundamental disagreement underlying the other Catholic-Protestant disagreements, explain why it is fundamental, and show how Protestants and Catholics can make progress in reaching agreement regarding it. One of the two winning essays was titled "The Authority of Divine Love," written by Jeremy Tate. Jeremy is finishing a graduate degree at Reformed Theological Seminary in D.C. this Spring. He has been a member of the Presbyterian Church in America. He will be received into the Catholic Church on February 7, 2010, and receive the sacraments of Confirmation and the Eucharist.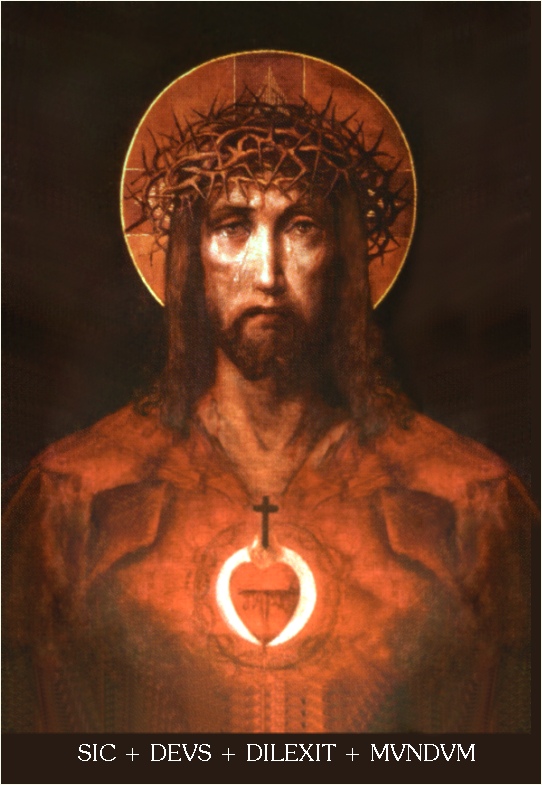 The Authority of Divine Love
by Jeremy Tate
The fundamental disagreement that underlies all other Catholic-Protestant disagreements can be pinpointed, specifically, in the Catholic Church's claim of authority.  Disbelief in the unique authority of the Roman Catholic Church has become one of the only beliefs shared by all Protestants.  Every other Catholic teaching, from baptismal regeneration to purgatory, is affirmed somewhere in Protestantism. This belief, or rather disbelief, stands alone, as the most unifying tenet of Protestant theology.  This observation might sound harsh or uncharitable, but I discovered it to be true long before I ever considered converting to the Catholic Church.  In fact, I write this essay and address this topic as one deeply indebted to my Protestant upbringing, evangelical friends, and the insights of the Reformed tradition.  I also write as a believer who has finally discovered where I belong, as I will be received into the Catholic Church on February 7.
Rather than setting out to prove the doctrinal soundness of various Catholic doctrines or attacking what I believe to be the heretical nature of various Protestant doctrines, my goal in this essay is to connect the seemingly cold issue of authority with the radical love of God given to us in Christ.  I believe that seeing this connection, will point to the truth of the Catholic Church.  Even more importantly, however, I believe that seeing this connection will point us to the incredible faithfulness of God, which, ironically, cannot be fully seen without the Catholic Church.
Universal common sense observes that authority disconnected from love becomes tyranny.  God's love, rather than being tyrannical, is selfless and life giving.  As one created in the image of this God, the authority God has given me over my two daughters intensifies, rather than diminishes, my love for them.  Reformed Protestants and Catholics happily agree that the sources of authority that God has given to us for our spiritual growth are embodiments of his love for us.  The authority of the Bible reminds us that God loves us.  The authority of a loving pastor or parent demonstrates God's love for us.  Even the authority of the State, in maintaining a peaceful world, shows us God's love.  Simply put, when we stop to meditate on God's purpose for placing authorities over us, we are quickly reminded of his Fatherly love for us.
The claim of possessing a unique authority, which the Catholic Church unabashedly makes, must be understood within this context of authority as love if believers on each side are to move towards unity.  To many Protestant ears, the most radical claim the Catholic Church makes is that she alone can authentically and infallibly interpret Scripture.  This claim, however, when considered from a thoroughly Biblical view of authority, is not so much a statement about the Catholic Church's right to assert her own interpretation of Scripture, as it is a statement about God's love.  Before a believer begins to consider the truth or falsity of this particular Catholic claim, the claim first has to be understood for what it is: an assertion about the extensiveness of God's love.   When Catholics boast that their Church is the infallible interpreter of Scripture, they are saying, "God has not abandoned us, He has not left us to wonder if our own interpretation of Scripture is the right one."  They are saying, "He has not done what love forbids…He has not left us to ourselves."
How can Protestants and Catholics move towards unity?  First, Catholics must ask Protestants for forgiveness.  As I thought through the question of how Protestants and Catholics can make progress toward unity, I realized that Catholics must reach out first.  As a student of the Reformation, and now as one coming into the Catholic Church, I have no problem conceding that in part, the Reformation was a response to serious sin and often heinous abuses of the Catholic Church.  As seen in the sex scandal over the past decade, the Catholic Church continues to struggle with grave sin.  For this reason, Catholics must ask Protestants for forgiveness for the sin of misrepresenting to the world the loving authority of God.
In response Protestants must forgive, seventy times seven.  Then, Protestants must ask questions, each of which, when answered, will be a step towards unity.  From a Protestant perspective, these questions are not safe to ask.  They are not new questions either.  Some of the greatest and most influential Protestant theologians in history, such as John Henry Newman and G.K. Chesterton, wrestled with these questions and found their answer in the Church they had previously condemned.  For years I believed that the Catholic Church would eventually die out.  I think I believed this because I met so many people who had left the Catholic Church and joined a Reformed denomination.  It never occurred to me that my refusal to engage with the Catholic Church had made me blind.  I did not know of, nor see, the army of passionate, Christ centered, scripturally knowledgeable believers, who had converted to the Catholic Church after facing these questions.
First, Protestants must ask questions about the promises of Scripture and the character of God.  Most importantly, did Jesus himself found a Church?  I believe the answer is yes and I know many of my Reformed friends would agree.  Clearly, Christ is very busy in the gospels, teaching, training, appointing, delegating authority, and setting up a visible entity, with twelve visible leaders.   This entity, Jesus calls the Church.  If it is true that Christ himself founded a Church, then it must also be true that for a Church to be "a Church", it must, by definition, have divine origins.  If Jesus founded a single Church and made a promise that it would be indestructible (Matt 16:18), can we trust Him?  I do not know of any Protestant denomination that claims to have been personally founded by Jesus.  The Catholic Church makes this claim.  If Jesus did not found the Catholic Church, who did?  Every single Protestant denomination or theological tradition has a man or a few men standing at its inception.  Standing in the place only Jesus can stand.  Calvin's Reformed Church, Knox's Presbyterianism, Wesley's Methodism, William Miller's Adventism, Luther's Lutheranism, all have men as their founders.  Who founded the Catholic Church?
Second, Protestants must ask how denominationalism reflects God's love as our Father.  If I met ten children with the same dad, none of whom would eat meals or worship together, I would be inclined to think that the children had a bad father.  When I was doing a Pastoral internship for the Presbyterian Church in America, in New York City, I had several well educated New Yorkers, ask me, "Which Christianity are you selling?"  One unbeliever, in a conversation I'll never forget, put it to me this way, "You tell me the Bible teaches this, the Jehovah Witness at my door tells me it means that, and the ten other Churches on my block have ten more views…my take…the Bible must be an unintelligible book."  Although few Protestants want to preach to the unbelieving world that the Bible is unintelligible, that is the message being preached every time a Church splits.
My hope, my prayer, is that this week of prayer for Church unity will be accompanied by the voices of Catholic Christians asking for forgiveness —  asking for forgiveness for failing to accurately display authority as love in reflection of our Heavenly Father.   My prayer is that Protestants would forgive and then reconsider the bold claims of the Catholic Church.