Essay Contest for the Week of Prayer for Christian Unity
Jan 2nd, 2010 | By
Bryan Cross
| Category:
Blog Posts
The Church Unity Octave (eight days), also called the "Week of prayer for Christian unity" begins on January 18. This will be the 102 annual week of prayer for Christian unity. January 18th was originally chosen as the first day of the Octave because it was one of the two feast days of the Chair of St. Peter, the other being February 22. The Octave ends on the feast of the conversion of St. Paul (January 25). Prayers for each of the days of the Octave, as well as a brief history of the Octave, can be found here. This is a good time to prepare for the Octave. Consider fasting (in some respect) during the Octave and devoting more time each day of the Octave to pray for the full unity of all Christians. This is also a good time to speak with your priest/pastor to make sure that your parish/congregation offers prayers for the unity of all Christians during the Octave. The theme for this year's "Week of Prayer for Christian Unity" is "You are witnesses of these things", drawn from St. Luke 24:48. My reflection last year on the first day of this Octave can be found here.
This year, we here at Called To Communion have decided to hold an essay contest for the Week of Prayer for Christian Unity, to raise awareness of the Week of Prayer for Christian Unity, and to increase ecumenical dialogue between Catholics and Protestants.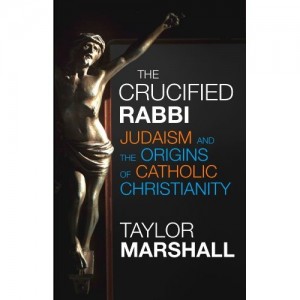 We will publish the top two essays we receive, and discuss them during the Octave. Ideally one would be written from the Catholic point of view, and the other from a Protestant point of view. The essays should seek to answer the following questions: "What is it, most fundamentally, that still divides Catholics and Protestants?" The key words in the question are 'most fundamentally.' The three-fold purpose of the essay is to pinpoint the fundamental disagreement that underlies the other Catholic-Protestant disagreements, show why it is fundamental, and finally show how Protestants and Catholics can make progress in reaching agreement about this fundamental point of disagreement. The two authors whose essays are selected will each receive a free copy of Taylor Marshall's recently published book, The Crucified Rabbi.
Essays should be no longer than 1500 words. Send essays as Word attachments to crossbr 'at' gmail 'dot' com. Essays should be submitted by Wednesday, January 13. Please include your name, postal address, and email address.
Let us implore the Lord to help us bring unity to His people. "Blessed are the peacemakers, for they shall be called sons of God." (St. Matthew 5:9)