Summarizing the Summas, or, the Simplicity of Saint Thomas Aquinas
Oct 8th, 2009 | By
Andrew Preslar
| Category:
Blog Posts
The names "Thomas Aquinas" and "Summa," when they spark recognition, can also produce rather visceral reactions. St. Thomas' meticulous, dialectic method of exploring theological questions (the "scholastic" method) probably has something to do with the more than (and less than) intellectual reactions to the man and his works. Many folks find the scholastic method to be frustrating, while others find it distinctly illuminating. Aquinas' preferred method of theological exposition, which is often considered to be dry and difficult, coupled with his immense influence on Catholic theology, gives him the not rare enough distinction of being both famous for his writings and rarely read or understood. In my opinion, when carefully read and rightly understood, Thomas Aquinas is a winsome and uncomplicated Christian thinker in his own right, and not an inexplicable of shibboleth of "manualist" or "traditionalist" or "anti-modernist" Catholicism. In what follows, I want to offer a glimpse of the simplicity of St. Thomas by way of some summary reflections upon the famous "Summas", i.e., his Summa Theologiae and Summa contra Gentiles, which are his best known and most representative writings.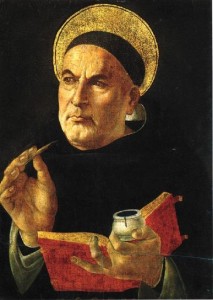 Thomas Aquinas is one of thirty-three Doctors of the Catholic Church. St. Thomas is further marked for distinction by Pope Leo XIII, who wrote that "he is rightly and deservedly esteemed the special bulwark and glory of the Catholic faith" (Aeterni Patris, 17). This recommendation notwithstanding, the Angelic Doctor has recently fallen upon hard times. Fergus Kerr's sometimes snarky epitome, Twentieth-Century Catholic Theologians (Malden, MA: Blackwell, 2007), could have been appropriately subtitled "The Escape from Thomism." It is surely no coincidence that the modern theologians' marked departure from "the special bulwark and glory of the Catholic faith" has been accompanied by some significant slippage from that faith within the ranks of Catholic academia. This is of course most unfortunate, but I am not here concerned to chart or specifically respond to recent developments in Catholic theology. I will only note, autobiographically, that in times of real spiritual and intellectual need, St. Thomas has indeed proven to be a bulwark against confusion and unbelief, while his modern detractors have been of minimal service in this regard.
Still, I can understand why not everyone finds St. Thomas easy to appreciate. One can become befuddled by the very table of contents to the Summas, much more the dialectic attention to detail in the bodies of those works. This was certainly my experience as a Protestant. What in the world are these books about? They are not exactly arranged like Evangelical textbooks in systematic theology, nor do they read anything like Bible commentaries, or even the Church fathers. In short, if one is not over-burdened with background in medieval theology and philosophy, the Summas can be a bit much. If you, like me have been reared on Evangelical (or some form of contemporary existentialist) theology, the long sections and sub-sections on acts, habits, virtues, and vices might seem to constitute a dull, misplaced, and potentially disastrous slide from theology (especially soteriology) into ethics. It can seem like the only distinctively Christian doctrines come at the end of both works, and are there marred (at least in Protestant eyes) by sacramentalism. So, Thomas Aquinas seemingly suffers from the worst of two worlds: dry and academic on one hand, superstitious and sacerdotal on the other–a sad wedding of philosophy and priestcraft.
Well, things are not as bad or as complicated or as hodgepodge as they might appear. Here is the content of the Summas, in a nutshell, which highlights the fundamental simplicity of St. Thomas:
1. God exists.
2. Human beings want to be happy.
3. These two facts are intimately related.
Herein lies a clue to the seemingly disproportionate space spent on human psychology (in an older sense of the word, which includes ethics and what we call "epistemology") in the Summas. Thomas is not particularly concerned with abstractions. He is concerned with real and practical things. Few realities are as practical to us humans as the facts that there are such things as human beings and these desire happiness. Aquinas, like everybody else, knows that people want to be happy. But he also wants to know:
1. Why is there such a thing as man, who desires happiness?
2. What sort of thing is man, and in what does his happiness consist?
3. What hope is there for man to find happiness?
The first question leads St. Thomas to consider the existence, nature, and acts of God. The second question leads him to consider human psychology. The third question leads him to Christ, who is fully God and fully human. Both Summas cover roughly the same ground: God, creation, angels, man, law and grace, Incarnation, sacraments, last things. The main difference between them is that the Summa Theologiae was written for beginners (!) in the study of theology (see the prologue) while the Summa contra Gentiles is a sort of apologetics manual with an emphasis on religious epistemology. (Perusing the outlines provided below, you will notice that the Summa Theologiae features more analysis of habits, virtues (both cardinal and theological) and vices than does the Summa contra Gentiles. The latter work has more of an eschatological emphasis, focusing on final causality and the Beatific Vision.)
You might wonder, as I have, why there are no major sections in the Summas dedicated to Scripture ("bibliology") and the Church ("ecclesiology"). But this is easily understandable when we consider that, for St. Thomas, the Church, with her Sacred Scripture and Holy Tradition, is not primarily an object of speculation. Rather, divine revelation as interpreted by the Catholic Church is the lens by which St. Thomas sees. Aquinas is the most dogmatic of theologians operating in the simplest faith. This can be appreciated by perusing his unblushing appeals to authority by way of providing premises for his own arguments. But Aquinas is not simple-minded. His mental make-up prompts him to ask fundamental questions in a most thorough way. That is to say, St. Thomas was a philosopher as well as a theologian.
Most people are not philosophers. Many theologians are not philosophers. Some of these have not had the opportunity to become so, others are not so made. But some people are philosophers, by nature and training, and this is just to say that they think about fundamental things in a particularly thorough way. By "thorough" I do not mean "pagan" or "unbiblical" or "unbuttered toast." I mean thorough, and that is perfectly compatible with Christianity and the Bible and breakfast foods. St. Thomas is thorough in his consideration of things. That makes him kind of difficult for many of us, which is our problem, not his. This problem is susceptible of a simple, though time-consuming, solution: Tolle, lege.
Not everyone is called to study Aquinas, nor is anyone required to be a Thomist. But those who want to understand him can begin by reading his stuff. The Summa Theologiae and the Summa contra Gentiles are the best places to start. Both works are available online in English translation (links below). And the best way to start starting to read the Summas is by having some idea of what you are getting into. Among many fine introductory works, I particularly appreciate this book, which is heavy with primary texts and explanatory footnotes. G.K. Chesterton's biography of St. Thomas, like anything written by Chesterton, is also worthwhile, and very accessible (both materially, as being available for free online, and intellectually, as being written on a popular level).
St. Thomas was a Christian theologian and a mystic, which is really (traditionally) pretty much saying the same thing. People sometimes oppose Aquinas' published works to his famous mystical visions, but these are not really at odds. The visions are simply greater than the writings, as the Beatific Vision is greater than theological accounts of the Beatific Vision. May we all, with St. Thomas, be granted that Vision. In the meantime, we have access to the written works (and the prayers) of this particular Saint, which are so highly recommended by the Catholic Church.
ANALYTICAL INDEX OF THE SUMMA THEOLOGIAE AND SUMMA CONTRA GENTILES

The Summa Theologica is comprised of three main parts, the second being subdivided into two parts and a supplement being appended to the third part.
.
Sacred Doctrine  (1)
God  (2–43)
God's Existence (2)
God's Perfections (3–26)
Trinity (27–43)
Creation  (44–102)
Angels  (50–64)
Six Days  (65–74)
Man  (75–102)
Divine Government  (103–119)
Effects in Creation  (103–106)
Angelic Order  (107–114)
Corporeal Creatures / Man  (115-119)
.
First Part of the Second Part  (QQ. 1–114)
Human Acts  (1–48)
Happiness (1–5)
Voluntary and Involuntary Acts (6–48)
Habits  (49–89)
Habits (49–54)
Virtues (55–67)
Gifts (68–70)
Vices (71–89)
Law  (90–108)
Kinds of Law (90–97)
Old Law (98–105)
New Law (106–108)
Grace  (109–114)
Necessity  (109)
Nature, Cause, Effects  (110–113)
Merit  (114)
.
Second Part of the Second Part  (QQ. 1–189)
Theological Virtues  (1–46)
Faith (1–16)
Hope (17–22)
Charity (23–46)
Cardinal Virtues  (47–170)
Prudence (47–56)
Justice (57–122)
Fortitude (123–140)
Temperance (141–170)
Peculiar Gifts and States of Life  (171–189)
Gratuitous Graces (171–178)
Active and Contemplative Life (179–182)
Various States of Life (183–189)
.
Third Part  (QQ. 1–90)
Incarnation  (1–59)
Fitness (1)
Mode of Union (2–26)
Blessed Virgin (27–30)
Conception (31–34)
Life (35–45)
Passion (46–52)
Resurrection (53–56)
Ascension (57–59)
Sacraments  (60–90)
General (60–65)
Baptism (66–71)
Confirmation (72)
Eucharist (73–83)
Penance (84–90)
.
Supplement to the Third Part  (QQ. 1–99)
Sacraments, cont.  (1–68)
Penance, cont. (1–28)
Unction (29–33)
Order (34–40)
Matrimony (41–68)
Last Things  (69–99)
Intermediate State (69–74)
Resurrection (75–87)
Judgment (88–90)
Heaven and Hell (91–99)

The Summa contra Gentiles is divided into four books, the third book being subdivided into two parts.

Faith and Reason  (1–12)
Existence of God (13)
Properties of God (14–102)
Book Two: Creation  (Ch. 1–101)
God and Creation (1–45)
Intellectual Substance (46–55)
Intellectual Substance and Body (56–90)
Separate Substances (91–101)
Book Three: Providence  (Ch. 1–83)
God the End of All  (1–63)

Final Causality (1)
Teleology and Act (2–3)
Evil and Act (4–15)
God and Act (16–25)
Human Happiness (26–44)
Knowledge of Separate Substances (45–50)
The Beatific Vision (51–63)
God the Governor of All  (64–163)
Divine Providence (64–76)
Providence and Secondary Causes (77–82)
Hierarchy of Causes (83)
Book Three: Providence  (Ch. 84–163)
Causal Relations and Human Acts (84–113)
God's Law and Human Ends (114–146)
God's Grace and Human Happiness (147–163)
Book Four: Salvation  (Ch. 1–97)
Divine Revelation and Human Happiness (1)
Divine Generation (2–14)
Holy Spirit (15–25)
Trinity (26)
Incarnation (27–55)
Sacraments (56–78)
Last Things and Human Ends (79–97)