A Reply from a Romery Person
Oct 27th, 2009 | By
Bryan Cross
| Category:
Blog Posts
Last week as I was preparing to go out of town for a conference, I received an interview request from Michael Spencer (aka IMonk) regarding the recent announcement by the Vatican concerning the establishment of Personal Ordinariates. These Personal Ordinariates will allow former Anglicans to enter full communion with the Catholic Church while retaining distinctive elements of Anglican "spiritual and liturgical patrimony."1 Among other things, Michael mentioned that he wanted to ask me some questions pertaining to a post titled "All the Romery People" authored by someone named JDK on a blog titled Mockingbird. I hadn't yet received the interview questions from Michael, so on the flight back to St. Louis, I wrote the following comments in response to JDK's "All the Romery People."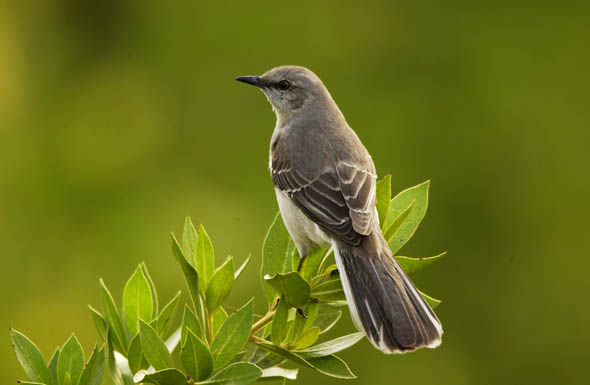 Mimus polyglottos (Northern Mockingbird)
In the beginning of the post, JDK talks about his earlier misunderstandings of Catholicism, and how those misunderstandings were corrected. Then he writes the following:
I was on my way to either swallowing the whole loaf and going Roman, or at least coming as close as possible by joining the more-socially-acceptable but consigned to limbo Anglo-Catholic fold. Then, one glorious and life-changing day, I heard the doctrine of Justification explained in historic law/gospel form, my heart was strangely warmed and well, now I know why I can never be the Catholic I almost was. This understanding–that the very heart of the Gospel is protected by a clear articulation of the doctrine of Justification by Grace alone through Faith alone … remains, IMNSHO, the only reason to not go to Rome.
In order to compare the Catholic doctrine of justification with the doctrine JDK presents, it is essential to understand the different theological and anthropological contexts in which these doctrines are situated. Otherwise the two doctrines are not fairly or accurately compared. In many cases, in my experience, people in both traditions misunderstand the other position, and end up caricaturizing it. In addition, in my opinion the Catholic doctrine is objectively more nuanced and complex than is the Protestant position, and so the Catholic doctrine is easier to misunderstand. Many Protestants, I think, understandably assume that the Catholic doctrine is as easy to understand as the Protestant position. As a result they tend to dismiss it without fully understanding it. From an ecumenical point of view, we don't want that to happen. To avoid that, we should be asking questions of each other to make sure we truly understand each other. That is because these are systematic differences, that is, paradigmatic differences, not just differences about particular doctrines but within the same theological paradigm. The Catholic doctrine of justification cannot fairly be understood or evaluated from within the Protestant paradigm, and vice versa. That doesn't mean that we must take some neutral point of view, a view-from-nowhere, in order to compare the two positions. But we must at least be able to see things accurately from both points of view, in order to compare the paradigms to each other.
What JDK refers to as the "historic law/gospel" doctrine of justification is found most explicitly in the Lutheran tradition. It sees the theological data through these two categories of law and gospel. Any sort of obligation on our part is placed in the category of law. And anything that Christ has done for us is placed in the category of gospel. Then the general rule relating the two categories is that the law convicts us, and leads us to trust in the gospel, specifically, to trust in Christ by trusting in what Christ has done for us. Everything regarding what we ought to do produces guilt, as we see ourselves always having fallen short of God's standard for how we are to live. That is the purpose of all prescriptions regarding what we ought to do, namely, to convict us of sin, and show us our need for Christ. If we had only the law, and not the gospel along with it, this would lead us to utter despair. But the message of Christianity is the message of what Christ has done for us, as understood against that background of seeing ourselves as always and utterly having fallen short of God's perfect law, and entirely unable to satisfy its demands. So in this Lutheran paradigm living the gospel involves continually responding to our law-provoked-guilt by turning for comfort and assurance to the gospel, to what Christ has done for us, and with child-like faith trusting that what He has done for us is sufficient for our salvation. The law/gospel dialectic is designed to point us to trust continually in what Christ has done for us, and never to trust in anything we have done or are doing for our salvation. In this way, our assurance is entirely in Christ, and not in ourselves.
That's the Lutheran paradigm in a nutshell. The Catholic paradigm is quite different. The fundamental problem in man, in Catholic soteriology, is the absence of sanctifying grace. Here at this point is a crucial distinction between Catholic and Protestant soteriology. In Protestant theology grace is primarily understood as divine favor, that is, an attitude or stance by God toward us. In Catholic soteriology, by contrast, grace is not merely divine favor, but is also and primarily the gift of "participation in the divine nature" (2 Peter 1:4) by which we have the supernatural virtues of faith, hope, and agape.2 Those three are called the three theological virtues, and the most important of those three is agape. Agape is not a natural virtue. It is not natural love, say of husband and wife, or parent and child, or friend to friend. Agape is a supernatural love, and therefore cannot be acquired by our own natural power. For example, we can train a child to be generous, that is, we can inculcate in a child the virtue (i.e. habit) of generosity. Generosity is a natural virtue, because by the power of our own nature we can acquire that virtue. But faith, hope, and agape are virtues that cannot be acquired merely by habituation or education. We cannot acquire them by the power of our own nature. They are above the capacity of our own nature to acquire, and that is why they are called supernatural virtues. For that reason, they are necessarily divine gifts.
In Catholic theology, if we do not have agape, then we do not have friendship with God. And if we die outside of friendship with God, then we cannot enter into heaven, which is eternal friendship with God. So in the Catholic paradigm, having agape is absolutely essential for salvation. Someone who believes in God, but does not have agape, is not a friend of God, and hence does not have salvation. So faith is necessary in order to have agape, but faith without agape is not sufficient for salvation. As I have argued elsewhere, the Bible does not definitively teach that we are justified by faith-without-agape; Catholics understand justification by faith to refer to justification by faith-informed-by-agape.
In the Lutheran paradigm, what is essential for justification and by itself sufficient for justification is faith. In the Catholic paradigm, what is essential for justification is agape, but in this present life one cannot have agape without having faith and hope.3 Therefore, in the Catholic paradigm, only those persons are justified who have all three supernatural virtues: faith, hope and agape. And this is why from the Catholic point of view, the Lutheran position fails to recognize the necessity of agape for justification. This is precisely why Pope Benedict said in November of last year:
"For this reason Luther's phrase: "faith alone" is true, if it is not opposed to faith in charity, in love."4
This difference (between justification by faith alone, and justification by faith-informed-by-agape) has significant implications.5 In the Lutheran paradigm, our sins were imputed to Christ, such that on the cross He bore God's wrath for our sins, and at the moment we believe the gospel, Christ's righteousness is imputed to us (i.e. 'transferred to our account'). The problem is that our account is in the negative; without imputation we owe a debt of punishment and have no righteousness in our account. In the Catholic paradigm, the accounting issue is the secondary problem, deriving from the primary problem, which is the absence of sanctifying grace and agape. So long as we lack sanctifying grace and agape, we continually contribute to the debt of eternal punishment. So only by acquiring sanctifying grace and agape can we come into a state of no longer requiring eternal punishment.
In Catholic theology, on the cross Christ in His human nature bore the curse of death, and by His obedience in His human nature, He offered Himself to the Father as a sacrificial gift of love. In this way He gave to the Father something far more pleasing than all our sins were displeasing to the Father. In this way He in His human nature merited from the Father the gift of grace for all men. This is how our debt was paid, not by Christ bearing the wrath of the Father, but by offering Himself up in love to His Father and so meriting for us the gift of grace. We need grace to enter heaven because heaven is a supernatural end. We cannot attain a supernatural end by our own nature because a thing can act only in proportion to its own nature. But through His Passion Christ merited for all men the gift of grace, i.e. the gift of participation in the divine nature. And Christ established means by which we receive this grace; these means are the sacraments. Through baptism we are reborn, that is, we receive sanctifying grace, i.e. the life of God, participation in the divine nature. And through the Eucharist we grow in sanctifying grace, and in agape.
That's a rough sketch of the differences between the law-gospel position on justification presented by JDK, and the Catholic position on justification. JDK then refers to Canon 12 of the Sixth Session of the Council of Trent, a canon which, (apparently) in his mind anathematized the gospel. Canon 12 reads:
Canon 12: "If any one shall say that justifying faith is nothing else than confidence in the divine mercy pardoning sins for Christ's sake, or that it is that confidence alone by which we are justified … let him be anathema."
Given what I have just said above, it should be clear why in this canon the Council of Trent condemned the notion that justifying faith "is nothing else than confidence in the divine mercy pardoning sins for Christ's sake." The reason is that confidence does not necessarily include agape, and nobody can be justified without having agape, i.e. without becoming a friend of God. Therefore, it follows that confidence, even if directed toward God's mercy, is not sufficient for salvation.
JDK similarly cites Canon 4:
Canon 4: "If anyone says that man's free will moved and aroused by God, by assenting to God's call and action, in no way cooperates toward disposing and preparing itself to obtain the grace of justification. . . let him be anathema."
The Catholic understanding is that to be "dead in sins" is to be without the life of God, i.e without sanctifying grace. That is what it means to be unregenerate. Since the fall of Adam, all human beings are born into the world without the life of God, i.e. without sanctifying grace and without agape. We call this privation of the life of God, "original sin." Without sanctifying grace we still have a functioning intellect and a will. But we cannot love God with supernatural love (i.e. agape) because agape is present in us only if we have sanctifying grace, i.e. a participation in the divine life. So, without sanctifying grace we can know God as Creator simply by the things He has made, and we can have natural virtues. But we cannot know God as Father, and have faith, hope, and agape. Without agape, we cannot have friendship with God as Father. So without sanctifying grace, we cannot enter into heaven. According to Catholic doctrine, the unregenerate man cannot do things ordered to a supernatural end (i.e. heaven) because he is not a participant in the divine nature. Since he only has human nature, which is natural, he can only achieve a natural end. But heaven is a supernatural end. Hence, without sanctifying grace he cannot attain to a supernatural end.
According to the Catholic position, for those in the unregenerate condition, God must act first without us, in giving us grace, before we can freely move toward Him. (Otherwise we'd be semi-Pelagian, if we believed that we, without His grace, acted first toward Him as our supernatural end.) But our privation of the life of God does not require that we must be "regenerated" before we freely move toward Him. Catholic doctrine makes a distinction here between two forms of grace. One form, called 'actual grace,' is the grace by which God moves our hearts and minds. The other form, called 'sanctifying grace,' is that participation in the divine nature by which we are sanctified in our very soul and made sons of God. In Catholic theology regeneration means receiving sanctifying grace. A person who is moved by actual grace, but has not yet received sanctifying grace, is not yet regenerated. And in Catholic theology sanctifying grace comes through the sacrament of baptism, though it can (while still coming through the sacrament of baptism) precede the reception of that sacrament. But, in Catholic theology actual grace comes to us before regeneration, and actual grace first acts as operative grace (in which God moves us without us), and then by our participation actual grace acts as cooperative grace (God moving us with us), leading us to faith and baptism by which we receive sanctifying grace, and are thereby justified.
Lutheran and Reformed theology generally do not make the distinction between actual grace and sanctifying grace. They tend to maintain that a person cannot do anything until he is alive. And therefore regeneration is required in order for a person to cooperate. Hence, what Catholic theology refers to as 'actual grace' drops out of Reformed and Lutheran theology as something that precedes regeneration. Since Catholic theology understands 'dead in sins' as meaning the absence of divine life, but not the loss of intellect and will, therefore, Catholic theology does not need to maintain that regeneration must precede cooperation, because a person without sanctifying grace (i.e. without the life of God) may still by his intellect and will cooperate with actual grace.
JDK then quotes Canon 5:
Canon 5: "If anyone says that after the sin of Adam man's free will was lost and destroyed. . . let him be anathema."
This canon has to do with what happened to man at the Fall. In Lutheran theology man's very nature was damaged, and his intellect and will were radically corrupted. In Catholic theology, at the Fall man lost sanctifying grace, lost agape, lost the four preternatural gifts, and suffered the four wounds of nature. Among those wounds of nature were ignorance in the intellect, and malice in the will. Each of man's powers was wounded, though not destroyed, but man's nature was not destroyed. We were human before the Fall, and we remain human after the Fall. (I have discussed this in more detail here.) But this canon need not separate Catholics and Protestants. Both Protestants and Catholics can agree that man after the Fall is incapable of turning to God, unless God first acts in us without us. We all agree that semi-Pelagianism is a heresy, so the objection to semi-Pelagianism need not be a point of contention between us.
JDK then refers to Article XI of the Thirty-Nine Articles:
Article XI: Of the Justification of Man

"We are accounted righteous before God, only for the merit of our Lord and Saviour Jesus Christ by Faith, and not for our own works or deservings: Wherefore, that we are justified by Faith only is a most wholesome Doctrine, and very full of comfort."
Regarding this article, the Anglican position presents us with an either/or: Either we are "accounted righteous before God only for the merits of our Lord and Saviour Jesus Christ" or we are accounted righteous only "for our own works or deservings." But the Catholic position sees this as a false dichotomy. Prior to the Fall, Adam and Eve were in friendship with God. They walked with God in the cool of the day. And their friendship with God shows that they had agape, and thus that they had sanctifying grace. Had they obeyed God faithfully, then because they were participants in the divine nature, their acts of obedience to God would have merited on the supernatural level, and hence merited a supernatural end. That is how they would have merited heaven. In the Catholic position, Christ by His Passion has merited sanctifying grace for us, so that by receiving that grace through the sacraments He established, we are, in this respect, restored to the state of Adam and Eve. Unlike Adam and Eve, however, we lack what is called the gift of integrity, and so our lower appetites suffer from inordinate dispositions. We also lack the prenatural gift of immortality, and so our bodies are not perfectly subject to our souls; this is why we now suffer physical death. But by the merits of Christ we have received sanctifying grace through the sacraments (and thus been made participants in the divine nature). Hence now, like Adam and Eve, our acts motivated by agape are meritorious toward a supernatural end, because by our participation in the divine nature, our acts are proportionate to the supernatural end which is heaven.
Does this mean we must work our way to heaven? Not exactly. For example, baptized babies who die in infancy do no work, but yet through their baptism they are made partakers of the divine nature, and possess the infused supernatural virtues of faith, hope, and agape. Because they have agape, they die in a state of friendship with God, and hence enter into heaven. The problematic word in the phrase "must we work our way to heaven?" is 'must.' In the Catholic paradigm, the opportunity to participate in our salvation is a gracious gift of God. By this gift we have the opportunity in this life to give ourselves in sacrificial love to Christ in actions that have eternal consequences. Because of this gift, we have the unfathomable privilege of participating in Christ's work of bringing salvation to all the world, and participating in our own salvation. (Philippians 2:12) God could have created us all already in the beatified state in heaven. But He did not do that, because He gives us a greater dignity by letting us participate in His divine work of salvation, both in the lives of others and in our own life. By giving us this additional gift of allowing us to participate in a divine activity, He is more greatly glorified.
JDK then quotes the last paragraph of the Homily on Justification:
"Hitherto have we heard what we are of our selves: very sinful, wretched, and damnable. Again, wee have heard how that of our selves, and by our selves, wee are not able either to think a good thought, or work a good deed, so that wee can find in our selves no hope of salvation, but rather whatsoever maketh unto our destruction. Again, we have heard the tender kindness and great mercy of GOD the Father towards us, and how beneficial he is to us for Christ's sake, without our merits or deserts, even of his own sheer mercy & tender goodness."
Regarding the paragraph from the homily on justification, what needs to be distinguished are good deeds done in agape, and good deeds done without agape. Can a pagan be generous to his children? Sure. Is that a good deed? Yes, but if it is not done in agape, i.e. out of supernatural love for God, then it is of no benefit to him with respect to getting to heaven. So the pagan's act of generosity is good in one respect (i.e. in the natural order), but it is not ordered to a supernatural end (i.e. heaven). If the good that we are unable to do, referred to in the paragraph from the "Homily on Justification," is good done out of agape, then the statement is in agreement with Catholic doctrine. But if it means that even on the natural order a pagan can do no good deed, then this statement would not be in keeping with Catholic doctrine.
Lastly, JDK writes:
"The condition of Man after the fall of Adam is such, that he cannot turn and prepare himself, by his own natural strength and good works, to faith, and calling upon God: Wherefore we have no power to do good works pleasant and acceptable to God, without the grace of God by Christ preventing us, that we may have a good will, and working with us, when we have that good will."
A Catholic can agree with this, so long as we distinguish between actual grace (i.e. the grace whereby God moves us), and sanctifying grace (the grace that inheres in our soul, and heals our human nature wounded by sin by giving us a share in the divine life of the Trinity.) Without actual grace, we cannot turn and prepare ourselves, to faith and calling upon God. To claim that we could do so without actual grace would be at least semi-Pelagianism. But, with actual grace we can prepare ourselves for sanctifying grace, the grace we receive through the sacrament of regeneration, which is baptism. When we receive sanctifying grace we also receive agape, and when we receive agape we are made right with God, and hence justified.