St. Thomas Aquinas on Assurance of Salvation
Aug 3rd, 2009 | By
Andrew Preslar
| Category:
Blog Posts
It is not uncommon for people to suppose that one of the main differences between Protestantism and Catholicism is that according the former the believer can be assured of his salvation, while the latter denies that the faithful can enjoy assurance. But this is not the case. As a matter of fact, assurance of salvation is provided for in Catholic doctrine, as will be shown in this post. I will focus on Thomas Aquinas' analysis of the theological virtue of Hope, together with the closely related articles on Fear, Despair and Presumption. I will also briefly consider the Sixth Session of the Council of Trent, which is completely and (in my opinion) quite purposefully consistent with St. Thomas' position on hope and assurance. [1]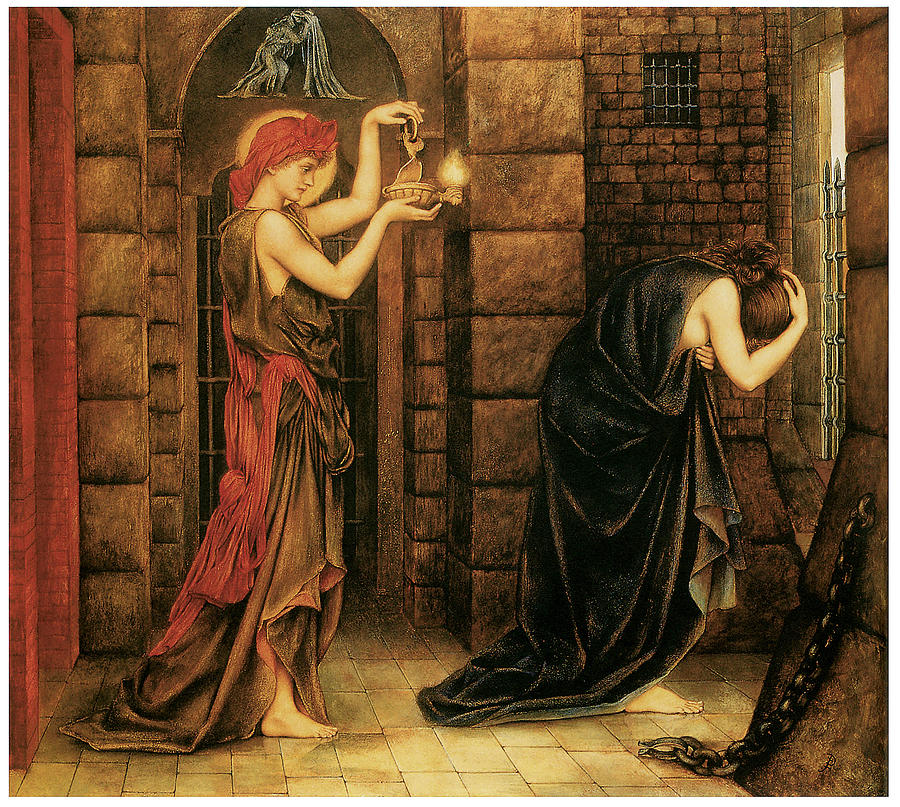 In his treatise on the theological virtue of hope, Aquinas clearly affirms that the hope of the "wayfarer" is certain. Here is the entirety of this remarkable article:
Whether there is certainty in the hope of a wayfarer?

Objection 1. It would seem that there is no certainty in the hope of a wayfarer. For hope resides in the will. But certainty pertains not to the will but to the intellect. Therefore there is no certainty in hope.

Objection 2. Further, hope is based on grace and merits, as stated above (Question 17, Article 1). Now it is impossible in this life to know for certain that we are in a state of grace, as stated above (I-II, 112, 5). Therefore there is no certainty in the hope of a wayfarer.

Objection 3. Further, there can be no certainty about that which may fail. Now many a hopeful wayfarer fails to obtain happiness. Therefore a wayfarer's hope has no certainty.

On the contrary, "Hope is the certain expectation of future happiness," as the Master states (Sent. iii, D, 26): and this may be gathered from 2 Timothy 1:12, "I know Whom I have believed, and I am certain that He is able to keep that which I have committed to Him."

I answer that, Certainty is found in a thing in two ways, essentially and by participation. It is found essentially in the cognitive power; by participation in whatever is moved infallibly to its end by the cognitive power. In this way we say that nature works with certainty, since it is moved by the Divine intellect which moves everything with certainty to its end. In this way too, the moral virtues are said to work with greater certainty than art, in as much as, like a second nature, they are moved to their acts by the reason: and thus too, hope tends to its end with certainty, as though sharing in the certainty of faith which is in the cognitive faculty. This suffices for the Reply to the First Objection.

Reply to Objection 2. Hope does not trust chiefly in grace already received, but in God's omnipotence and mercy, whereby even he that has not grace, can obtain it, so as to come to eternal life. Now whoever has faith is certain of God's omnipotence and mercy.

Reply to Objection 3. That some who have hope fail to obtain happiness, is due to a fault of the free will in placing the obstacle of sin, but not to any deficiency in God's power or mercy, in which hope places its trust. Hence this does not prejudice the certainty of hope. [2]
Furthermore, the object of this certain hope is nothing less than eternal happiness:
As stated above (Article 1), the hope of which we speak now, attains God by leaning on His help in order to obtain the hoped for good. Now an effect must be proportionate to its cause. Wherefore the good which we ought to hope for from God properly and chiefly is the infinite good, which is proportionate to the power of our divine helper, since it belongs to an infinite power to lead anyone to an infinite good. Such a good is eternal life, which consists in the enjoyment of God Himself. For we should hope from Him for nothing less than Himself, since His goodness, whereby He imparts good things to His creature, is no less than His Essence. Therefore the proper and principal object of hope is eternal happiness. [3] 
Thomas Aquinas, the greatest and most representative Catholic theologian of all time, taught that we can enjoy certainty of eternal life. I was an Evangelical Protestant seminarian when I first read this bit of the Summa. I must confess that finding such a simple and unabashed affirmation of assurance from such a source took me by complete surprise. After all, assurance of salvation was supposed to be a Protestant thing, one of the really big benefits of not being Catholic. It is true that Aquinas teaches, in language echoed by Trent, that one cannot know with "indubitable knowledge" that he is either in a state of grace or among those predestined to glory. Furthermore, he insists that we should fear the possibility of falling away from God, and that many a hopeful wayfarer does indeed fall away. St. Thomas goes on to argue, however, that certain kinds of fear are not intrinsically evil, that the fear of losing God's friendship (filial fear) is in fact a good kind of fear, and that this fear is completely consistent with the assurance of hope. [4]
Hope, according to Aquinas, proceeds from faith in the mercy and omnipotence of God, who wills all men to be saved. [5] Filial fear is based upon an awareness of the possibility that we can choose to reject God's friendship. [6] However, the certainty of hope is not opposed to such fear, but to despair. Therefore, unless we despair of our own salvation (and to do so is a mortal sin), we can and should live in hope. In hope, we enjoy the assurance that we will receive all the help necessary to attain final salvation. Thus, hope does not only look to the end to be obtained (final salvation/eternal happiness), in which case it would be indistinguishable from fortitude, but also to the present divine help by which we are enabled to obtain that end. In other words, there is an immediate as well as an eschatological aspect to hope. Those who faithfully receive the divine promises are to rejoice in the assurance of eternal life as a work that God has already begun in us and which he will bring to completion on the Day of Judgment. [7]
Catholics believe that the seven sacraments of grace are the principle means by which we receive the promises of God in Christ Jesus and are enabled to obtain eternal life. Neal Judisch has recently pointed out the advantages of sacramental assurance over the typical Evangelical/Reformed construct of "reflexive" assurance. In the first half of the article, Neal addresses the content of assurance, distinguishing between the various things, with respect to their own salvation, that Christians claim to be certain about. He then considers the grounds of assurance, suggesting that assurance is better grounded upon the objective criteria of the sacraments (he focuses upon Baptism) than upon the subjective criterion of one's own faith.
Concerning the role of the sacraments in our salvation, Aquinas writes:
Since, however, the death of Christ is, so to say, the universal cause of human salvation, and since a universal cause must be applied singly to each of its effects, it was necessary to show men some remedies through which the benefit of Christ's death could somehow be conjoined to them. It is of this sort, of course, that the sacraments of the Church are said to be. [8]
Since sacraments conjoin us to Christ's Passion, which is the "universal cause of human salvation," it stands to reason that they are a proximate source of assurance. When directly addressing the question of assurance, however, St. Thomas simply appeals to the ultimate source of assurance: God's omnipotence and mercy. This leads him to make that most interesting affirmation about the certainty of hope:
Hope does not trust chiefly in grace already received, but on God's omnipotence and mercy, whereby even he that has not grace, can obtain it, so as to come to eternal life. Now whoever has faith is certain of God's omnipotence and mercy. [9]
St. Thomas here affirms the necessity of sanctifying grace, which makes us holy, and enables us to do works pleasing unto God for salvation. One must "obtain it, so as to come to eternal life." However, for Aquinas, it is not "grace already received," but "God's omnipotence and mercy" that is the object of faith by which we arrive at the certainty of hope. Although he need not arrive at any definitive conclusions about his own interior disposition towards salvation (i.e. whether he is in a state of grace), the man who looks to God in hope must not presume that reconciliation with God does not include being translated into a state of grace, whereby we are cleansed from our sins and enabled to do good works.
To be truly assured of salvation, one must desire that salvation which God promises to give, which essentially includes withdrawal from sin and service to God. [10] St. Thomas equates a presumptive hope–one that desires an antinominian form of salvation–with "the sin against the Holy Spirit." [11] Unlike genuine hope, presumption is contrary to the intellectual virtue of faith:
Moreover [presumption] is conformed to a false intellect, just as despair is: for just as it is false that God does not pardon the repentant, or that He does not turn sinners to repentance, so is it false that He grants forgiveness to those who persevere in their sins, and that He gives glory to those who cease from good works: and it is to this estimate that the movement of presumption is conformed. [12]
Therefore, St. Thomas' claim that the assurance of hope is not founded upon "trust … in grace already received" ought not be taken to mean that sanctifying grace and good works are not necessary for salvation. Clearly, they are. And just as clearly, they are not the object of hope by which we enjoy assurance of salvation.
What, then, is the relation between the assurance of hope and the possession of sanctifying grace with the virtue of charity (which is the principle of good works)? I will attempt a brief answer with reference to the three theological virtues:
Faith that gives rise to the assurance of hope is focused upon God, not (primarily) upon the subject who has faith, nor upon any condition of that subject (e.g., being in a state of grace). God as revealed in Christ Jesus is the object of saving faith. Thus, hope does not trust chiefly in grace already received, but in the promise of grace. Hope, in this God-oriented sense, disposes the believer to love God. When a man turns to God in desire for and expectation of the good that God actually promises to give, the good that he seeks to enjoy is God himself, which good is an end in itself. When one enjoys God as an end in himself, he is in a state of sanctifying grace, which includes the gift of charity. This is a foretaste of eternal happiness. Even though the object of hope is not sanctifying grace, nor inhering charity, the exercise of hope subjectively tends towards such grace and charity, since it tends towards God in his offer of eternal friendship. [13]
God is love. Charity begins with God, and is poured into our hearts by the Holy Spirit of God when we turn to him in repentance and faith. Through faith, hope finds assurance in the love of God as it is expressed "for me" in the promise of the Gospel. The love of God poured out in our hearts, i.e., sanctifying grace, including the gift of charity, is not the proper object of hope, but it is objectively related to hope in that the love of God poured into our hearts is the Holy Spirit in us, the same Spirit who, as the third person of the omnipotent and omnibenevolent Holy Trinity, is the object of our hope.
If we keep in mind the distinction between God for me (the object of hope) and God in me (sanctifying grace, the gift of the Holy Spirit, infused charity), we can better understand how St. Thomas can unequivocally affirm both full assurance of eternal life while denying that one can know, with the full certainty of faith, that he is in a state of grace. Simply speaking, the state of one's own soul is not the direct object of the assurance of hope. God is. We look to God in the hope that he will do a good work in us, as he has promised. That hope does not disappoint, for God is merciful and powerful on our behalf. Faith is the beginning of hope, hope is the beginning of charity, and charity perfects faith and hope by directing them to their goal, which is eternal happiness in friendship with God. [14]
Thus, the hope that looks to God for the good that God actually offers is a hope that is tending towards the virtue of charity but not focused on the virtue of charity (or any other inherent quality or virtue), precisely because it is focused on charity as embodied in Christ and offered by God in the promised gift of the Holy Spirit.
The Council of Trent is quite compatible with St Thomas' teaching on this point. Trent is sometimes taken as the "anti-assurance" Council because it teaches that one cannot know with the certainty of faith that he is in a state of grace or has been given the gift of final perseverance. But this is just to say that no quality in ourselves is the object of faith by which we come to the assurance of hope. This is identical to the teaching of St. Thomas, who affirmed the certainty of hope. I conclude with the following affirmation of the Council of Trent, which, it seems to me, strikes a definite Thomistic note:
Now, they [the adults] are disposed to that justice when, aroused and aided by divine grace, receiving faith by hearing, they are moved freely toward God, believing to be true what has been divinely revealed and promised, especially that the sinner is justified by God by his grace, through the redemption that is in Christ Jesus; and when, understanding themselves to be sinners, they, by turning themselves from the fear of divine justice, by which they are salutarily aroused, to consider the mercy of God, are raised to hope, trusting that God will be propitious to them for Christ's sake; and they begin to love Him as the fountain of all justice, and on that account are moved against sin by a certain hatred and detestation, that is, by that repentance that must be performed before baptism; finally, when they resolve to receive baptism, to begin a new life and to keep the commandments of God. [15]
______________
[1] I must note at the outset that my thinking on this topic has been stimulated by Fr. Stephen Pfurtner's insightful contribution to ecumenical theology, Luther and Aquinas on Salvation (New York: Sheed and Ward, 1964). For an overview of Thomistic soteriology, as well as an analysis of the influence of St. Thomas on the Council of Trent, see Bryan Cross's series of articles at Called to Communion, Aquinas and Trent, Parts 1–7, beginning with this article.
[2] Summa theologiae, II-II, q. 18, a. 4.
[3] Ibid., II-II, q. 17, a. 2.
[4] Ibid., II-II, q. 19.
[5] Ibid., II-II, q. 18, a. 4.
[6] Ibid., II-II, q. 19, a. 9.
[7] Philippians 1:6;  2 Timothy 1:12
[8] Summa contra Gentiles, trans. Charles J. O'Neil (Garden City, NY: Image Books, 1957), 4:56, 1.
[9] Summa theologiae, II-II, q. 18, a. 4.
[10] Acts 26:20
[11] Summa theologiae, II-II, q. 21, a. 1.
[12] Ibid., II-II, q. 21, a. 2.
[13] Ibid., II-II, q. 23, a. 8.
[14] Ibid., II-II, q. 17, a. 8.
[15] The Council of Trent, Session VI, Chapter 6.