Magical Sacraments in Elfland
Aug 16th, 2009 | By
Tim A. Troutman
| Category:
Blog Posts
Someone recently remarked that sacramentalism was a medieval corruption of authentic Christianity. Perhaps the early Christians were cold rationalists, unswayed by superstitious notions that God had created a magical world. God's world acted strictly according to scientific laws He had put in place and to suggest otherwise amounted the high treason of believing in magic.
Along these lines, magic seems to be distinguished from miracle in this way: that if a mortal man is able, or thinks he is able, to invoke a higher power (even God's) by a rite or incantation, then he is guilty of magic. It is dissimilar from prayer because prayer is a request and it might be rejected, but magic is a demand, a mechanical operation with certain effects. This cannot be admitted.
But what if God has promised to do x if we do y? That is exactly what the sacraments are. Is it magic? I don't know. Peter Pan has to think happy thoughts in order to fly. Sure, fairy dust is involved but the flying doesn't happen unless he thinks happy thoughts.   In fact, maybe fairy dust is just an "outward sign" of the "inward reality" of a happy thought.  I don't think it sounds any more magical to say that a man can think happy thoughts and go to Neverland than to say that he can believe in Christ and go to heaven. It is no more superstitious to say that "baptism saves you"1 than it is to say that faith does.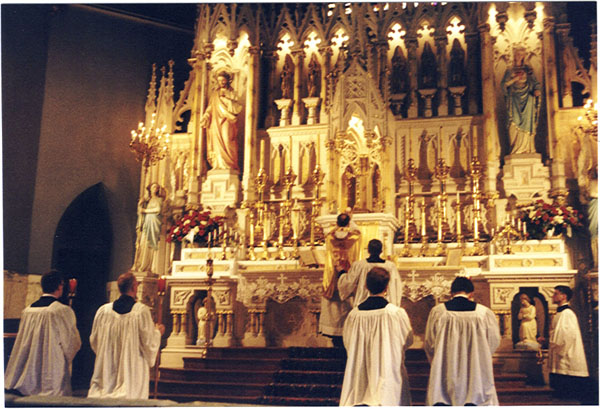 The "enlightened" medieval peasant may mock the Catholic mass and its silly "hocus pocus" non sense. But the words he mocks aren't the words of the Church; they are the words of Christ.2 And he will object saying that 'it isn't the words I object to, but the meaning falsely ascribed to them'. But in the end he only has the words themselves to use in his mockery. He objects not so much that we use the words, but that we have fallen into the trap of believing them.
Well I, for one, believe them, and I have to confess that I also believe in magic. Chesterton wrote a masterful chapter in his book "Orthodoxy" called "The Ethics of Elfland" which proves all this, in my mind, beyond any reasonable doubt. I also admit that, while I thought the premise was clever at my first exposure to it, as a Calvinist I didn't like it. Now I think I know why. This whole fairyland business rubbed my skeptic fur the wrong way. Now I would never have called myself a skeptic, but I've come to understand skepticism by this simple definition: "the art of disbelieving in magic."
It is, in fact, the skeptic, the rationalist, the materialist who is "soaked up and swept away" by mere associations. He is the true sentimentalist that thinks that there is some real connection between flying and laying eggs. Or that because God has always been observed to precede event B with event A, that there must be a necessary causal connection between them. We take it for granted that in space, large objects attract small objects when in fact, it makes just as much sense to think that they might repel them or that small objects would attract larger ones. The world, as it is, ought always remind us of the fact that it might easily have been otherwise.
Children are nature's greatest proof of this. For a child of seven, Chesterton tells us, is excited by fairy tales. And a child of three is excited by tales. A seven year old is excited to hear that Tommy opened the door and saw a dragon, but a three year old is excited to hear that Tommy opened a door. In fairy tales, rivers run with wine only to remind us for one wild moment that they run with water. The rationalist, that is, the enlightened medieval peasant, thinks that trees produce fruit because God wound up the clock of the universe and set it in motion with autonomous natural laws that cannot be challenged. But the old Catholic mystic knows, as Chesterton does, that the tree produces fruit because it is a magic tree and that water flows downhill because it is bewitched.
We Catholics have believed in magic ever since Jesus walked on water, and maybe even before that. But we don't believe that the walking was magic. On the contrary, the extraordinary thing was that on that momentous night, a Man was shown to be more powerful than the magic of nature itself. Nature's spell had no authority over Him. If the sea had opened up and swallowed Him whole, that would have been magic. A miracle (sign) is that incomprehensible display of power when the Enchanter shows His authority over that which He had enchanted.
So when the Triune God steps into the world of men at the pinnacle of the sacred liturgy which He Himself instituted, and when the priest, by a sacramental formula, repeats the very words first spoken by the Master, "Hoc est enim corpus meum", the ordinary spell which causes bread to continue being bread is broken, and some new and greater magic happens.
The rationalist lives in an cold, superstitious world that disbelieves in magic by calling it science. He thinks that if a spell is enduring, then it can't be a spell at all. I am not frightened by the word "magic", and charges of superstition coming from a sentimentalist "soaked up and swept away" by associations hold little weight.
Yes, I believe that God created a world every bit as magical and mysterious as our most bizarre fantasy. I don't know of any stranger thing yet imagined by man than a chicken laying an egg. It is a boring rationalism that kills the natural wonder we are given at birth. The sad state of the skeptic is that he is living in a magical world and is so superstitious and caught up in materialism, that he has convinced himself that this magic is normal. I find it impossible to believe that the modern American dualist who thinks that the body is "only temporary" and that prayer is as naturally efficacious in a bar as in a Church is less superstitious than the Catholic who thinks that he has to touch the magical statue to get healed or that holy water is better than tap water for warding off demons.
Naturally, I don't see any superstition at all in believing that the baptism for "forgiveness of sins"3 actually forgives sins. What I find superstitious is that mystical rite, common to many Presbyterians, always performed before any sacrament, explaining that there is no magic involved. I.e. that nothing is happening. That is mysticism. That is sentimentalism. That is superstition.
1 Peter 3:21 [↩]
'hoc est enim corpus meum'  is the origin of the phrase "hocus pocus" and is the Latin translation of Christ's words in Matthew 26:26 [↩]
Mark 1:4 [↩]