The Gospel and the Meaning of Life
Jul 15th, 2009 | By
Bryan Cross
| Category:
Blog Posts
,
Featured Articles
When I was a child the gospel seemed to be something that merely floated on top of my human existence. I did not perceive it as going to the very heart of my existence. I knew that I was mortal, and from the Bible I understood that when I died I would go either to heaven or hell. Of course I did not want to go to hell; I preferred to go to heaven and be with God. Hence it was obvious to me then that I should "ask Jesus into my heart," which I did as a small child.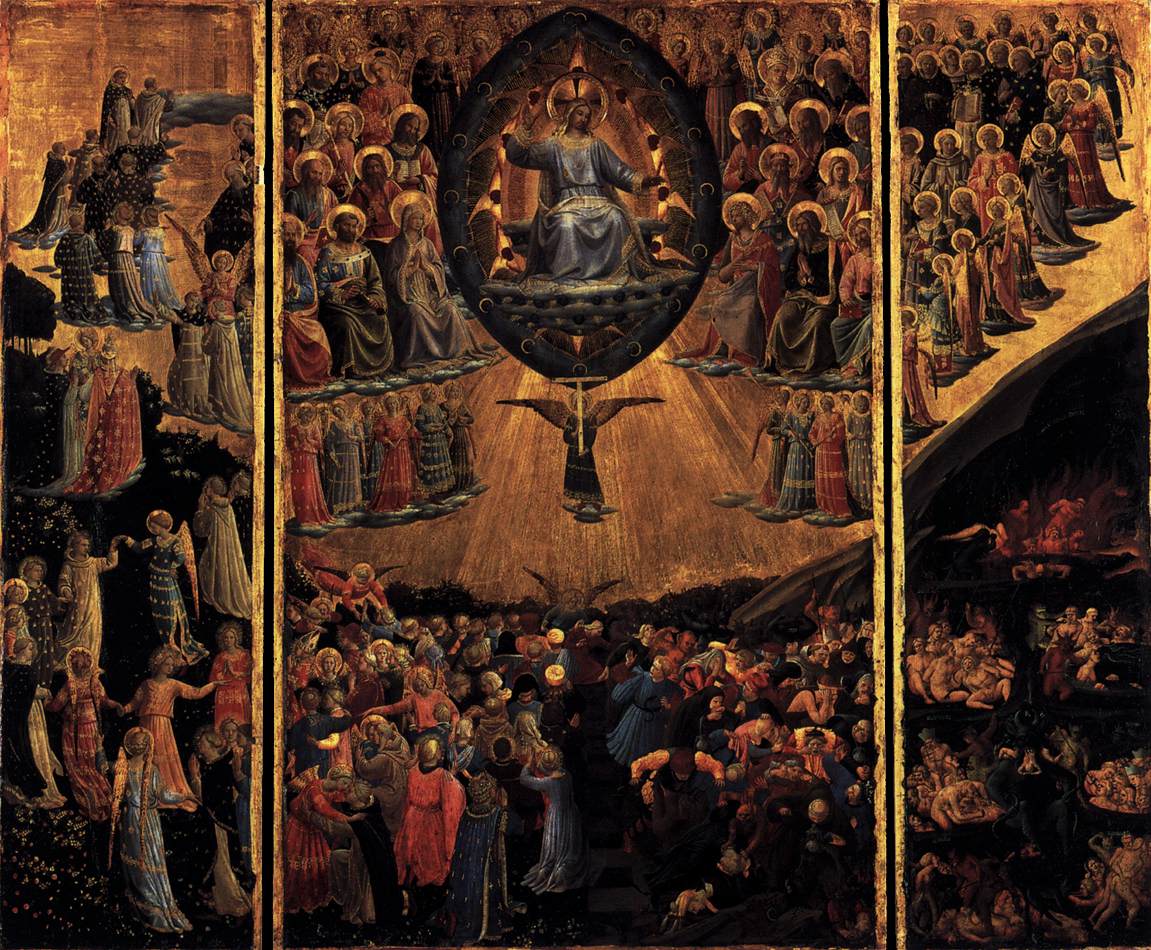 The Last Judgment (c. 1450)
Fra Angelico
Staatliche Museen, Berlin
But for many years I did not truly understand what Jesus and the gospel had to do with my present existence, in the day-to-day choices of this present life. Believing the gospel seemed to be something that mattered only as a necessary condition for determining where I would go in the life to come. The gospel seemed to be something like afterlife fire-insurance, a get-out-of-hell free card. We prudentially acquire life insurance, health insurance and home-owner's insurance. And because eternity is an infinitely long time, it makes good sense to get afterlife insurance. Later, I gradually came to understand that I had failed to understand the fundamental point of the gospel. I had treated the gospel as something only extrinsically related to my human existence, as something tacked on to my present existence, simply because the soul continues to exist after death. I did not understand that the gospel goes to the very heart of our human existence here and now.
So here I'm going to explain just that: how the gospel goes to the very heart of our human existence. If we do not know the answer to the question, "What is my ultimate purpose in life?" or "Why am I here?" or "Why do I exist?," then we do not truly understand the gospel. And we do not understand the gospel until we understand how it relates to that question. The gospel will then seem like "good news" to us only in an indirect sense, as relating only to our future state after death, but not directly relevant to the purpose of our present life, except as a present comfort in the face of that always near and yet ever-nearing event called death. But as I will show here, the question "What is the meaning of life?" is directly related to the gospel, as a precondition for understanding the gospel and the gospel's answer to that question.
I'll examine this question first without drawing from Sacred Scripture or Sacred Tradition. I'll address it simply from the natural light of reason. Then, I'll draw from Scripture and Tradition to build on the preliminary answer. I'm approaching the question in this way because of the principle that grace builds on nature and perfects it. In order therefore to understand what is of grace, we must first understand what is of nature. For that reason we cannot fully understand salvation without understanding what man is, and what is the nature and telos of the human heart.
The Question addressed by Natural Reason
Why are we here? Or more precisely, what is the purpose of our life? This is the question men and women of all times have asked. There is no more important question than this question. Why? Because the stakes are so high. Everything hangs on the answer to this question.
First consider the very question itself. When we ask this question: What is the meaning of our life?, what are we asking? We are asking a question about the big-picture of our life; we're asking about our overall purpose and the overall purpose and significance of our choices and actions. We recognize that the meaningfulness of our every day actions depends upon the answer to this big-picture question. If there were no overarching purpose, there would be no reason to do anything at all, even the smallest ordinary act. This is why people who lose sight of their overall purpose, fall into lethargy and despair, and say things like "I have no reason to live", and may even commit suicide. They recognize that the meaningfulness of our daily activities is entirely dependent upon there being a higher end.
Here is an example, from Bertrand Russell, who came to the conclusion that life is meaningless:
That man is the product of causes which had no prevision of the end they were achieving; that his origin, his growth, his hopes and fears, his loves and his beliefs, are but the outcome of accidental collocations of atoms; that no fire, no heroism, no intensity of thought and feeling, can preserve an individual life beyond the grave; that all the labours of the ages, all the devotion, all the inspiration, all the noonday brightness of human genius, are destined to extinction in the vast death of the solar system, and that the whole temple of Man's achievement must inevitably be buried beneath the debris of a universe in ruins — all these things, if not quite beyond dispute, are yet so nearly certain, that no philosophy which rejects them can hope to stand. Only within the scaffolding of these truths, only on the firm foundation of unyielding despair, can the soul's habitation henceforth be safely built.1
Notice that Russell is drawing his conclusion that our lives are meaningless by looking at what he thinks is the ultimate end. He thinks that since the ultimate end is the heat death of the universe, and since the universe will reach the same end no matter what we do, therefore nothing that we do ultimately matters. This is a valid argument, that is,  the conclusion follows from the premises. But it is not a sound argument; the first premise is not true.
Russell was mistaken about what our ultimate end is, but he was right that the meaningfulness of our actions and our lives depends upon the ultimate end. If our choices, our actions and our entire lives, made no enduring difference whatsoever in the final analysis, then our choices and our actions and our entire lives, would be meaningless. It would make no difference in the long-run whether we lived as saints or devils, heroes or criminals, devoted and faithful parents and spouses, or lazy and selfish hedonists. And if it did not matter in the long-run what we did or whether we did anything at all, there would be no reason for us to do anything at all, let alone live one way rather than another.2
Why is that? Because in everything we do, we act for an end. We cannot act without trying to attain some goal or end. But almost all these ends are intermediate ends, that is, they are for the sake of some higher end. Brushing our teeth, for example, is not our chief end in life. It is something we do in order to reach a higher end, health and hygiene. But even health and hygiene are not the highest goals of our life. They too are intermediate ends. Yet there cannot be an infinite regress of ends. It cannot be that we do x, so that we can attain y, so that we can attain z, so that …. [ad infinitum]. That is because we would never do anything at all unless we at least had some awareness of the final end toward which we are aimed and which we most deeply desire. But an infinite regress of ends would prevent us from being aware of any final end. So if there were an infinite series of ends, each related to another hierarchically, then we would never choose any intermediate end, and hence would never do anything at all.
But we do act purposefully; we do so every day. So there must be a final end. That is, there must be some highest end that we are seeking to attain, in all our actions and choices, and of which we are in some sense aware. If there were no highest end or highest goal, then we would have no reason to pursue any intermediate goal. And that is what explains why when a person loses sight of his overall purpose, he falls into despair and loses the motivation to go on living.
We refer to that highest end as true happiness, even though different people have difference conceptions of what constitutes it. So here I will consider the question: In what does our true happiness consist?
I can't get no satisfaction,
I can't get no satisfaction.
'Cause I try and I try and I try and I try.
I can't get no, I can't get no.
– Rolling Stones
In order to understand what constitutes our true happiness, we need to understand what kind of being we are, and especially what appetites we have, and how they are ordered in relation to each other, so that we know what our deepest desires are. As humans, we share something in common with all other humans, and that is our basic human nature. We all most deeply desire our fulfillment, the perfection of our human nature. No one most deeply desires the destruction of his own nature, or the ultimate imperfection or dissatisfaction of his own being.
In the broadest sense, we find within ourselves three appetites. We have an appetite for goods that can be sensed with our sense faculties: taste, smells, sights, sounds, sensations. We also have an appetite for goods that are acquired through difficulty, goods such as victory and accomplishments that are arduous and require discipline and sacrifice. And finally, we have a rational appetite. This is what is called the will. Our will is aimed at our overall good, not just some particular good. This is why the will directs the other appetites (saying yes or no), because although they are always aimed at some good, nevertheless many times they are not aimed at the overall good, and so in those cases we must say no to them.
So in what does our true happiness consist? One way to carry out this investigation is to use a process of elimination. In what does our true happiness not consist? Here I am drawing from Aquinas' arguments in Summa Theologiae I-II Q.2.
Our true happiness does not consist in wealth (or any accumulation of material goods: food, drink, clothing, cars, homes, money). Money is only for something else, not for its own sake. But the other goods (food, drink, etc.) are needed to sustain us. They exist for us. We do not exist for them. So they cannot be our reason for living. We eat and drink, and then we need to do so again. This is why Jesus said to the woman at the well, "Whoever drinks of this water will thirst again." (John 4:13) If we were non-rational animals, then we could be entirely satisfied by food and drink and other such material possessions. But because we have reason, we also have a deeper appetite for something more than material things. That is why a person who lives for wealth "can't get no satisfaction."
What about honor or fame? We receive due honor from others, on account of some excellence within us. So honor cannot be the end for which we live, because honor itself points to some excellence higher than itself. Likewise, regarding fame, the fact that many people know us and admire us cannot be the source of our true happiness, because it does not perfect us. To see this, it is sufficient to point to the examples of many famous persons who were by their own admission miserable and unfulfilled. Internal emptiness and imperfection is compatible with being widely known and loved by others.
What about power? Power cannot be our true happiness because a person can have power and yet use that power to destroy himself and others. Power is something we use to attain something else; it is not an end in itself. Therefore power cannot be that in which our true happiness consists.
What about health or bodily strength? These are goods, but man's perfect happiness does not consist in them, because man is not a non-rational animal. Our true happiness cannot therefore consist in the preservation of our body, or merely in the perfection of our body. The body is for the soul, not the soul for the body. We can see this by looking at moral examples. A person who sacrifices the integrity of his soul, to save his body, (e.g. the coward), has made the wrong choice, precisely because integrity of soul is greater than the life of his body. So therefore our true happiness cannot consist only in health or bodily excellence. Otherwise, no great athletes could fail to have true happiness. But many are not truly happy; they look for more to life than winning the next competition. And that becomes clearer to them as their bodies age. Either they resort to 'glory days' in which they live in the past, in a way that elicits pity from us, or they live vicariously through other [younger] athletes (again, eliciting pity), or they turn their focus to something of greater weight and significance.
What about pleasure? We are designed in such a way that pleasure naturally accompanies the attaining of a good. We eat a good meal, and we enjoy the pleasure that accompanies the eating. The pleasure of sexual intercourse accompanies the good of loving union with one's spouse and the great gift of procreation. But the pleasure is not the good, and should not be mistaken for the good. Pleasure accompanies the good. We do not merely desire the pleasures that accompany goods. Those who treat pleasure as the good, are to be pitied, because they have lost sight of the goods in which we rightly take pleasure. At least part of the pleasure we derive from goods is the joy of attaining those good; 'joy' without the good enjoyed is hollow and false. So our true happiness does not consist in mere pleasure without attaining the true good; that would be like seeking the joy of a celebration without the celebration, or the pleasure of a friendship without the friendship. We do not merely want the pleasure that accompanies the attaining of these things; we want more deeply the true goods that are accompanied by these pleasures. So our true happiness cannot consist in pleasure.
What about virtue or some good of the soul? Because we are distinct from all other animals, in that we have by nature the power of reason, we have a rational appetite, that is, we have an appetite belonging to reason. This is the appetite by which we want not just some particular good, but the good, the overall good. Non-rational animals can be satisfied by lesser goods, goods of the senses, health and pleasure and companionship. But a rational animal, simply because he is a rational animal, can never be truly satisfied or truly happy in anything less than the good, that in which all goods are found and no good is lacking. But any virtue or good within the soul is a limited or derived good, not the good. I may have the virtue of courage, but that good of courage in my soul will not be sufficient to give me true happiness. My true happiness then cannot consist in myself. None of us can be the ultimate source of our own perfect happiness, because we ourselves are not sufficient to satisfy our rational appetite.3 The rational appetite is naturally aimed at an end that lies beyond ourselves.4
Can our true happiness consist in any created thing? Aquinas writes:
It is impossible for any created good to constitute man's happiness. For happiness is the perfect good, which lulls the appetite altogether; else it would not be the last end, if something yet remained to be desired. Now the object of the will, i.e. of man's appetite, is the universal good; just as the object of the intellect is the universal true. Hence it is evident that nothing can lull man's will, save the universal good. This is to be found, not in any creature, but in God alone; because every creature has goodness by participation. Wherefore God alone can satisfy the will of man."5
When we carefully consider the nature and aim of our rational appetite, we find that it is ultimately aimed not any finite good or any limited perfection. It is ultimately aimed at the Good Itself, that perfect Good which lacks no goodness and in which are all goods and from which all other goods come. Simply put, our will is aimed at the divine. And this is how Satan was tempted, because he wanted to be God. And this is how Adam and Eve were tempted, because they wanted to be as God. The temptation they faced was not because of some egomaniacal psychotic aberration, some strange power-trip that we look at with a smirk and a chuckle. No, if we smirk and chuckle, it is probably because we don't know ourselves as well as they did. They were tempted to become divine because they, being rational creatures, possessed a rational appetite, as do we. We're all aimed at divinity, whether we know it or not. This is why nothing short of union with God will truly satisfy Mick Jagger, or anyone of us.
The Question as Addressed by Supernatural Revelation

With the revelation of Jesus Christ, we can say more about our true happiness and the meaning of this present life than we could examining the question on the evidence available to us by the natural light of reason. The Catholic Church believes and teaches that God made man to know Him, to love Him, and to serve Him in this life, and to enjoy the Beatific Vision of Him in the life to come.
God made man to be with Him in perfect happiness forever. This is what we call Heaven, or the Beatific Vision. The Beatific Vision is the perfection of our participation in the divine nature.6 It is eternal life. Eternal life does not mean mere perpetual existence; that in itself would be entirely unsatisfying. Eternal life means to participate in the very Life of the Eternal Triune God. It is the immediate [unmediated] knowledge of God, the intuitive face to face vision of the divine essence.7 To see God, who is all-perfect, and from whom all good thing come, entails that the deepest longing of our heart (i.e. our rational appetite) is perfectly satisfied. We cannot desire anything more than God, because there is not and cannot be any good that is not found in God.8 This is why the Beatific Vision, once possessed, cannot be lost. This is why the saints in heaven cannot sin. It is not because God binds up their will so they can no longer sin. Rather, by the greater light of divine goodness they are freed from the susceptibility to sin. Nothing can tempt them to turn away from God, because in the light of the Beatific Vision no created good even compares to God. This Beatific Vision is our final end, the purpose for which we were made. This is what Jesus is preparing for us, even now, for He says,
In My Father's house are many dwelling places; if it were not so, I would have told you; for I go to prepare a place for you. If I go and prepare a place for you, I will come again and receive you to Myself, that where I am, there you may be also. (John 14:2-3)
But that doesn't answer the question of why we are here, in this present life? Why didn't God just create us already in the Beatific Vision?
He could have done so. But God is Love. To enter into the Beatific Vision is not merely to observe something in a dispassionate way; it is to enter into an Eternal Community of the Three Divine Persons: Father, Son, and Holy Spirit. This Community is a Community of Persons, and so entering this Community is most fittingly done as a personal and mutual act, that is, a free act of love. God has made us free creatures, and given us the opportunity in this life to freely choose whether or not to love Him, and in that way to contribute to our own final state. This gift is an extra dignity, such as a parent gives to a teenager in letting him or her make self-determining choices.
God gave this dignity of participating in their own self-determination to Adam and Eve. He created them, and put them in the Garden. He gave them sanctifying grace (which is a participation in the divine nature), and many gifts, and commanded them not to eat of the tree of the knowledge of good and evil. They walked in friendship with God, but they did not yet have the Beatific Vision. God gave them an opportunity to merit the reward of eternal life, to choose to obey Him out of love, for which loving obedience He would have given to them the Beatific Vision as an eternal reward, just as the good angels were given the Beatific Vision as a reward for their obedience. Adam and Eve would never have suffered any disease and never died, but would have passed from Paradise to the Beatific Vision.
That still leaves the question: What does the meaning of life have to do with the gospel?
Adam and Eve, as we know, did not obey God. By their sin, they lost their participation in the divine life of God. They were banished from the Garden. God had said to Adam, "but from the tree of the knowledge of good and evil you shall not eat, for in the day that you eat from it you shall surely die." (Gen 2:17) But they did not die that they day, did they? They lived for many hundreds of years after that, according to the Scriptures. So did God make a mistake?
No. They did die on that very day, in the more important sense. They lost the life of God, i.e. sanctifying grace. We can see that they lost it by their reaction to God's approach. They ran away from God and hid. That is spiritual death, to lose the life of God, to lose fellowship and friendship with God, to run away from God and hide. That is real death, much more so than is physical death. Man's physical death, the Church teaches us, is a result of man's spiritual death. Death came into the world through sin.9 God did not make man to die physically or spiritually.
But the sin of Adam and Eve did not damn them to eternal separation from God. Humans and angels are not the same. An angel chooses once and for all, whether to love God or not. And from then on its will is eternally established. But a human being has a 'flexible' will during this present life, such that we can change our mind. Knowing this, God immediately began an effort to redeem Adam and Eve, mercifully seeking them out, teaching them how to sacrifice, clothing them, and graciously giving them grace to draw them to repentance and restore them to friendship with Himself.
And yet He left in them certain effects of sin, the disorder of their lower appetites, and the susceptibility of their bodies to suffering and death. Why did He do that? To help them see that their true end is not this world, and to give them an opportunity for greater merit.10 The greater the trial, the greater the merit of the obedience through that trial.
Through the sin of Adam we all are born in a state of what is called "original sin." That means that we are born deprived of the life and righteousness of God, darkened and separated from that for which we were originally made, i.e. fellowship with God. We are born without sanctifying grace.11
So how do we receive sanctifying grace? Through Baptism, and subsequently through the Eucharist and the other five sacraments. Why through the sacraments? Because Christ, by His atonement on the cross, has merited this grace for us, and has established the sacraments as the means by which His grace would be given to us, in His Mystical Body, the Church. That is why we baptize babies, for through baptism they receive the sanctifying grace (i.e. participation in the divine life) that was merited for them by Christ on the cross, and thus their original sin is removed. This grace which is the participation in the divine nature, is absolutely essential for us to attain the Beatific Vision.
The message of the gospel is that through the life, death, and resurrection of Christ, the way to the Beatific Vision is open to all, by the grace that is given to all who believe and are baptized. Through Christ, the purpose for which we were created and our final ultimate end (i.e. the Beatific Vision) is opened up to us as a gracious gift.12
And yet this present life remains for us. Why? If the Beatific Vision is that for which we were created and that which we seek, then why are we here now? For the very same reason that Adam and Eve were placed in the Garden. This present life is for us a period of testing. If this present life were not a period of testing, then there would be no reason for us to be here, rather than in Heaven.13 But grace perfects nature; grace does not destroy nature. And so the grace that comes to us from Christ does not rob us of the gift and opportunity to participate in freely choosing and contributing to our own eternal end. This is the same gift given to Adam and Eve, and it is not lost in the New Covenant established by the Second Adam. The grace that comes to us from Christ, through the sacraments He has instituted in the New Covenant, vivifies and strengthens us, enabling us to be victorious through the test, in the midst of the trials and temptations and sufferings of this life.
How exactly do we pass the test? What we will be for eternity is determined by the state of our soul at the moment of death. At death, every soul is immediately judged in what is called the particular judgment.
Each man receives his eternal retribution in his immortal soul at the very moment of his death, in a particular judgment that refers his life to Christ: either entrance into the blessedness of heaven-through a purification or immediately, — or immediate and everlasting damnation. (CCC 1022)
If we die in a state of mortal sin (deprived of sanctifying grace and love for God), we remain eternally deprived of the life of God. We descend into hell, "eternal death" (CCC 1056). This is not annihilation. We continue to exist in a state of misery and torment, separated from God forever:
Immediately after death the souls of those who die in a state of mortal sin descend into hell, where they suffer the punishments of hell, "eternal fire". The chief punishment of hell is eternal separation from God, in whom alone man can possess the life and happiness for which he was created and for which he longs. (CCC 1035)
The essence of hell is not a place. Hell is what gives significance and meaning to the choice to reject God. Hell is what happens to us and in us when we reject our ultimate purpose, when we turn against the telos knitted into the essence of our heart, turn away from God who is our perfect happiness, and turn to something other than God, whether ourselves or some other created thing, as our ultimate end and true joy.
The grace of the Gospel does not nullify the doctrine of the Judgment. This is why we cannot sneak into Heaven by hiding behind Christ and His righteousness. Grace perfects nature; it does not replace it or suppress it or nullify it. Christ does not take our place at the Final Judgment: He is the Judge.14 Consider carefully each of these passages from Scripture regarding our future judgment:
"And I say to you, that every careless word that men shall speak, they shall render account for it in the day of judgment." (Matthew 12:36)

"For the Son of Man is going to come in the glory of His Father with His angels; and will then recompense every man according to his deeds." (Matthew 16:27)

In Romans 2:6-8 St. Paul says that on the day of final judgment, God "will render to every man according to his deeds: to those who by perseverance in doing good seek for glory and honor and immortality, eternal life. But to those who are selfishly ambitious and do not obey the truth, but obey unrighteousness, wrath and indignation. There will be tribulation and distress for every soul of man who does evil, of the Jew first and also of the Greek, but glory and honor and peace to every man who does good, to the Jew first and also to the Greek."

"So then each one of us will give an account of himself to God" (Rom 14:12)

For we must all appear before the judgment seat of Christ, so that each one may be recompensed for his deeds in the body, according to what he has done, whether good or bad. (2 Cor 5:10)

"With good will render service, as to the Lord, and not to men, knowing that whatever good thing each one does, this he will receive back from the Lord, whether slave or free." (Eph 6:8)

"And if you address as Father the One who impartially judges according to each man's work, conduct yourselves in fear during the time of your stay upon earth." (1 Peter 1:17)

"By this, love is perfected with us, that we may have confidence in the day of judgment; because as He is, so also are we in this world." (1 John 4:17)

Jesus, speaking to the church at Thyatira, says, "And I will kill her children with pestilence; and all the churches will know that I am He who searches the minds and hearts; and I will give to each one of you according to your deeds." (Rev 2:23)

And I saw the dead, the great and the small, standing before the throne, and books were opened; and another book was opened, which is the book of life; and the dead were judged from the things which were written in the books, according to their deeds. And the sea gave up the dead which were in it, and death and Hades gave up the dead which were in them; and they were judged, every one of them according to their deeds." (Rev 20:12-13)

"[L]et the one who is righteous, still practice righteousness; and let the one who is holy, still keep himself holy. Behold, I am coming quickly, and My reward is with Me, to render to every man according to what he has done." (Rev 22:11-12)
Sanctifying grace is participation in the divine nature, and if we have this grace, we have love (i.e. charity) for God as Father, and love Him above all other things. The grace of Christ is that by which we may have confidence on the day of Judgment, because all those who die in a state of grace (i.e. in true friendship with God as Father), receive from Him the reward of eternal Life, i.e. the Beatific Vision of Himself. The Judgment is God's ultimate verdict concerning all that we have done, and concerning our fundamental choice for or against Him. So there are two respects in which we are judged. First, is our soul is a state of friendship with God? In other words, did we die in a state of grace? That separates the sheep from the goats, those who enter the Beatific Vision, and those who are eternally shut out from the Beatific Vision. There is another respect in which we are judged, and that has to do with degrees of blessedness or misery. According to the Church, the punishment of those in hell is proportioned to the evil of their deeds. Likewise, the reward of those in heaven is proportioned to the good of their deeds. According to the Council of Florence,
The souls of the perfectly just clearly behold the Triune and One God as He is, but corresponding to the difference of their merit, the one more perfectly than the other.
St. Paul shows us this same principle:
"And every man shall receive his own reward , according to his own labor." (1 Cor 3:8)

"He who sows sparingly shall also reap sparingly: and he that sows bountifully shall also reap bountifully." (2 Cor 9:6)
Not everyone in heaven is equally happy. Some are more blessed (i.e. happier) than others. Does that mean that some people in heaven are unhappy? No. Everyone in heaven is perfectly happy. As an illustration, consider a series of cups on a table. Each cup is a different size and thus is capable of containing a different volume, and each cup is filled completely to the brim. Are they all perfectly full? Yes. Do they each contain the same amount? No. Some contain more than others. Likewise, in heaven while all souls will be perfectly happy (i.e. filled 'to the brim' with love for God), some souls will have a greater capacity to love God, and since the degree of happiness depends upon the degree of love, therefore those who have a greater capacity to love God are happier than those who capacity to love God is less. How does that relate to our present life? Our capacity to love God in heaven is directly related to our choices here on earth. The more we love Him (and love others for His sake) here during this life, the more we will be capable of loving Him in heaven, and thus the happier we will be in heaven eternally.15 When we are in a state of grace, our acts done out of love for God merit more grace (i.e. a greater participation in the divine nature), and thus greater charity. And in this way, those who in grace live lives of loving obedience and sacrifice to God as Father, merit a greater eternal happiness.
This relation between our present life and the life to come is the condition for the meaningfulness of our sufferings in this present life. The gospel shows us that suffering is an opportunity given to us to participate in our future blessedness by offering our present sufferings, in union with Christ's sufferings, to God in self-giving sacrifice. Our suffering then takes on a whole different dimension, transformed from the occasion of a fist-shaking interrogation of God or cause for doubting His goodness or existence into the greatest opportunity to show Him trust and self-donation, without the least futility, knowing that it will be repaid a hundred fold.16 This is why the Christian martyrs rejoiced when they were chosen for martydom, and why after being flogged the Apostles went away "rejoicing that they had been considered worthy to suffer shame for His name."17 Apart from the Gospel, much of our suffering seems gratuitous and even sinister. But in the light of the Gospel we see that our suffering is a gift, a gift of the same sort as this present life, but even greater. It is the gift of an opportunity to give ourselves entirely to God in the greatest possible expression of love, i.e. sacrifice: "Greater love has no one than this, that one lay down his life for his friends."18
Conclusion
At the beginning of this post I said that I would explain how the Gospel is not afterlife fire insurance, how it is not something tacked on to our lives but rather how it goes to the very heart of our human existence. Now that statement should be much clearer.
Everything that we do in this life has meaning. Every word that we say, every thought, every deed, every choice. Why? Because it makes a difference in the long-run, i.e. for eternity. And it is precisely the Judgment that makes this so, because at the Judgment everything is eternally brought to light.19 If there were no Judgment, there would be no meaning to the choices we make every day, because it would not ultimately matter what we did, whether good or evil.20 Likewise, not only does everything we do have meaning, every thing that we do out of loving obedience to God increases the perfect happiness that we will have in beholding God in the Beatific Vision. Every day is an opportunity, among the limited opportunity that is our short life on earth, to serve God in loving sacrifice and obedience. Every day is a gift from God to participate in the preparation of our own eternal state, by giving ourselves to God freely and lovingly. In this way the Eternal Life manifested in the gospel makes every choice and decision in our present life eternally meaningful. The Gospel not only saves us from hell by opening to us the perfect happiness of the Beatific Vision; through the gospel our every choice and every sacrifice have eternal significance.
In light of that we see then how the Judgment is not something merely tacked on to our human existence. The Judgment is essential to understanding what it means to be human, and why we are here in this life. The whole purpose of this present life is a test. What will we choose? Who will we be forever? This is what St. Paul means when he says, "The creation waits in eager expectation for the sons of God to be revealed."21 All of our deeds in this life are eternally and indelibly part of our history, for the rest of eternity. For the rest of eternity, I will be "the person who, during his earthly life, did x, y, and z." The Judgment is the once-and-for-all determination of the result of that test, the touchstone in light of which all other acts and choices have their true meaning and significance.
We are made for God.22 Broadly speaking, that is the meaning of our human existence. The Gospel shows us the meaning of life and gives us a share in divine life by which we may not fear on that Day, but eagerly await His appearance with all the saints. The Compendium to the Catechism adds,
God Himself, in creating man in His own image, has written upon his heart the desire to see Him." The reason we exist, the reason God made us, is to know Him, to love Him, and to serve Him, and in that three-fold activity be eternally happy with Him. That means that our human nature, and more precisely the nature of the human soul, is made in such a way that we are not satisfied with anything less than knowing, loving, and serving God. This is why all human cultures express at least some 'groping about' for God in various forms of religion. This is what St. Augustine means when he says "Our hearts are restless until they rest in Thee."23
St. Augustine is talking about the very nature of the human heart, as God designed it. It "can't get no satisfaction" until it knows, loves, and serves God.