How Might Luther Say the Church Never Disappeared?
Jun 30th, 2009 | By
Neal Judisch
| Category:
Blog Posts
,
Featured Articles
"Justification is the article upon which the Church stands or falls." Luther didn't actually write this anywhere so far as I know, but he did express the sentiment. He said, for example, that without the doctrine of justification "the Church of God is not able to exist for one hour."  And that amounts to much the same thing.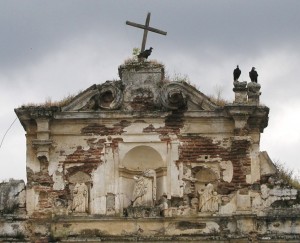 Taken seriously, what this means is that wherever the doctrine of justification as Luther understood it is not embraced and taught there is no Christian Church: a group of persons who do not endorse it may believe they are saved in Christ by the grace of God, may assemble together and worship God the Three-In-One, may proclaim the Scriptures, may sincerely affirm the Nicene Creed, may celebrate the sacraments, and so forth. But they are not a true Christian Church. They are either an apostate church or an imposter church of some kind.
When you add to this the recognition that Luther's doctrine of justification – according to which Christ's righteousness is imputed to believers and appropriated by faith alone, and not also imparted to believers through faith formed by love – had evidently not been believed until Luther formulated and started believing it, an interesting and difficult question arises. What should we say about all the "Christians" who lived and died before the 1500s, when Luther formulated the correct doctrine of justification? Were they really Christians at all, or no? Relatedly: what should we say about the "Church" before the 1500s? Was it really a Church at all? Or no?
This was something Luther and Calvin both wrestled with, but not everyone really wrestles with it. For example, I've recently read an interesting article in JETS, written by Matthew Heckel, in which he criticizes the presentation in R.C. Sproul's book Faith Alone principally because it fails to address this question.1 In that book Sproul advances the thesis that the Catholic Church is not a true Christian Church, because it denied the Gospel at the Council of Trent. And he argues that Evangelical Christians cannot seek unity with Catholics, since that would amount to embracing heresy and destroying the Church. It would destroy the Church because the Church cannot exist unless it embraces something like Luther's doctrine of justification, according to R.C. Sproul.
Heckel's piece critiques Sproul's book on a number of grounds, but, again, the principal thing has to do with the seemingly unavoidable – and in truth unacceptable – conclusion that there just wasn't any Church for a very long time until Luther came round in the 16th century:
Sproul supports his thesis from Reformation sources, but his conclusions are not informed by an engagement with patristic and medieval treatments of justification; this is one of the major weaknesses of the book. He does introduce Augustine and Aquinas into the conversation to establish that they believed justification to be exclusively by grace, and he uses their theology to accuse the Council of Trent of semi-Pelagianism [I hear tell B.B. Warfield accused it of "semi-semi-Pelagianism." It isn't semi-pelagian, and I guess I have no idea what semi-semi-pelagianism is supposed to be – N. Judisch]. Beyond this, Sproul does not substantially treat the views of Augustine and Aquinas on justification. If he had, his thesis would surely have led him, as it did the Reformers, to deal with the question of the Christian status of the pre-Reformation church, since Augustine and the rest of the theologians did not teach that we are justified sola fide in the Reformation sense. In fact, unless Sproul's thesis is qualified, it would lead to the unintended consequence of confining to perdition the entire Church from the patristic period up to the dawn of the Reformation, something the Reformers did not do. This is because the Reformation understanding of justification sola fide was unheard of in the pre-Reformation church and thus not believed until Luther. Alister McGrath points out that "there are no 'Forerunners of the Reformation doctrines of justification.'"

To put it another way, Luther's doctrine of justification sola fide was not a recovery but an innovation within the Western theological tradition. What is provocative about Sproul's thesis is that the equation of the construct of sola fide with the gospel itself would mean that the Roman Catholic Church not only rejected the gospel at Trent, but the Church never possessed it at all from the post-apostolic period up to the time of Luther. In this unqualified form, Sproul's thesis would also mean that since no one knew the gospel in the pre-Reformation church, no one experienced justification, and thus there was no Church.2
I think many of Heckel's complaints about Sproul's work and overall strategy can be made to stick. Sproul fails to engage with Christian history and consider head-on the implications of what he's saying. (The Reformers did not do this; they engaged, and they did consider the implications of what they said.) He also fails to engage with the many (Catholic) developments and constructive engagements with Luther's work. Perhaps unwittingly, he centers upon the 16th century discussions of justification, which took place within an explicitly polemical context only, rather than looking through the vast body of serious scholarly literature which would have enabled a more sophisticated and nuanced reading of Catholic thought and how it relates to Luther's legitimate concerns. Finally, if Heckel's interpretation of him is right, anyway, Sproul reduces "being justified by faith alone" to "believing in the doctrine of justification by faith alone," which the Reformers did not do, and which is sort of a strange thing to do.
But put Sproul aside. Luther himself did not fail to ponder the question about the status of the pre-Reformation Church, because he was quite aware that if he really was right about St. Paul's central message, then (virtually?) nobody before him had really understood what St. Paul was talking about.
It is a very saddening thing, I think, to read what Luther says about the Fathers. Here is Luther, a theological force of the first order, who has convinced himself that he has to stand "against the pope, against the world, and the devil," and, indeed, against all of Christian history, if he is to be truly faithful to God. Can you imagine what that must feel like? And can you imagine what Luther might have produced had he engaged in a different, perhaps more humbly constructive way, with the Fathers and Doctors who came before him? It would have been even better than all of the very good things he did write, I can tell you that.
But listen to him:
Ever since I came to an understanding of Paul, I have not been able to think well of any doctor. They have become of little value to me. At first, I devoured, not merely read, Augustine. But when the door was opened for me in Paul, so that I understood what justification by faith is, it was all over with Augustine.3
Or again:
Behold what great darkness is in the books of the Fathers concerning faith; yet if the article of justification be darkened, it is impossible to smother the grossest errors of mankind. St Jerome, indeed, wrote upon Matthew, upon the Epistles to the Galatians and Titus; but, alas! very coldly. Ambrose wrote six books upon the first book of Moses, but they are very poor. Augustine wrote nothing to the purpose concerning faith … I can find no exposition upon the Epistles to the Romans and Galatians, wherein anything is taught pure and aright. O what a happy time have we now, in regard to the purity of doctrine …4
Or again:
The more I read the books of the Fathers, the more I find myself offended; for they were but men, and, to speak the truth, with all their repute and authority, undervalued the books and writings of the sacred apostles of Christ.5
Or again:
When God's Word is by the Fathers expounded, construed, and glossed, then, in my judgment, it is even as when one strains milk through a coal-sack, which must needs spoil and make the milk black; God's Word of itself is pure, clean, bright, and clear; but, through the doctrines, books, and writings of the Fathers, it is darkened, falsified, and spoiled.6
Doesn't it make you a little sad? What might have been, right? Can you imagine combining Luther's native intelligence and persuasive powers with a conviction that the Church Fathers were in fact among the "evangelists and pastors and teachers" whom God promised to raise up "for the equipping of the saints, until we all attain to the unity of the Faith," and from whom he might be able to learn, instead of concluding that they were all "darkened" and hopelessly confused about the "main and plain" message of the Gospel?
But as to the question with which we began: how can Luther avoid saying that there was no such thing as a Christian Church during the time between, say, 50 years after Pentecost and the early 1500s?
One might wonder whether he couldn't just bite the bullet here and say that there was no Church during that time. But Luther was rightly unwilling to say this. For one thing, he well knew that Christ had promised to remain with the Church until the end of the age and had guaranteed that the gates of hell wouldn't ever overcome it, from which it seems to follow that the Church wouldn't collapse into nothingness within a century of Christ's saying this. For another, as I learned from Robert Koons,7 Luther's defense of infant baptism in the Larger Catechism relies explicitly on the continuing persistence of the Church throughout the centuries. Relatedly, that their own baptisms were validly performed in the Church was not incidental to the defense of some Reformers' claims to be lawfully ordained ministers working within the Church, rather than being "outsiders" who were trying to shake things up.8
And we can add to these reasons a fourth: it is just ridiculously implausible to think that the Church went away like that; and it is also ridiculously implausible to think that there were no true Christians for all that time.
So what are his options? Heckel discusses three different possible responses from Luther (and Calvin), all of which may with some plausibility be justly attributed to them, and he ends up concluding that these Reformers justified their belief that the Church existed before them in something like this way:
Some people, such as Augustine, were Christians before the Reformation, because even though they denied the Gospel in what they wrote, they did not really believe the things they wrote. Alternatively, they did experience justification personally, but when they wrote things about it they fell into inconsistencies between what they said about justification and what they experienced when they were justified.9
Alternatively, they really did believe the "substance" of the Lutheran theory, but they made intellectual mistakes which caused them to formulate their own theories of justification in ways that contradicted Luther's. This might have happened with Augustine, for example, because Augustine believed that we were saved by grace alone; Augustine's problem, then, was that he did not recognize that if we are saved by grace alone then we must be saved by faith alone, as Luther understood it, as well.
Alternatively, some of them really did believe the things they said and wrote; but then, toward the end of their lives they gave up these views and embraced the truth, although we have no record of this. (Calvin likened some of the Fathers to past kings of Israel, who fell into idolatry throughout their lives, but then returned to trust in the True God when they were getting ready to die.)
One of these things, or some combination of them, according to Heckel, is probably what allowed Luther to say that the pre-Reformation Church was a Christian Church.10
Heckel might be right in his interpretation of Luther/Calvin, but I wonder whether this is an adequate response to the question as it stands. One of the problems I don't think Heckel really resolves adequately is this: if a Reformer (or Reformed person) wants to say that the present-day Catholic Church is not a true Church, but an apostate body of some kind, and they say this because the Catholic Church does not accept Luther's (or some similar) doctrine of justification, then they will have to say this about the pre-Reformation Church as well, since, as the Reformers realized, the "papists" of their day understood the doctrine of justification in the way that Augustine and the other Fathers did.
Here are the things we need to be true together:
Unless it embraces and teaches the Lutheran doctrine of justification, the Church cannot exist.
Because the Roman Catholic Church does not embrace or teach Luther's doctrine of justification, the Roman Catholic Church is not a Christian Church, but an apostate church. It "falls" on the article of justification.
Prior to Luther, Christians did not embrace or teach the Lutheran doctrine of justification.
Prior to Luther, and continuously throughout history, there has been a Christian Church.
These are the things I think it is difficult to make true, all at the same time. If denying or not believing the Lutheran doctrine of justification entails that the Catholic Church was apostate and did not exist as a Christian Church in the 16th century, then the same must be said mutatis mutandis for the pre-Reformation Church. (We cannot blithely assume that all of the "real Christian" Fathers would have agreed with Luther if only they had been exposed to his theology; they said things that flatly contradicted a Lutheran picture, and they did so intentionally and with their heads fully about them.)
If, however, some combination of the considerations above is sufficient to ensure that the pre-Reformation Church really was a Christian Church, or that the Church was able to exist in the absence of Luther's doctrine, then the same thing should be said about the Catholic Church now: it is also a Christian Church, because it has people in it who really believe Luther's doctrine but do not realize this about themselves, or because they will convert to it on their deathbeds, or what have you.
It seems to me there may be more options here that I'm not thinking of. (Above all, I think the discussion in Heckel invites opportunities for confusion by failing to systematically distinguish between (i) might there be true Christians in an apostate church? and (ii) what conditions must be met for the Church to remain in existence, as a Christian Church?)
Mind you, I'm not "arguing for" the "Catholic view" of justification, or arguing against Luther's, or whatever. I'm just assuming it is true for the sake of argument, and trying to figure out how to say (a) the Catholic Church is an apostate church because it does not accept Luther's doctrine, and (b) the pre-Reformation Church was not an apostate church, even though no one before Luther accepted Luther's doctrine of justification. One might, of course, argue that the current Catholic Church is apostate for another reason, not on account of justification. But that's changing the game. I want to know how to make (1) – (4) true.
Here are some possibilities, maybe.  Suppose, first, you were to just dig in your heals and argue like this:
"Look, we know that justification sola fide as understood by Luther is something you have to believe to be a Christian. And we know that if people do not believe and teach this anywhere, then there is no Christian Church.

However, we also know that the gates of hell won't prevail against the Church and that it could not have gone out of existence, else Jesus would be a liar, which He isn't.

Therefore: there have always been at least some people, before Luther, who believed in justification sola fide (as described by Luther). Perhaps none of these people wrote things indicating their stance on justification, or, if any of them did write anything, maybe it has been lost. But that doesn't mean these people didn't exist. In fact, they must have existed, because the Church must have existed, and the Church cannot exist unless there are people who believe in justification sola fide (a la Luther).
This kind of response has the following attraction: there's a kind of cool bravado to it. Nothing pansy on display; just straight-up, "Yes, that's right, so there must have been lots of proto-Protestants, so I'm going to believe that there were even though we have no evidence for this and even though every Christian theologian to speak out on the issue was completely wrong about justification." Got to have guts for that sort of approach.
On the other hand, it seems too easy: it couldn't possibly be falsified, for one thing. We'd just be insisting on the existence of something for which we have no evidence, and then saying "Well, you can't prove me wrong either." And, moreover, there are no independently good reasons to believe a far-flung theory like this anyway. The only possible reason anyone would accept it, I think, is if they were up against the wall, had nothing else to say, and knew it.
So here's another possible approach I was thinking of. First, we can distinguish between (a) not believing X, and (b) rejecting (or denying) X. These are different. I might not believe that Obama will win the 2012 election, but that doesn't mean I think he will lose. I might just be agnostic; I might not have firm beliefs either way.
So suppose you say this: the pre-Reformation Church did not believe in Luther's sola fide, but that does not mean they rejected it. The contemporary Catholic Church however, at least since Trent, not only does not believe Luther's sola fide, but also rejects/denies it.11
And then you can say this: just not believing in sola fide is not enough to make you an apostate or a heretic, and it is not enough to destroy the Church. However, rejecting it or denying it – which is another, stronger way of "not believing it" – is strong enough to make you a heretic and to destroy the Church.
That is why the Catholic Church ceased to exist as a Christian Church in the 16th century, even though what it said about justification at Trent is no different than what Augustine et al. had been saying about justification for years.  Augustine and those guys get to be Christians and have a Church because they weren't confronted with Luther's specific formulation of sola fide, and so they couldn't "reject" it; they could only "not believe" it. But Catholics can't hide behind their ignorance now: they have finally been confronted with the truth of the Gospel – post tenebris, the lux has arrived – and if they don't believe it still they are "rejecting" it and thereby apostatizing.
I'm not sure I can buy this line either. If you read, say, Augustine's On Grace and Free Will or On the Spirit and the Letter, it is quite clear that he is combating a version of 'sola fide.' Naturally, he's not explicitly "combating" the idea that the righteousness by which we're justified is only 'imputed' and always 'extra nos' etc., because nobody'd ever said anything like that before. But he did go after a version of "faith alone" and explain why the faith that justifies is a transformative "faith working through love," or "formed faith," fides formata. And that is a specific denial of at least a couple major aspects of Luther's formulation.
So, what I guess I'm urging is that the Fathers were clearly formulating their positions over and against distinctive features of Luther's later formulation, and that is enough, by my lights, to conclude that they not only "did not believe" but they also "rejected" the novel aspects of Luther's theory.
One more try. Imagine a wife who does not really love her husband but remains married to him. Maybe she thinks she loves him some days, maybe she knows well that she doesn't love him. Then, one day, she finally declares, officially, "I do not really love you. I do not want to be your wife anymore." Even if the husband knew all along that she did not really love him, he might forebear with her and remain truly married to her. But then, when she officially declares her lack of love, that might be the time for him to say: "Okay, it's over for good now."
Maybe something like this happened at the Council of Trent, on a Reformed view of things. All along, people believed a view of justification which was more or less reaffirmed at Trent (although specified with more precision, etc.). That's like not really loving God but being married to him "for real." Then, at Trent, that's like when the woman got up and said "I officially do not love you." The Church said: "I officially embrace this view of justification taught by the Fathers, etc." And that was like filing for a divorce, perhaps. So on this picture, it's not really believing or not believing that is the culprit, it's officially declaring (in conciliar setting, or in some comparably somber way) your commitment to a heretical view of justification. That's why you officially lose your Christian credentials (as an individual or as a Church) when you do that, and that's what separates the pre-Ref Church from the post-Ref Catholic Church.
I'm not sure; this possibility seems to me to be over-institutionalized in an odd way. But perhaps this is a line worthy of further exploration.
In any event, I'm honestly not too sure what to say about this. So I'm floating the question. Any thoughts?